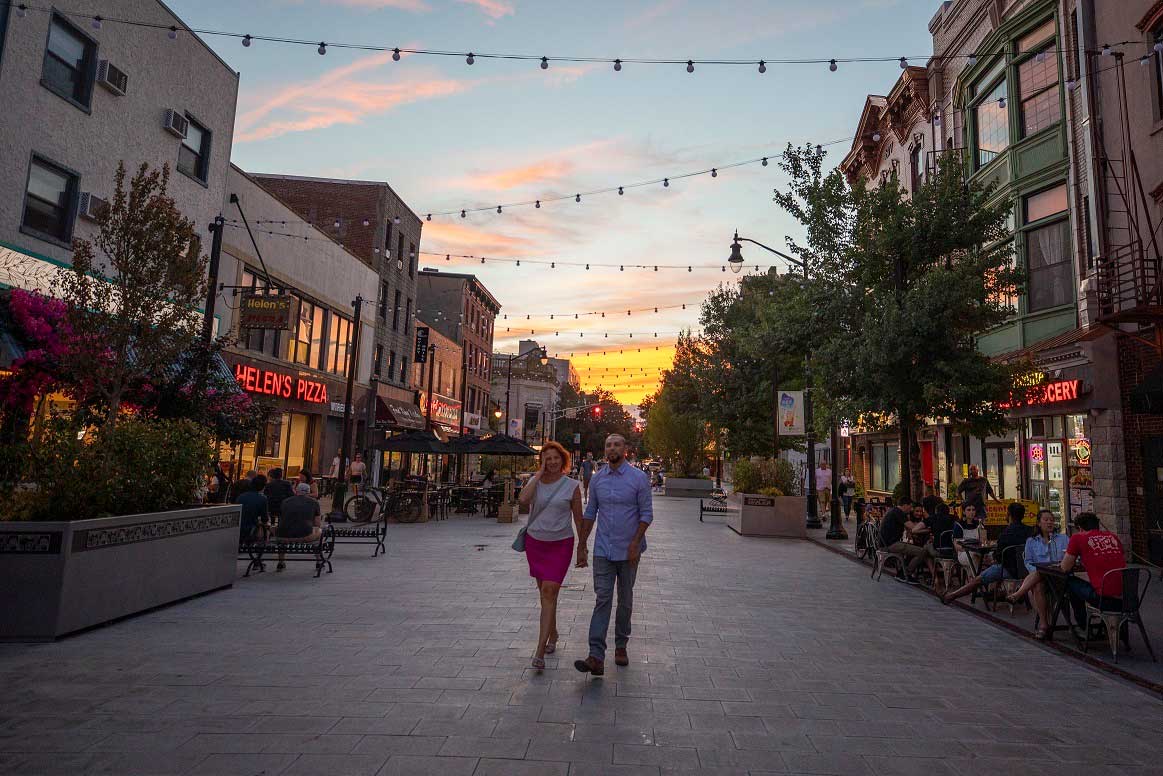 Jersey City's title as the most ethnically diverse city in America for six years in a row has more than extended into its culinary scene, as a plethora of longtime establishments and new spots have joined forces to turn the heads of even the most discerning diners.
When it comes to the best restaurants in Jersey City, whether it's Bangladeshi cuisine, Korean flavors, or classic Italian fare, Jersey City's wide collection of eateries can please every palate and present opportunities to explore new tastes.
While the sheer number of restaurants and local favorites make picking the best food in Jersey City a Herculean task, here is our best effort to assemble many of the best restaurants in Jersey City inclusive of all the city's neighborhoods.
Best Restaurants Jersey City: Where to Eat
Downtown Jersey City Restaurants
Hamilton Pork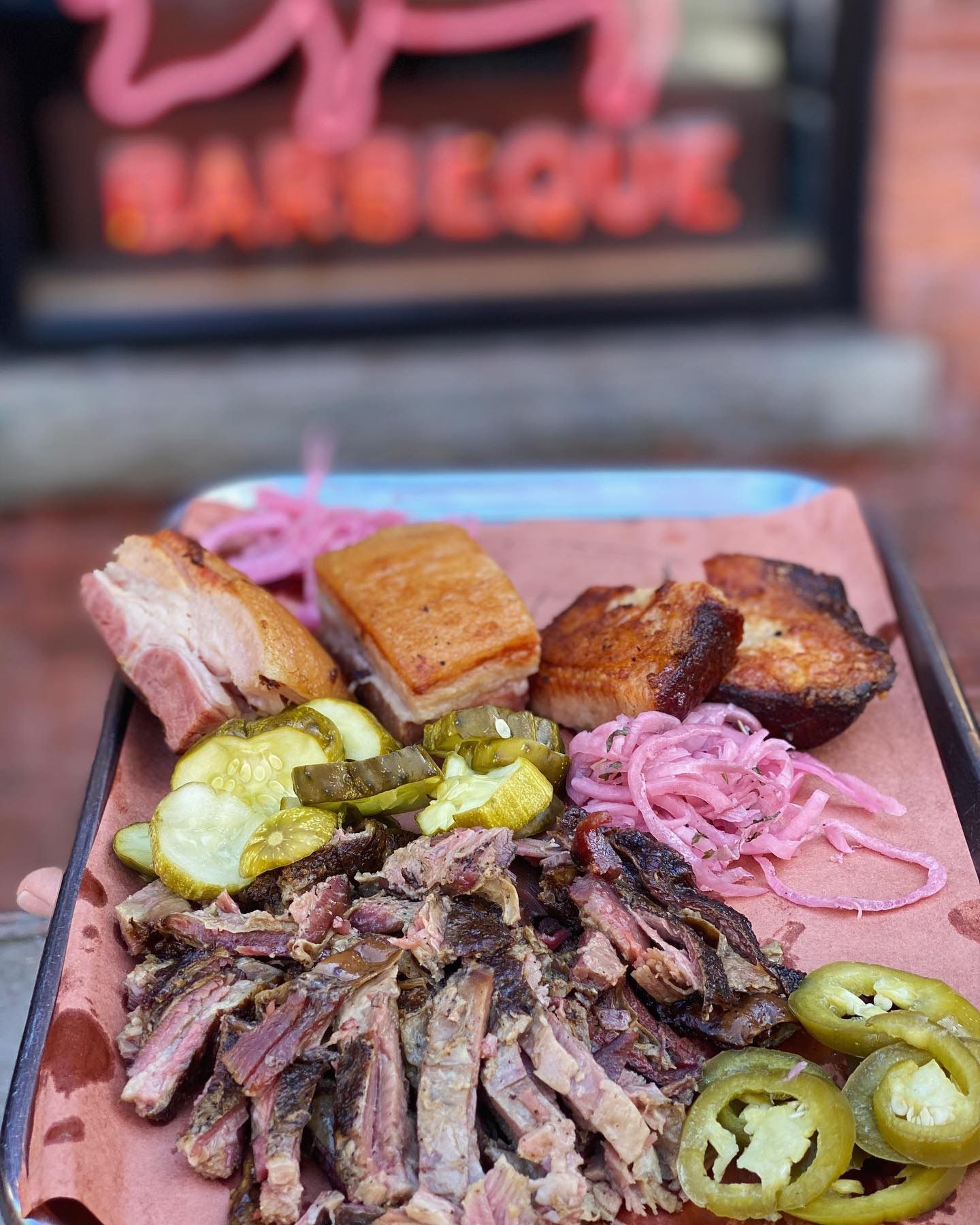 Known for their iconic neon pig sign in the window, Hamilton Pork's interior sports rustic exposed brick, steel beams, and a kitchen that allows diners to sneak a peek at what goes into their delicious barbeque. The Texas-style BBQ joint sports some Mexican influences and all their meats are smoked daily in house.
Brisket, pork belly, and habanero cheddar sausage are featured on the menu alongside tacos and burritos that utilize their meats. Their "Mexpresso Martini" that adds tequila to the party is a must-try at this space, situated a short stroll from Hamilton Park.
247 10th Street, hamiltonpork.com
Taqueria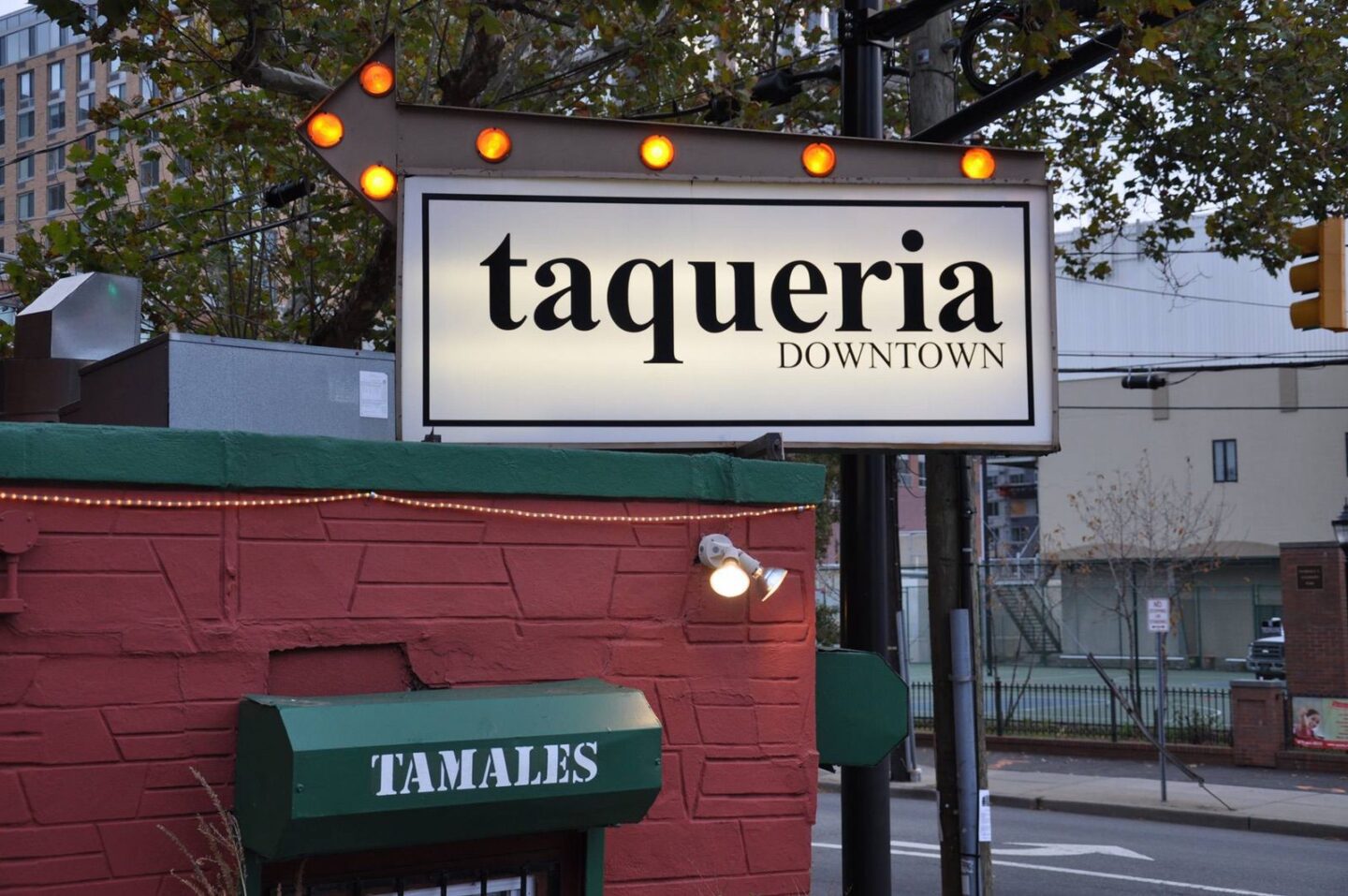 This no-frills spot comes courtesy Phil and Andrea Barraza, who respectively hail from Los Angeles and Mexico City. The pair got their start selling tacos out of a truck on the corner of Grove and Montgomery streets before opening their brick-and-mortar space in 2005.
The modest restaurant puts food first and is purely taco-focused, with carnitas, lamb, cactus, beef tongue, and pescado varieties on the menu. Flautas, tamales, enchiladas, and quesadillas gringas add to the fun at the restaurant, which offers weekend brunch that includes a Mexican spin on French toast.
354 Grove Street, taqueriadowntownjersey.com
DomoDomo
Situated just a block from the Hudson River, DomoDomo was serving their Domokase-style sushi out of their original Houston Street spot in Manhattan for years before they crossed into New Jersey. Their sleek Harborside restaurant offers many of the Bib Gourmand eatery's best hand rolls like lobster, unagi, yellowtail, negi toro, salmon avocado, oyster mushroom, and blue crab to go along with 16 different nigiri sushi options.
Hot dishes designed to complement the rolls include grilled octopus, tobiko pasta with crab meat, a NY Strip, bulgogi, or miso eggplant. DomoDomo features both table and bar seating and boasts a full Saki bar plus Japanese whiskeys, wine, and Asian bottled and draft beers.
200 Greene Street, domodomojc.com
Kitchen Step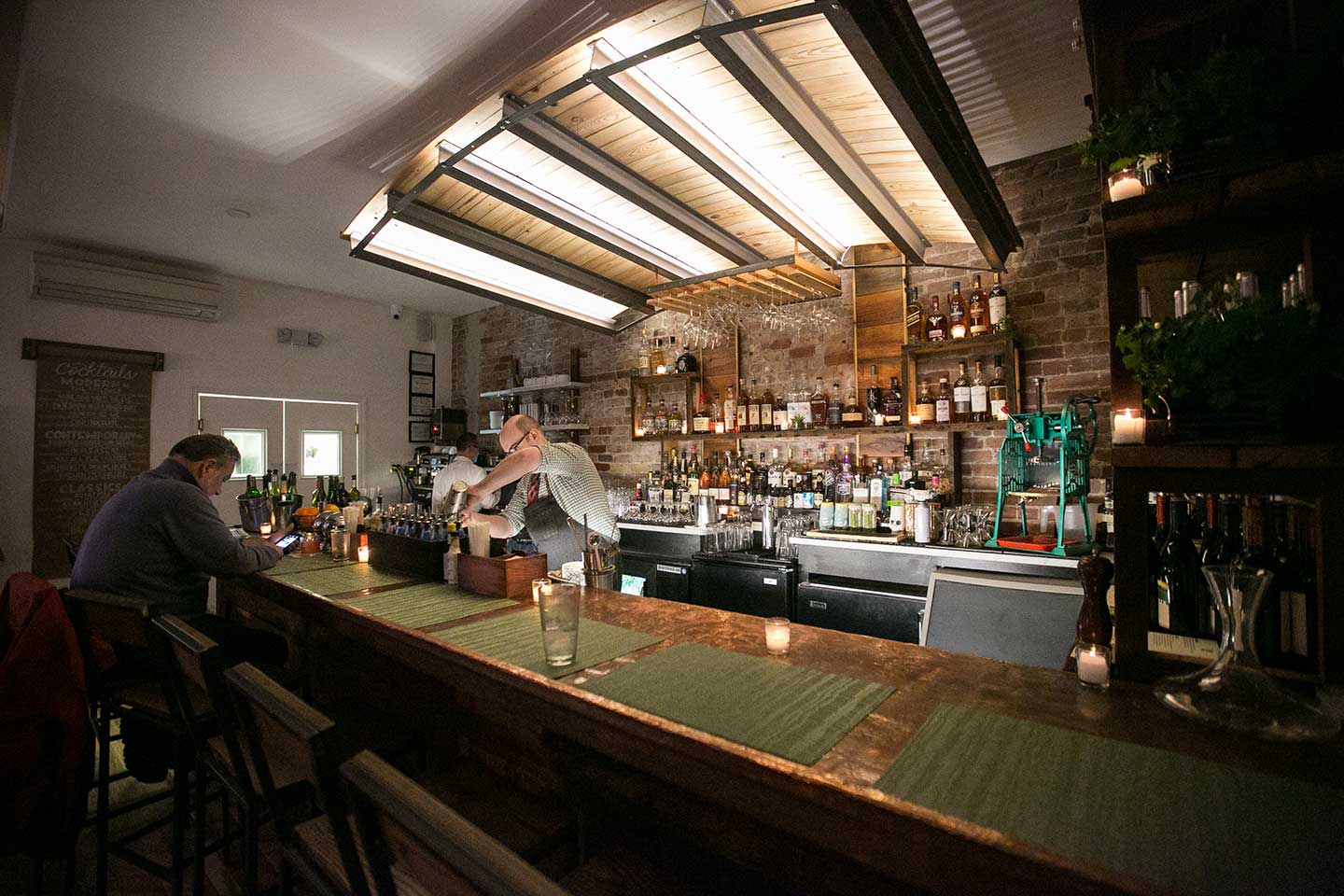 A restaurant that nods to Jersey City's history, Kitchen Step takes its name from the nearby mansion of Cornelius Van Vorst. The home became locally famous around the turn of the 20th century for its generous hospitality and kitchen step, which used to attract many to the Van Vorst garden gate.
Designed with soft hues amid light, the restaurant serves market-inspired cuisine and craft cocktails. Offering small and large plates alongside rotating cocktails that change with the seasons, Kitchen Step recently opened an outpost in the new $2.3 billion Terminal A inside Newark Liberty International Airport.
500 Jersey Avenue, kitchenstepjc.com
Hamilton Inn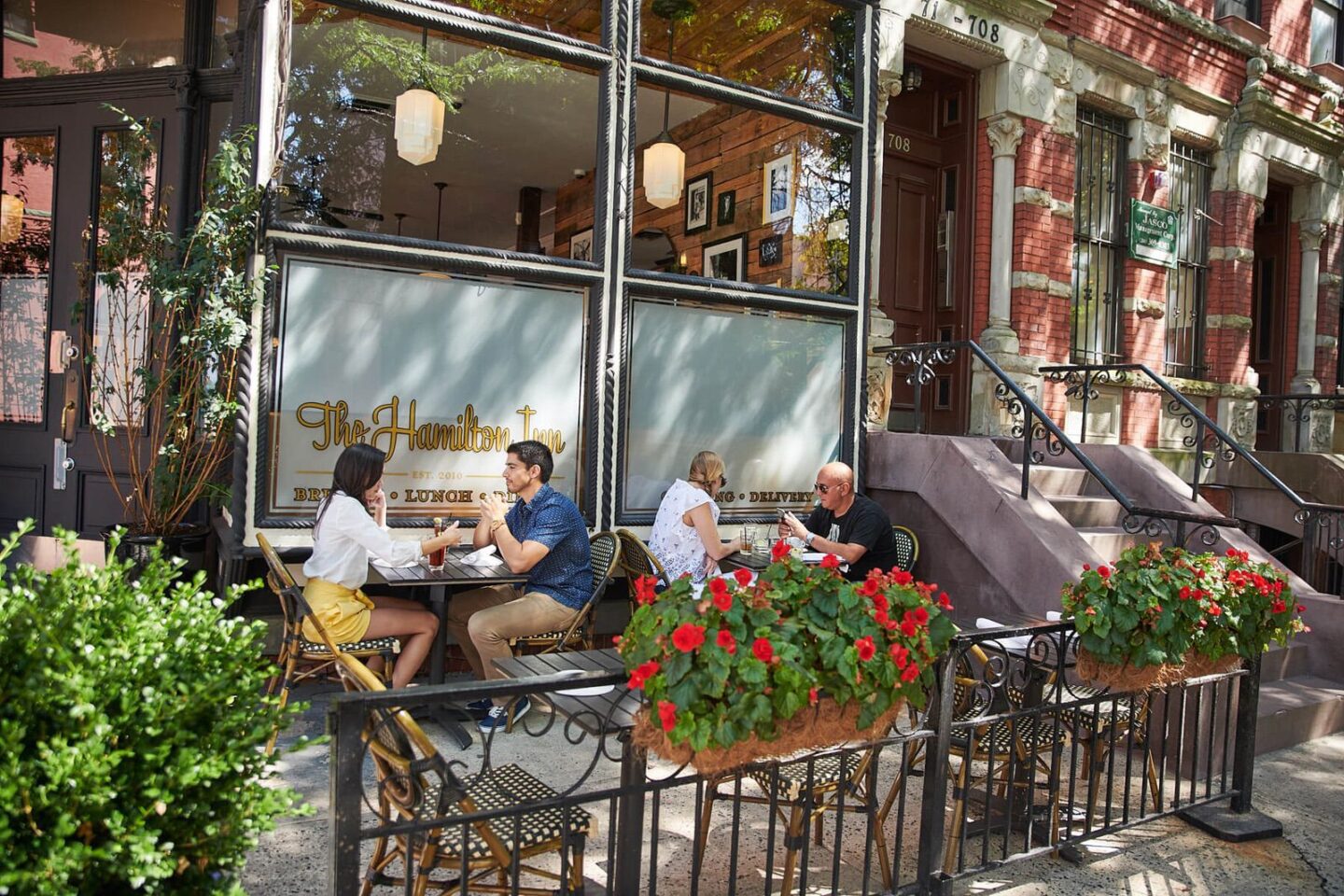 This local favorite was a labor of love from owner Michael Gondevas, who lovingly restored the historic pub into one of the best restaurants in Jersey City. Named after Alexander Hamilton and opened in 2010, Hamilton Inn serves new American classics like crispy cod cemita, a Montauk lobster roll, and steak frites.
The restaurant was recently named one of OpenTable's 100 best brunch restaurants in the country and serves a must-try cornbread French toast as part of their weekend service.
708 Jersey Avenue, hamiltoninnjc.com
Ondo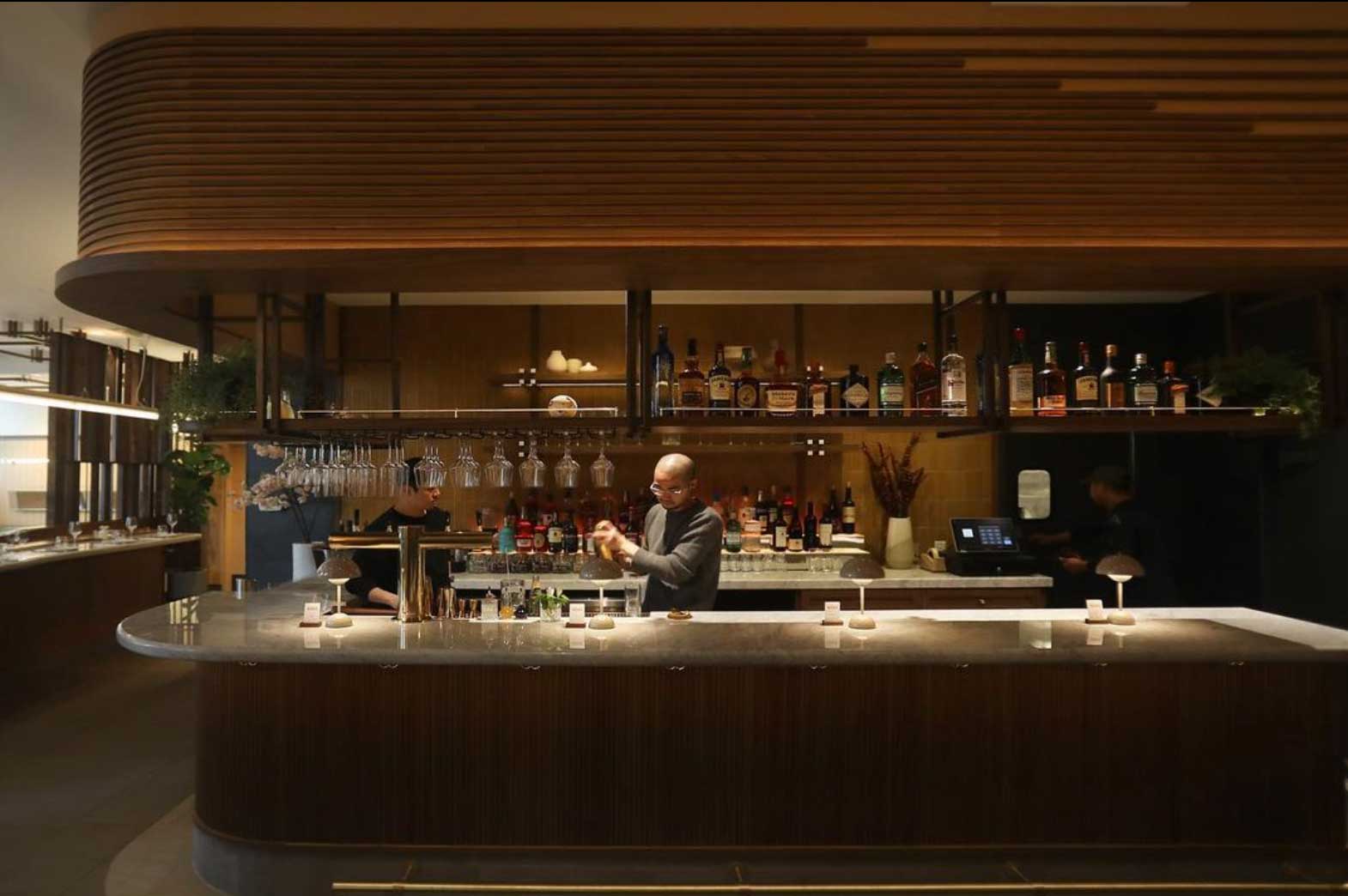 The ownership team behind DomoDomo were so enthralled with Jersey City that they opened a new Korean-style endeavor just two years later. Ondo, which translates to "temperature" in English, offers an innovative menu that is divided into three distinct sections: cold dishes (35 F to 65 F), warm plates (70 F to 80 F) and hot dishes (85 F to 145 F).
Standouts include bulgogi perilla pasta, seafood jjajangbap, mushroom rice, and their take on spicy Korean fried chicken. The restaurant also features a full bar serving wine, cocktails, sangria, Korean spirits, and beer.
3 Second Street, ondojc.com
Pasta dal Cuore
Authentic homemade pasta is the name of the game at this BYOB spot, which was launched by owner Elena Cartagena just about a decade ago. She studied at the International Culinary Center in New York City before honing her pasta craft in a small Italian village near Parma, a background that is on full display at Pasta dal Cuore.
The restaurant's menu includes everything from ravioli, spaghetti, pappardelle, linguine, and fettuccine including several gluten-free options. The Pasta dal Cuore experience includes a to-go counter offering fresh pasta and homemade sauces for sale.
527 Jersey Avenue, pastadalcuorejc.com
Cellar 335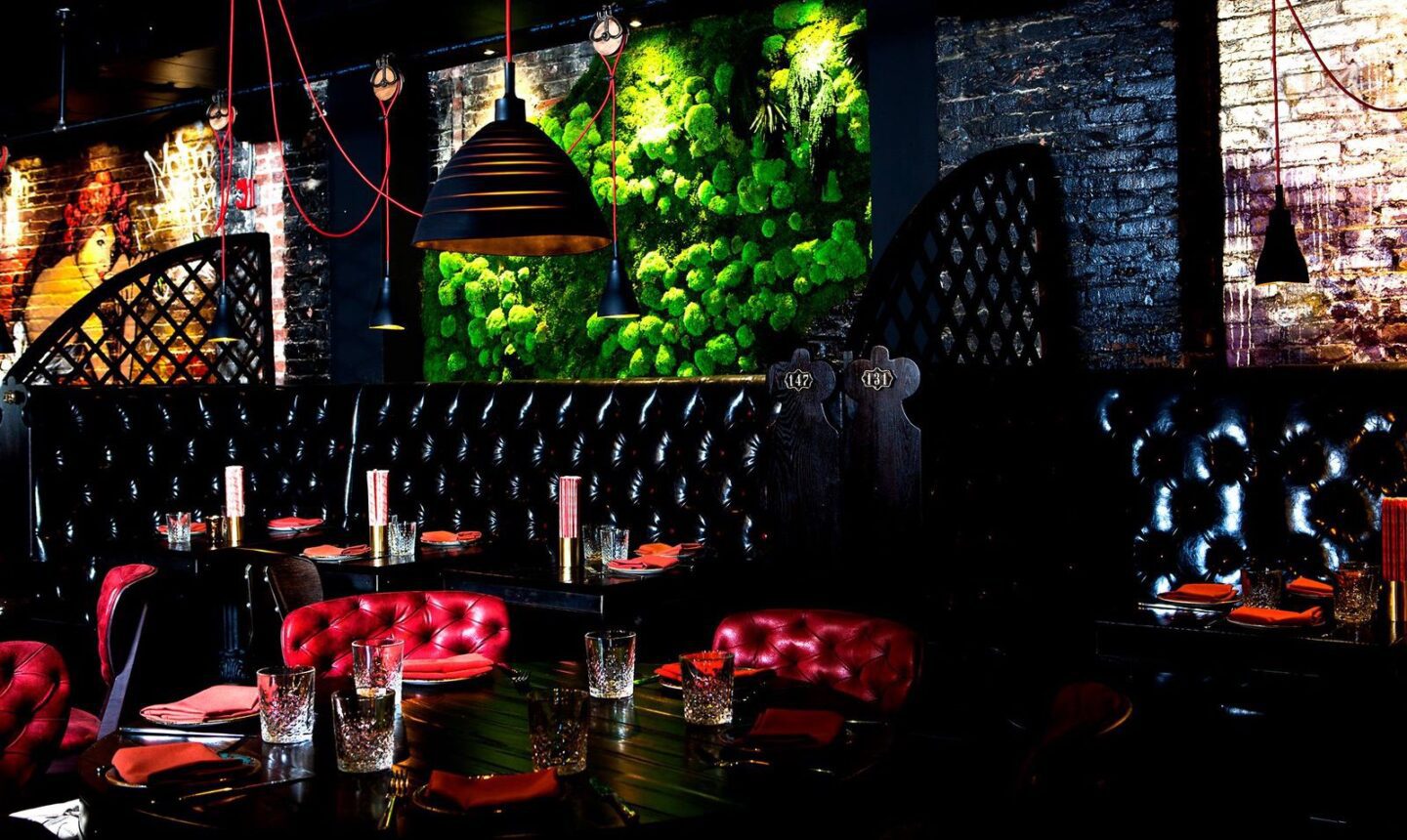 Situated in the basement of the restored White Eagle Hall, Cellar 335 serves American cuisine with Asian accents and tiki-style cocktails in one-of-a-kind mugs. Their space evokes island vibes and highlights of their eclectic plates include Korean-style wings with maple chipotle and tiki masala chicken meatballs.
335 Newark Avenue, cellar335.com
Razza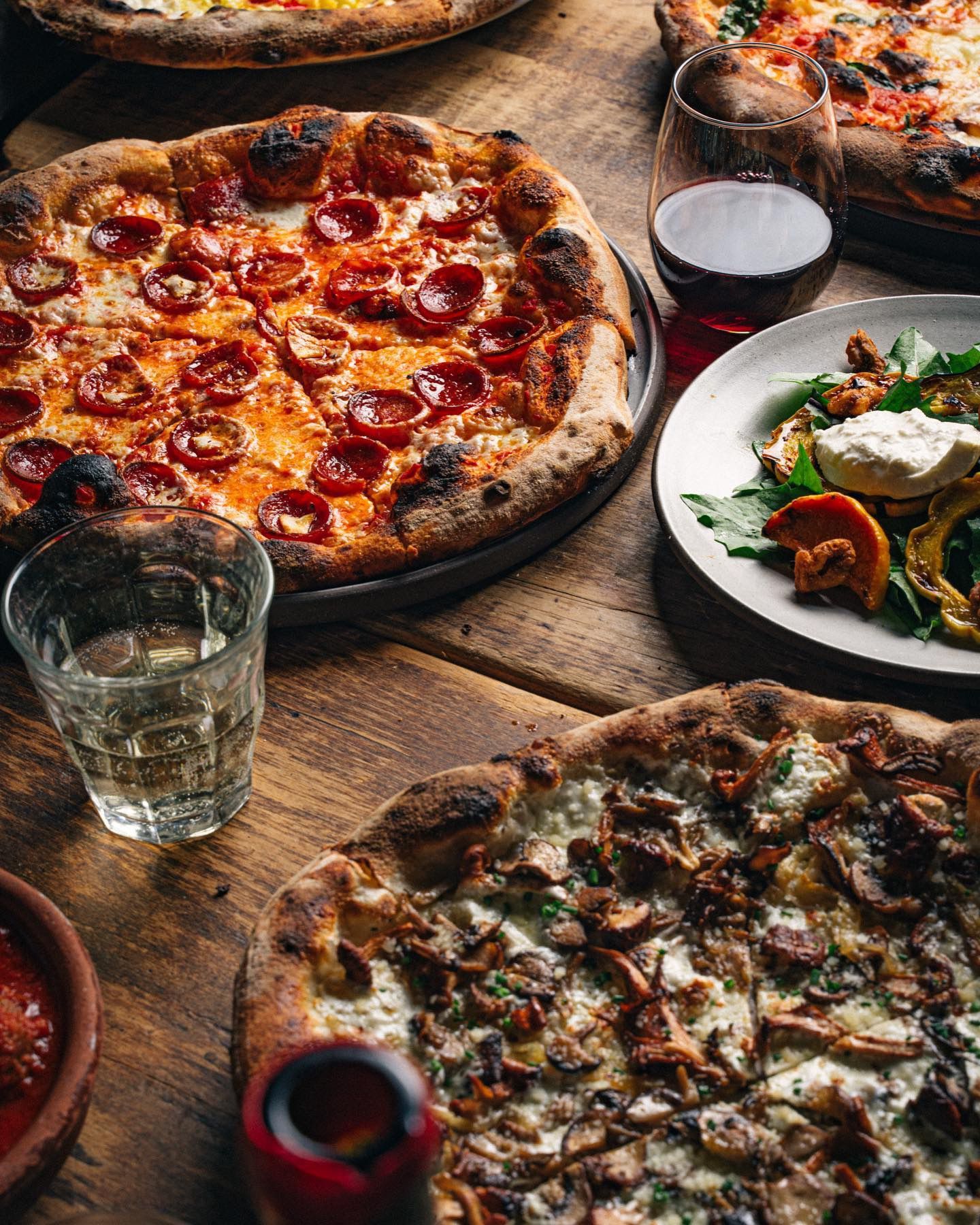 Perhaps Jersey City's most world-renowned restaurant, Razza opened inside the former Majestic Theater space back in 2012 to rave reviews. The restaurant was notably crowned as having the best pizza in New York by The New York Times and was named Best Pizza in North America by 50 Best three years ago.
Razza specializes in small plates and artisanal pizzas cooked in a wood-burning oven, with both a food and cocktail menu that rotates seasonally. Owner Dan Richer published his first book, "The Joy of Pizza: Everything You Need to Know," late last year.
275 Grove Street, razzanj.com
Ani Ramen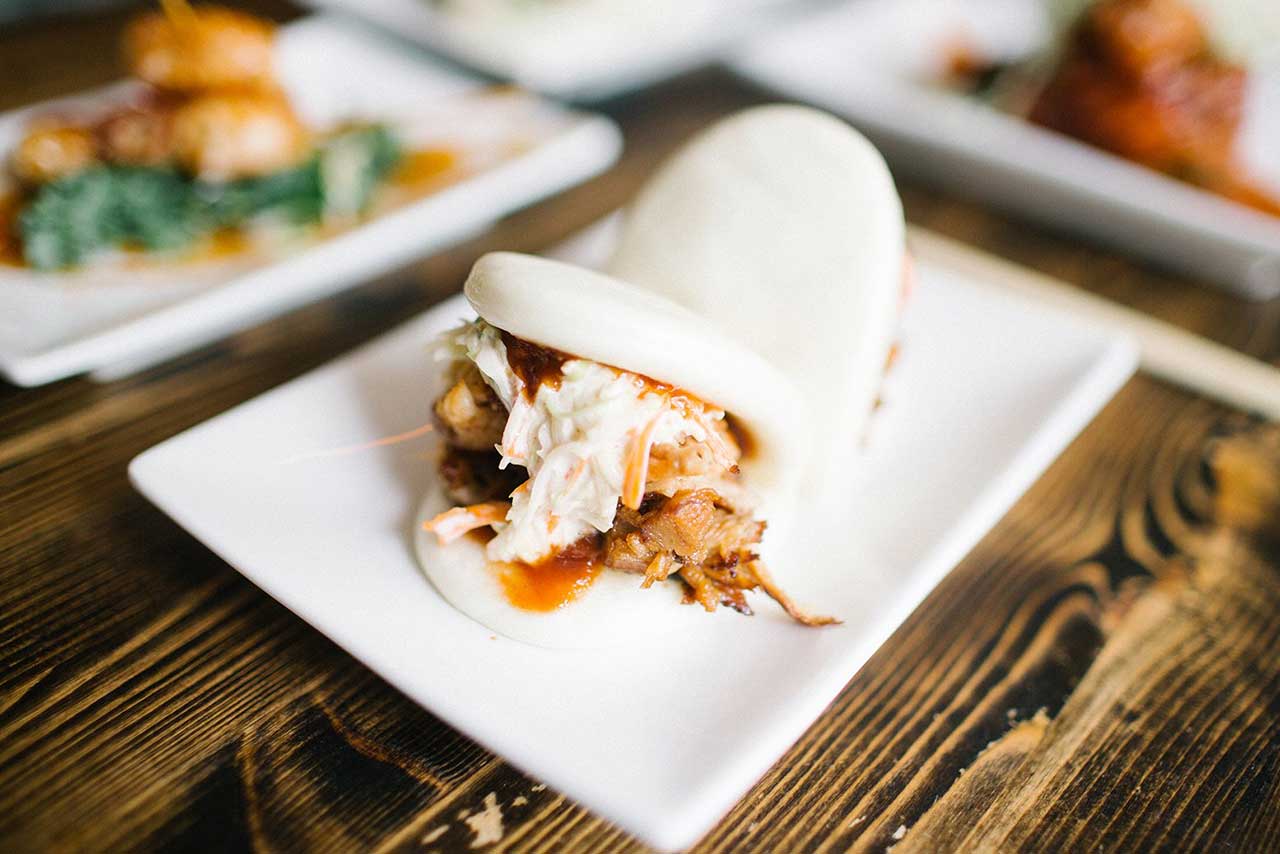 Initially opening in Montclair and expanding to Jersey City in 2017, Ani Ramen's proliferation throughout the Garden State is for good reason. The restaurant's quintessential Tokyo comfort food experience includes custom signature noodles, bao buns, homemade crispy gyoza, and Japanese Izakaya small plates.
Their Jersey City outpost sports a beverage program complete with Japanese whisky, soju, shochu, and sake and also houses a Sushi By Bou speakeasy.
218 Newark Avenue, aniramen.com
Battello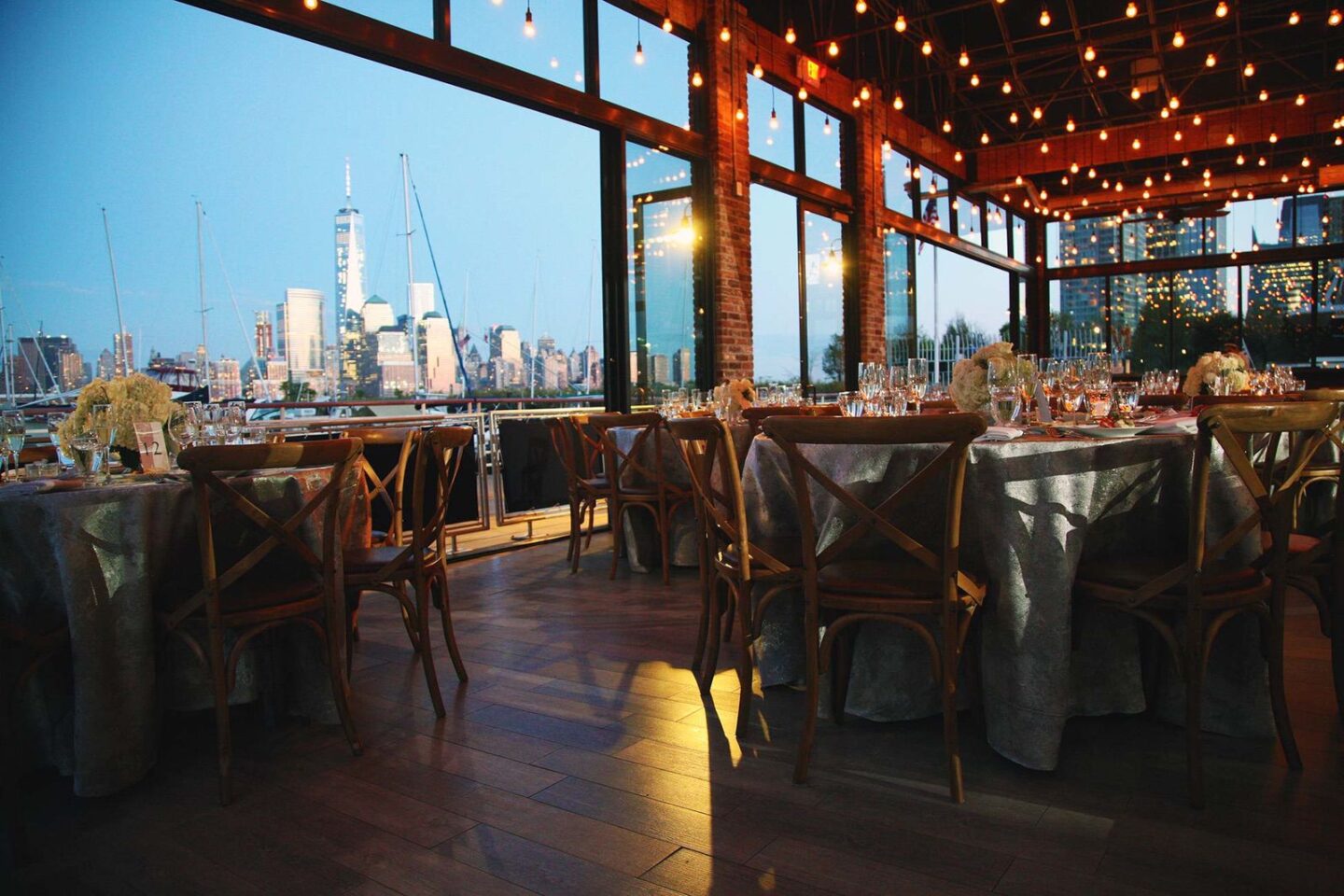 This nautically themed waterfront restaurant is situated inside a former brick boathouse along the Newport waterfront that boasts soaring ceilings, exposed wooden beams, and brass yacht lanterns against a backdrop of the Manhattan skyline.
The Italian-focused staples include squid ink torchio, big eye tuna crudo, and ricotta zeppoles. Battello revamped their cocktail menu three years ago to feature local brands Corgi Distillery and Misunderstood Whiskey.
502 Washington Boulevard, battellojc.com
Lokal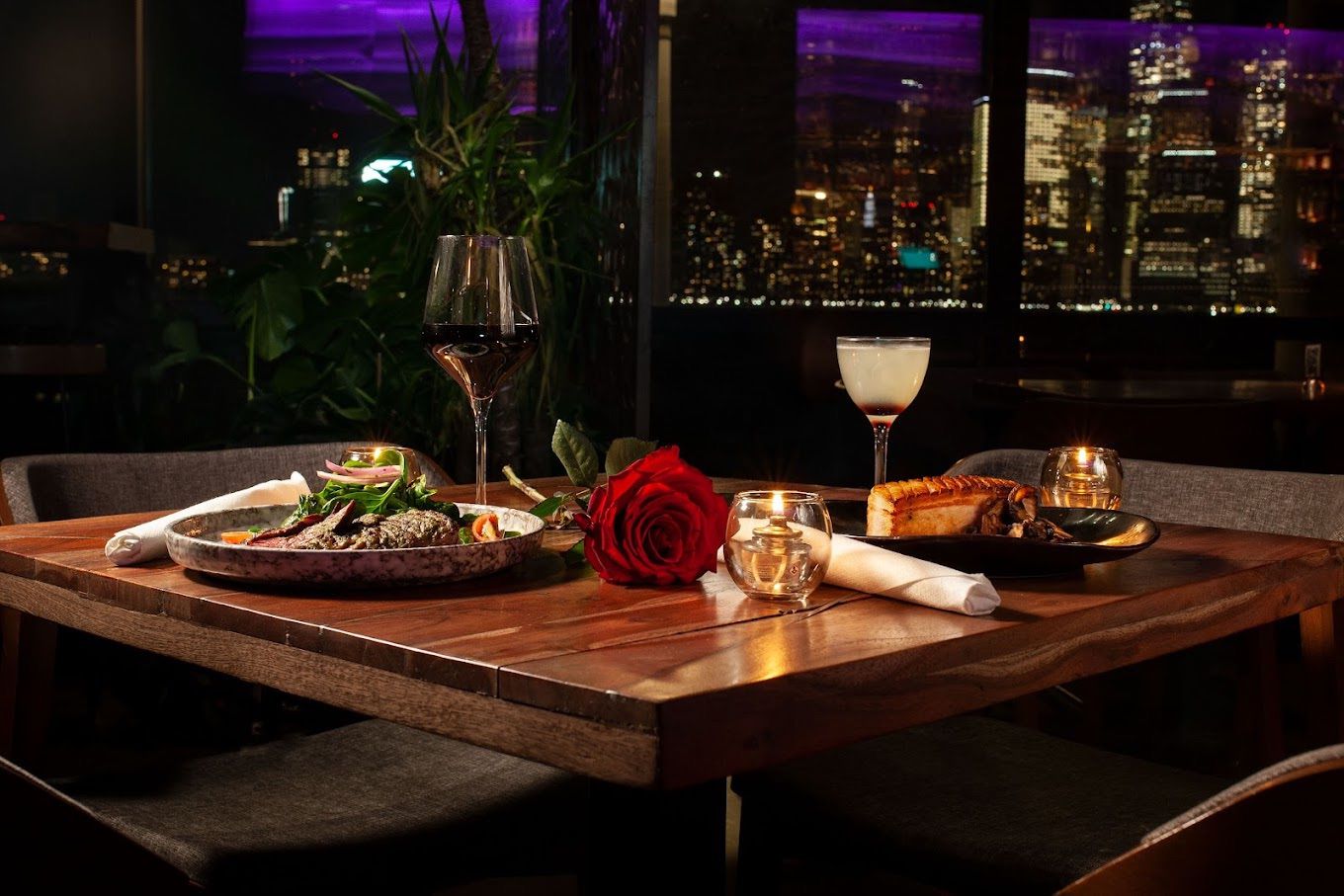 Since opening just about three years ago, Lokal has specialized in locally sourced American food with some Asian fusion. The restaurant is situated directly on the Hudson River waterfront and sports unobstructed views courtesy of floor-to-ceiling windows.
Both tapas plates and entrees are featured at Lokal, as are flatbreads complemented by craft cocktails and an extensive wine program.
2 Second Street, lokaljc.com
Orale
Co-owners Louis Alvarez and Alex Mendelsohn cut their teeth at Rosa Mexicano before opening Orale, which serves elevated Mexican fare like duck confit nachos or a truffle ribeye burrito. The festive atmosphere is complemented by a wide variety of guacamole options, and their tableside sauces pack a punch.
The restaurant offers Mexican brunch on weekends with dishes like breakfast nachos, breakfast tacos, or a breakfast barrio burger. The restaurant group's upcoming Jane Doe eatery is one of the most anticipated in Jersey City.
341 Grove Street, oralemk.com
Madame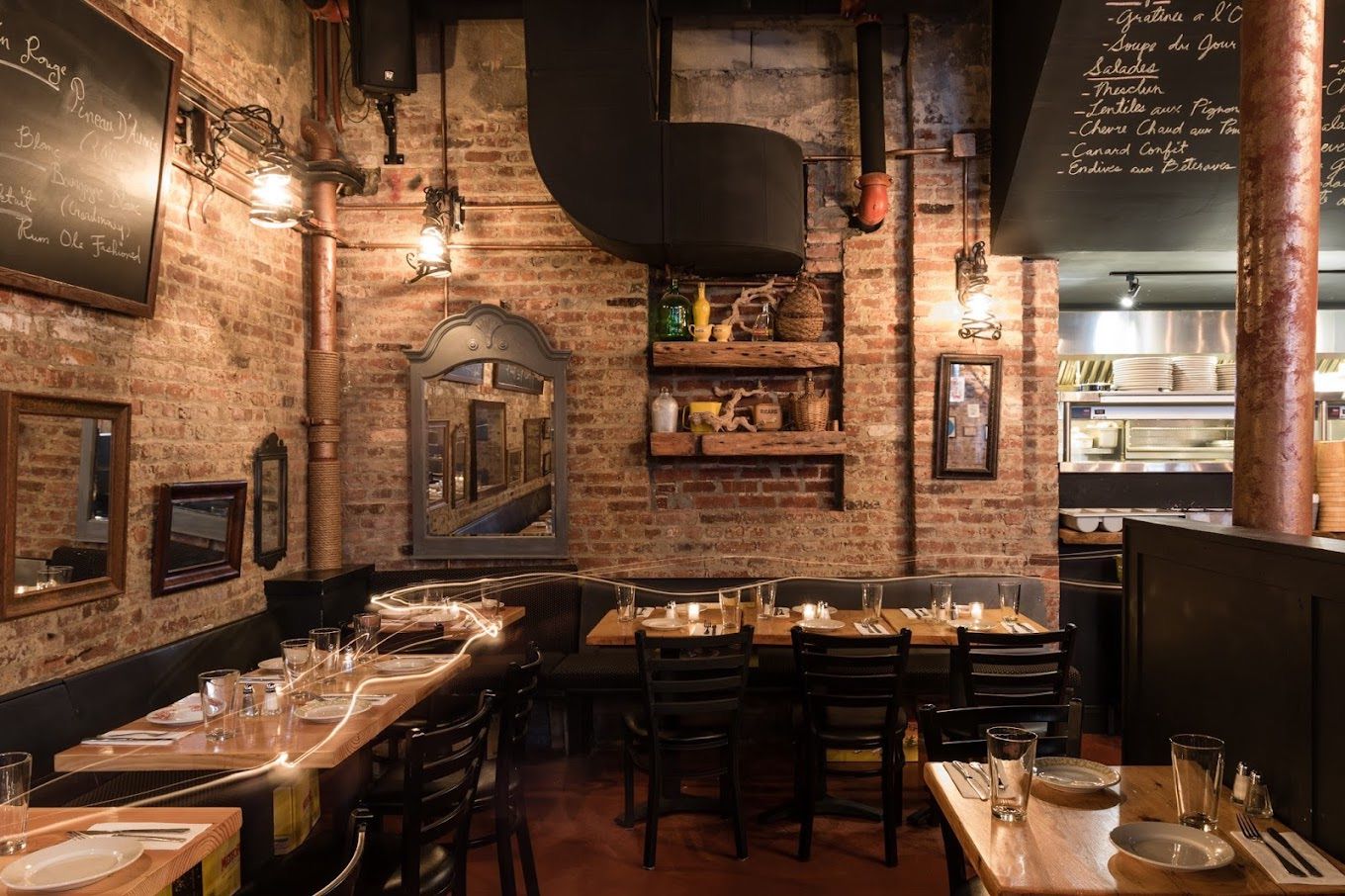 The newest JC restaurant to make our list, Madame opened their restaurant and cocktail lounge late last year inside a historic social club built in 1910 by Polish immigrants. Acclaimed chef Jamie Knott has crafted his own spin on modern French cuisine that includes hot and cold appetizers alongside sharable entrees like duck confit with beans and garlic sausage or a grilled ribeye with red wine bordelaise.
390 4th Street, madamejc.com
Prato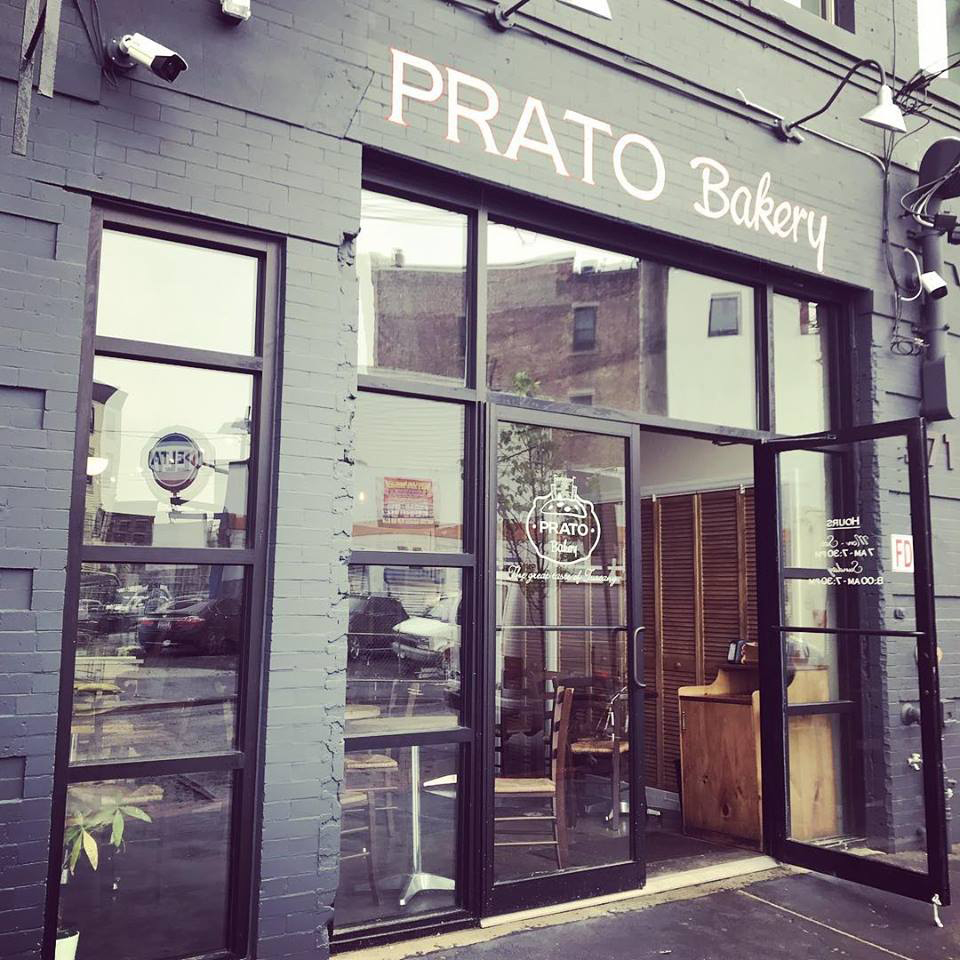 Named for a city in Italy, Prato first opened in Jersey back in 2015. Owner Simone Bertini previously owned Il Cantuccio in Manhattan before bringing his Tuscan baked goods across the Hudson River, a bounty that includes breads, pizza, focaccia, and pan brioche sandwiches. Prato has become known for their cantucci biscuits that feature chocolate, figs, prunes, and apricots.
371 4th Street, pratobakery.com
Prince & I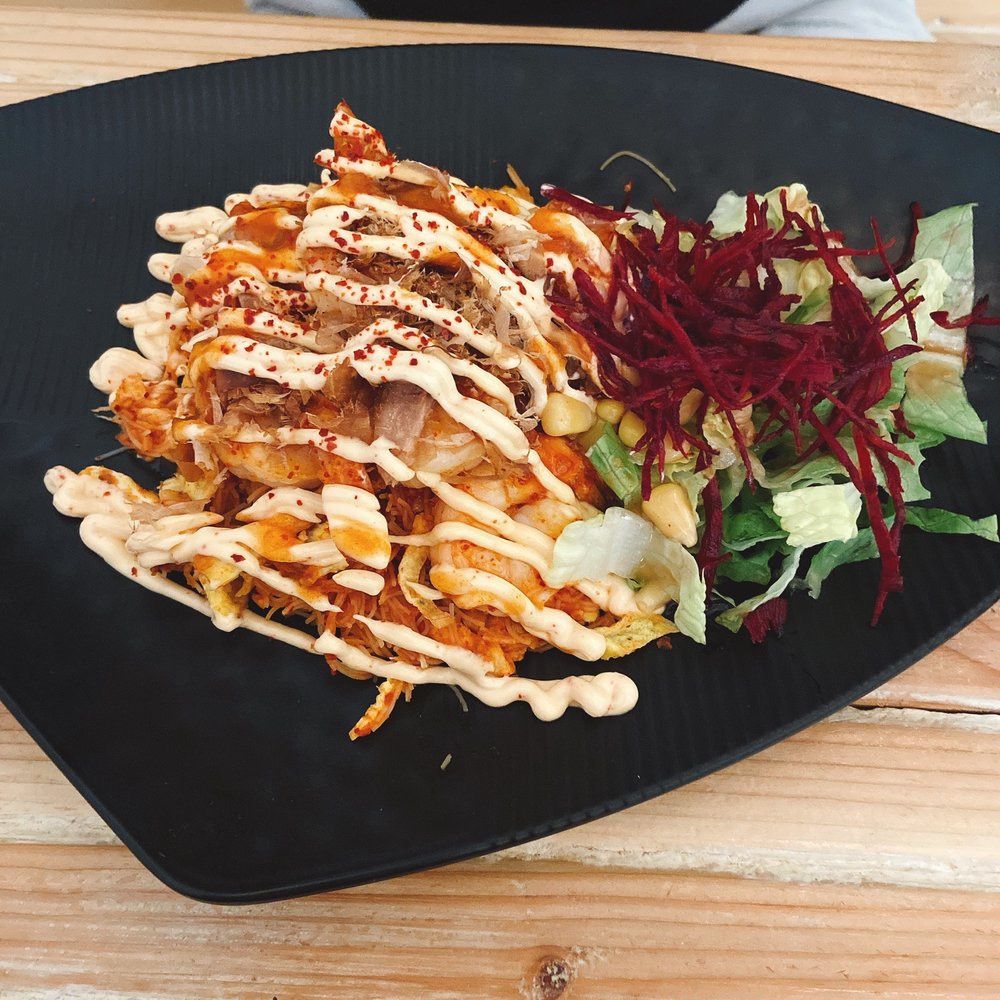 Thai restaurant Prince & I, which also showcases flavors from India and China, first opened eight years ago near the Brennan Courthouse before moving Downtown in 2017. Several unique varieties of pad Thai sporting mix-ins like curry chicken, barbeque pork belly, or crab cake with spicy sriracha mayonnaise are featured on the menu at this BYOB spot, which also serves rice bowls on their rotating menu.
80 Wayne Street, (201) 423-3838
The Heights
Corto
Opening in 2018, Corto translates to "short" in Italian as a nod to their smaller digs. But the original tin walls in this 30-seat restaurant provide a homey atmosphere for their seasonally changing menu, with a focus on pasta, that shifts with ingredient availability.
Delectable dishes like pork shoulder stracotto and desserts that rotate daily provide a new experience every time at this BYOB restaurant, which is situated just a short walk from Riverview Park.
507 Palisade Avenue, cortojc.com
Bread & Salt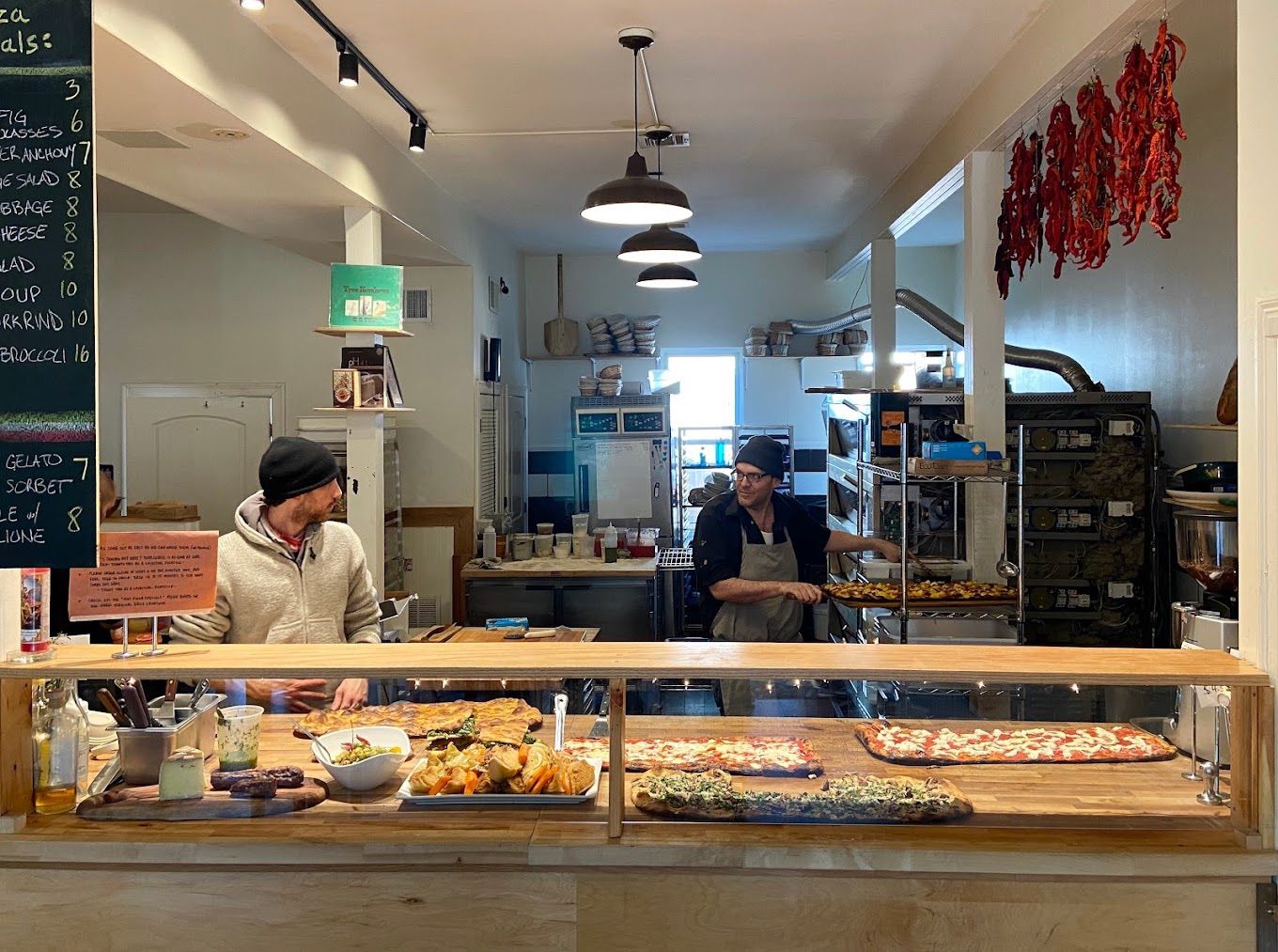 James Beard Award semifinalist Rick Easton opened Bread & Salt in 2019 after an acclaimed run in Pittsburgh known for embracing centuries-old Italian baking traditions that utilize natural fermentation and a 100% stone-milled, high-extraction wheat flour crop. Highlights of their rotating menu include Roman-style pizza. Their sandwiches are a must-try, as are their desserts, especially the delectable bombolones.
435 Palisade Avenue, breadandsalt.square.site
The Franklin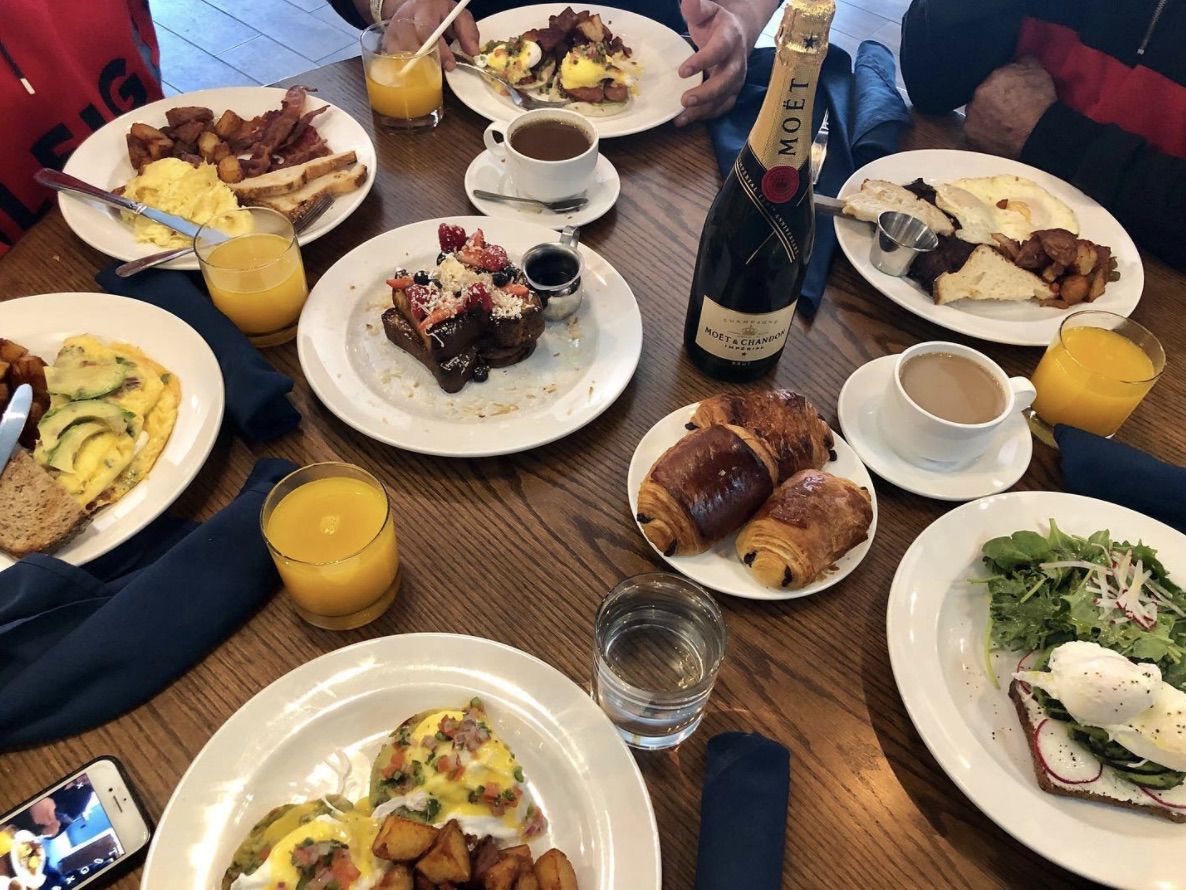 This brunch-centric spot opened about four years ago and quickly became one of the best restaurants in Jersey City. Their seven days a week brunch service includes a myriad of egg dishes like omelets, benedicts, and huevos rancheros alongside hearty salads and sandwiches.
The dinner menu at The Franklin has more of an Italian influence and features starters like kale Caesar salad, veal meatballs, and PEI mussels. Entrees and pastas at the BYOB restaurant include a veal Milanese, braised short rib, a wild mushroom and salmon risotto, and a lamb sugo pappardelle.
159 New York Avenue, thefranklinjc.com
Saigon Bistro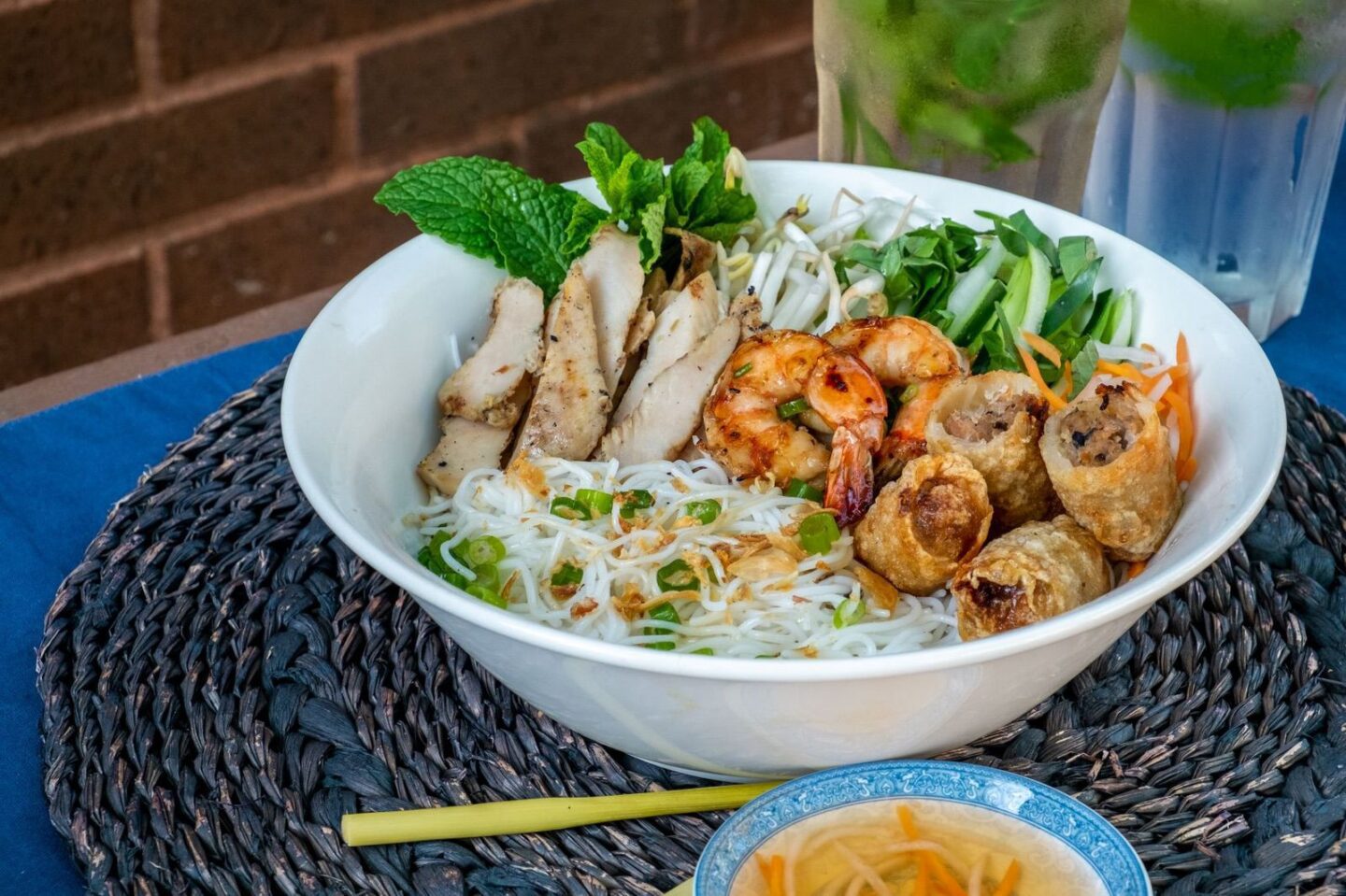 In business for just about two years, Saigon Bistro's Vietnamese cuisine is especially tailor-made for the winter months. Selections like spicy lemongrass noodle soup or a seafood stew featuring shrimp, squid, scallops, and steamed fish balls can literally warm even the coldest soul.
Limited seating has made this restaurant a takeout and delivery hotspot. Their pho dishes are a standout, as are their banh mi, spring rolls, steamed dumplings, and sugarcane shrimp, which is minced and then slathered in garlic, white pepper, and peeled sugarcane.
514 Central Avenue, saigonbistrojc.com
Dulce de Leche
This family-operated Argentine bakery quickly became a neighborhood favorite after opening in 2016. Sporting a juice and smoothie bar, Dulce de Leche bakes all their cakes on premises in their completely renovated 130-year-old building.
The casual café also offers a variety of breakfast and lunch sandwiches alongside decadent cakes including a dulce de leche chantilly and tres leches variety.
376 Central Avenue, dulcedelechebakery.com
Low Fidelity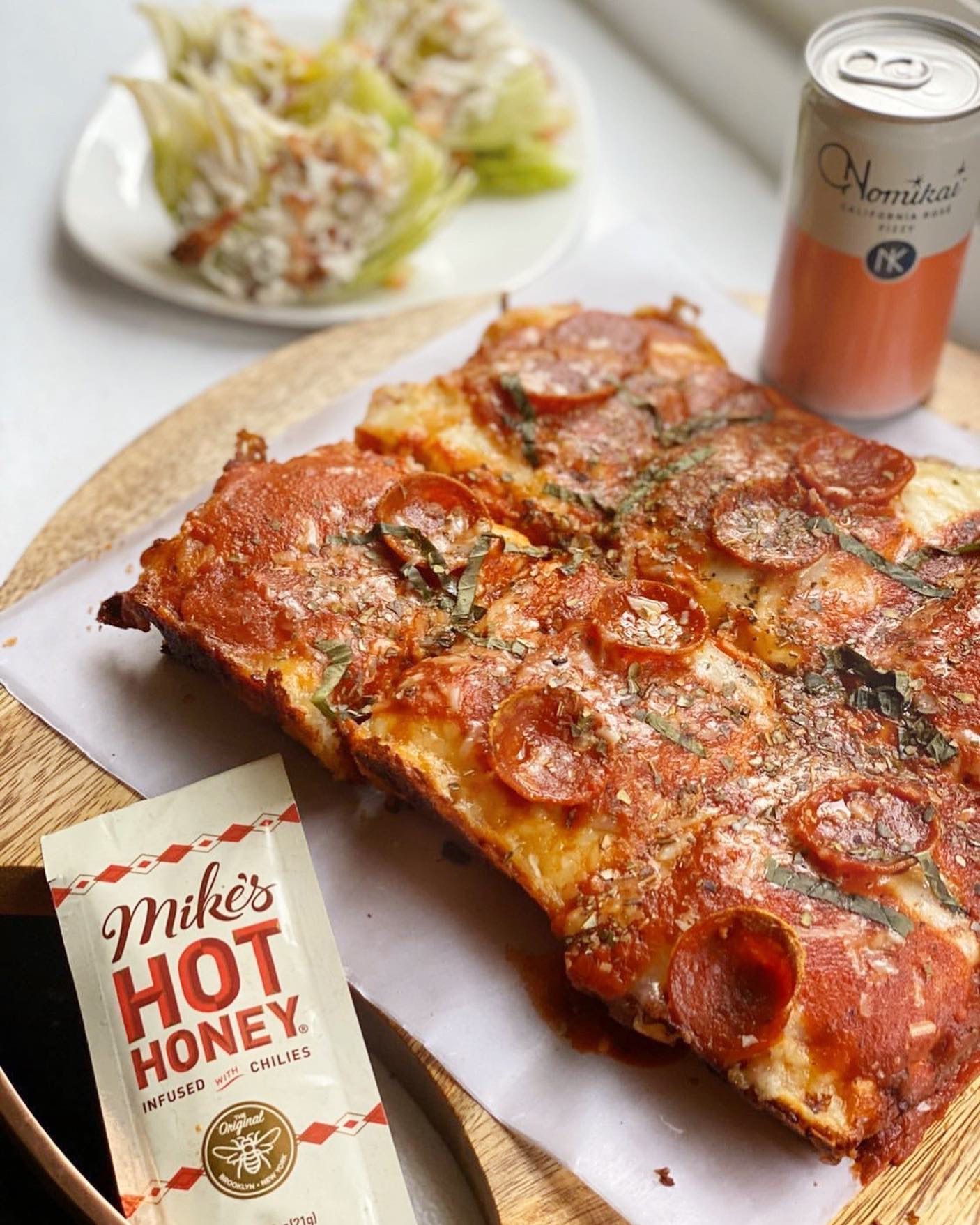 Ownership behind the Downtown cocktail hotspot The Archer opened the affectionately nicknamed Lo-Fi in 2017 and brought their innovative libations with them. The spot, which opens a patio space during summer months, serves concoctions like the Notorious F.I.G., which blends, bourbon, vermouth, Campari, fig syrup, and chocolate bitters.
Supplementing the drinks is Detroit-style pizza, which is baked in a rectangular pan with a thick crust and crispy edges. Their highlight Jersey Cosmonaut pie mixes pancetta, roasted heirloom tomatoes, basil, fennel pollen, pecorino, smoked mozzarella and vodka sauce.
328 Palisade Avenue, lowfidelitybar.com
Andrea Salumeria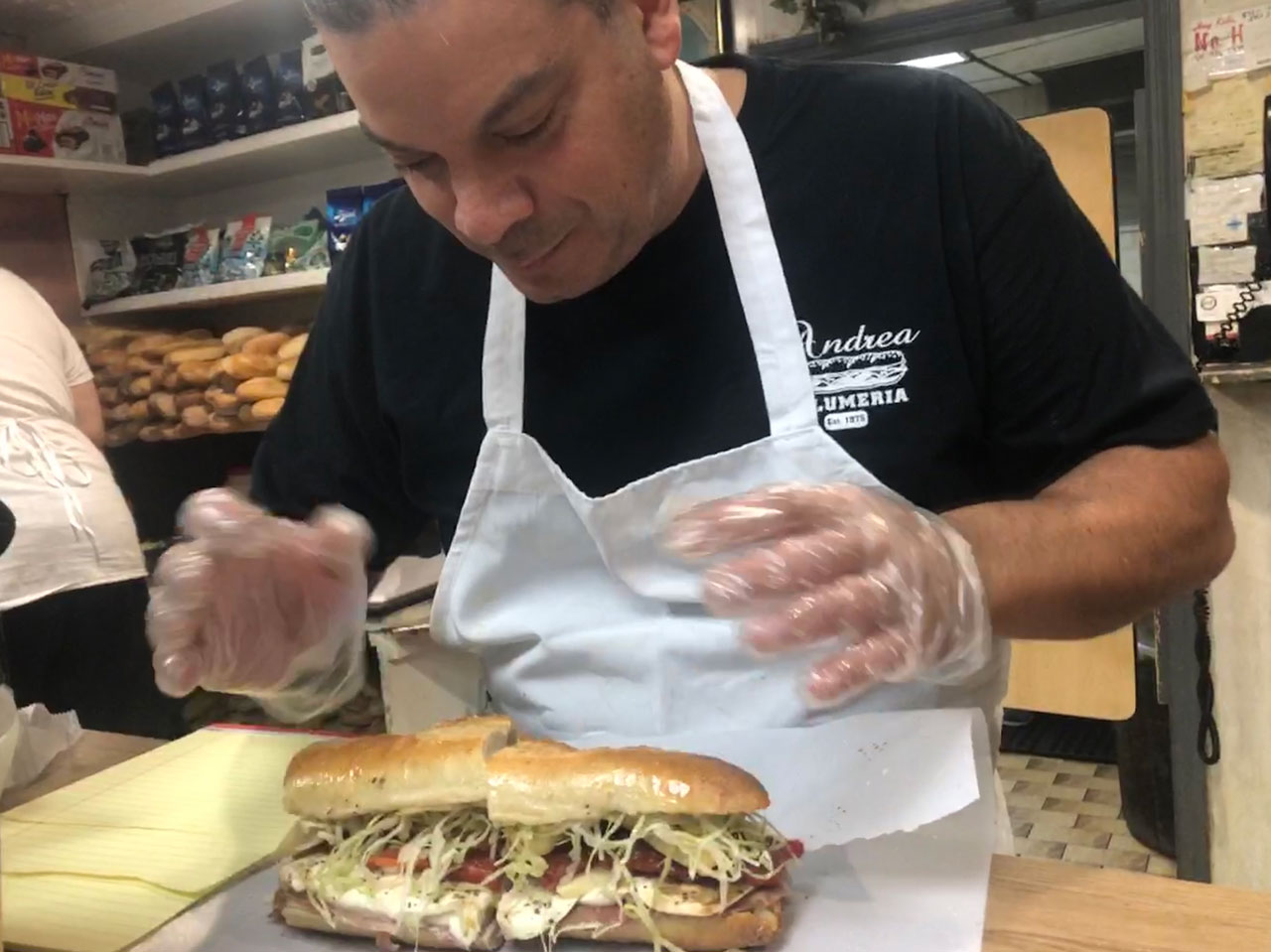 A staple on Central Avenue since 1975, this family-owned spot is part deli part market. Homemade soups and specialty Italian sandwiches have kept customers coming for decades, as have a plethora of domestic and imported meats and cheeses from all over the globe.
Andrea Salumeria also sells hard-to-find varieties of balsamic vinegars, truffle honey, truffle butter, truffle sea salt, and more, making this old-school shop a must-visit in The Heights.
247 Central Avenue, andreasalumeria.com
The Hutton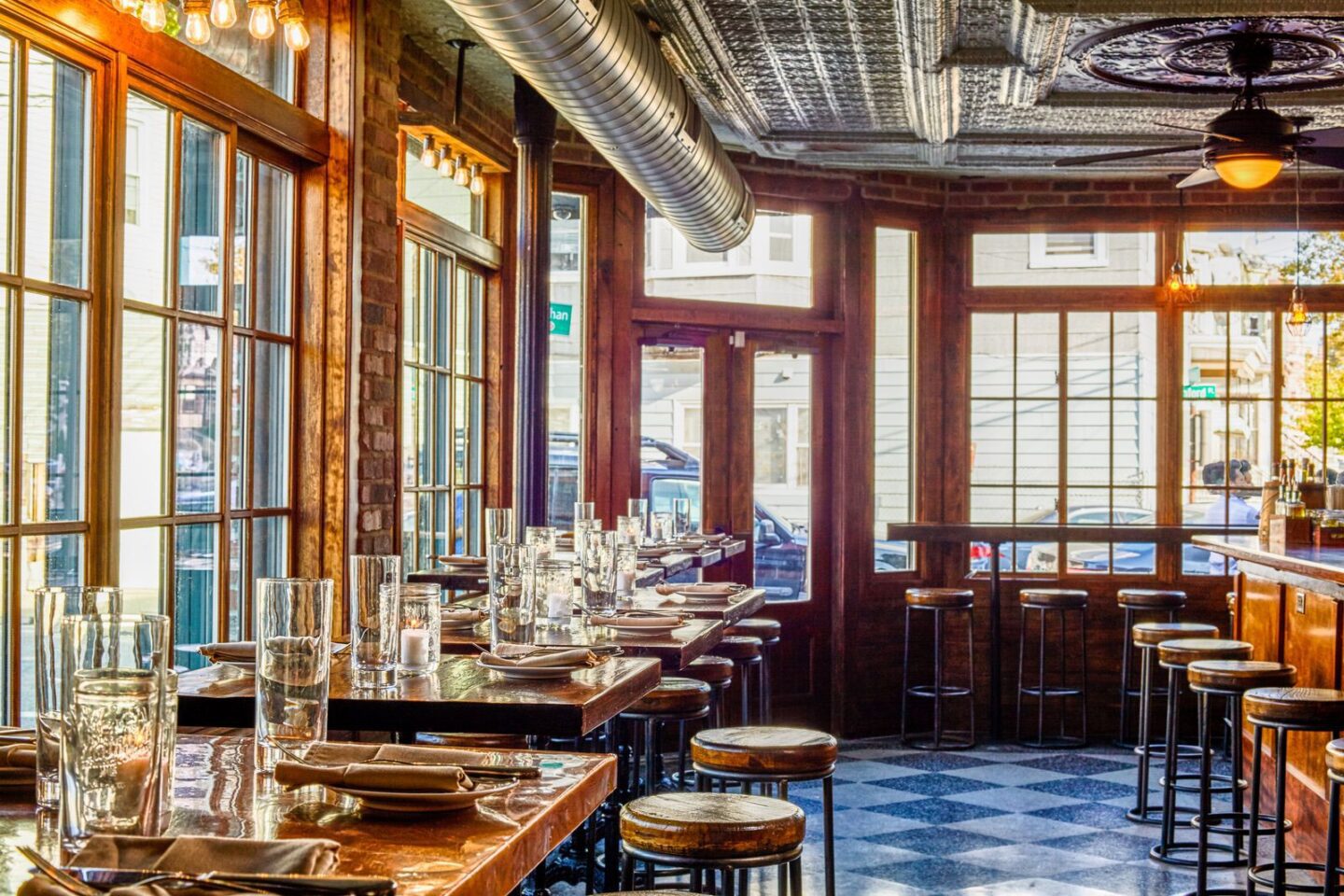 A restaurant and wine bar that opened in 2016, The Hutton sports a diverse menu that includes dishes like chopped brisket and gnocchi, prosciutto-wrapped salmon, crab bucatini, and a fried chicken naan sandwich. Their cozy space includes a back patio area sporting a 200-year-old oak tree.
225 Hutton Street, thehuttonjc.com
White Mana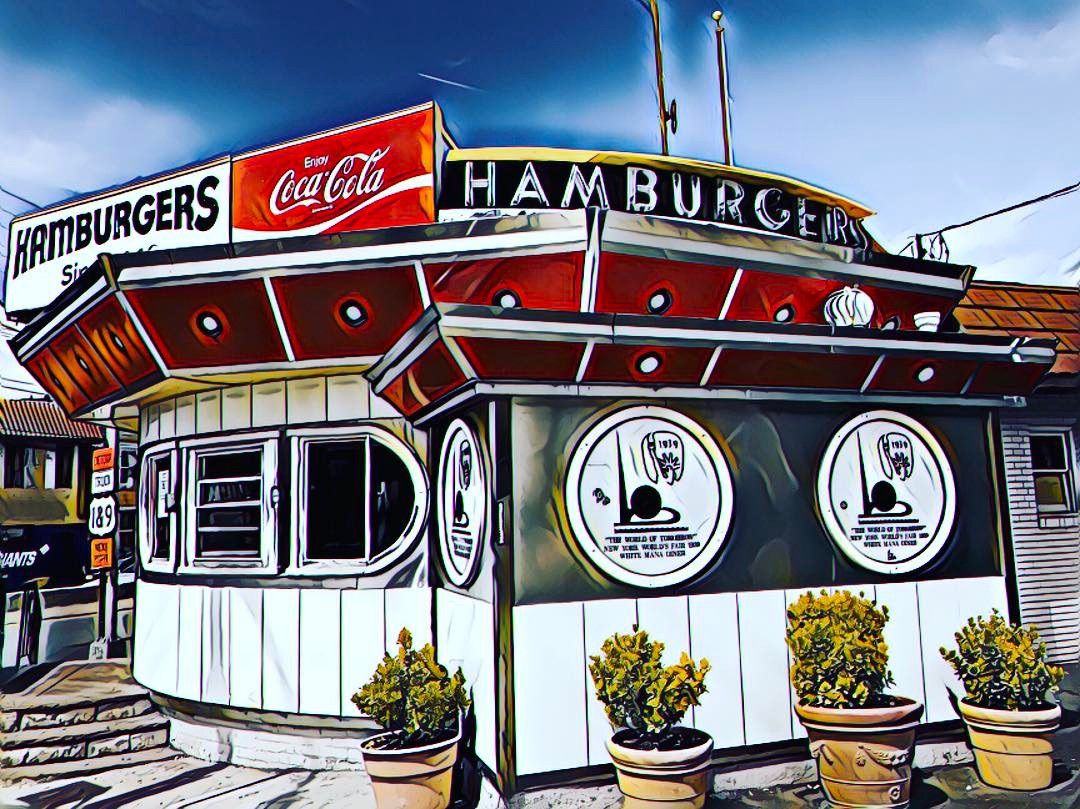 This roadside diner, which serves breakfast at 8 a.m. for early risers, was initially opened as a pavilion at the 1939 World's Fair in Queens before it was moved to the Western Slope of The Heights. The no-frills spot sells about 3,000 of their slider-style burgers per week that are served on potato rolls and cooked on a large griddle surrounded by a circular counter.
470 Tonnelle Avenue, whitemanadiner.com
El Gordo
El Gordo, a Peruvian family-owned business, was founded over two decades ago in Passaic County before they expanded to Jersey City in 2018. Their diverse collection of entrees range from ceviche and arroz con pollo to Peruvian style lamb stew and several chicken and rice dishes served with Huancaina, a spicy cheese sauce.
291 Central Avenue, elgordoeatery.com
Journal Square
Korai Kitchen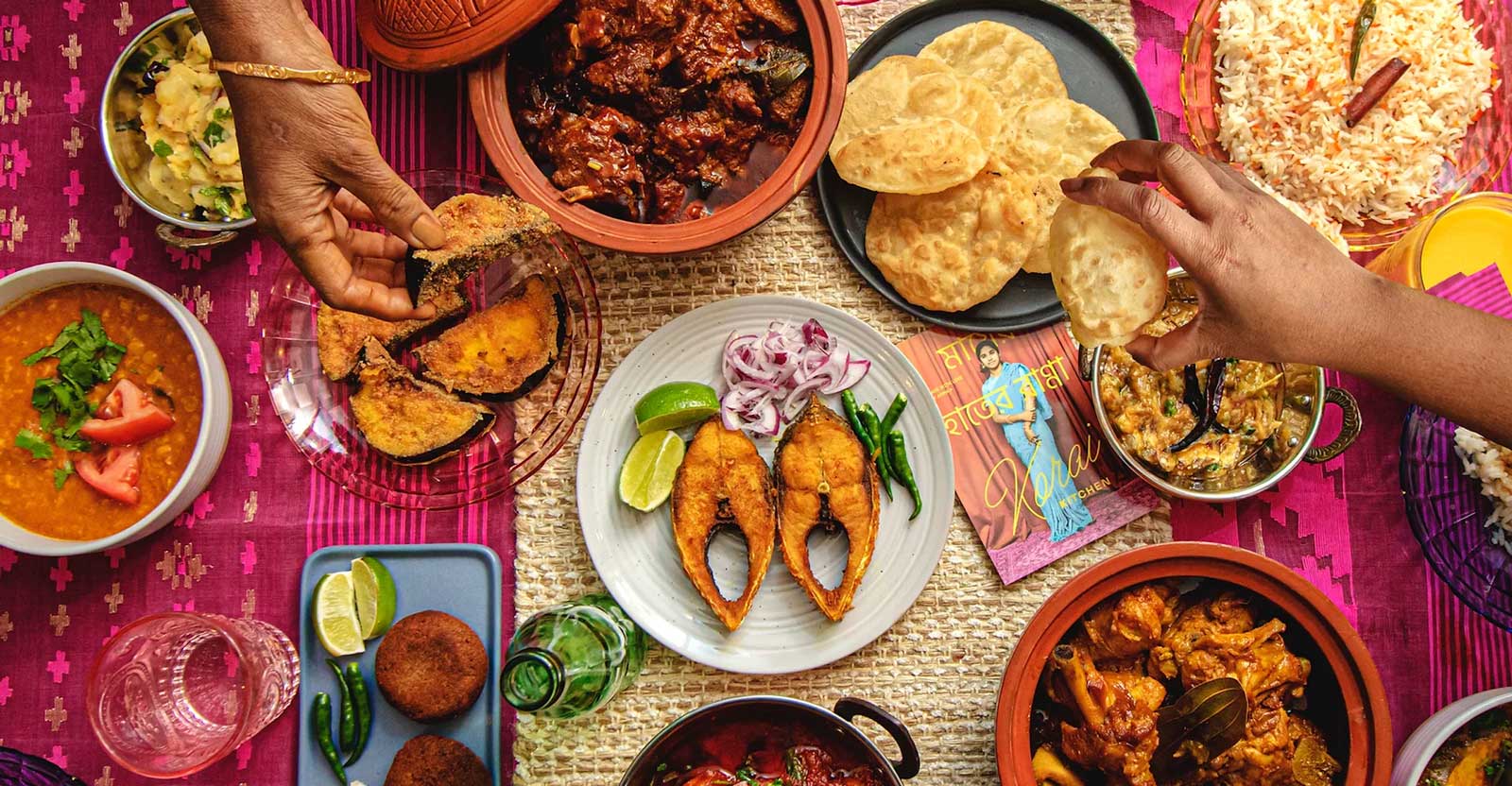 Jersey City's only Bangladeshi eatery, Korai Kitchen, opened in 2018 and has been garnering rave reviews ever since. The cheerful space sports a hand printed "welcome" sign in both English and Bengali while serving a diverse menu that is 100% halal.
Culinary highlights courtesy of the mother-and-daughter team of Nur-E Gulshan Rahman and Nur-E Farhana Rahman include a hearty beef tehari with hints of cinnamon, sticky bhartas, and fresh Rohu and Hilsa fish straight from Bangladesh with lots of lentils and spice.
576 Summit Avenue, koraikitchen.com
15 Fox Place
Hidden inside a 1905 home full of family photos and seasonal decorations, 15 Fox Place is run by 2020 James Beard Semifinalist Marc Budinich. The restaurant serves diners 15 or 16 dishes over three hours with an intermission to meet and mingle in the backyard.
There is no set menu at 15 Fox Place, but Marc and his family work to accommodate any dietary requests and restrictions. Reservations are a must, as the restaurant can accommodate 50 diners across the two-floor home.
15 Fox Place, (201) 333-1476
Emma's
Emma Latham, daughter of Latham House owners Kris Yettra and Dan Latham, launched this comfort food spot back in 2020 that draws from southern influences. Shrimp po' boys, a braised brisket quesadilla, fried chicken sliders, and more adorn the menu, which sports a Gulf-inspired cocktail list including a modern take on a hurricane.
4 Path Plaza, emmasjc.com
Swadist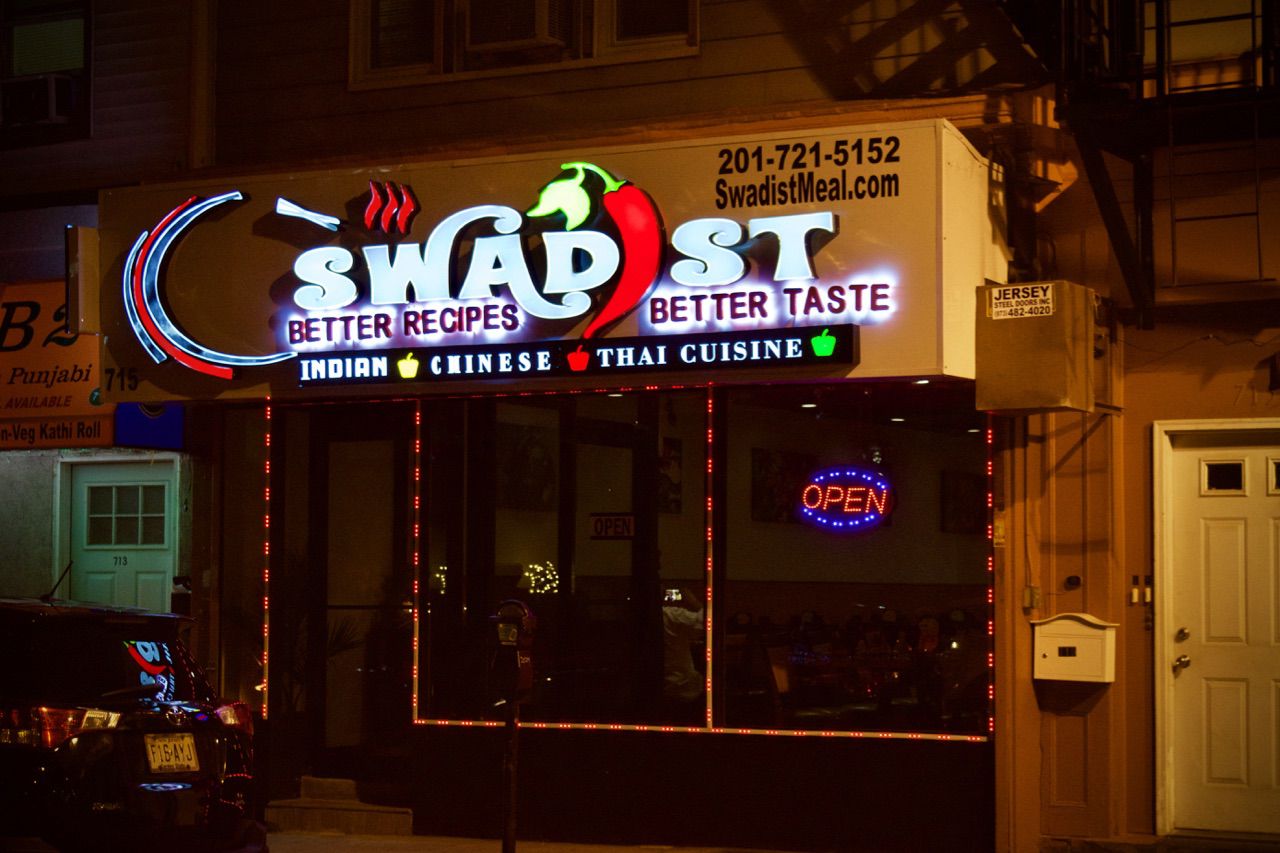 Situated in the India Square neighborhood, Swadish might be the best of the Indian-owned businesses along the western end of Newark Avenue (and that's high praise). Run by the Rawat family, the restaurant serves seafood, lamb, goat, poultry, lentil, and vegetarian dishes along with rice and biryani options.
Their must-try meals include Bengali fish curry, a bone-in baby goat masala, and a paneer tikka masala with homemade cottage cheese.
715 Newark Avenue, swadistmeal.com
Choc o Pain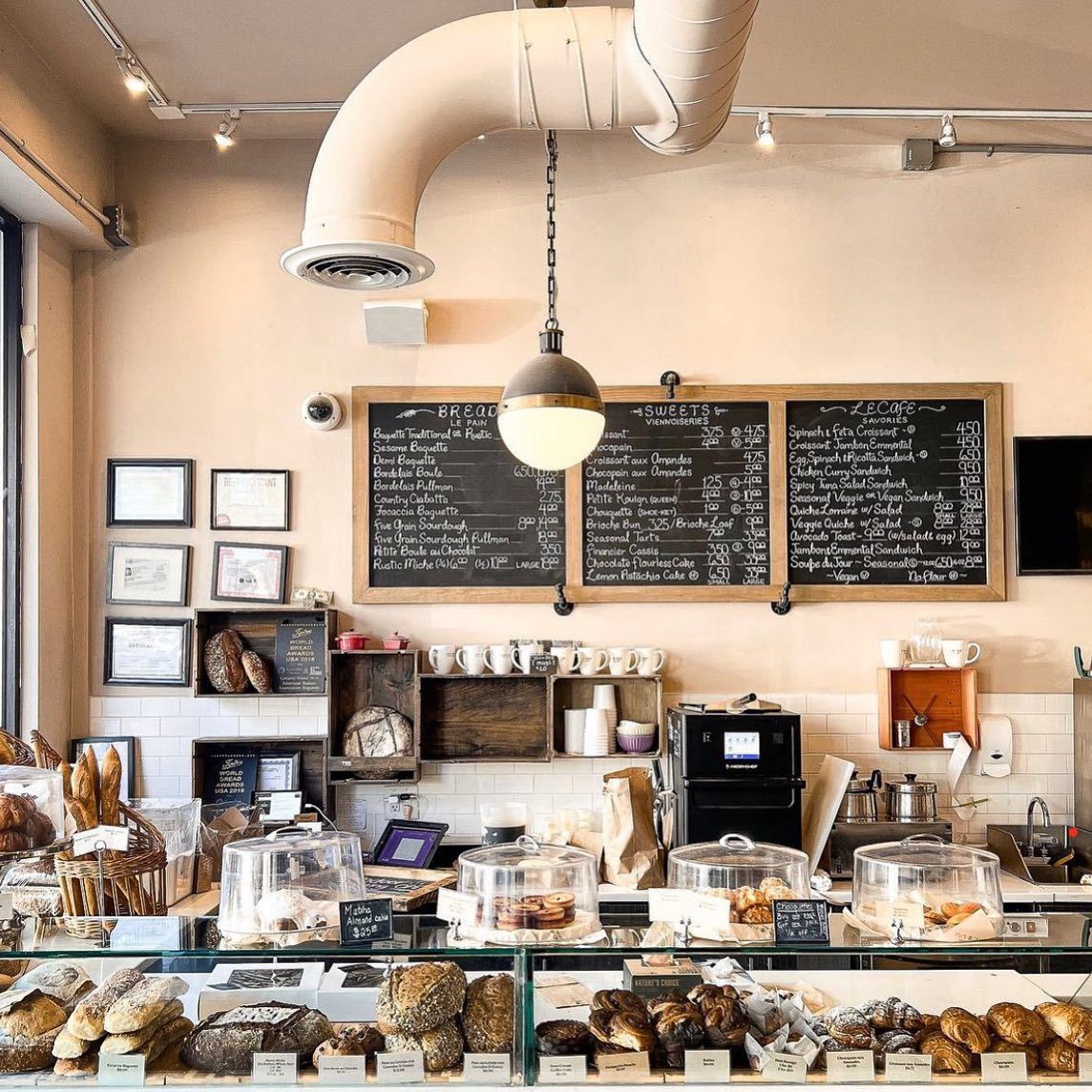 The aesthetic of a Parisian neighborhood café is on full display at Choc O Pain, which was first launched over a decade ago by French native Clemence Danko on First Street in Hoboken. The spot serves their trademark flaky croissants alongside other unique offerings like a banana sourdough bread, tarts, salads, coffee drinks, and baguettes.
Choc o Pain's award-winning breads are achieved through their slow and long fermentation process and the café also sells a curated list of French specialty food items including artisanal chocolates, macarons, candies and Alain Milliat jams.
244 St. Pauls Avenue, chocopainbakery.com
Ling Long Xuan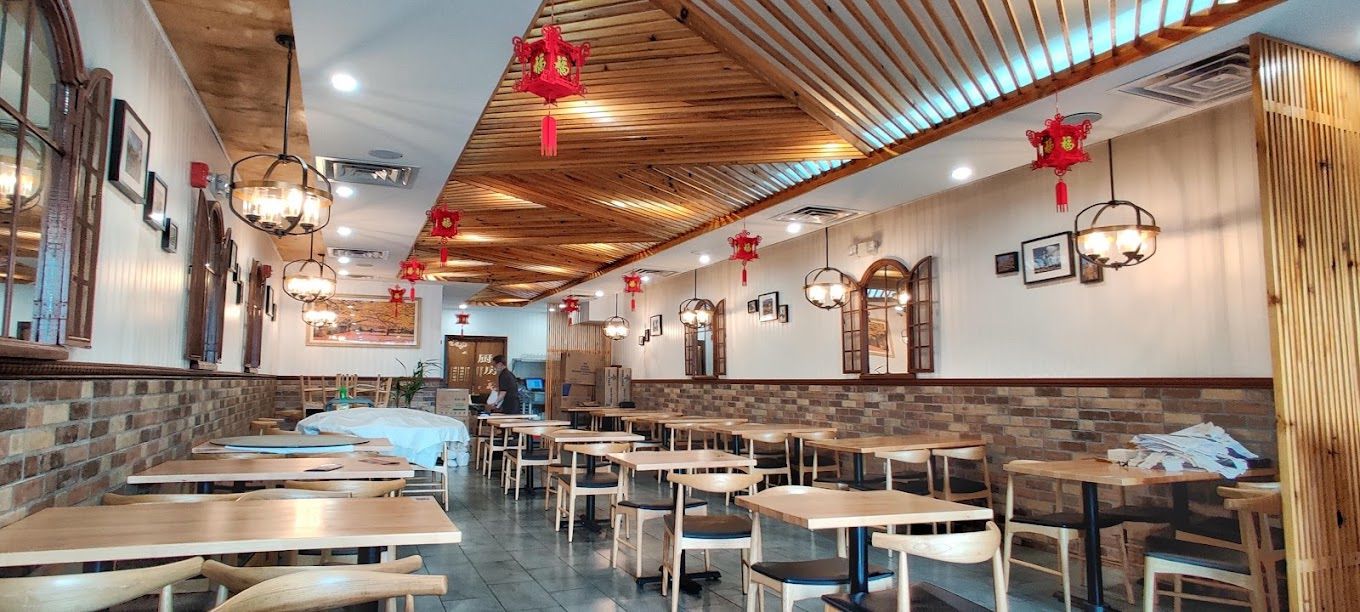 Sporting great natural light and Chinese-themed décor, this authentic spot sports a sprawling and varied menu featuring classic dim sum and including dishes like steamed red bean buns, pan-fried pork buns, and pork and egg congee.
Besides traditional Chinese fare like lo-mein, noodles, and fried rice, Ling Long Xuan features several more authentic plates like a dried sautéed squid head, frog with hot peppers, salt and pepper shishamo, or conch with scallion sauce.
586 Newark Avenue, linglongxuannj.com
Freetown Road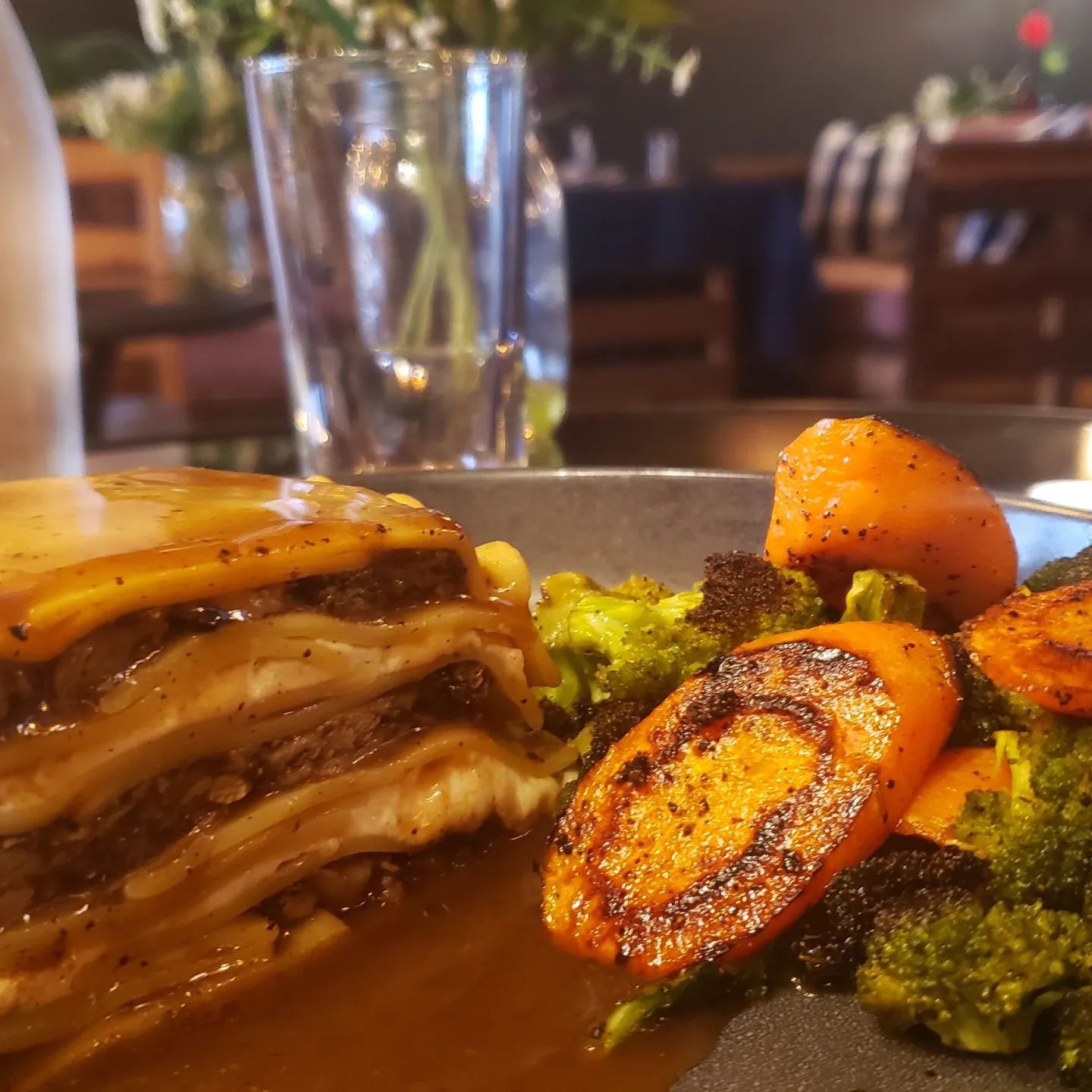 This BYOB Caribbean restaurant was opened by Chef Claude Lewis shortly after he won Food Network's Chopped competition back in 2019. Besides their signature Oxtail Stew, Freetown Road's entrée menu includes a grilled goat dish and a salted codfish that are complemented by sides like Roti skins, fried dumplings, or a macaroni and cheese pie.
The name of the restaurant is a combination of the two hometowns of Lewis' parents, Freetown Village and Old Road Village. His eatery strives to be a representation of West Indian culture and Caribbean flavors.
640 Newark Avenue, freetownroadprojectnj.org
McGinley Square
Cafe Alyce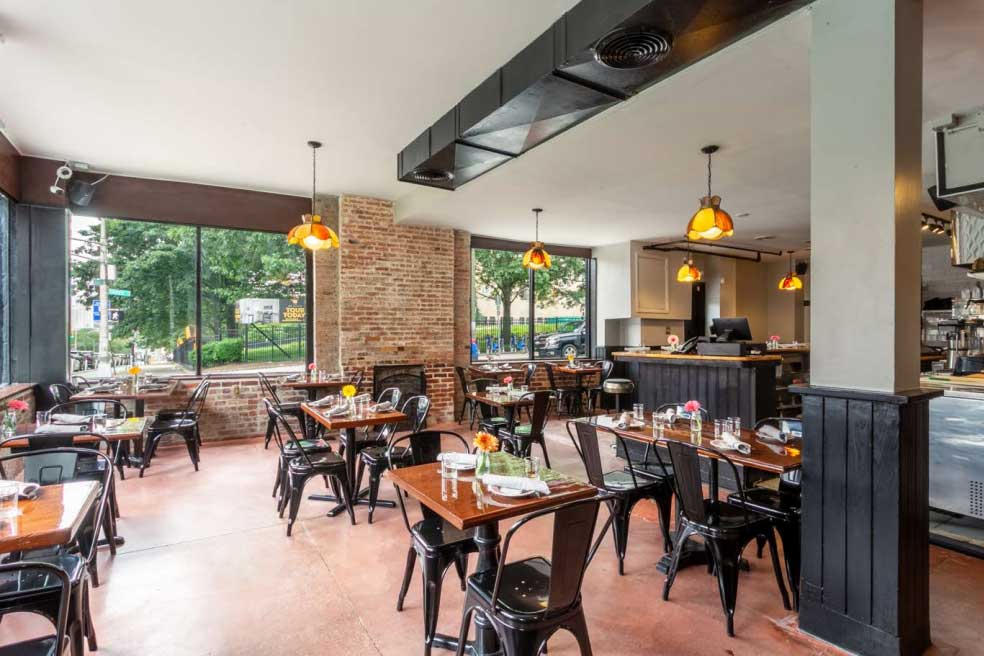 Another newer entry on our list, Cafe Alyce transformed the former Medical Center Luncheonette. Owners Tory Aunspach and Natalie Miniard oversaw the renovation of the century-old building that restored the cozy space, which serves breakfast, lunch, and dinner.
The BYOB restaurant's menu includes sandwiches, share plates, salads and a coffee program for the early hours while providing a more upscale experience at night. Notable dinner highlights include appetizers like acorn squash samosas and entrees such as chicken makhani tagliatelle and a delicious curried lamb.
641 Montgomery Street, cafealyce.com
ITA Italian Kitchen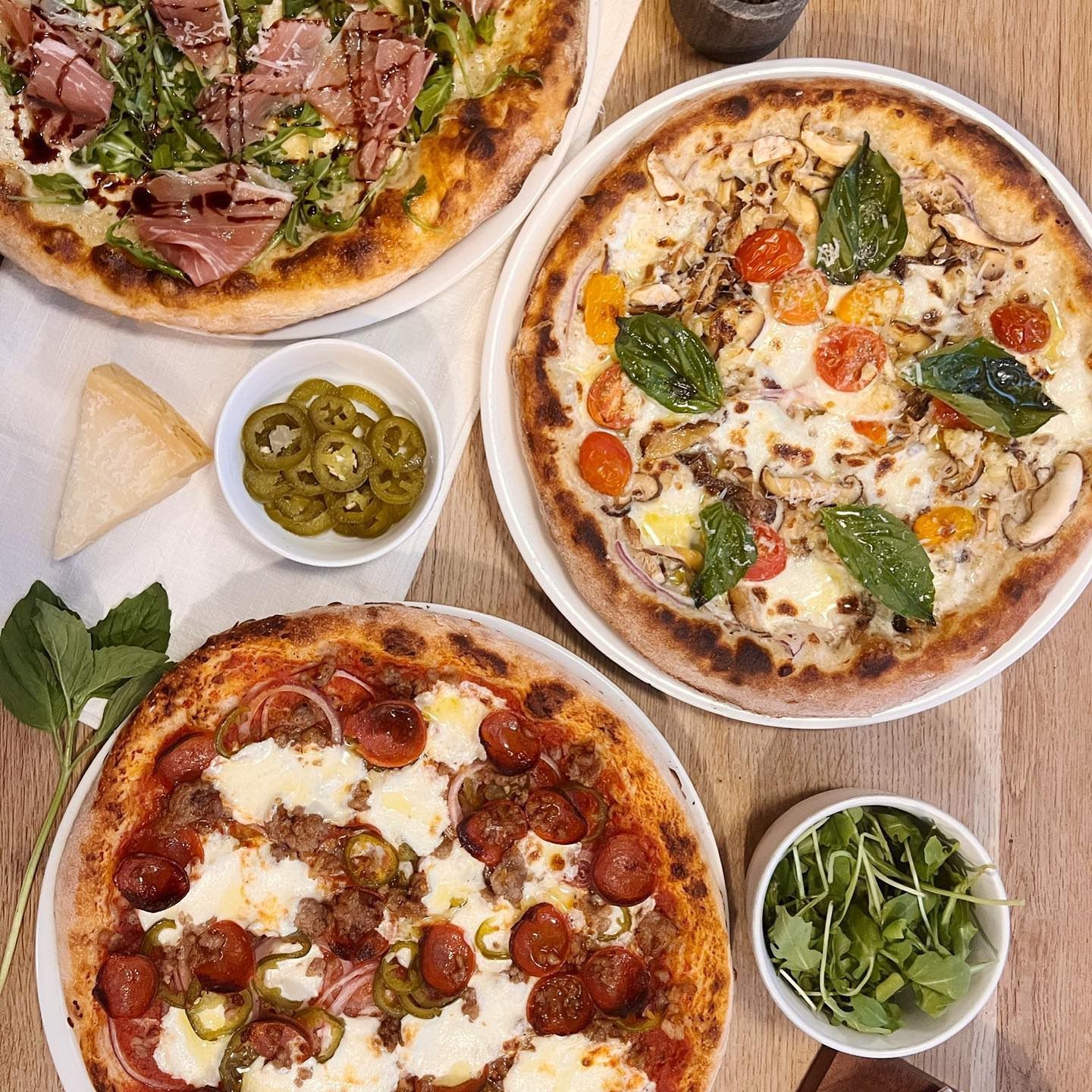 Opened in 2020, chef Dylan Golden serves up homemade pasta that includes squid ink spaghetti, pappardelle in a short rib ragu, or lasagna. Main dishes run from an ocean trout with crispy fingerlings to an organic half chicken raised from Joyce Farms.
20 draft beers, cocktails, and a robust wine list are on the agenda at ITA Kitchen, which serves a variety of pizzas cooked in a brick oven including a brunch pie during their weekend service.
682 Bergen Avenue, (201) 435-8380
Crema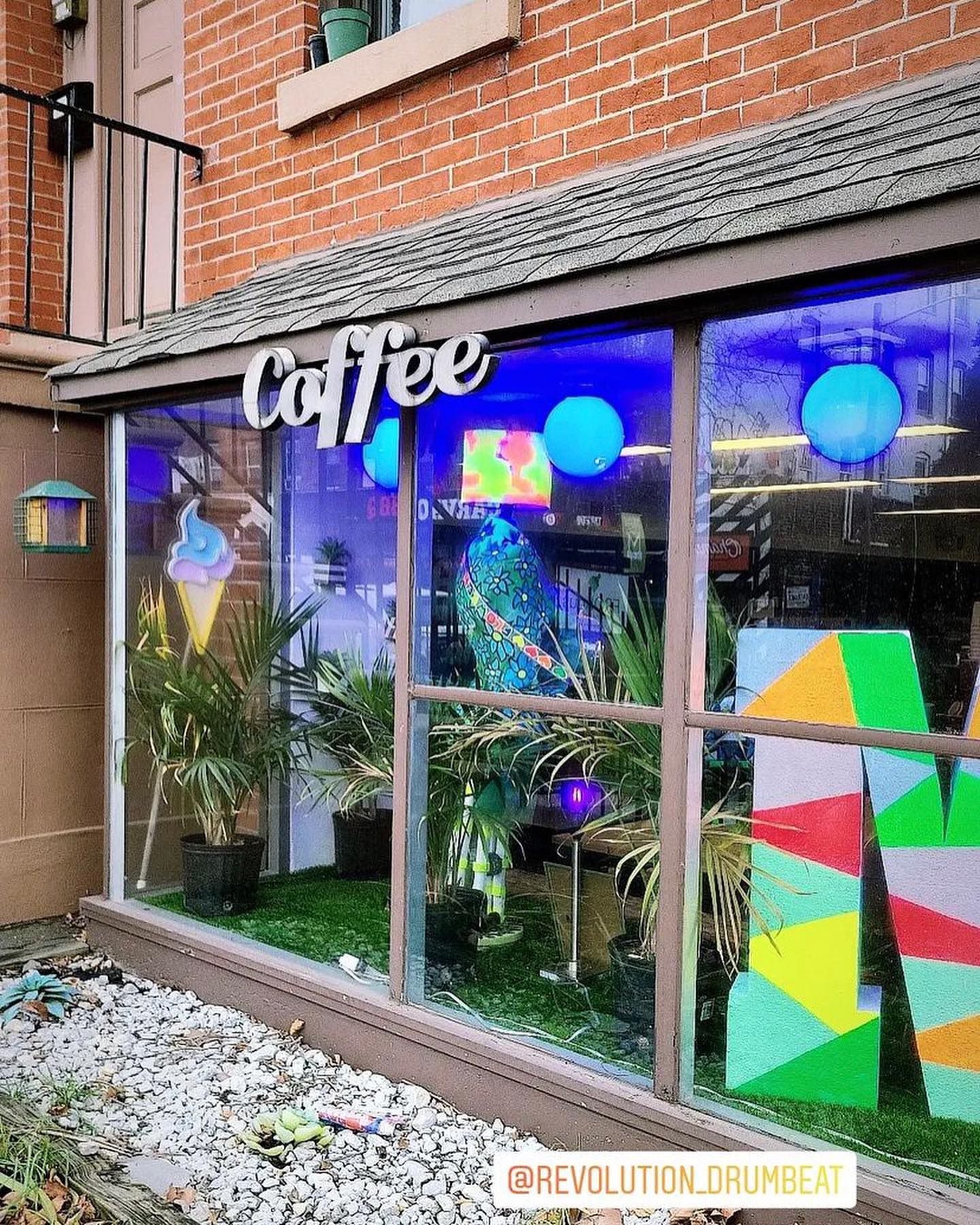 Located in the basement of a brownstone and run by longtime neighborhood residents Federico Rodriguez and Michele Boas, Crema is part coffee shop and part ice cream parlor. With ice creams sourced from an Amish farm in Pennsylvania and a menu that includes coffee, tea, bagels, toast, sandwiches, root beer floats, and gluten-free items, the spot has become a hangout for locals that includes a play area for kids.
1 Duncan Avenue, (551) 689-5229
Taqueria mi Mariachi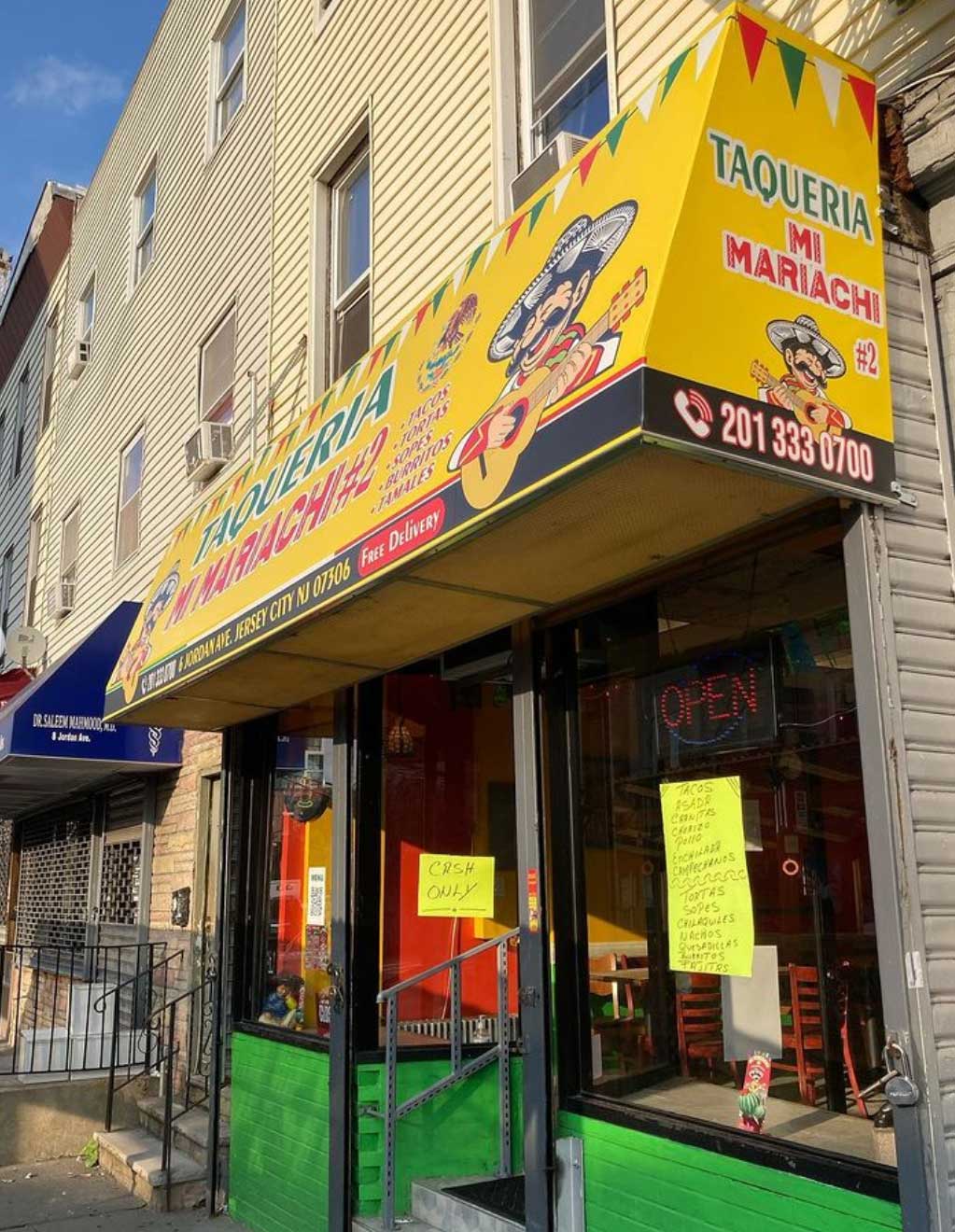 Don't let the look of this storefront fool you, as Taqueria mi Mariachi is one of the best restaurants in Jersey City. This cash-only spot was recently ranked as the best taco spot in New Jersey by Yelp and offers an authentic experience that starts with early morning options like huevos rancheros and other breakfast platters.
The star of Taqueria mi Mariachi are their tacos, burritos, tortas, and enchiladas, which can all be customized with ten different proteins. Options like pulled pork, Longaniza sausage, chicken, steak, Barbacoa, goat, tongue, stomach, and brisket adorn the menu, which also includes several varieties of huaraches, a Mexican dish with masa dough and smashed pinto beans.
6 Jordan Avenue, mimariachijerseyci.wixsite.com
Krewe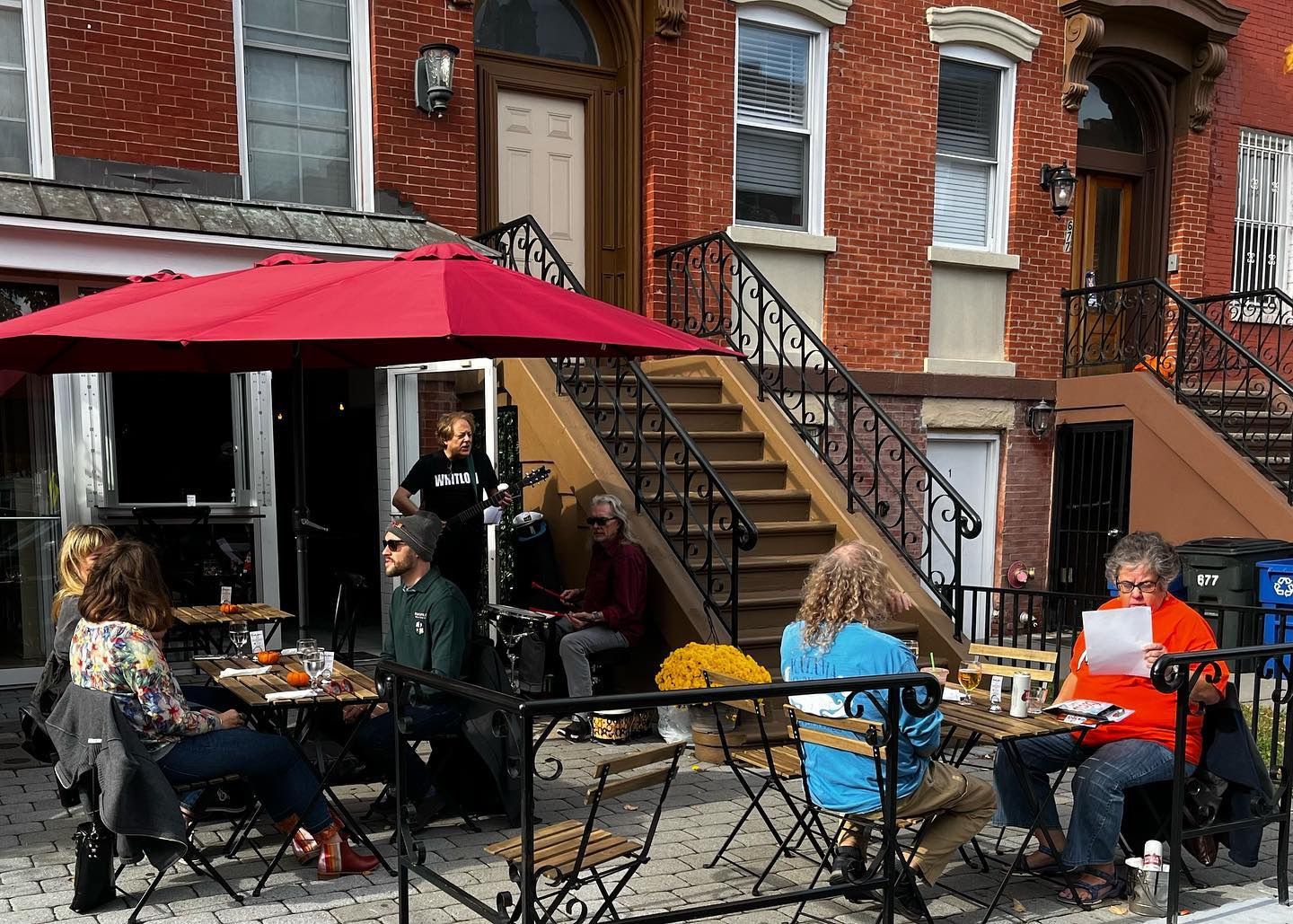 Taking their name from a New Orleans social organization that puts on a parade during the Carnival season, Krewe is the brainchild of filmmaker Hank Morris and chef Anthony Tamburro. Favorites at this BYOB Bayou-style eatery include shrimp etouffee, po' boys, muffuletta, and jambalaya.
673 Bergen Ave, krewe-restaurant.com
Bergen-Lafayette
Harry's Daughter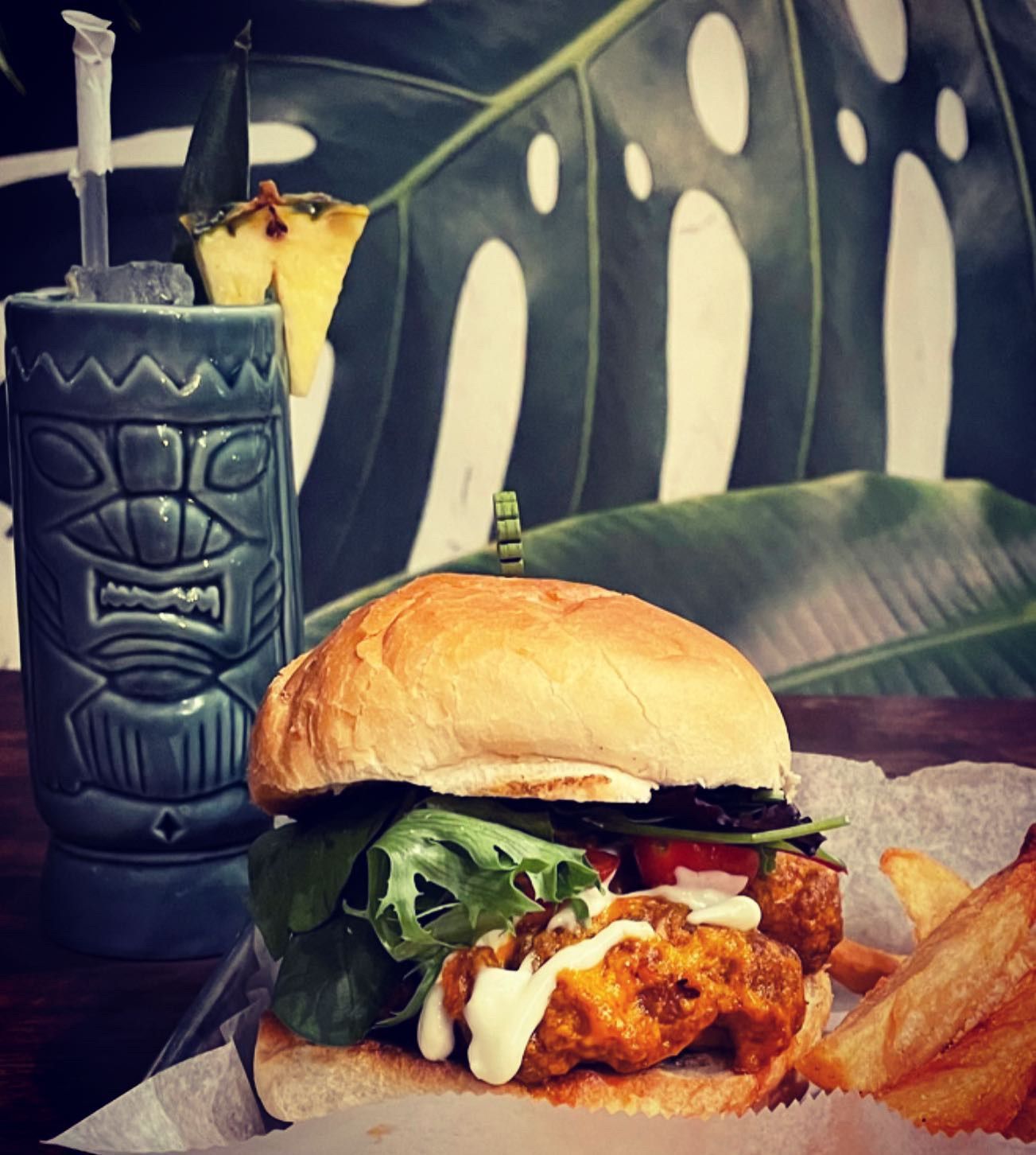 This distinctive blend of American and Caribbean cuisines is situated in an even more unique space that evokes a Prohibition vibe and features hanging chairs. Nachos with Irish Cheddar and jerk chicken or classic Peri Peri peel-and-eat shrimp entrées are highlights at the eatery, which features lots of Irish whiskey on the spirits menu and rums from Trinidad and other Caribbean nations.
339 Communipaw Avenue, harrysdaughter.com
Nûrish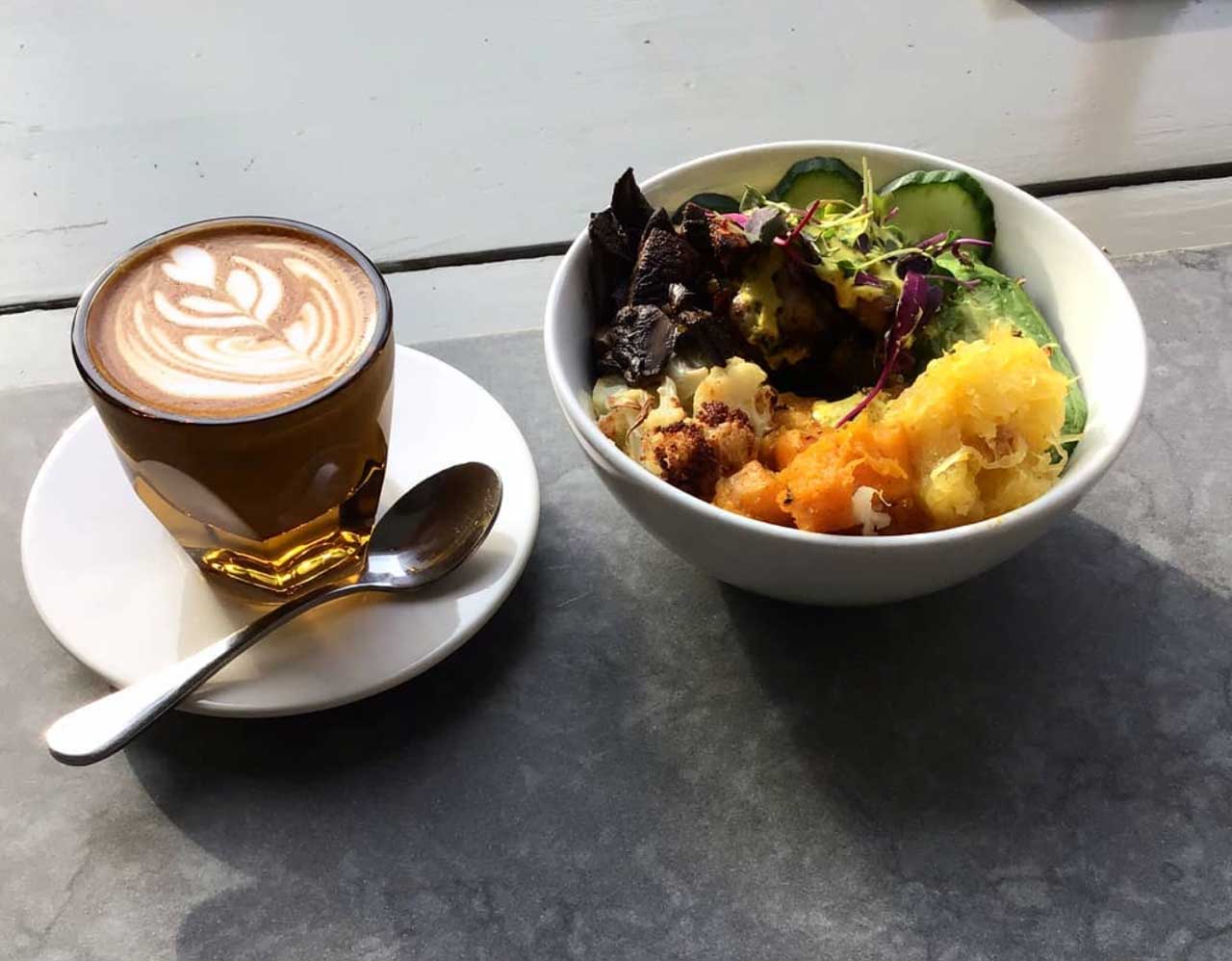 Founder Elijah M. Bah of Nûrish initially launched this health-minded restaurant in Prospect Heights before expanding to Jersey City last year. The circumflex on the "u" in Nûrish symbolizes how diners are lifted by their breakfast and lunch dishes, which are complemented by premium roasted coffee, smoothies, and juices.
346 Communipaw Avenue, nurishjerseycity-jvb.com
Pinwheel Garden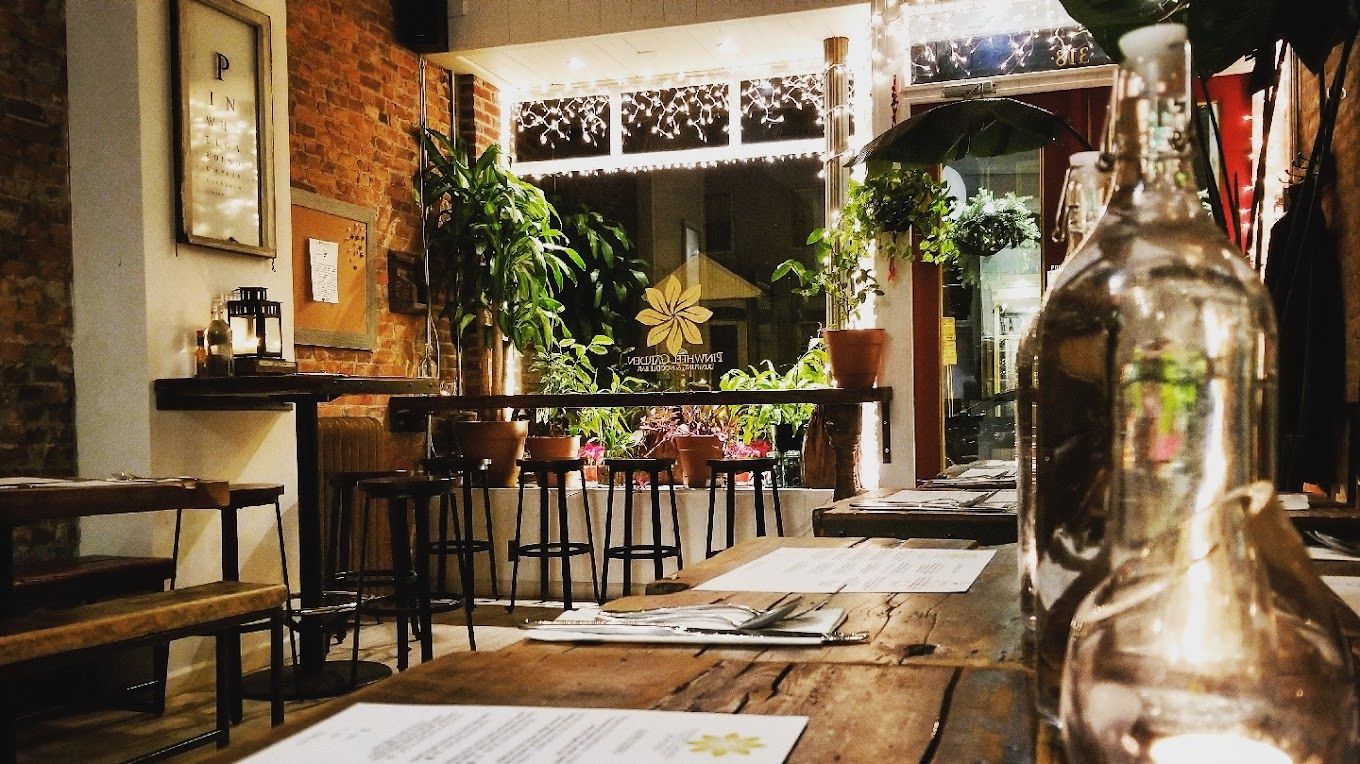 Brothers Steve and Albert Tseng opened Pinwheel Garden just about six years ago and their handmade dumplings, udon, and ramen dishes were a hit with locals. Highlights at the casual restaurant include the bourbon bacon drunken noodles or a Korean barbeque short rib rice bowl, and the menu includes new arrivals every few weeks.
318 Communipaw Avenue, pinwheelgardenjc.com
Mordi's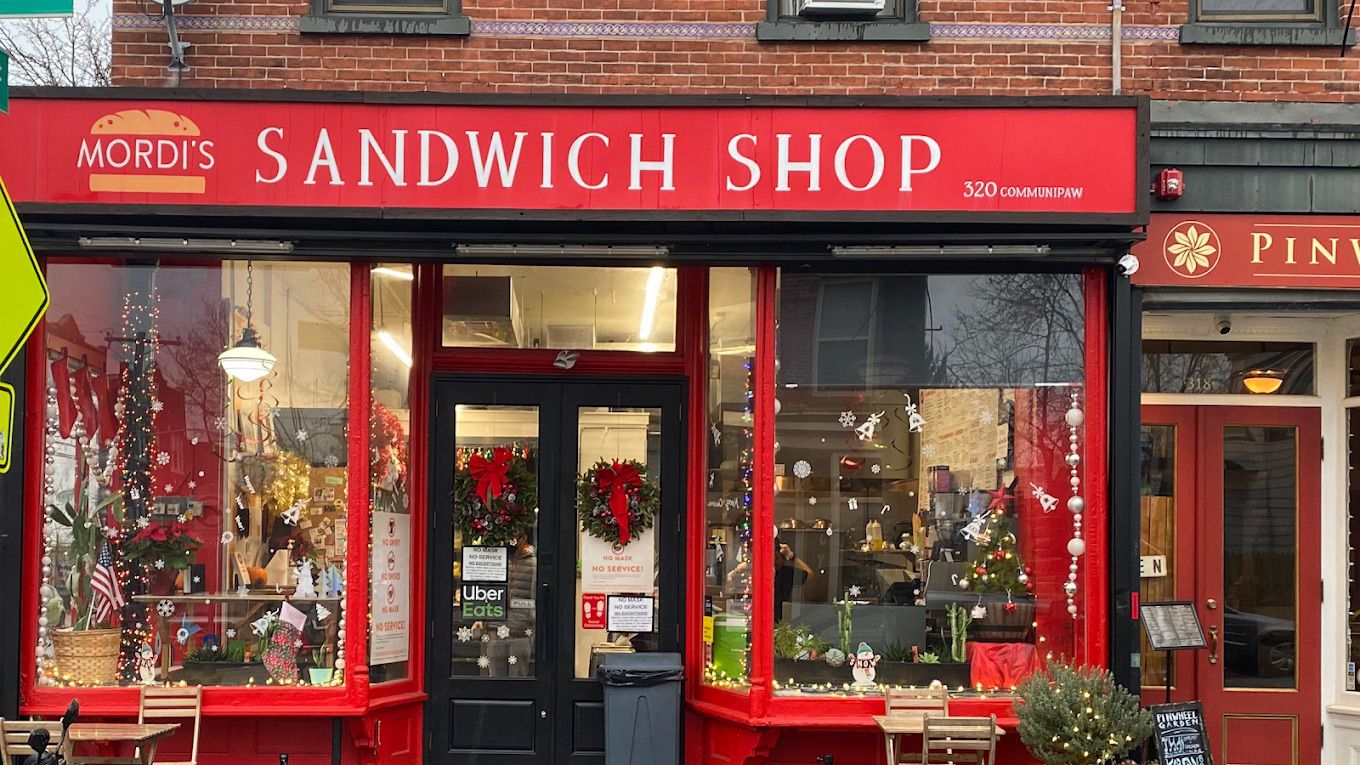 After years of serving Jersey City via a mobile endeavor dubbed Mordi's Schnitzel Truck, this sandwich shop opened their brick and mortar in 2018. Chef Mordechai Chichportiche brings an Israeli spin to the offerings, which include schnitzel, falafel, and pita selections.
The bright space sports great natural light with countertop-style seating inside plus an outdoor sidewalk café. A selection of Israeli goods and treats is available for those seeking a sweet finish.
320 Communipaw Avenue, mordissandwichshop.com
O'Leary's Publik House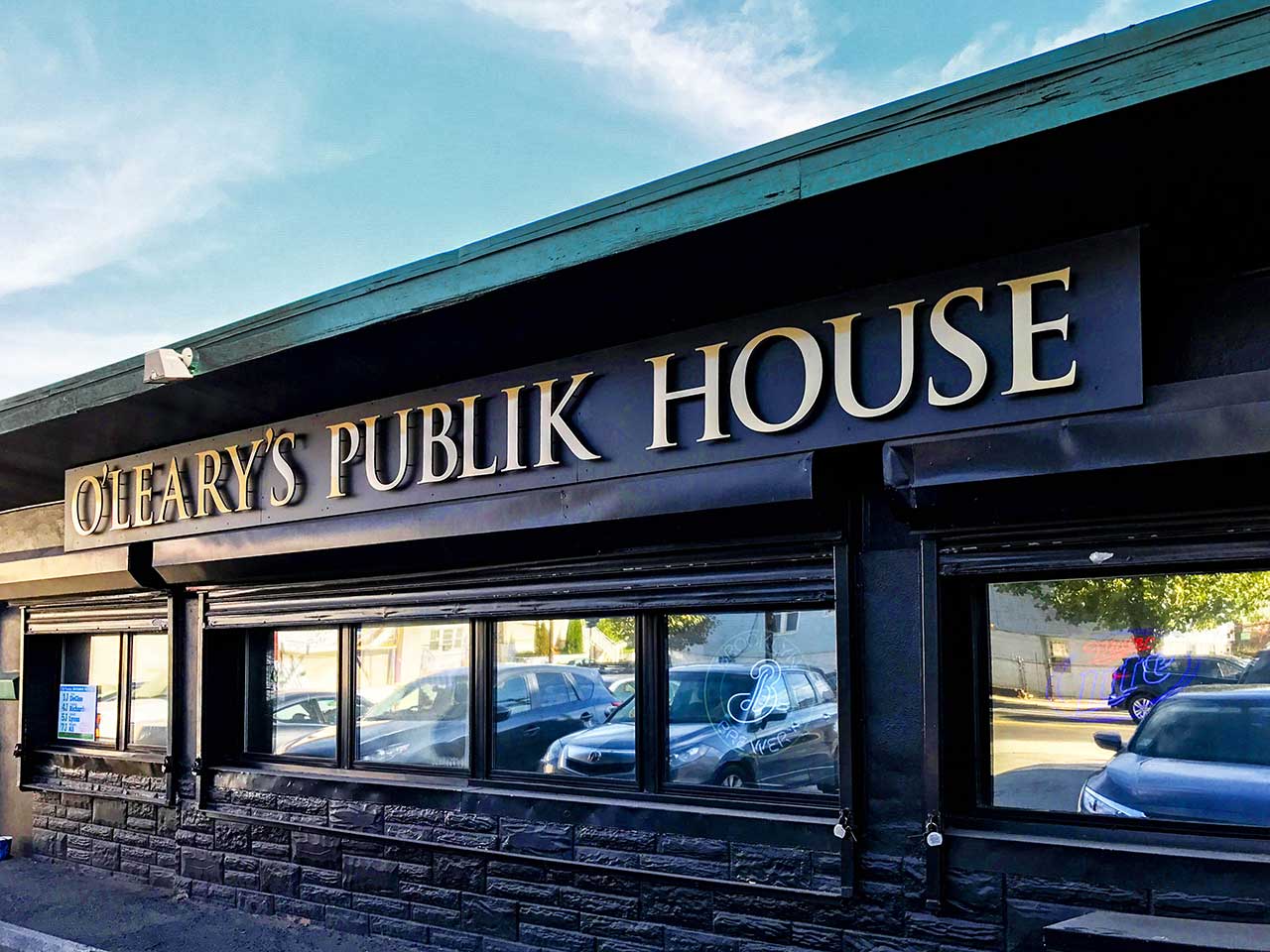 Neighborhood pub O'Leary's Publik House is run by local fireman Kevin Hennessey and his born and raised roots are literally on the walls, which are lined with black and white photographs of Jersey City and worker's patches. An outdoor patio adds to the fun at this restaurant, which regularly posts specials on their Instagram account at the handle @olearyspublikhouse.
Pub fare and cold beers reign supreme at the restaurant, which serves a Mrs. O'Leary Melt that resembles a cross between a burger and grilled cheese.
788 Garfield Avenue, ophjc.com
West Side
Jayhan's Grill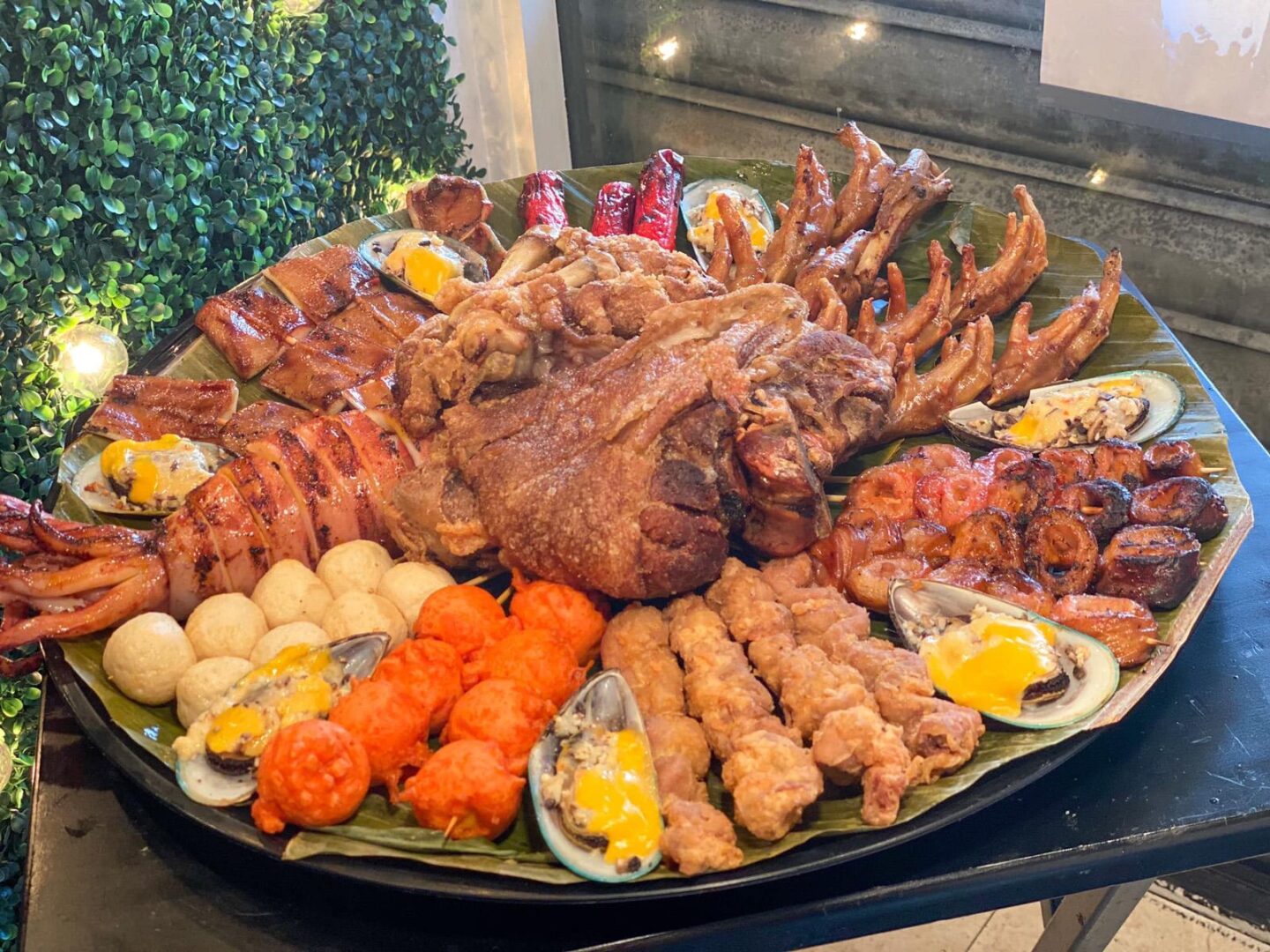 Filipino cuisine is well represented in Jersey City, and this spot might be the best of a hearty bunch. Their Ilonggo-style dishes common in western portions of the Philippines have become a hit at this casual restaurant, which offers both take-out and delivery service.
Highlights at Jayhan's Grill include their sisig, which is seasoned with calamansi, onions, and chili peppers. The menu boasts wide varieties of Filipino street foods and several soups including goto, a Filipino-style congee with beef tripe.
456 West Side Avenue, jayhansgrill.com
The Cottage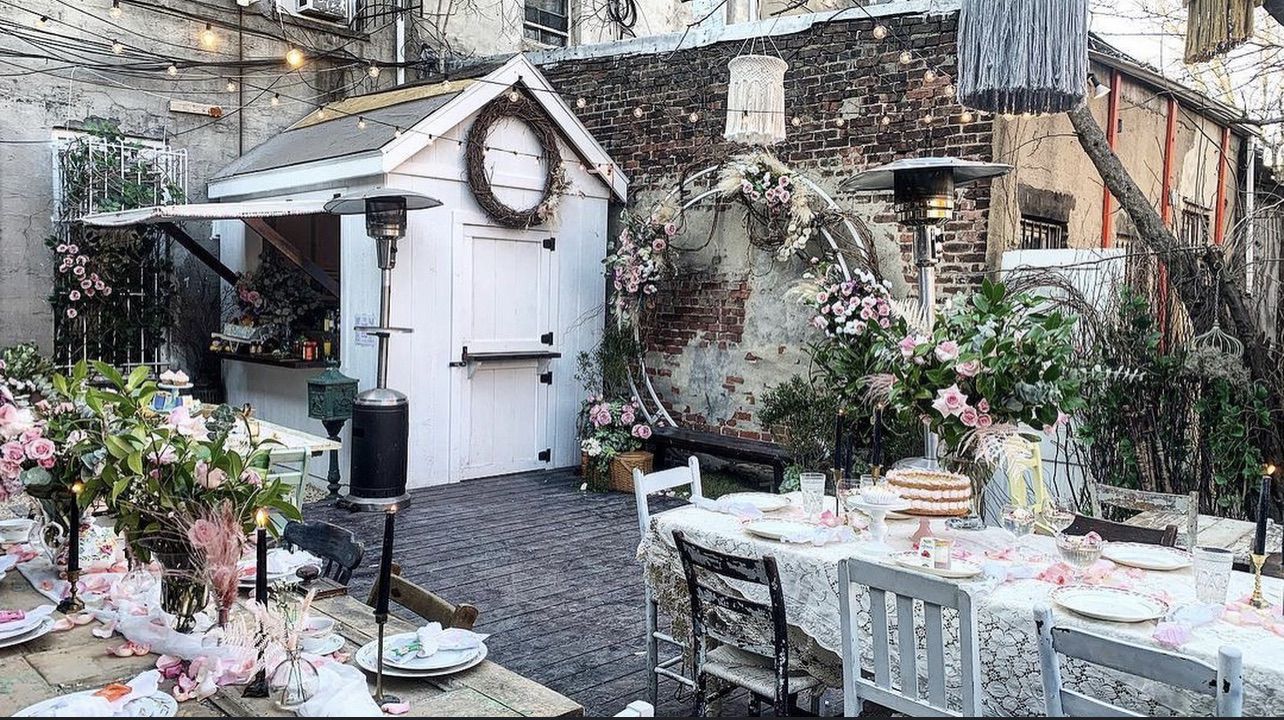 Owner Heather Grabin runs this restaurant/market space that sports a quiet backyard for guests to escape the hustle and bustle. Their breakfast service includes diverse offerings like croissant French toast Nutella, bagel sandwiches, avocado toast, and Palestinian shakshuka.
The market portion of The Cottage showcases everything from baked goods and premium jarred marinara sauce to unique items like garlic fermented honey sauce or pumpkin spice goat milk soap.
136 Monticello Avenue, thecottagejerseycity.square.site
Jersey & Co.
The delectable gelato milkshake is a must-try at Jersey & Co, which offers espresso drinks including an affogato in a cozy space. Their gelato flavors span from traditional fior di latte to pineapple, white coffee, amaretto, black sesame, ube, and tiramisu varieties, with their house-baked crinkle cookies adding to the fun.
55 Mallory Avenue, jcgelato.com
New Park Tavern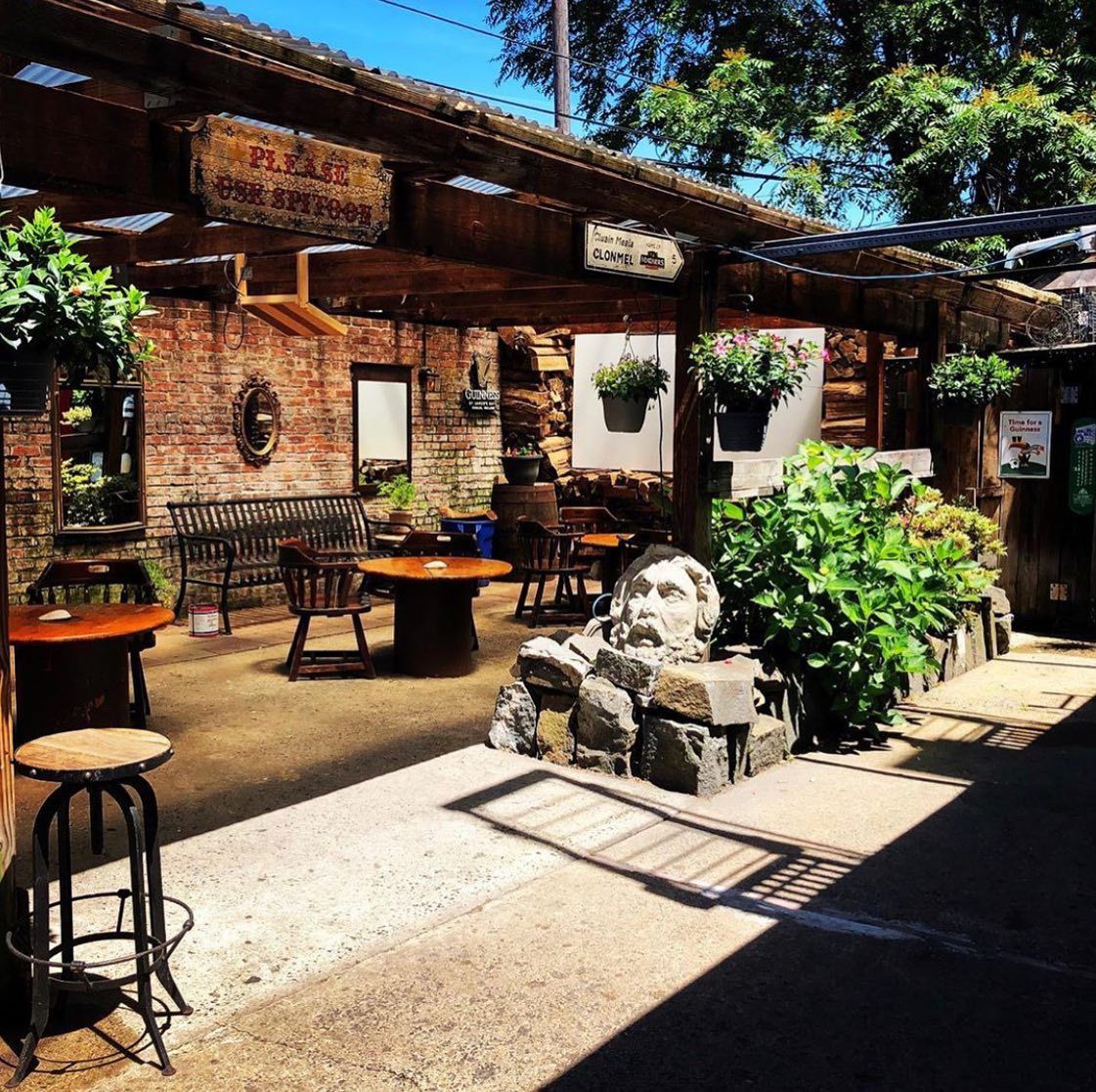 You'll have to do a little work to find this spot, which proudly dubs itself "Jersey City's original Irish dive." Their modest storefront lacks a sign and sports non-descript wood paneling, but a peek behind the façade reveals a full bar area, fireplace, table seating, and a surprisingly large outdoor area that frequently hosts live music.
Pub fare including burgers, corned beef, and BLTs are the name of the game at New Park Tavern, which has an Instagram account at the handle @therealparktavern but otherwise keeps a low profile. We hope we aren't spilling too many of the beans with this one.
575 West Side Avenue, (201) 434-9253
Greenville
Laico's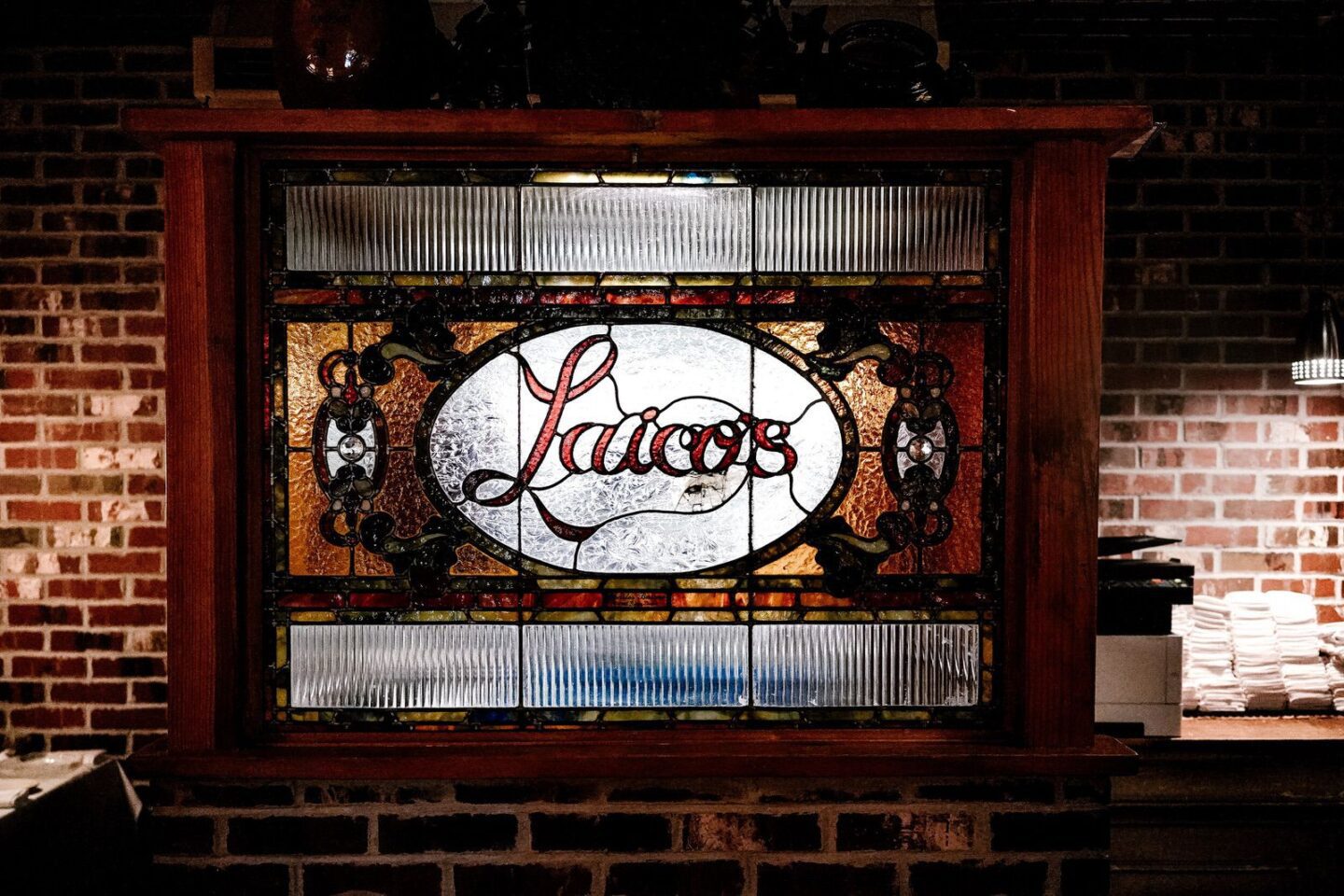 Originally founded as a brick oven pizza place in 1971, Laico's sits on a quiet residential block and is run by third generation owner Adam Laico. The Italian restaurant features specials like a vinegar pepper pork chop or a delicious baked clam dish alongside a wine list and cocktails.
67 Terhune Avenue, laicosjc.com
Mamak House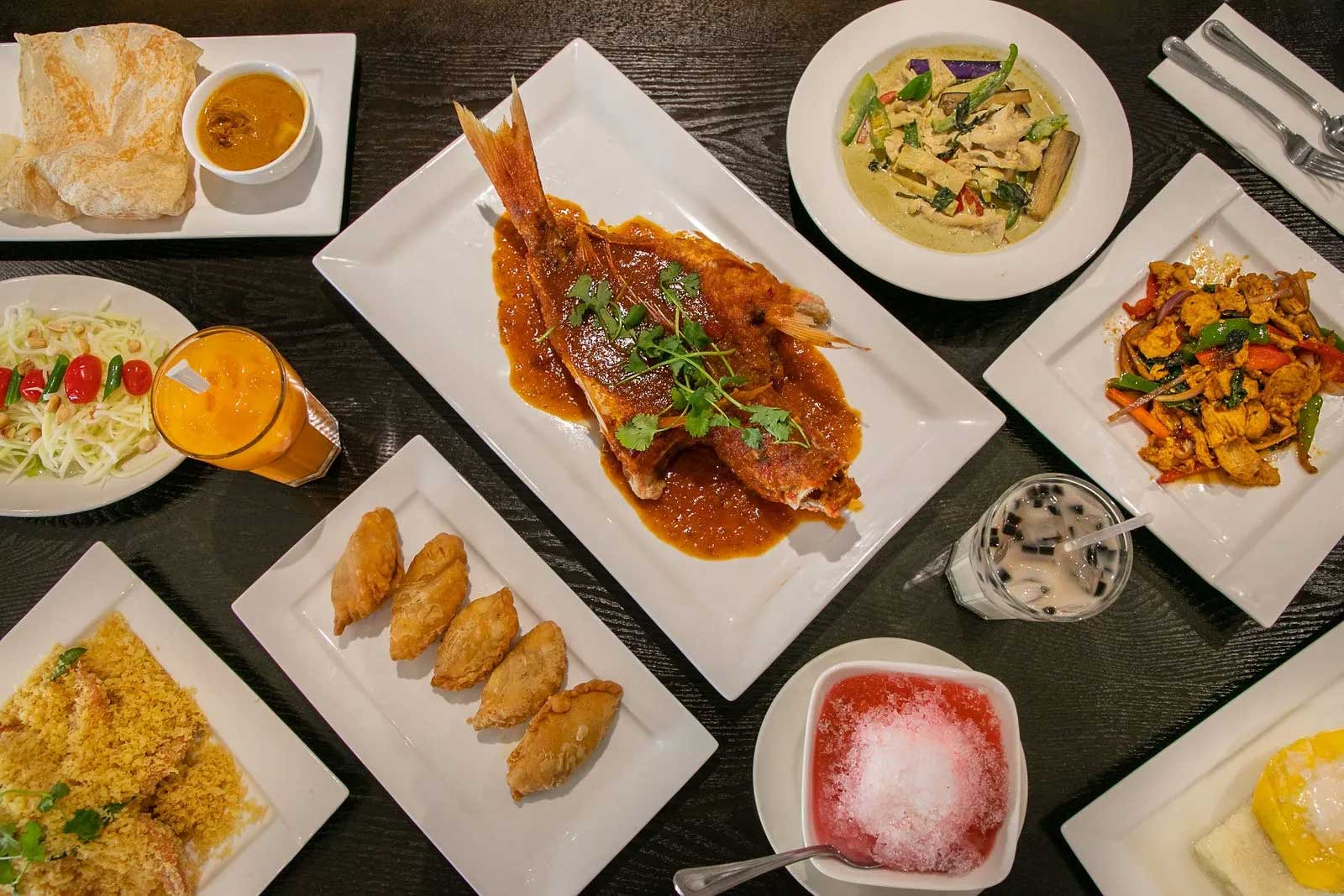 This sprawling Malaysian restaurant underwent a full renovation three years ago and features a bar area plus two massive dining rooms. The menu at Mamak House is just as expansive, as five pages of food are highlighted by a fried taro dish stuffed with shrimp, chicken, corn, snow peas and mushrooms topped with cashew nuts.
250 Route 440, mamaknj.com
Felina Steak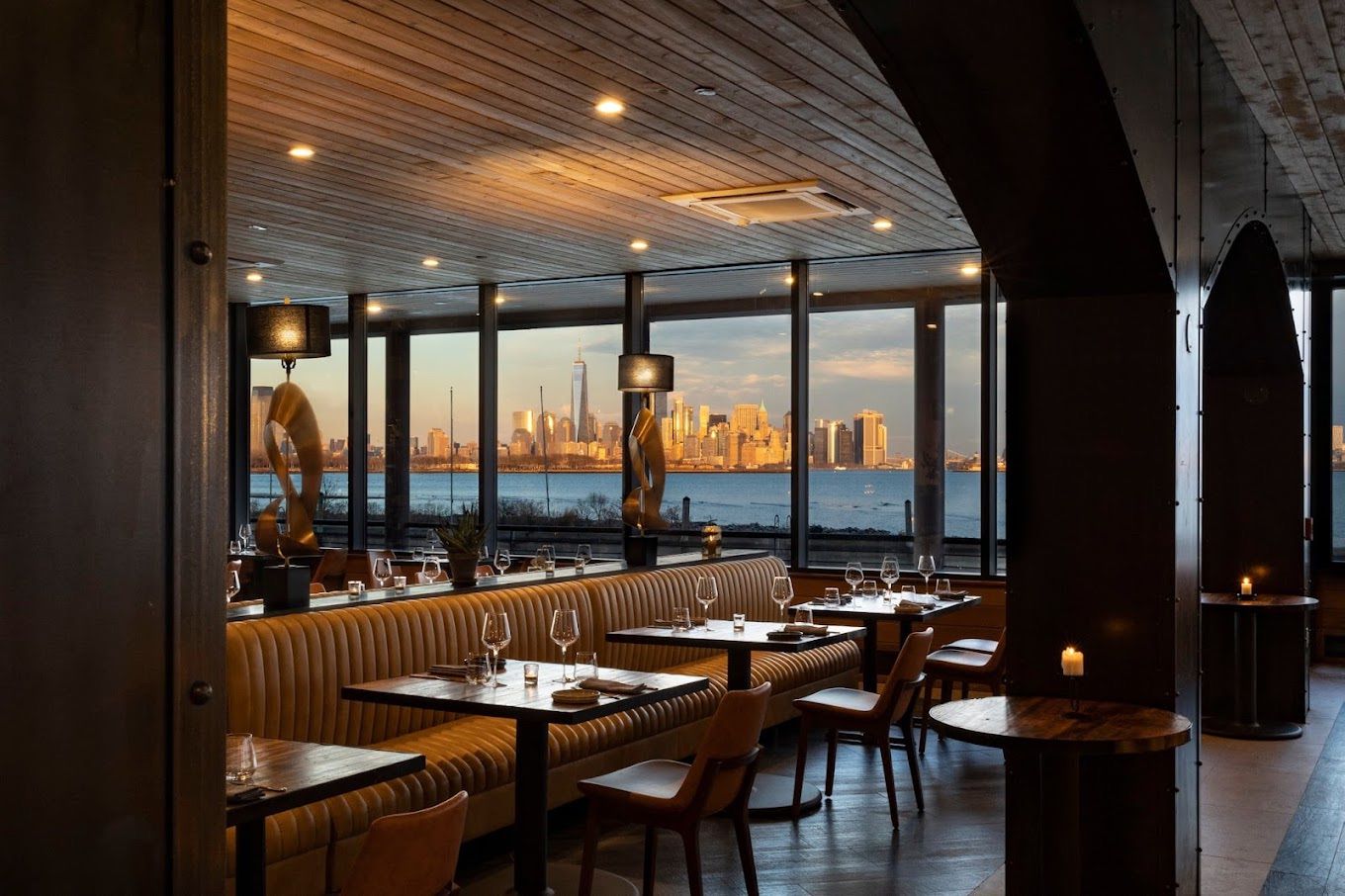 Situated in Port Liberte with sweeping views of the Statue of Liberty, Felina Steak is part of the larger Hudson House complex run by husband-and-wife team Frank and Jeanne Cretella. The restaurant stuns right off the bat with an entrance sporting a dry meat aging room along with a two-tiered live lobster and shellfish tank.
Executive Chef Matteo Limoli services a refined selection of meat-forward dishes, authentic pizzas and pastas, and fresh seafood offerings. While Felina Steak sports a full bar, a unique experience dubbed the Stork Club calls the building's rooftop home and serves selection of lighter bites and cocktails within indoor and outdoor lounge areas overlooking New York Harbor.
2 Chapel Drive, hudsonhousenj.com
Liberty State Park
Maritime Parc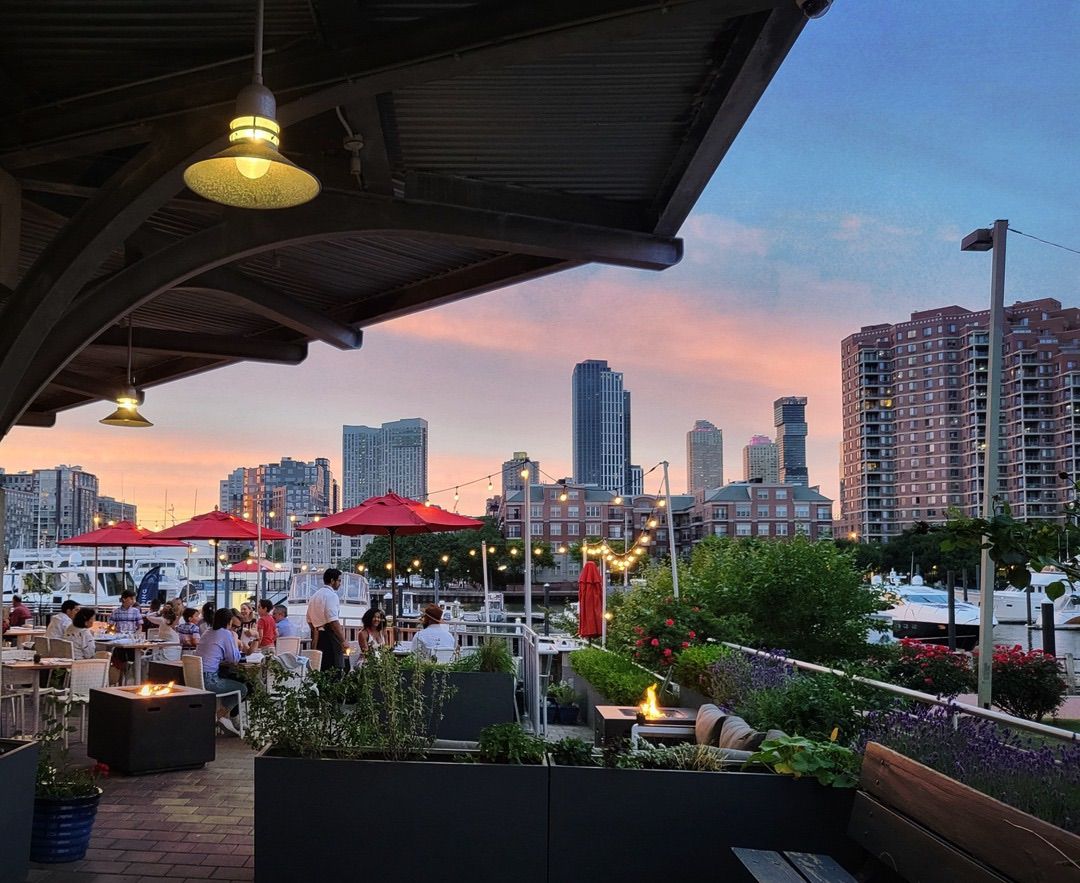 Situated along a cobblestone road inside Liberty State Park, Maritime Parc strives for a modern take on the classic coastal fish house. Executive Chef and Owner Chris Siversen's restaurant takes advantage of its location with outdoor seating overlooking Liberty Marina and the Manhattan skyline.
A raw bar brimming with pristine local shellfish as well as whole roasted fish are on the menu, and the restaurant features both a Sunday brunch menu and an O.B.B. special every Thursday that includes a half-dozen oysters, a beer, a burger, two off-menu selections, and duck fat fries for $29.
84 Audrey Zapp Drive, maritimeparc.com
Maddy Rose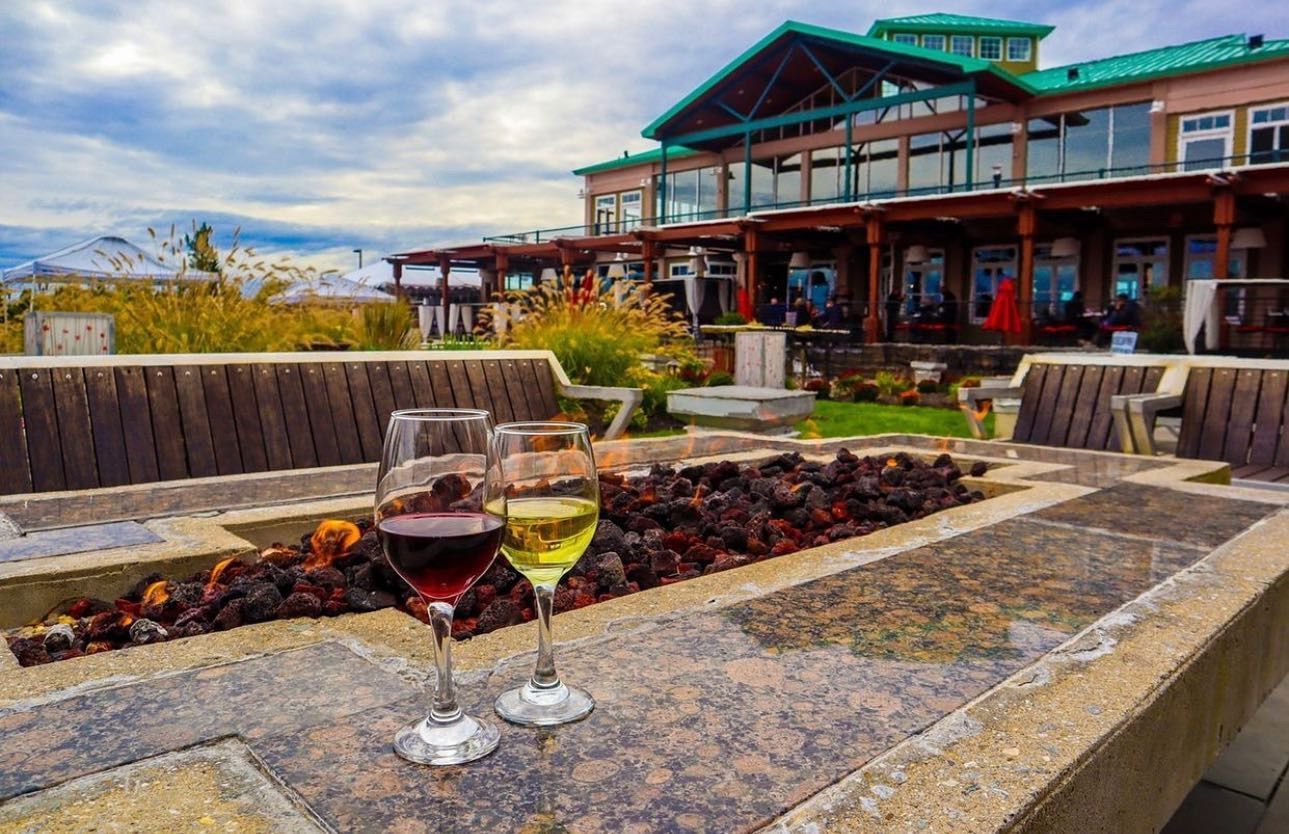 Serving the community for over 20 years, Liberty House doubles as both a restaurant and event space. Their Grand Ballroom features 35' ceilings and exposed woodwork, while the grounds surrounding the property include an open-air patio, fire pits, private gardens, and even a life-size chess set.
The cuisine at the restaurant component Maddy Rose is inspired by the Mediterranean, which includes a raw bar with East and West Coast oysters and snackable vegetable-forward plates. The menu includes lighter fare like balsamic heirloom tomatoes with compressed watermelon and bleu cheese or heartier dishes like a 12 oz. Ribeye with pomme frites or their angry "Two Toll" Lobster.
76 Audrey Zapp Drive, libertyhouserestaurant.com
—
There are so many incredible dining experiences in Jersey City, it is impossible to include everywhere on our list. Nevertheless, we hope this list gave you some inspiration for your next meal out in Jersey City.
This article was all about the best restaurants in Jersey City.