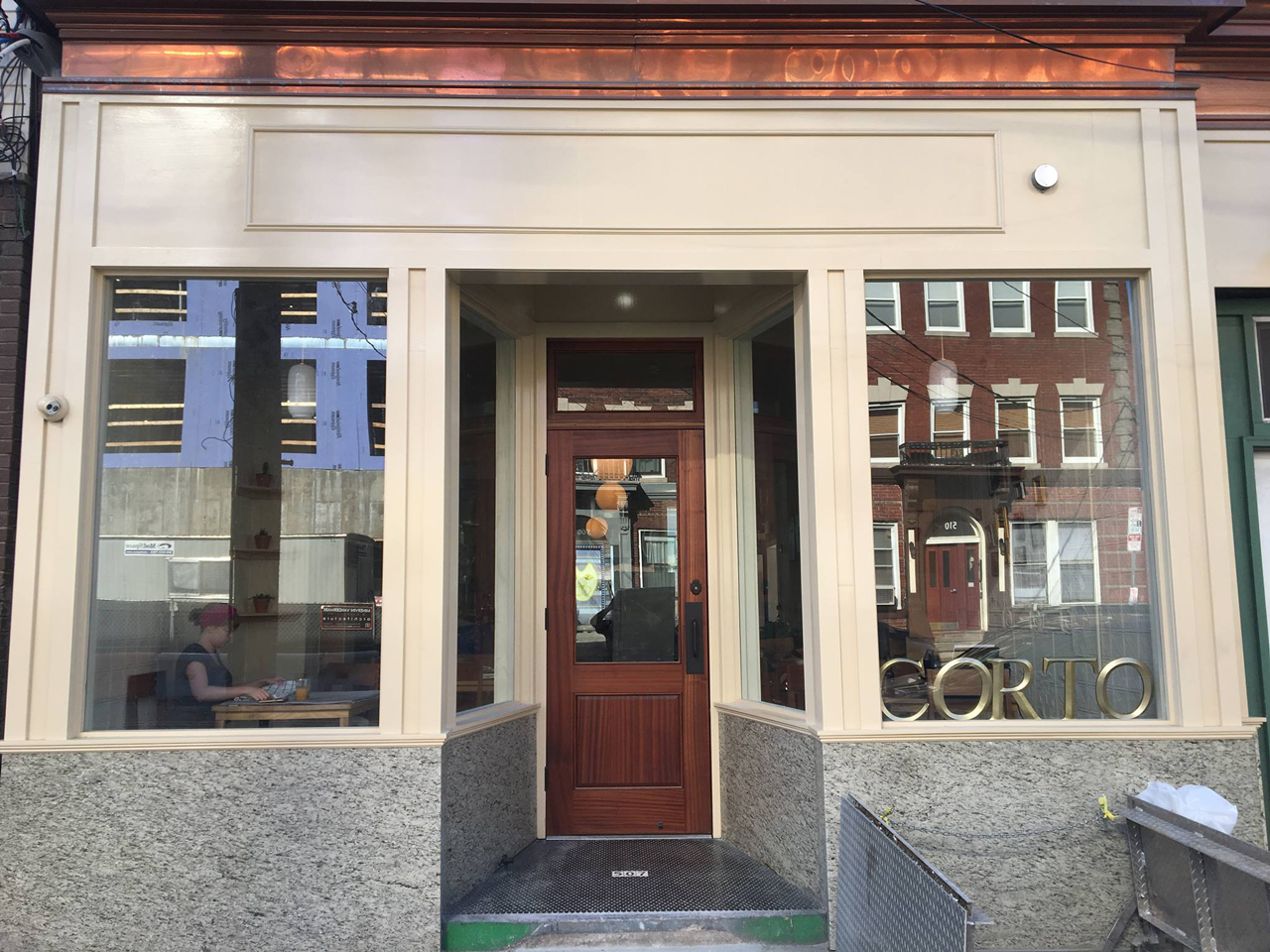 Jersey City Heights is getting a little more Italian with new restaurant Corto, which soft opened this past Friday at 507 Palisade Avenue.
Owners Marc Magliozzi, Drew Buzzio, and Peter Fontana have teamed up on this new spot, which took the space of what used to be a deli. The decision to choose this neighborhood for the location was an easy one as Magliozzi was raised in The Heights and still has many friends in the area. Additionally, the space for Corto is what they were looking for and the rent is still achievable for the industry. "Everyone should open a restaurant in The Heights," said Magliozzi. "The rent means more restaurants can open here, and it is a great opportunity."
Magliozzi, the owner of Dozzino in Hoboken, and Buzzio, the owner of Salumeria Biellesse as well as Biricchino in NYC, met while Magliozzi was buying product from Buzzio for Dozzino. They became fast friends and are happy now to be able to open a restaurant together. Fontana, Magliozzi's cousin, works in advertising. Together they chose the name Corto, meaning short in Italian, and since the space isn't large, it describes the restaurant well. Corto was the first name they came up with, and even after tossing around 100 or so other names, it stuck.
Magliozzi credits their landlord for doing an amazing job on the restoration of the exterior to its original state since the entrance wasn't set back when the deli occupied the space. As far as the interior, it was covered with bodega pictures and shelving, and said Magliozzi, "We were nervous about ripping everything apart," unsure of what lay underneath. Fortunately, the original tin walls were in perfect shape and only had to be painted — they chose a creamy antique white. There aren't many decorations or pictures on the walls like you would find in a typical restaurant. "We tried hard to make guests feel like they are eating in someone's home, not a restaurant," says Magliozzi. "I want it to feel like you're eating at my aunt's house on Christmas." The wood floors are new and the partners gave free reign to the local company they chose to design the custom-made wood chairs and tables.
Corto is BYOB, seats around 30 guests, and the kitchen is an open concept to add to the "homey" feel. As for the Italian cuisine, the goal is to serve "cucina povera" or "poor kitchen" — rich in tradition, yet simple. "Think pasta fagioli, not penne vodka," explained Magliozzi. Any recommended menu items? They plan to take advantage of Buzzio's Salumeria, so anything cured will be a go-to as well as any of the fresh pasta dishes.