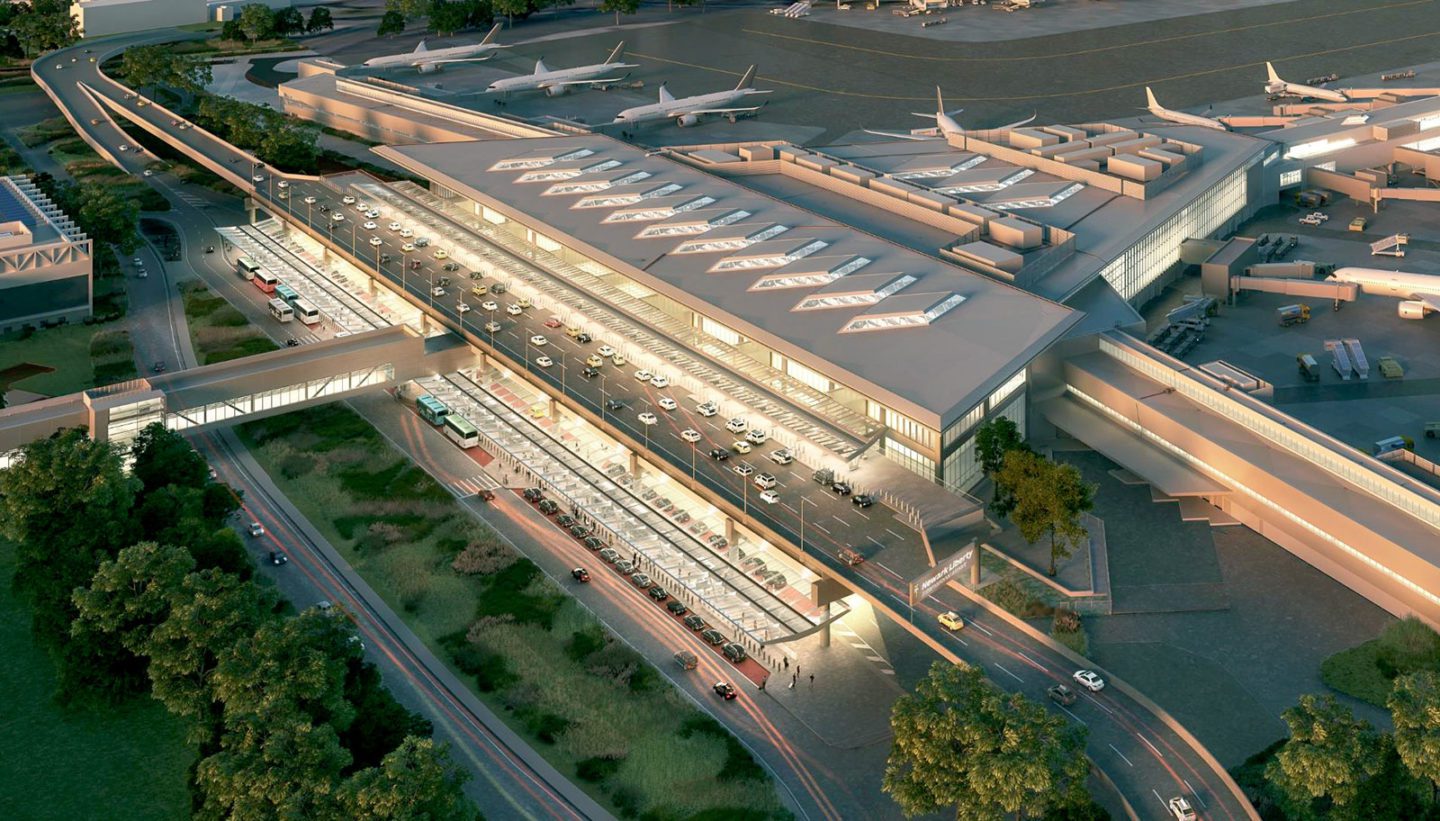 A big piece of the ongoing Newark Airport Terminal A construction and renovation project is slated to be unveiled next month as the facility's shiny new terminal will be welcoming its first passengers. But what can travelers expect at the $2.7 billion terminal that the Port Authority hopes will transform the airport's reputation?
The answer, in short, is an open and welcoming space that represents the largest single investment in New Jersey by the Port Authority in the agency's 101-year history. The ground-up construction will replace the existing 1970s-era terminal, which will be demolished when work wraps up next year on the new million-square-foot Terminal A.
Newark Airport Terminal A
140 acres of airfield paving went into the Newark runway construction at Terminal A, the exterior of which includes dual-sided roadways to increase passenger loading capacity and calm traffic. The revamp includes dedicated taxi pick-up lanes with space for rideshare pickup services like Uber and Lyft that have risen in popularity in recent years.
Inside the new Terminal A, a centralized touchless check-in hall designed to handle nearly 14 million passengers each year greets flyers. Other kiosks equipped with facial recognition technology are scattered around the terminal and the facility sports self-serve bag drop stations and other cutting-edge technology.
Soaring ceilings throughout Terminal A leave the cramped digs of the old facility in the dust. The new Terminal A boasts floor-to-ceiling windows that provide tons of natural light, and the property features a "hospital-grade" air filtration system.
The biggest upgrade at Newark Terminal A might be Central Plaza, which sports a mix of over 60 concessionaires, restaurants, and retail options. Dining at the facility includes local favorites like Kitchen Step, The Office Tavern & Grill, Jersey & Co. Gelato, and Ess-A-Bagel alongside Guy Fieri's Flavortown Kitchen, Shake Shack, Bluestone Lane, Jersey Mike's, Smokehouse BBQ, Playa Bowls, and more complemented by several New Jersey-based retail businesses.
Other amenities at EWR Terminal A have been upgraded big time, as the new facility includes a dedicated children's play area, co-working tables, and various seating options throughout that all feature both power and USB ports. Local artwork is utilized throughout the terminal via 29 pieces and murals from local artists, a feature the Port Authority hopes will create a "distinctive New Jersey sense of place."
The construction of Newark Terminal A included the installation of a variety of energy-efficient features to ensure the facility stays relevant in the 21st century. The terminal features rooftop solar panels, water-efficient fixtures, a "cool roof," and energy-efficient indoor lighting throughout, while new electric buses support the facility's shuttle operations.
Lounges built within the new Terminal A include an American Admirals Club, a Delta Sky Club, and the United Club. For those departing from Newark, a covered passageway will be available from the terminal directly to a new consolidated rental car and parking garage facility.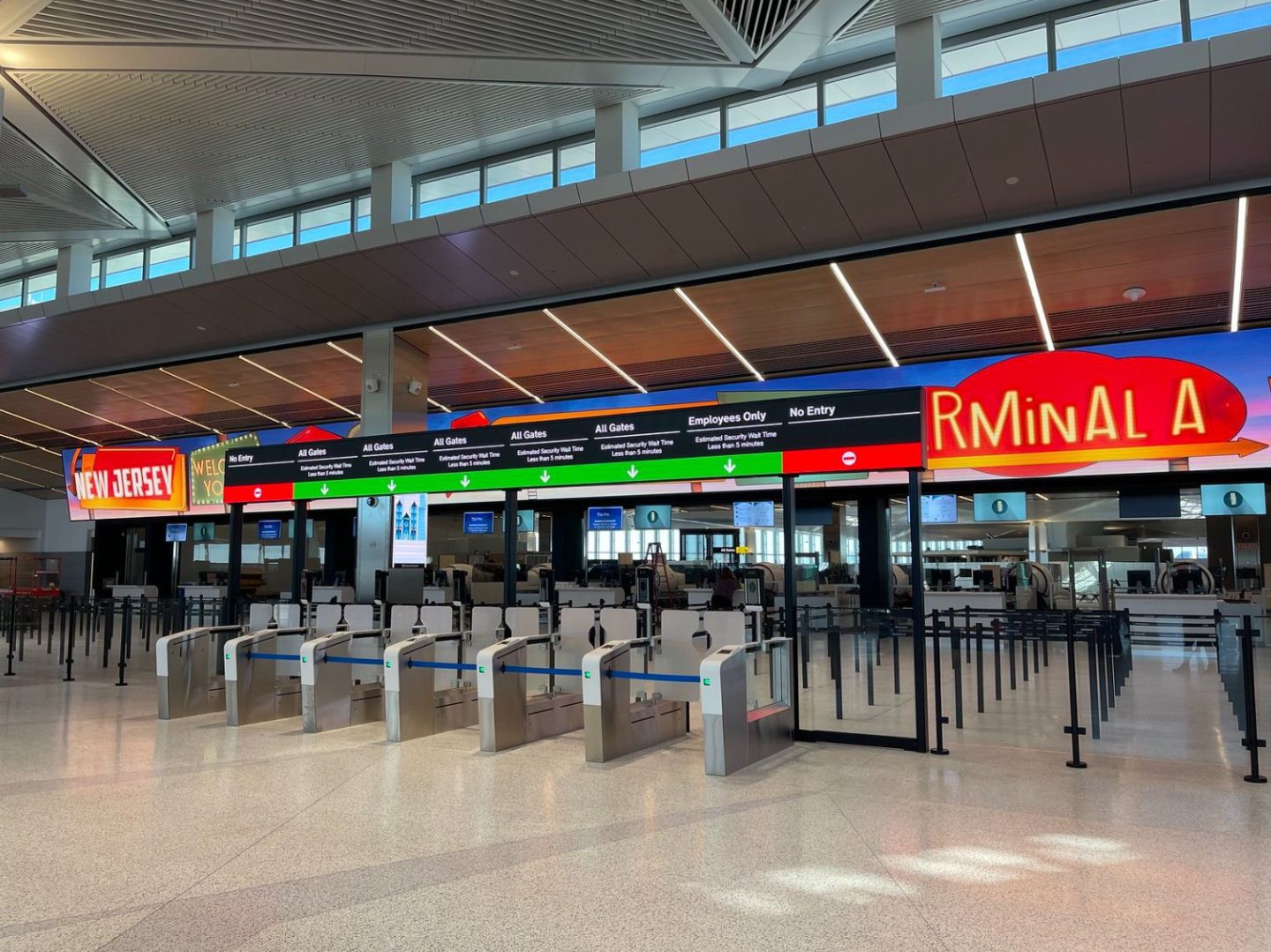 In terms of capacity, the new Terminal A will feature 33 brand-new gates and is slated to house the service of five different air carriers. 21 of those gates are scheduled to open immediately upon the terminal's launch, with the remainder rolling out sometime next year.
Is the new Terminal A at Newark Airport open?
Not just yet. Originally planned to open this month, the official launch of Terminal A has been delayed until after the new year. The Port Authority recently revealed that the new Terminal A is slated to open for good on January 12.
Does Terminal A at Newark have TSA PreCheck?
Yes. Terminal A will offer Clear, PreCheck, priority, and general services that will feature a display of live security wait times for all the security channels. The facility will also sport a separate premium check-in area for JetBlue's Mosaic elite members and Mint business-class flyers that has a dedicated passageway to TSA PreCheck security.
What airlines will fly out of Newark's New Terminal A?
Air Canada, American Airlines, JetBlue Airways, and United Airlines will provide initial service out of EWR Terminal A when the gates open next month. Delta Air Lines will be joining them later in 2023 when the second phase of construction wraps up.
Speaking of Terminal A's second portion, it is tentatively scheduled to open this upcoming summer. It will include the full build-out of all the facility's gates plus a new American Express Centurion Lounge.
There's more on the horizon for Newark Airport even after the launch of Terminal A, as the Port Authority continues its ongoing overhaul of the New York City region's airports. A design contract has already been awarded to draw up a new facility to replace the existing Terminal B at Newark Airport, and the bi-state agency has also hired a new consultant to examine the entirety of the airport for further renovations.