If you have been paying attention to the real estate market, you may have noticed that Greenville is undergoing a transformation. The City Hall Annex is being built at the Hub, new construction is happening on the west side, and MLK and Ocean Ave are being looked at to help foster new economic growth. As prices are rising throughout much of Jersey City, new buyers are looking at Greenville as a reasonably placed to settle down. And those people need to eat! So I paid a visit to four of my top picks for food in the area.
Breakfast – Lou's Restaurant – 209 Ocean Avenue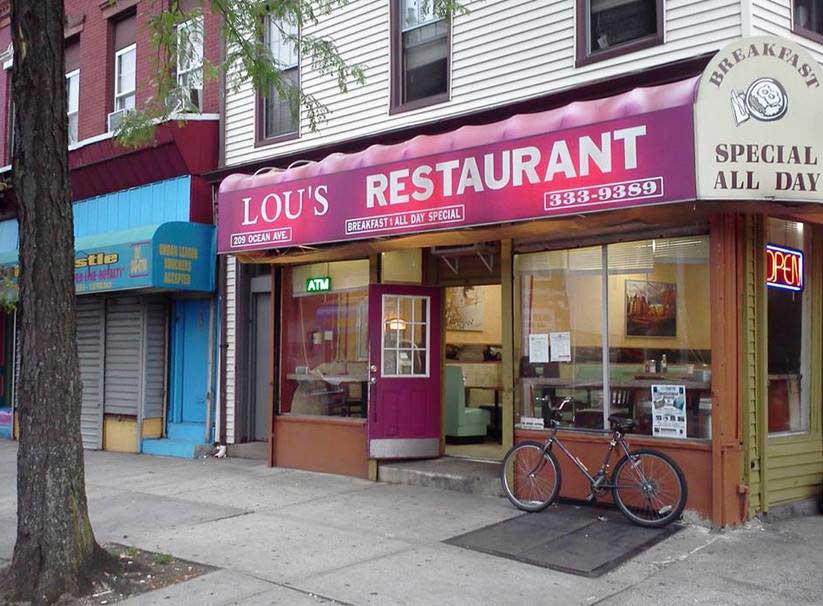 One thing New Jersey is known for is its diners. And Lou's Restaurant captures the best of the nostalgic diners of yore, while still being modern. The kitchen is open and is right behind the counter so you can see, hear and smell all the gloriousness of their cooking.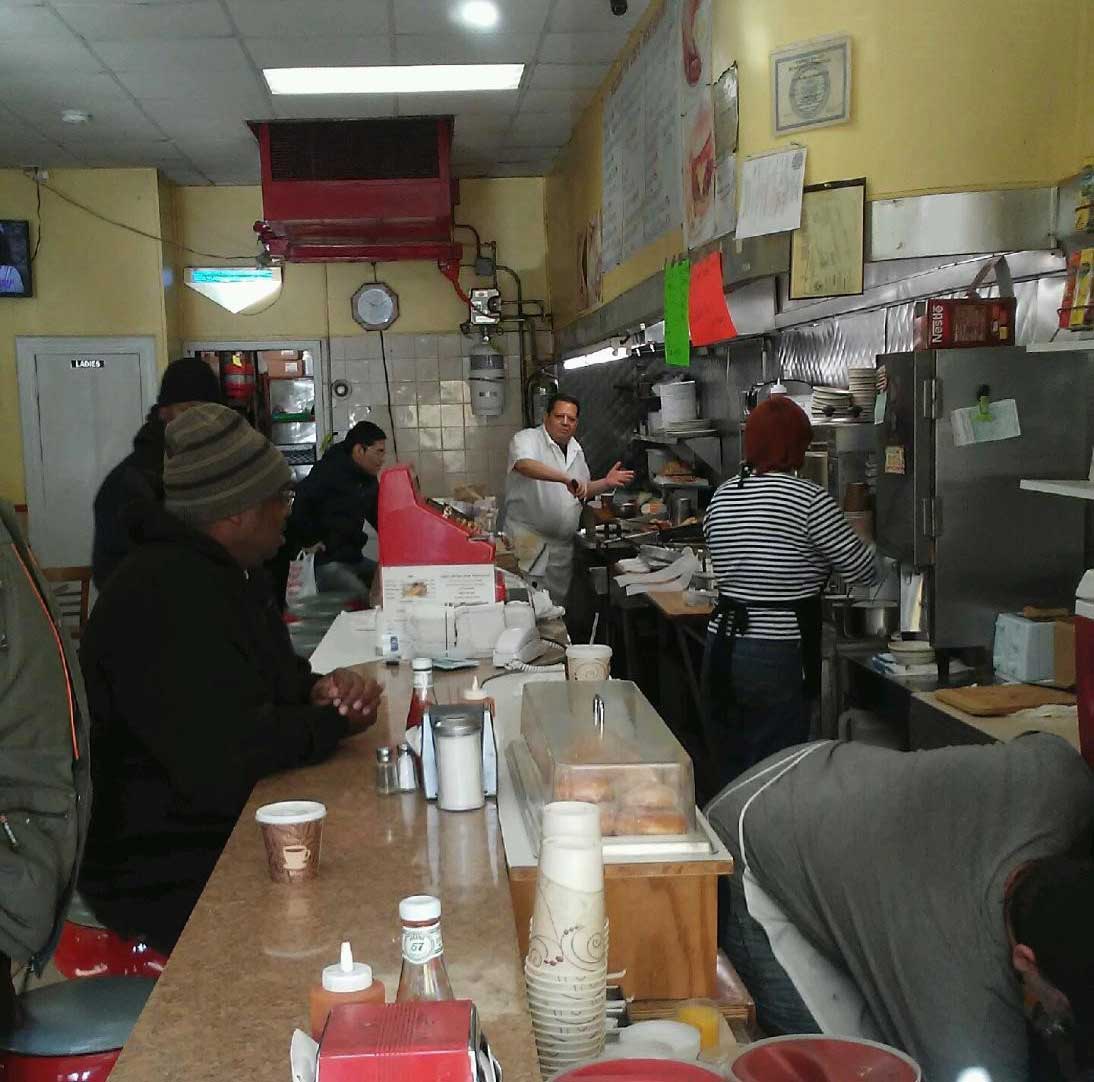 Situated around the restaurant are old school pictures and posters featuring 1950s diners, the Rat Pack, old Times Square and Atlantic City in its glory days. The waitstaff greets the customers by name as they enter and make you feel welcome immediately. Breakfasts come with complimentary OJ and coffee and my food was ready in only about 5 minutes!
Lou, one of the owners bought the place with his business partner 6 years ago because, "I like the neighborhood, like the people and I wanted to create a neighborhood place to hang out and eat." Make sure you get in early as it closes at 2:00 pm.
Lunch – Shawn's Table – 271 Ocean Avenue
At only 22 seats, Shawn's Table is a cozy, bright and welcoming restaurant that has only been in its new location for about 6 months. Shawn Mathis, JC born and raised, learned to cook from his grandparents who told him to "just watch," as they prepared their traditional soul and southern food. Having been cooking for 20 years now, his recipes are melt-in-your-mouth delicious!
The specials include stewed oxtail, which I had for my first time and it was so good, I took my wife back there and ate it again! You can also find homemade meatloaf, smothered chicken and some awesome sides like collard greens, potato salad and rice & gravy. You can also get that southern staple, shrimp and grits. The waitstaff is attentive, friendly and you'll feel right at home when you sit down. Don't forget to order the homemade ice tea!
Dinner – Laico's – 67 Terhune Avenue
Laico's has been a staple in Jersey City for over 40 years. It's a fantastic little Italian place that looks like it's been built right out of a house on a lazy little street. Inside, you'll find some of the best Italian food in all of Jersey City. Founded in 1971, it started as a brick-oven pizza place and expanded its menu over the years. Today, it can seat over 60 people comfortable as well as having a full-service bar.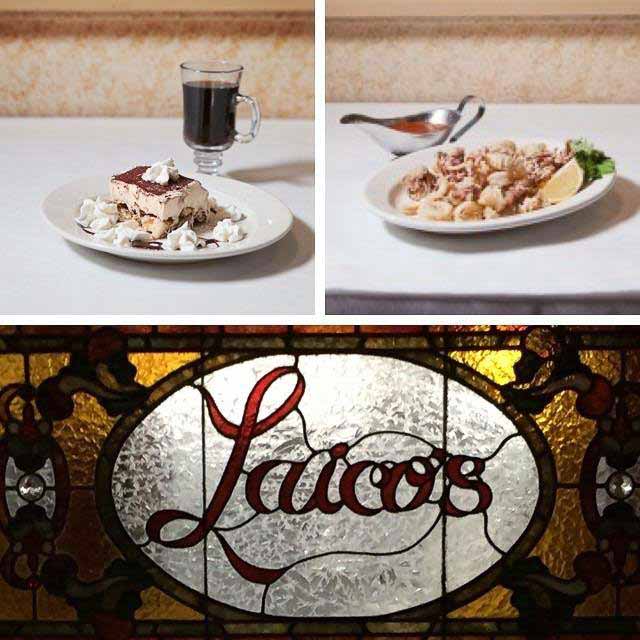 Now run by third generation Adam Laico, the eatery features specials like vinegar pepper pork chop, a delicious baked clam dish and a bronzino with broccoli. I also highly recommend their signature drink of freshly squeezed grapefruit juice and Tito's vodka, which I'm now naming the "Grito!" Adam says of the modern Laico's, "We see the same familiar faces and serve them the same good food!"
Dessert – Sweets 4 Miles – 410 MLK Boulevard
If you've got a sweet tooth, then you need to hit up Sweets 4 Miles pronto. Chef Monique Johnson serves up some of the most delectable goodies you can find for miles around. The interior is brightly colored and whimsical, making you feel like you're in a confectionary dream, with dozens of offerings of all colors, shapes, sizes and flavors. You can find modern classics like the Red Velvet cupcakes or nostalgic favorites like banana pudding with Nilla wafers. Chef Johnson also bakes some of her famous mash-ups like a chicken and waffle cupcakes or sweet potato cheesecake.
In 2000, Chef Johnson went from baking to selling, first to friends and family. Then Queen Latifah tasted some of her cookies in her green room and brought Monique to her house to bake her cookies for a few months, showing her that she definitely had the chops to open her own bakery. In honor of her son Miles, who fell to brain cancer in 2008, she donates cakes to terminally ill patients on their birthday as well as helps with an annual bone marrow drive. So how do you sum up her concoctions? "Southern style desserts, handmade, with the best ingredients!"