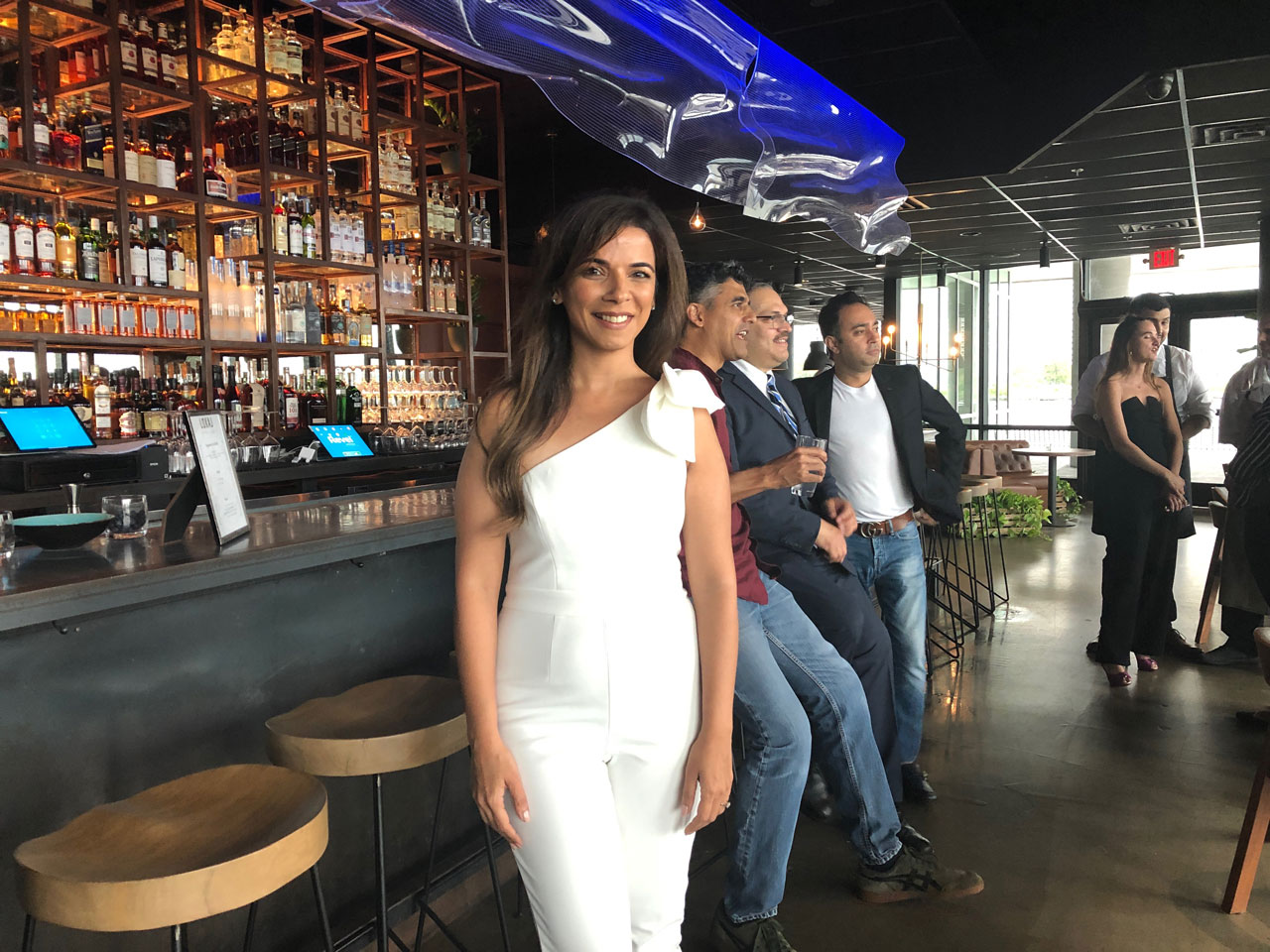 Lokal, a spacious new restaurant on the Jersey City waterfront just north of Exchange Place, held a grand opening celebration on Thursday evening to show off its "local" approach to cuisine. The eatery, which replaces the old Taphaus Biergarten at 2 Second Street, specializes in dishes "with the Garden State's finest ingredients," created by Executive Chef Walter Donadio.
Owner Mona Panjwani, who lives a block from the restaurant, was on hand for the opening. She co-owns an event planning business and had been looking for the opportunity to run her first restaurant.
"We want to highlight Jersey City," she said. "A lot of the food is from New Jersey farms. Even the spices in the cocktails are locally sourced."
The signature cocktail at the event, the frothy Elliott Stubb, included honey from the Garden State, as well as yuzu juice, lemon juice, aquafaba (a vegan ingredient in place of eggs), and vermouth. It was punctuated by a blueberry from the Garden State (it's the state fruit and the state's most lucrative crop).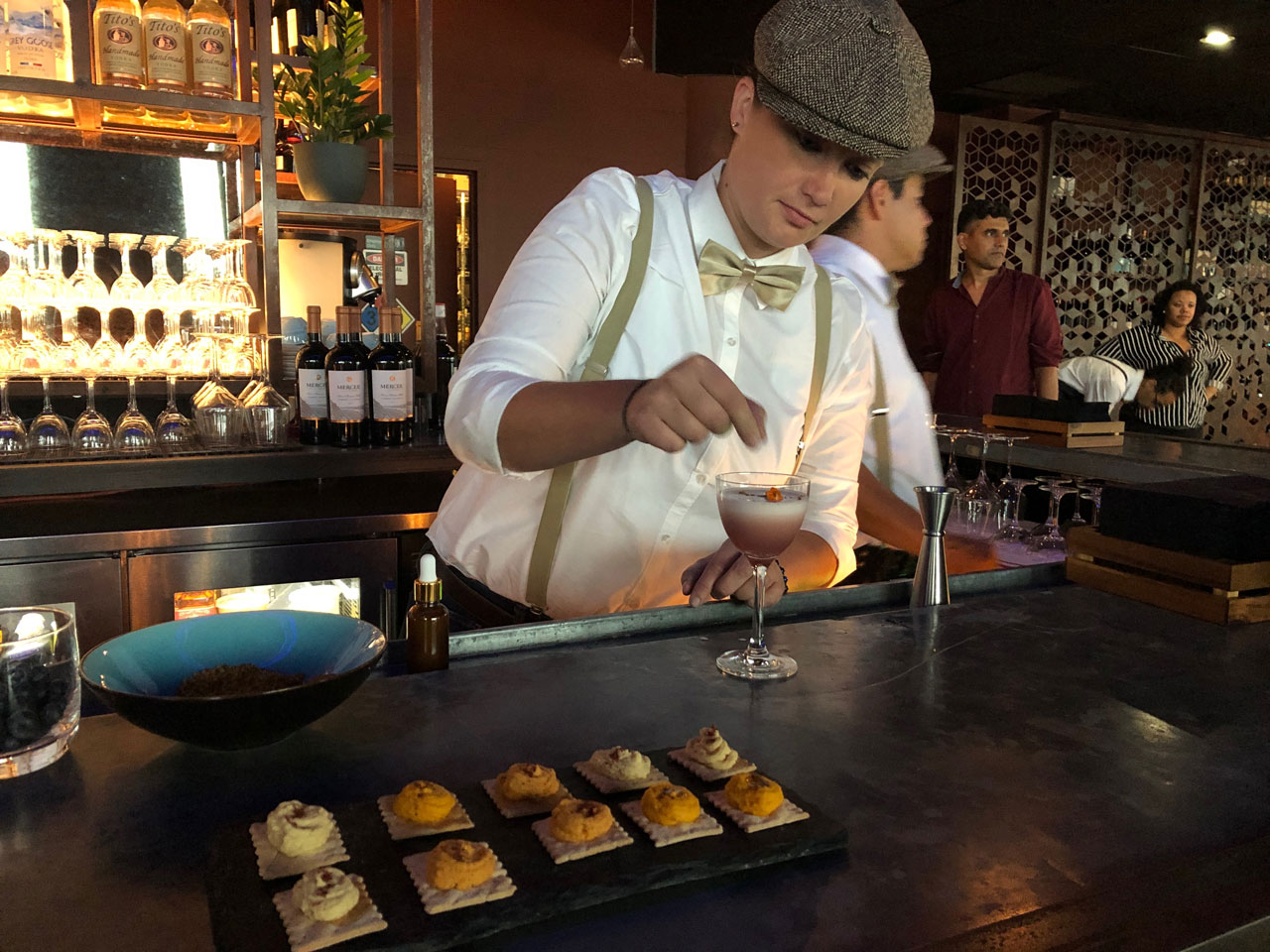 The 6,000-square-foot establishment affords panoramic views of the Hudson River and seats 200.
"Our food and drinks are an amalgamation of different flavors," Panjwani said. "It's going to be modern American food with locally sourced ingredients and some Asian fusion. A lot of the food has Asian spices. We will have some seafood since we're on the waterfront. It's American cuisine; it's gastropub cuisine."
Patrons at the event got to try out the seafood by sampling crispy bluepoint oysters with mayo and a jalapeno dressing. Other appetizers included three kinds of homemade hummus, including spicy carrot and sundried tomato. Some of the items on the menu are vegan and gluten-free.
Small plates on the menu — which is still being finalized — include pumpkin soup, rock shrimp, mushrooms al ajillo (Spanish garlic mushrooms), truffle mac and cheese, and duck salad.
Main courses will include Atlantic wild cod, short ribs, lamb steak medallions, beluga lentils, spinach malfatti, and crab risotto.
Panjwani owns the eatery with her husband Gulshan and business partner Anshu Gupta. Also on hand for the opening was concept creator Hemant Phul, who conjured up the "local" theme.
The drinks include a comprehensive wine list and craft cocktails by mixologist Tess Sawyer.
The restaurant will also feature its local customers with a "designated selfie wall."
For now, it's open from 5 p.m. to 11 p.m. Sunday through Thursday, and Friday and Saturday from 5 p.m. to midnight. They'll start serving brunch the weekend of October 5 and will then open at 11 a.m. on weekends.
The restaurant is located between the Newport and Exchange Place PATH stations on the waterfront, and is close to the Harsimus Cove Light Rail stop. It's also within blocks of several waterfront hotels.
The address is 2 Second Street, Jersey City, New Jersey. Find out more here.
Related: