This column is in collaboration with Jaclyn Isaac and focuses on the interior design and inspiration behind some of our favorite places in Jersey City. Jaclyn is an interior decorator and design blogger in Jersey City. Her personal blog can be found here.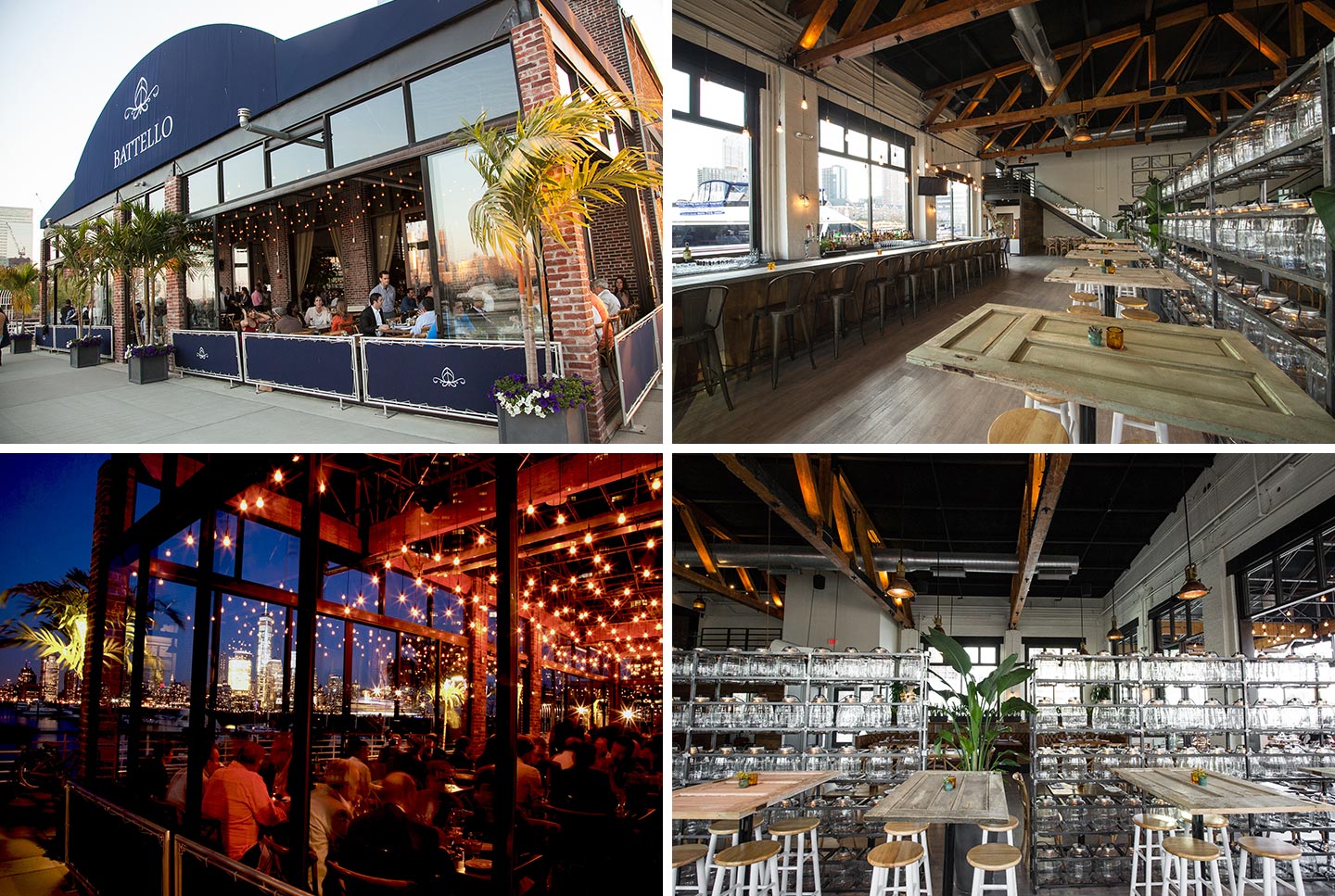 Standing outside of Battello, I questioned for a moment whether or not I was still at Newport Yacht Club, let alone Jersey City. But indeed, the soaring ceilings, exposed wooden beams and brass yacht lanterns against a Manhattan skyline confirmed I was definitely not in New York, but outside of Cory Checket's latest piece de' resistance. A fixture in the Hoboken bar and restaurant scene as the owner of The Turtle Club and consultant for The Kitchen Step, Cory led the vision of the design and décor of the former boathouse's space. I spoke with him and Casey Cotton of Relative Consultants about bringing his industrial yet luxurious venue to life.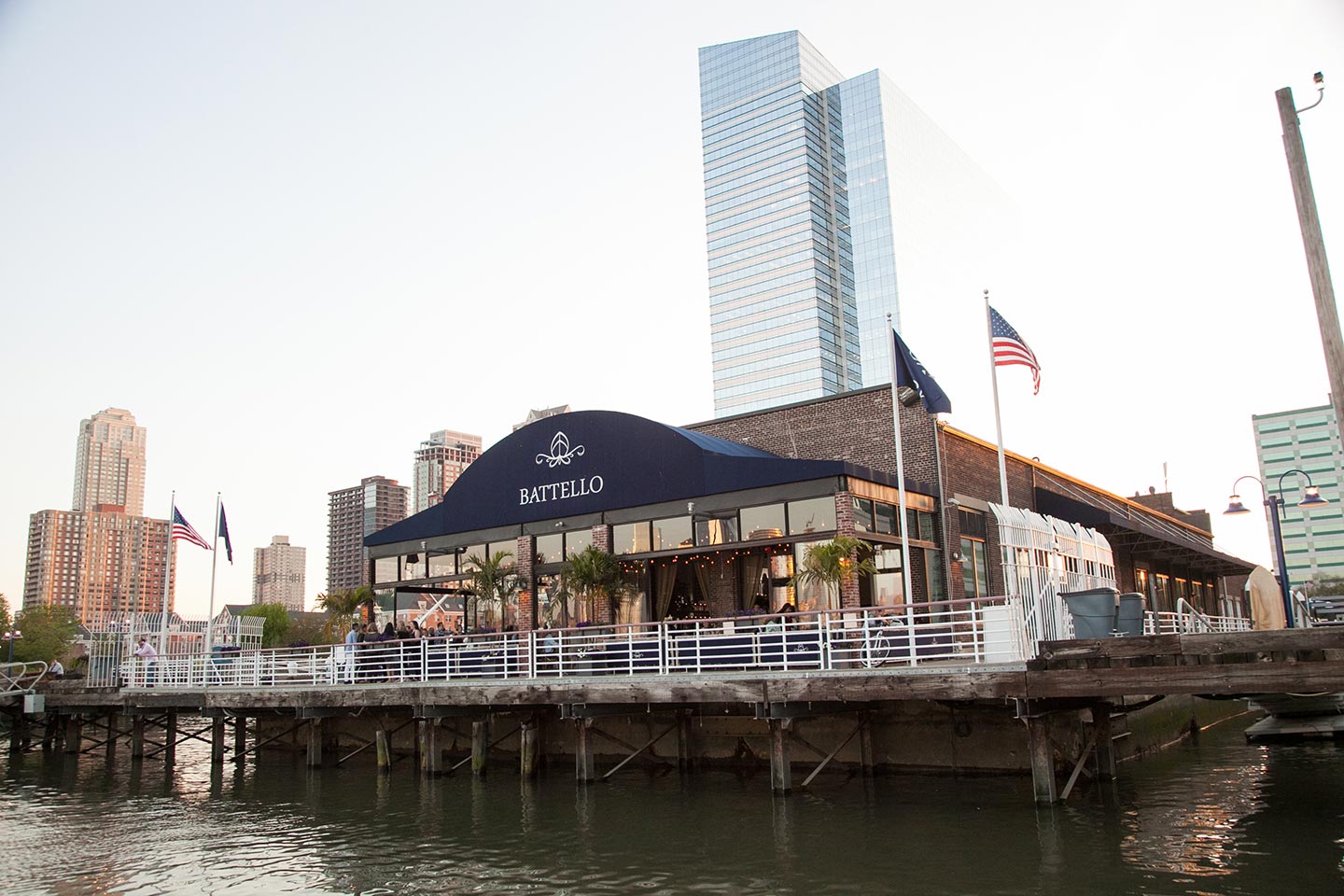 Jaclyn Isaac: This space had to be something cool before you got a hold of it.
Cory Checket: It was Michael Anthony's but we gutted it. It was originally a boat house. We kept the actual bones of it; the beams were there but they were painted turquoise when we acquired the space. One of the biggest jobs was stripping them down.
JI: Was this meant to be a wedding venue? It's huge!
Cory: I had done a couple of weddings at the Turtle Club many years ago and the planner mentioned that people were loving that kind of design: Restoration Hardware look, warehouse type of vibe. So in this space I wanted to do that, but bring back the nautical theme without buoy's on the wall – it's easy to go tacky when you're doing nautical. It's subtle here – you feel it but it's not in your face.
JI: What's "Battello" mean?
Cory: "Little boat" in Italian. The boat overhead when you first enter was actually salvaged from the marina itself, we found it washed up on the rocks. The logo is a play on a boat and waves. Plus, it sounds great on a wedding invitation!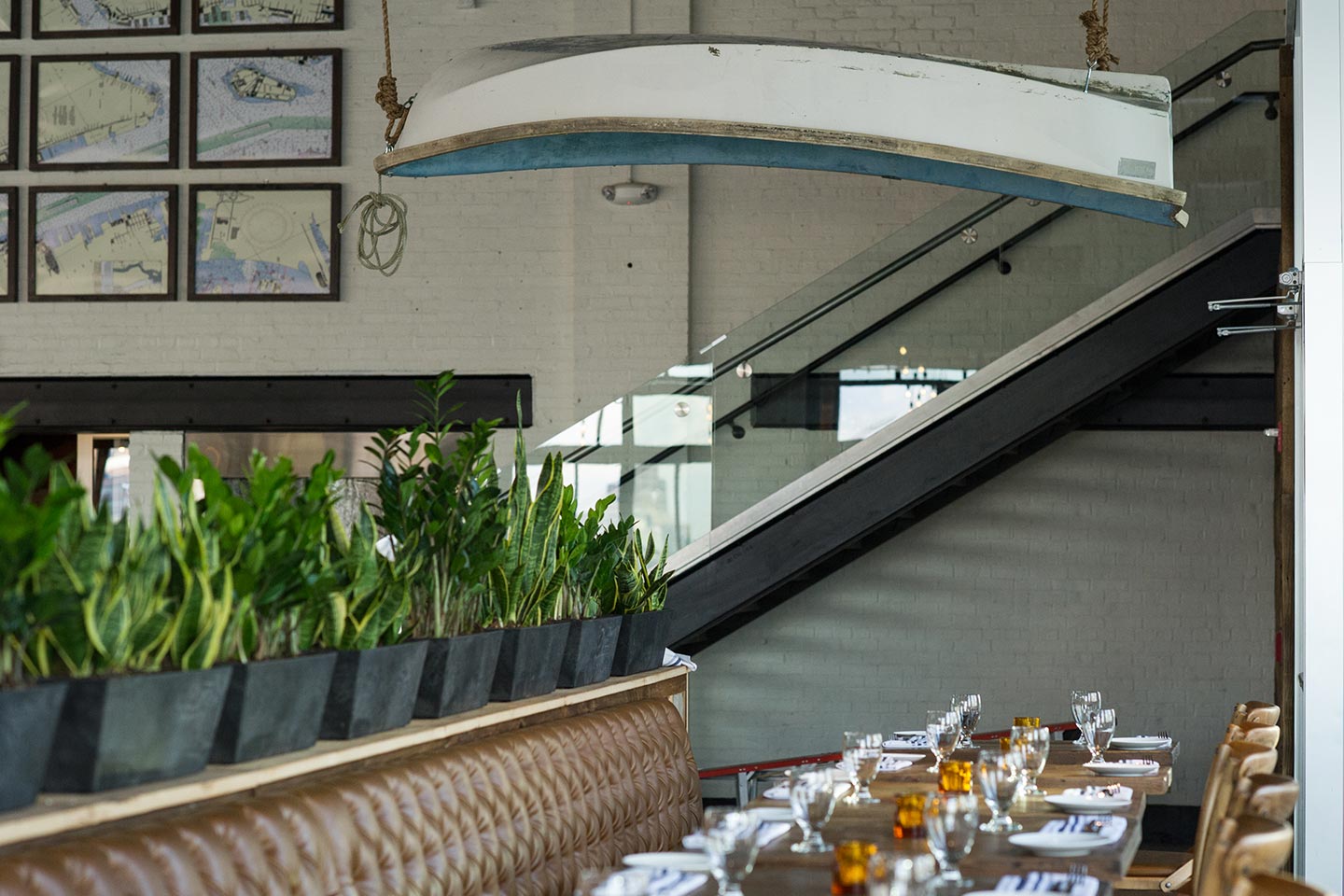 JI: Can we talk about these light fixtures?
Casey: They're glass jars in a huge collection to make one large lit wall.
Cory: It's great. You can move them around the room to do whatever you want. It helps to segment the space and add ambiance. We put a lot of thought into that, making sure this didn't feel like a giant cafeteria.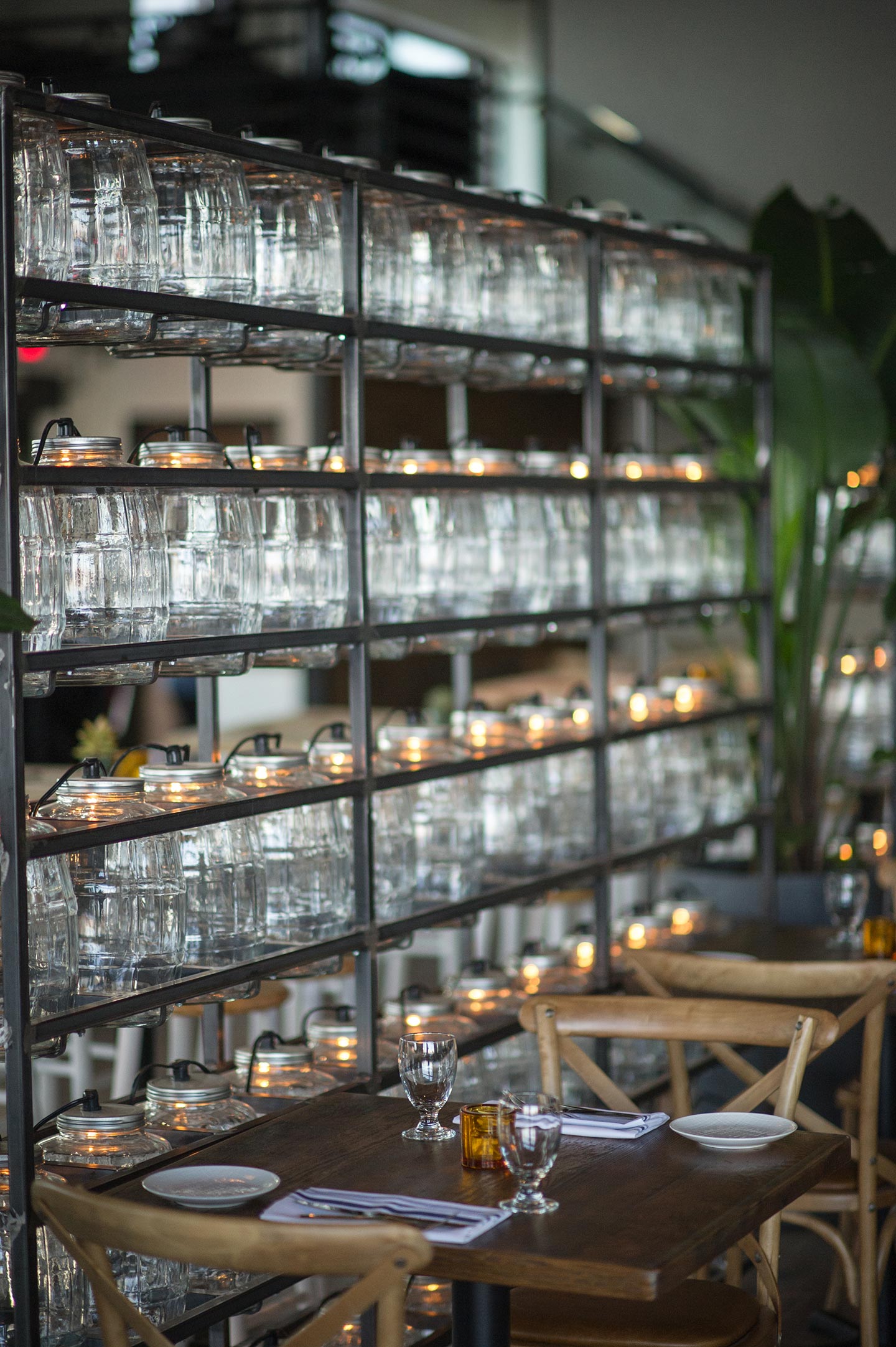 JI: What are some of you favorite elements in the space?
Casey: The technology is done really well. You have enough to where you can host a five-star event, but you don't even notice it's there. Cory was very particular about the technology not messing with the design aesthetics.
Cory: I love the bar – it's inside but flows outside onto the patio so you've got this nice indoor/outdoor effect. The filament lights on the patio reflect in the windows when the doors are closed and they look amazing, like stars. The bridal suite is also very unique – it's quite a departure from the rest of the space but I wanted a boutique hotel vibe there.
JI: It feels like you discover something new every time you walk around.
Cory: Battello is definitely meant to be quite the experience. Don't miss the wallpaper in the bathrooms too – the space was small enough to where I could do something really fun.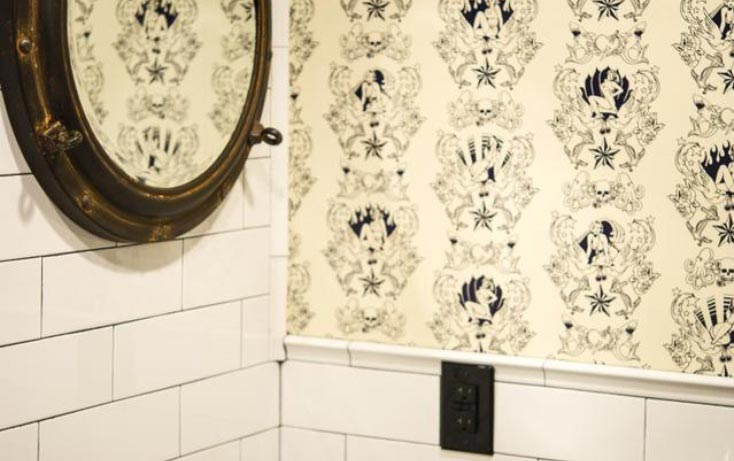 JI: So I'll be back here for happy hour to check out that view! Tonight is "Battello" weather for sure.
Cory: That's a good idea, considering we're booking out almost every weekend. I think someone told me today we have a wedding scheduled for 2019!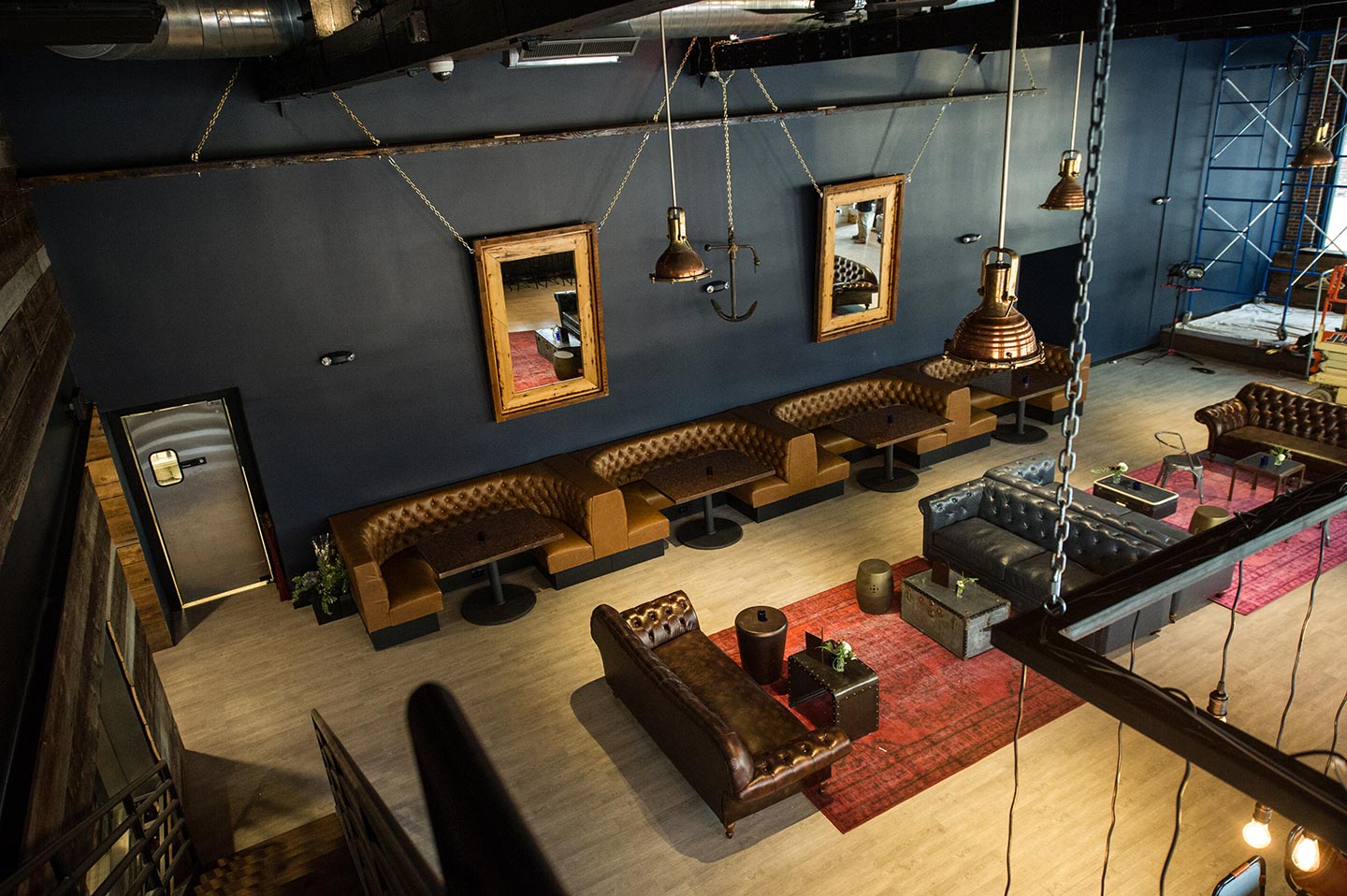 Battello's relaxed atmosphere and picturesque backdrop of the New York City skyline ensures any occasion, whether corporate or personal in nature, is unforgettable. Check them out for Thursday's Acoustic Happy Hour, or visit their space for dinner on the patio and take in the breathtaking views of both downtown Jersey City and Manhattan.
For a full 360° experience of Battello, check out the links below!
360° Main Dining Room
360° Main Bar Area
—
Related:
HGTV Star Shares the Design Inspiration behind GP's Hamilton Park
From Vespa Outpost to BBQ Joint: The Vision Behind Hamilton Pork
South House Brings a Little Bit of Texas to Downtown Jersey City
—
[gmap height="250px"]502 Washington Blvd, Jersey City, NJ 07310[/gmap]
Battello – 502 Washington Blvd, Jersey City, NJ 07310