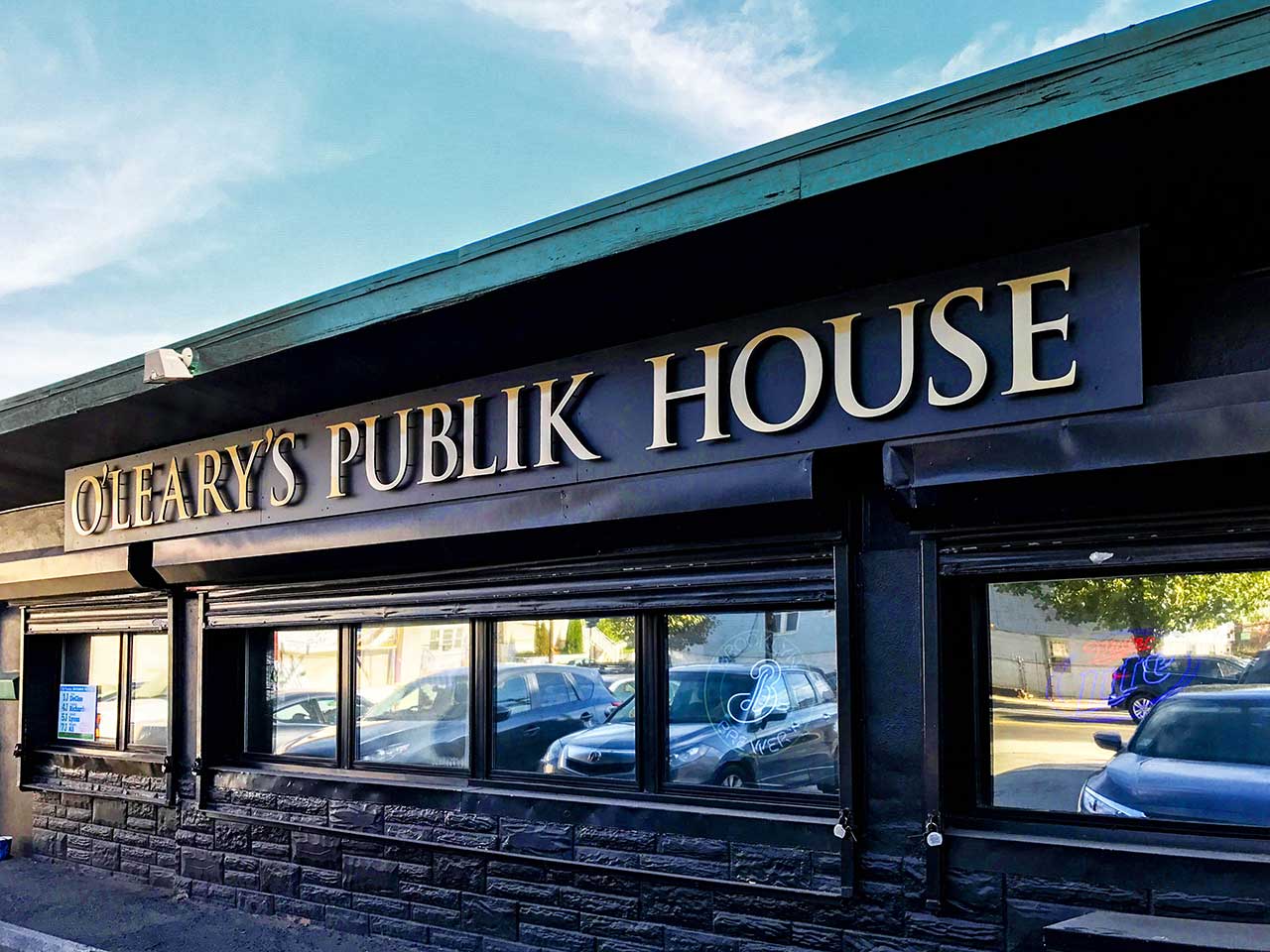 O'Leary's Publik House just sounds like a great neighborhood bar, and it really is. Unassuming but inviting, Bergen Lafayette's best-kept secret is just south of Claremont Avenue at 788 Garfield Avenue and feels like old school Jersey City. Formerly Cyprus Tavern, local fireman Kevin Hennessey took over three years ago, renovated the space, and offers 11 beers on tap, a delicious menu, spot on service, and an awesome atmosphere any day or night of the week.
Flanked by a metal shop and an auto body shop, O'Leary's anchors the neighborhood, and Kevin knows everyone. Born and raised in Jersey City near Lincoln Park, his affordable, easy-going approach has turned O'Leary's into the favorite watering hole of local cops, firefighters, and city workers.
Kevin always wanted to be a firefighter. "Since I was a kid," he said. "I've been a fireman for 15 years. I am very lucky." He also worked as a bartender for years and always wanted his own place. When asked how he does it all, he laughed and smiled, saying simply, "I've got great people here."
Even the name of the bar is a nod to his livelihood as a fireman. O'Leary is none other than Mrs. O'Leary whose cow, legend has it, kicked over a lantern in her barn, starting the Great Chicago Fire in 1871. Although never proven, poor Mrs. O'Leary was branded for life as the culprit of the conflagration that burned for two days and destroyed the city. The cow is featured prominently in the O'Leary's logo–Kevin thought it was time for her name to be associated with something more positive.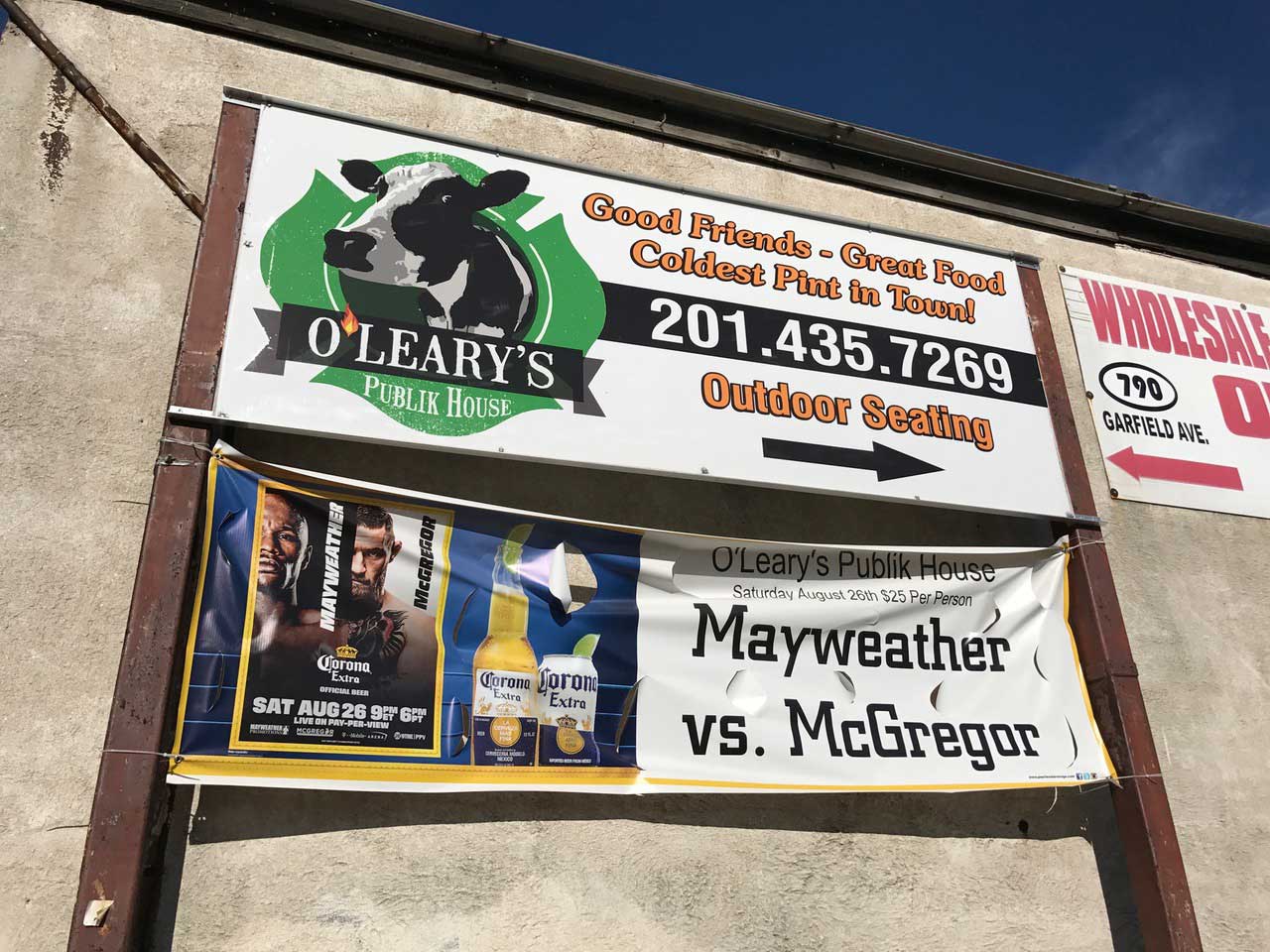 The bar's walls are lined with black and white photographs of Jersey City and city workers' patches which started in a frame near the front door and now cover the whole wall. Wood paneling, exposed brick, and mod high-backed chairs make for a cozy space around the long bar. The outdoor patio, cleverly walled off on one side with recycled wood pallets, is the perfect spot to have a pint under the garden lights on a nice night. Every inch of the decor has a Hennessey family touch, and it feels less like a bar and more like you were invited over to a nice neighbor's house.
Beyond the drink specials is a splurge-worthy food menu. The specials board will not disappoint and the burgers are outstanding. Kevin's favorite sandwich on the menu is the melt which is like a burger on steroids, and it is delicious. Also on the menu is, well, anything you want. If they have the ingredients, they'll make it. Quality control, he says, is one question–would I be happy to pay for it? I think they could triple their prices!
One visit to O'Leary's Publik House and it is sure to become your go-to hangout. Fun, feisty regulars turn one beer into many with good conversation, and it's easy to watch a game, too. Kevin has a great thing going and his spirit of service is easily felt. "I'm just trying to take care of people, make it affordable, and have a good time."