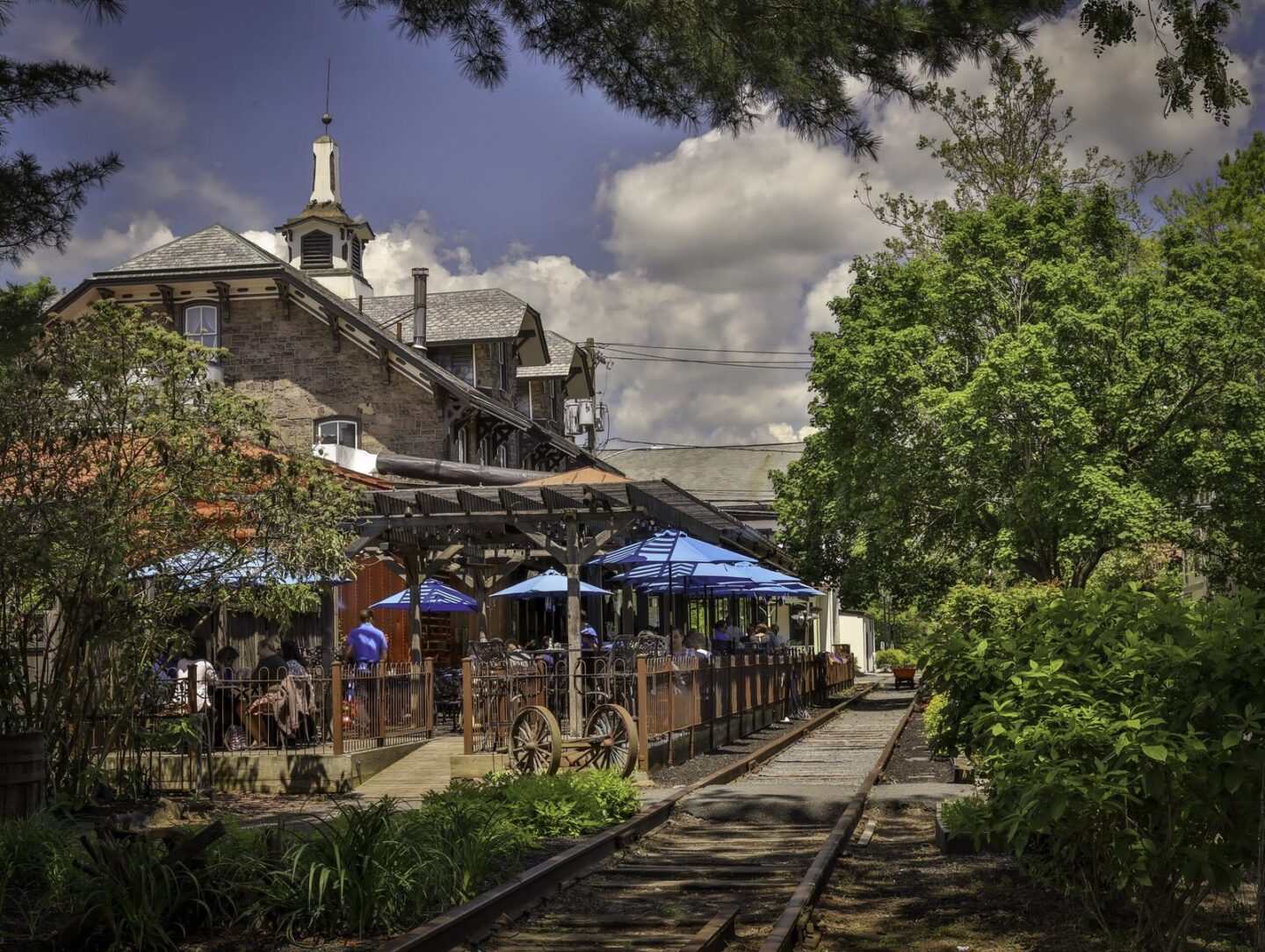 This article features some of the most walkable cities in New Jersey.
There's nothing quite like a stroll through a downtown or a great green space to brighten a mood and lift one's spirits, and New Jersey has no shortage of highly walkable towns. When considering what are the most walkable cities in New Jersey, there are many options, especially on the Gold Coast and North Jersey.
While choosing what towns to cover for our list, we chose to highlight the great diversity the state offers with its walkable destinations – from more prominent cities along the Hudson River to less heralded spots in western and southern New Jersey.
Whether you're looking for a walkable town to visit or maybe hoping to settle down in a spot where car-free living is easy, the Garden State is chock full of great spots to get around on foot.
Here's our list of the most walkable towns in New Jersey and NJ towns with walkable downtowns.
Most Walkable Cities in New Jersey
Hoboken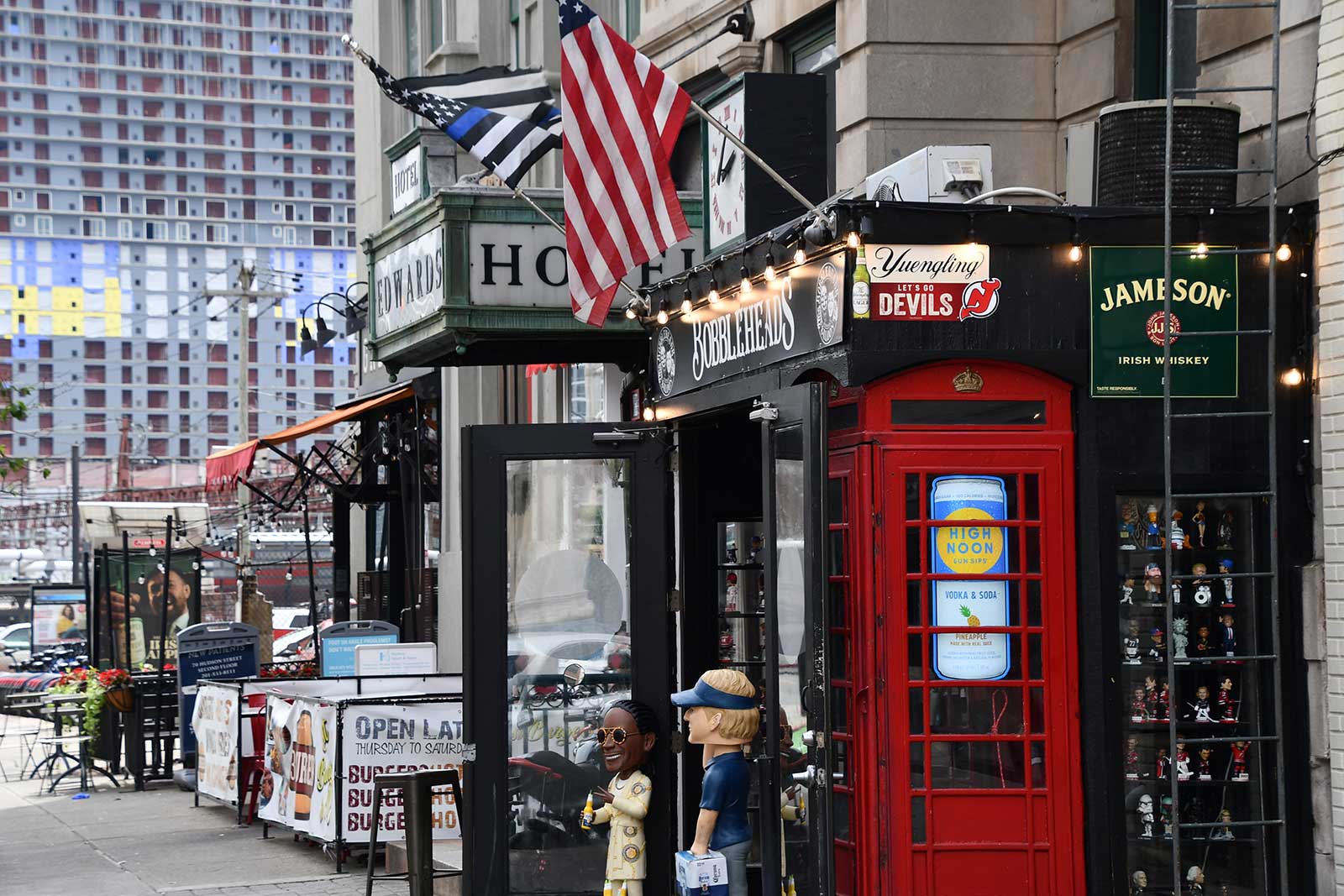 New Jersey's most walkable town is also one of the most pedestrian friendly in the entire country, scoring a 97 out of 100 on WalkScore's nationwide rankings. The city's near-perfect grid houses everything from top restaurants, legendary delis, and mom-and-pop stores to national retailers and grocers like Trader Joe's, making it easy to run an errand without getting into your car.
Nicknamed the Mile Square City, Hoboken has one of the livelier stretches along the Hudson River for those on foot. Highlights along the water include Pier C, restaurants like Halifax or Blue Eyes, and a beach with free seasonal kayaking at Maxwell Park. The state's largest resiliency park has added to the walkability since opening earlier this year.
Red Bank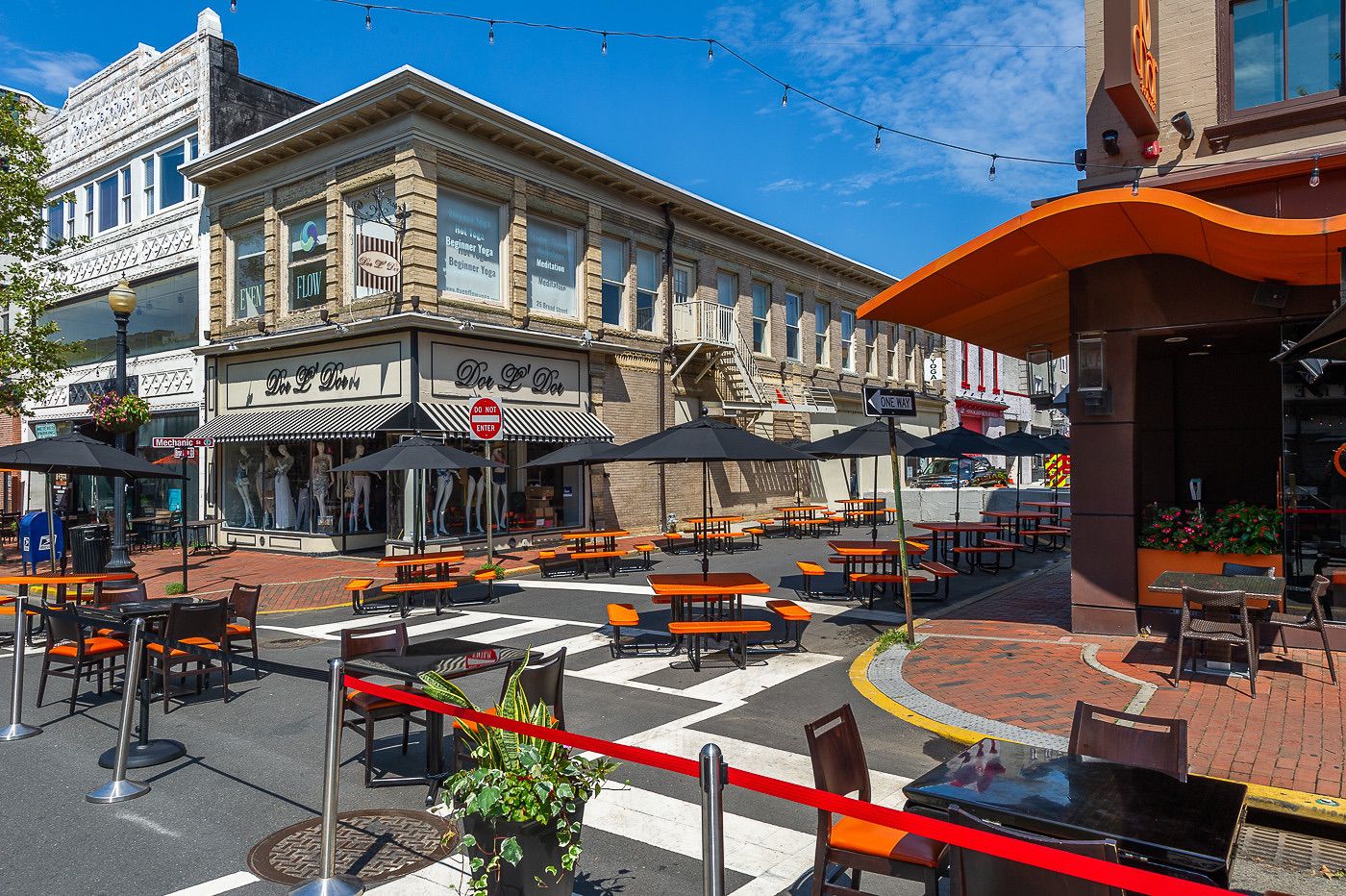 Situated in Monmouth County just off the beaches of the Jersey Shore, Red Bank sports several retail corridors along Front, Broad, and Monmouth Streets that are lined with eclectic shops, restaurants, and breweries including the playfully named Red Tank and Triumph Brewing Company.
The Count Basie Center for the Arts is a major draw for the area, which is not far from the town's waterfront along the Navesink River. Several green spaces including Riverside Gardens Park dot the span, while an emerging district near the town's train station that includes Two River Theater adds to the fun.
Asbury Park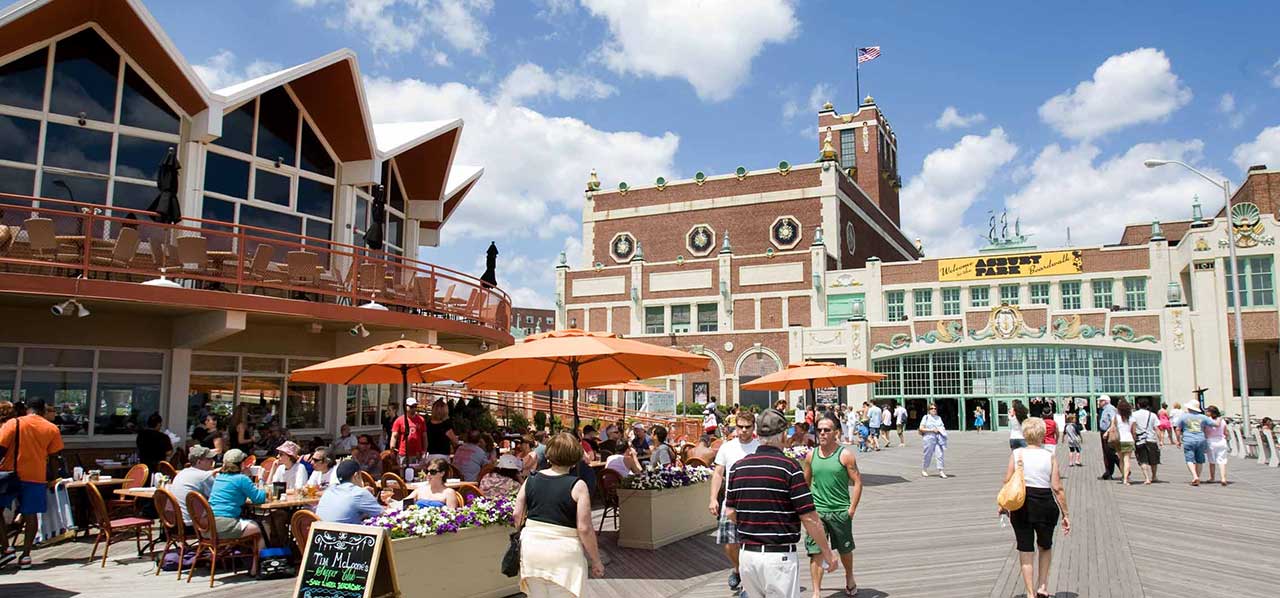 Speaking of the beach, Asbury Park is one of the Garden State's most notable beaches and also one of the best walkable towns in New Jersey. The city's iconic boardwalk includes kid's play areas, a carousel, and Convention Hall, making this seaside stretch one of the most walkable places in New Jersey.
Besides the beach, Cookman Avenue just across from the city's train station boasts a ton of historical buildings home to shops, restaurants, and art spaces that complement music venues like The Stone Pony. A slew of businesses call both Main Street and Bangs Avenue home, two stretches that are just a quick walk to tranquil Wesley Lake or the seasonal Asbury Fresh Farmers Market.
Ridgewood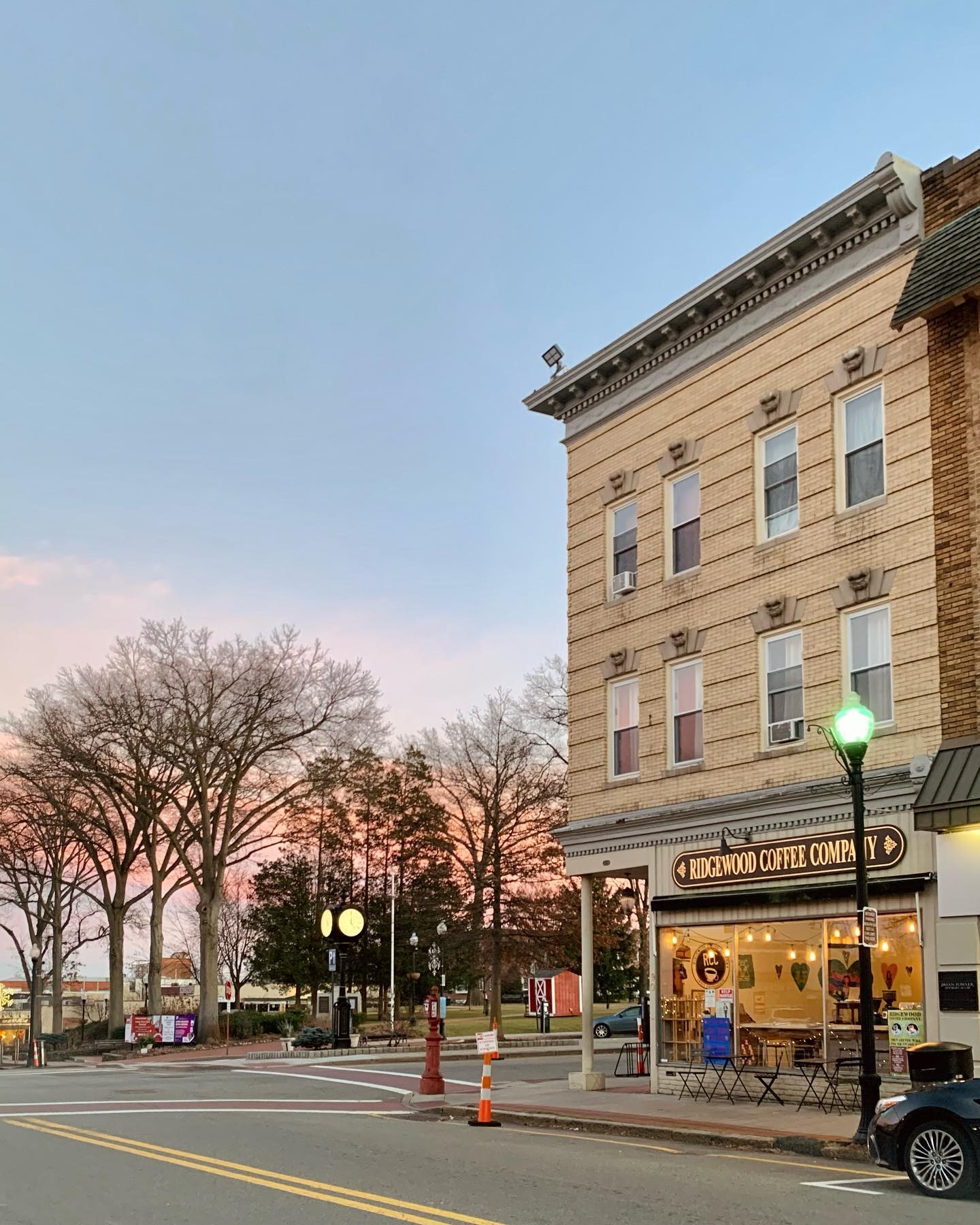 One of Bergen County's most walkable towns, Ridgewood's train station is directly across from Broad Street's restaurants and shops that contribute to its Downtown core. Van Neste Square Memorial Park centers the area, while highlights along Ridgewood Avenue include a movie theater, Ridgewood Coffee Company, and top restaurants like Felina.
Nearby Godwin Avenue offers more restaurants plus a Whole Foods easily accessible on foot, while Graydon Park offers one of the last public lake-style pools in the area.
Collingswood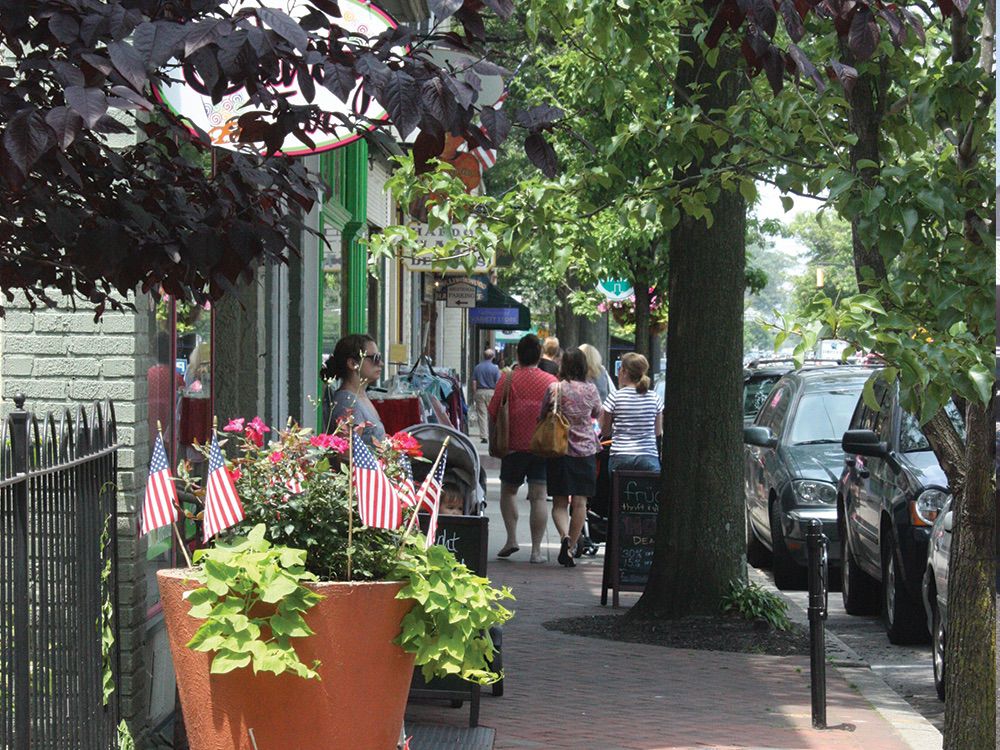 Perhaps the most walkable stretch of the Garden State near Philadelphia, Collingswood boasts a WalkScore of 92 and features one of New Jersey's top main streets in Haddon Avenue. The pedestrian-friendly corridor is decidedly heavy on the mom and pops, forgoing national chains in favor of businesses like Revolution Coffee Roasters.
Knight Park's playgrounds are an easy walk from Collingswood's Downtown, while a portion of Cooper River Park in the borough offers walking paths along the water.
Lambertville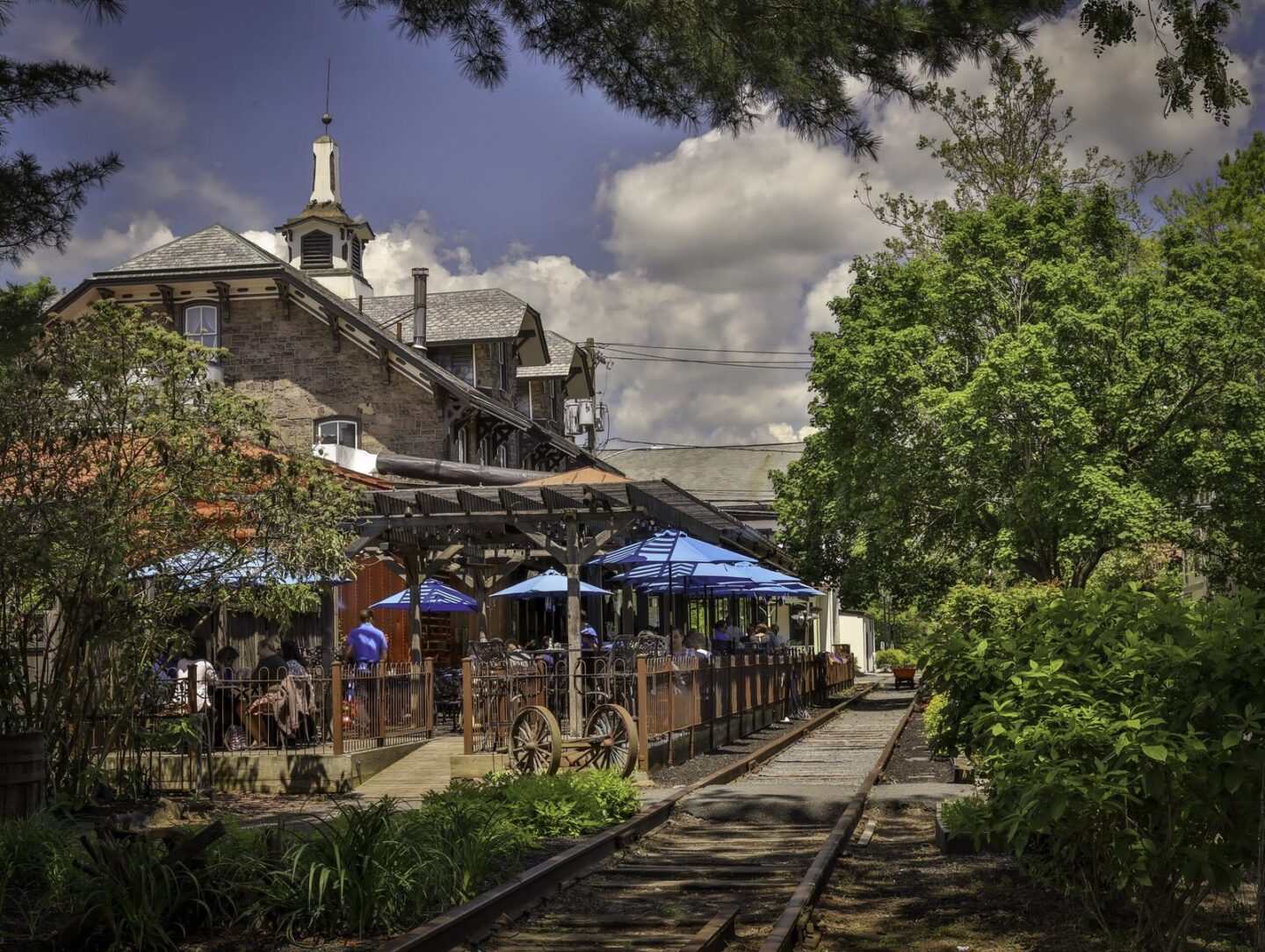 This small city among the rolling hills of Hunterton County benefits from its compact nature and historical preservation efforts. One of Lambertville's claims to fame is a tow path several miles long along the Delaware River and its estuaries that is car free and supplies one of Hunterdon County's most walkable stretches.
Lambertville boasts a variety of restaurants, art galleries, and more along two main retail corridors of Bridge Street and Union Street, the latter of which boasts a gorgeous selection of historic homes. A walk across a pedestrian-protected bridge into New Hope, Pennsylvania reveals another walkable town with historic buildings and shops.
Jersey City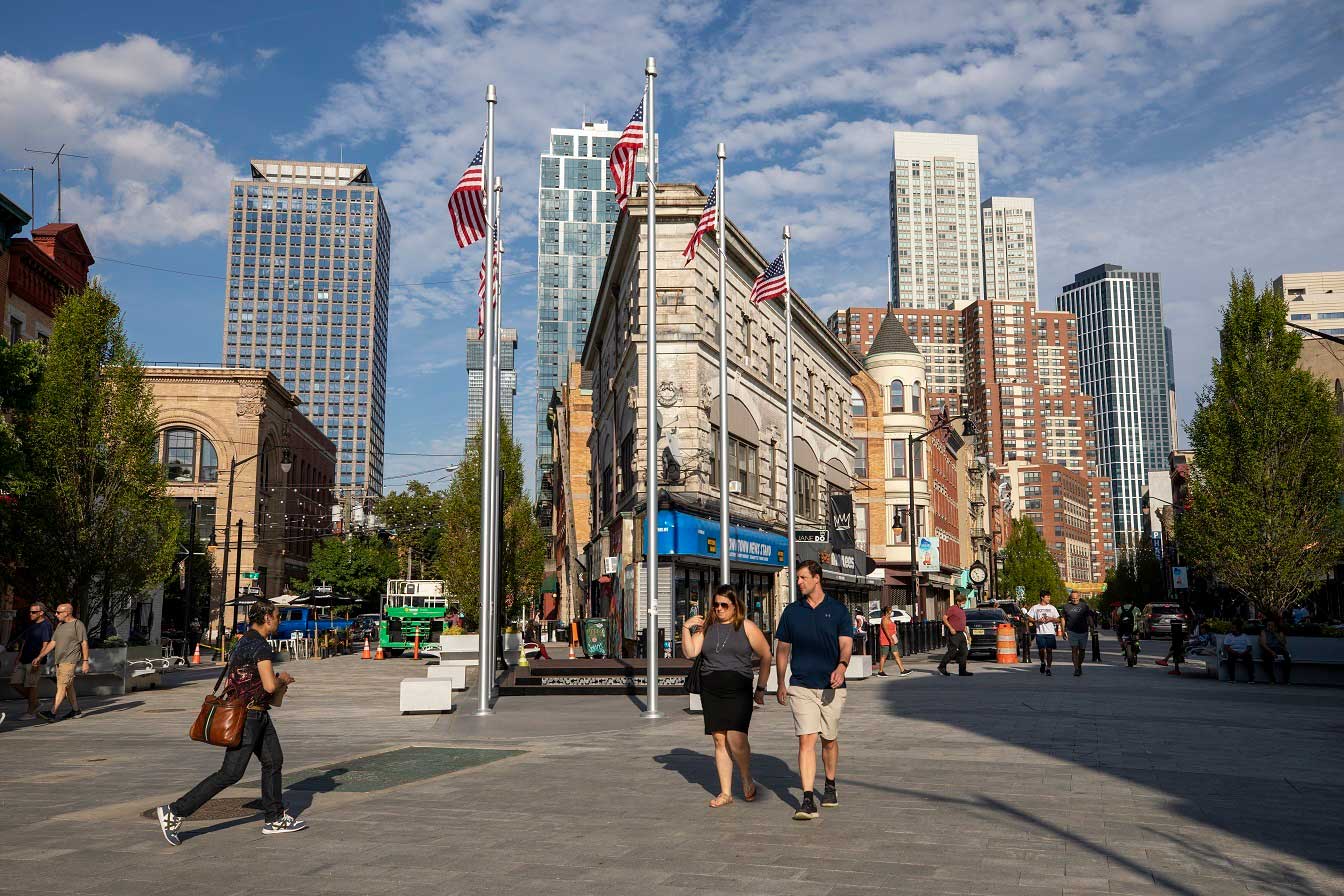 Despite its status as the second largest city in the state, Jersey City has made itself much more walkable in recent years. The Newark Avenue Pedestrian Plaza is perhaps the most prominent walker's paradise, as two blocks of the Downtown portion are lined with restaurants ranging from the curry dishes at Brick Lane to the Brazilian fare of Tamborim.
Other major retail corridors outside of Downtown including Bergen Avenue, Central Avenue, and West Side Avenue make it easy to get essentials on foot. Massive green spaces like the soon-to-be-expanded Liberty State Park and Lincoln Park along with a slew of protected bike lanes make it a relative breeze to get around Jersey City without a car.
Newton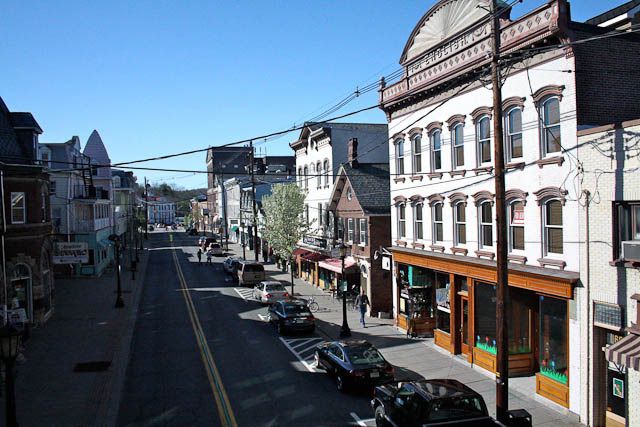 While the northwestern portion of the Garden State has tons of farms, mountains, and great outdoor areas, walkability without a car is decidedly harder to find. Newton, the seat of Sussex County, is a notable exception to that rule. The town's Walk Score of 87 is astronomical for the area and the Sussex Branch nature trail is accessible from the downtown for those on foot.
Speaking of the downtown, Newton's boasts the highly walkable Spring Street lined with restaurants, while grocers like Hayek's Market are a short distance away. Memory Park, which includes several recreational facilities like the town's pool, is just half a mile from the bustle of Spring Street.
Woodbury
While this entry on our list might surprise some folks, this Gloucester County city boasts a WalkScore of 84 for good reason. Woodbury's Broad Street Historic District is home to some of the oldest buildings in New Jersey like the Woodbury Friends Meeting House, but it also includes a slew of restaurants, supermarkets and shops that make it a pleasant walker's paradise.
A series of bike lanes along Broad Street make getting around without a car even easier, while Bell Lake Park provides some greenery just about a 10-minute walk from the city's downtown.
Princeton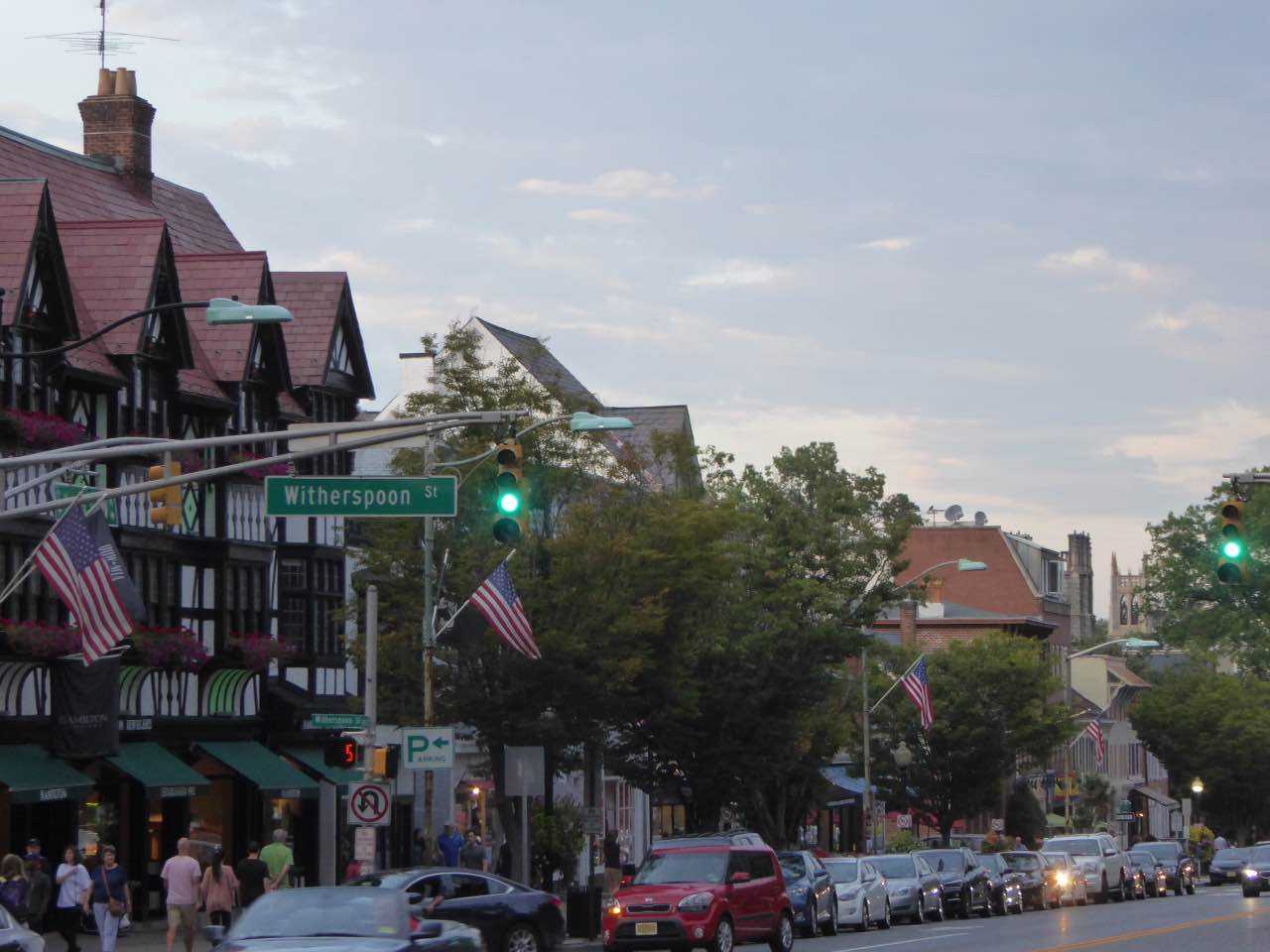 Boasting much more than the shared name of its Ivy League brethren, Princeton's lovely downtown includes the old-world charm of Nassau Street abutting the university's highly walkable grounds. Intersecting Witherspoon Street is also lined with shops, stores, and restaurants, while Palmer Square puts a decidedly different spin on the Jersey mall with outdoor stores and a central green that looks like a scene straight out of London.
Top restaurants like Blue Point Grill and Elements dot the landscape in what is arguably Mercer County's most prominent town, where you can even walk to Albert Einstein's former home or Princeton Cemetery. Those grounds are the final resting place of several notable historical figures that include U.S. President Grover Cleveland and Aaron Burr.
Flemington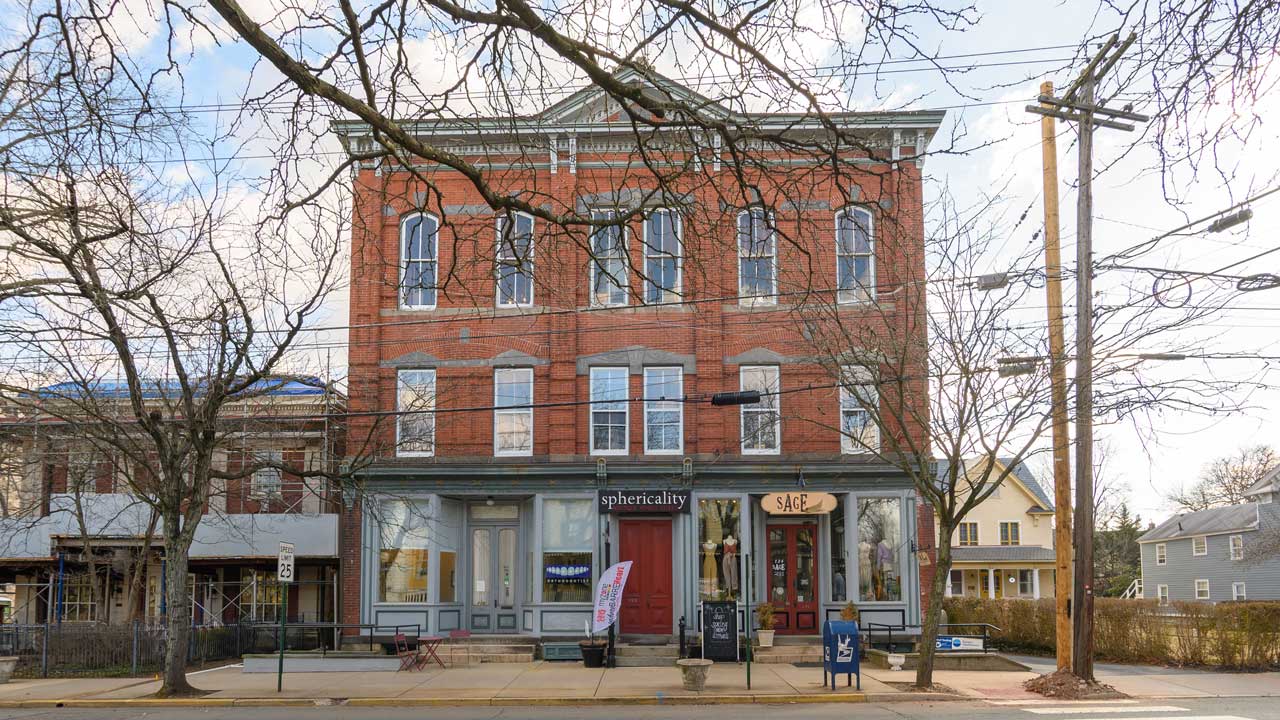 With a WalkScore of 77, Flemington tends to keep a low profile but is nonetheless one of the most walkable towns in New Jersey. 65% of the Hunterton County borough is listed on the National Register of Historic Places, which makes for a pretty walk along Main Street that includes a mix of private homes and businesses.
The borough has made a huge effort to revitalize its downtown core and efforts are underway to revamp the historic Union Hotel into a multi-family project dubbed Courthouse Square. Other walkable spots just off Flemington's Main Street include Lone Eagle Brewing or Skunktown Distillery.
Montclair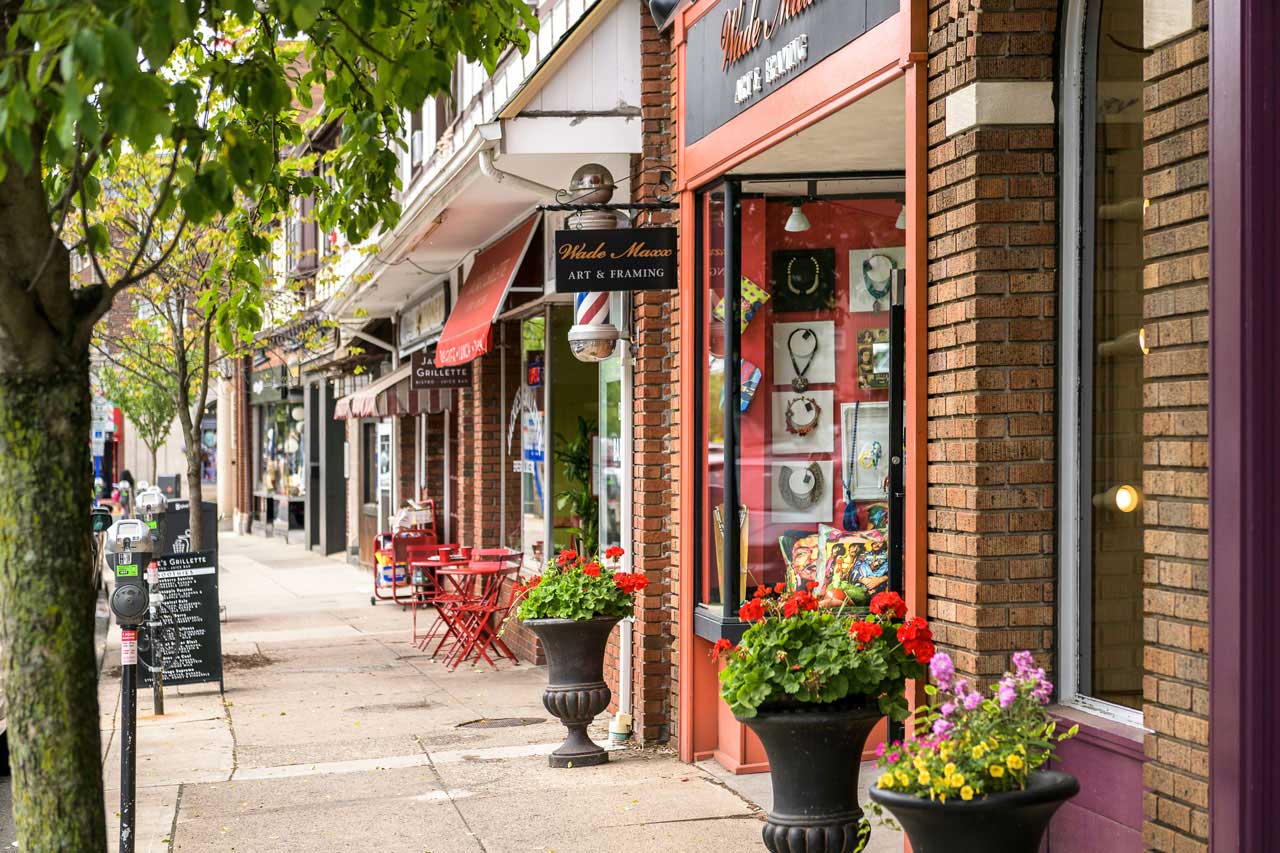 Perennially named one of New Jersey's best downtowns, Montclair needs little introduction at this point. Bloomfield Avenue is perhaps the town's most prominent area with buzzworthy dining destinations like PastaRAMEN, the Wellmont Theater, and the Montclair Art Museum, with the recreation options of Glenfield Park just a short walk from the stretch.
More low-key areas like the pedestrian-friendly Walnut Street are home to breweries and Montclair Bread Company, while Valley Road in Upper Montclair provides a walkable stretch with a character of its own.
Somerville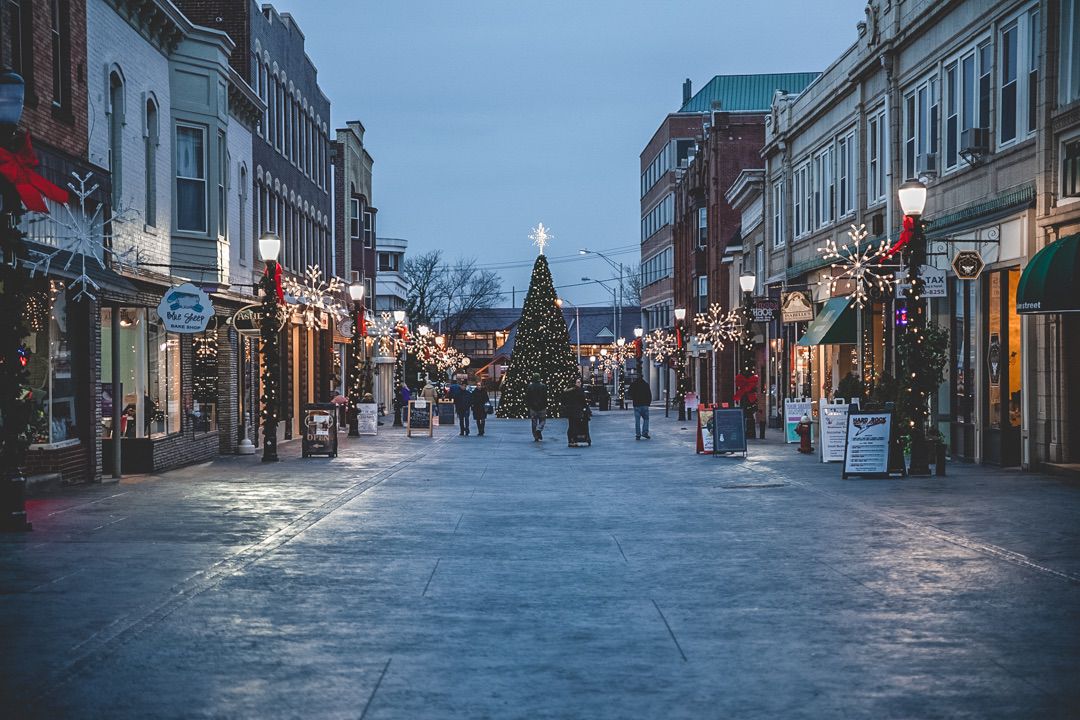 The most walkable town in Somerset County with a WalkScore of 69, Somerville has evolved significantly in recent decades. The creation of a pedestrian plaza along Division Street across from the city's train station has been credited by many as having helped the town's revitalization since opening just about a decade ago.
The lively stretch of road, which sports tons of restaurants with outdoor seating, acts as a counterpart to the intersecting Main Street that has historically been home to many of the city's longstanding businesses. A Shop Rite in the Downtown combined with a well-designed grid make Somerville an attractive spot for those ditching their car.
Morristown
One of the most historic towns in New Jersey, Morristown was once the military capital of the country during the Revolutionary War. While Morristown National Park offers a slice of history, the town's centrally located green is surrounded by both historic and modern buildings that embrace walkability and smart growth.
South Street is Morristown's core, home to restaurants like Jockey Hollow Bar & Kitchen inside the historic Vail Mansion. The stretch includes a performing arts center and tons of historically preserved buildings, while several redevelopment projects near the town's train station are working to create a new walkable corridor connecting two neighborhoods.