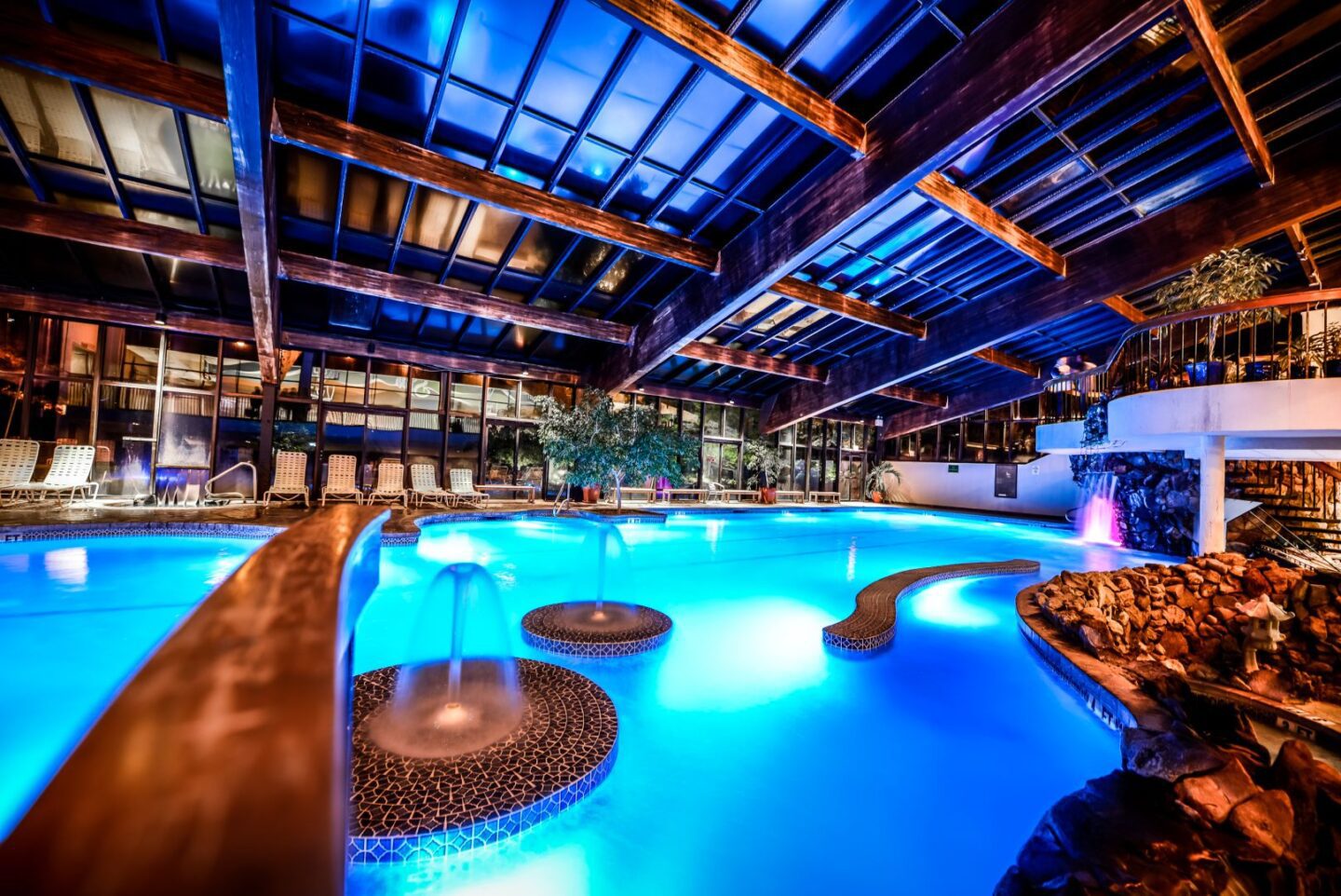 There's nothing better than a hotel with a pool — unless that pool is poorly maintained or outdated. If you're traveling for business or pleasure in the Garden State, it's important to find NJ hotels with indoor pools that meet your high expectations.
26% of Americans think an indoor pool is an essential hotel amenity. We're surprised it's not higher! Hotel pools are a great way to pass the time during cold or inclement weather, provide the kids an extra activity during vacation, or unwind after a long day of business meetings.
We found 11 hotels in New Jersey with excellent indoor pool facilities — 4 in North Jersey, 3 in Central Jersey, and 4 in South Jersey. We were pretty picky with our selections!
No matter where you're traveling in the Garden State, there's a hotel with a great indoor pool for you to enjoy year-round!
Why Pick a Hotel with a Swimming Pool and Hot Tub?
There are 3 great reasons to choose a New Jersey hotel that has an indoor pool and hot tub — one for the kids, one for you, and one for other luxurious benefits.
A Bonus Attraction for the Kids. An unexpected rainy day or cold afternoon stuck in the hotel leads to restless kids — unless there's an indoor pool! Let the kids have fun while you relax with a book or podcast.
A Perfect Place to Relax. Need to unwind on your business trip or weekend away? Lounge on a deck chair, dip your toes in the hot tub, and don't worry about the weather.
An Indoor Pool = Other Modern Amenities. Hotels with beautiful indoor pools usually offer other upgraded amenities like hot tubs, fitness centers and spa treatments.
NJ Hotels With Indoor Pools Near New York City
Crystal Springs Resort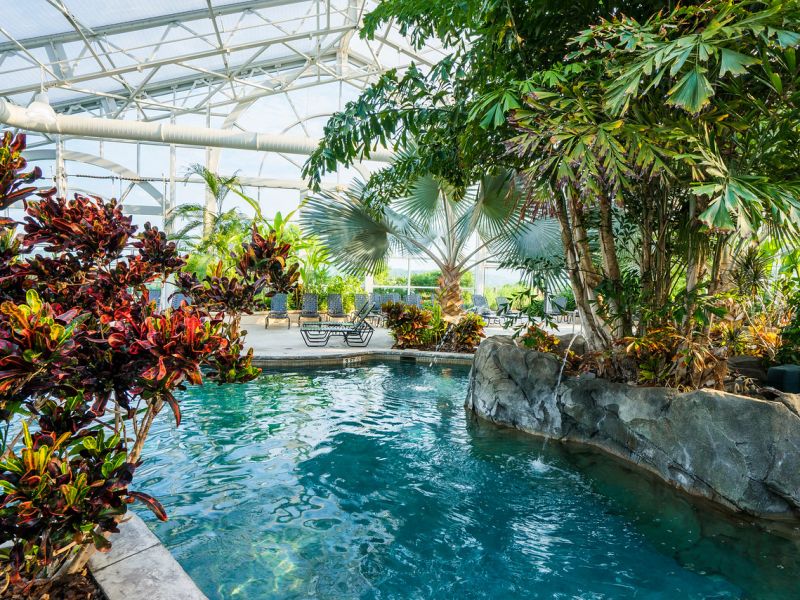 5 Wild Turkey Way, Hamburg, NJ
We rate Crystal Springs Resort as one of New Jersey's premier luxury hotels. It's an excellent romantic getaway spot, and also an escape for the single traveler that wants to be pampered for the weekend.
The resort features two hotels, Grand Cascades Lodge and Mineral Hotel. Each has lavish indoor pools with modern amenities and gorgeous landscaping. We love the Tropical Biosphere at Grand Cascades Lodge — a 10,000 square foot pool complex with a 140' water slide, grotto style hot tub, and underground aquarium. Its unique roof design allows visitors to tan indoors year-round!
Book a Spa and Pool Daycation for the ultimate "treat yourself" experience. Enjoy a day pass to the Biosphere Pool or Mineral Pool Complex, a spa treatment, wine cellar tour, and a meal at one of Crystal Springs' restaurants.
https://www.crystalgolfresort.com/
Hilton Short Hills
41 John F. Kennedy Parkway, Short Hills, NJ
The stylish Hilton Short Hills offers excellent amenities for business travelers and families on a New Jersey vacation. They provide an indoor and outdoor pool, tennis courts, a fitness center, and quality dining.
The indoor pool at Hilton Short Hills is modern, sleek and clean. The vaulted ceiling over the pool is supported by gorgeous white columns — you'll feel like you're swimming in a modern cathedral.
Hyatt Regency Jersey City on the Hudson
2 Exchange Place, Jersey City, NJ
The Hyatt Regency in Jersey City is strategically located on Exchange Place to offer great views of NYC and the Hudson River waterfront. The hotel's best amenities — like Vu Restaurant — take full advantage of these skyline views.
Hyatt Regency's Jersey City location has a saline, heated indoor pool that's consistently fresh and well-maintained. But what truly sets this pool over the top is the view of New York City across the Hudson River — it's a lovely experience to take a dip while you look out over Manhattan and the Financial District.
Westin Jersey City Newport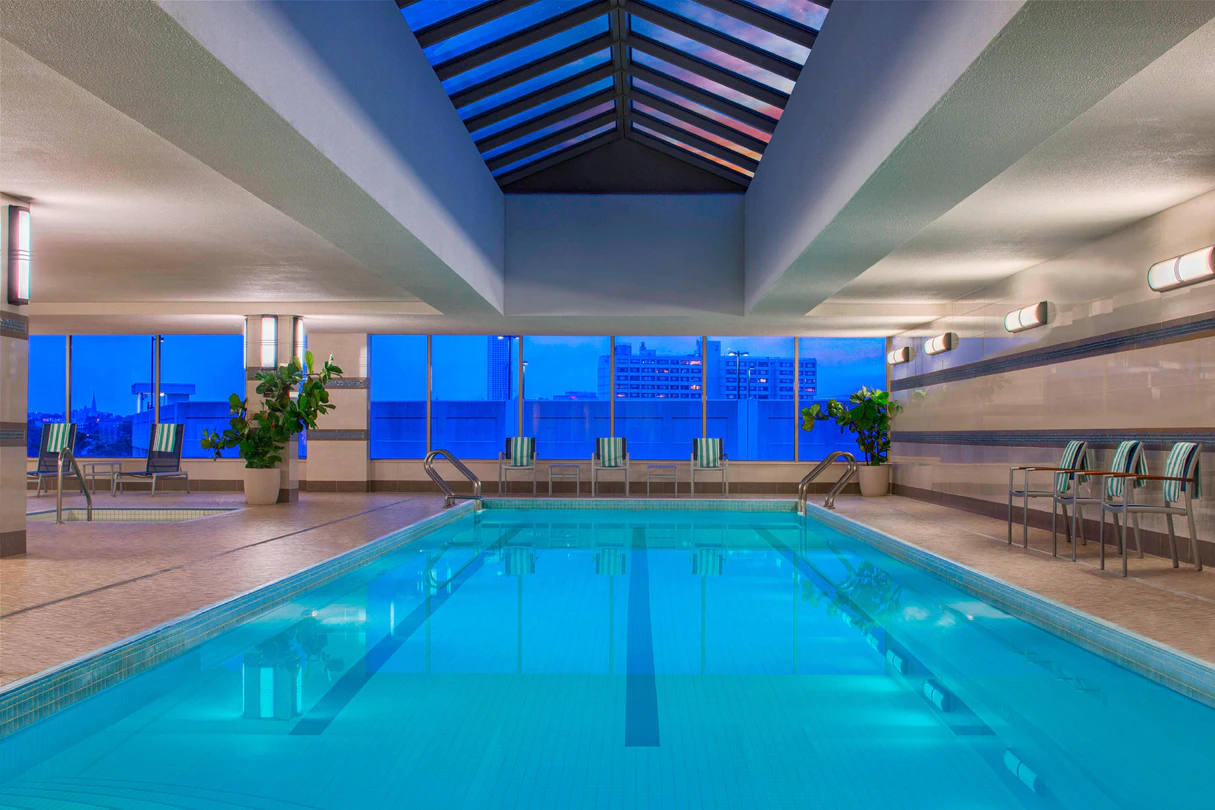 479 Washington Boulevard, Jersey City, NJ
This Marriott property also offers distinct views of the Manhattan skyline from its waterfront location in Jersey City. It's a pet-friendly establishment with some cool amenities — enjoy a 3-mile or 5-mile WestinRUN with a running concierge, or unwind at the indoor/outdoor Fire & Oak Restaurant.
The Westin Jersey City offers a modern, chic indoor pool as part of its fitness center facilities. It's beautifully lit and well appointed with plenty of seating. Enjoy a view of New York City from this hotel pool on the Jersey City waterfront
Central Jersey Hotels With Indoor Pools
APA Hotel Woodbridge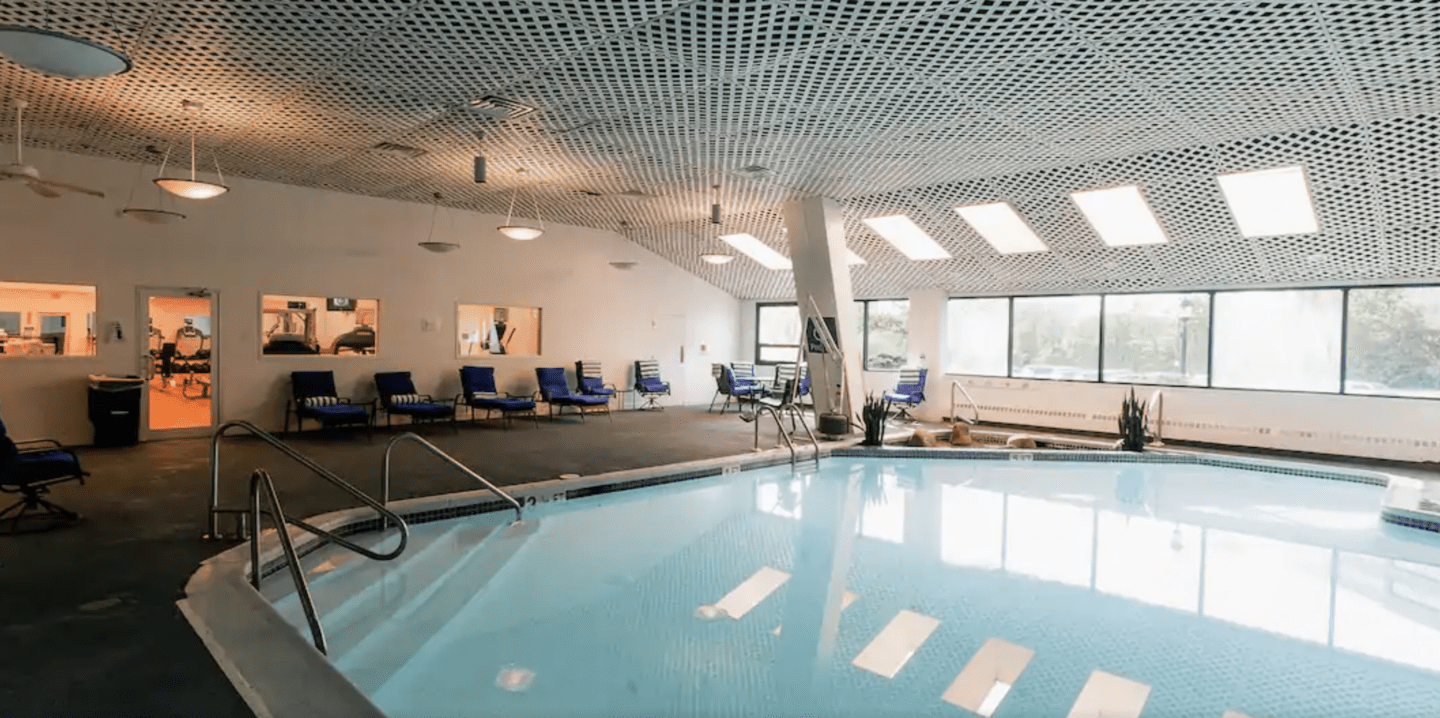 120 Wood Avenue South, Iselin, NJ
The APA brand is internationally known for excellent business and leisure hotel accommodations — the APA Hotel Woodbridge is the brand's first American location. The in-room amenities are stellar, boasting pillow-top bedding, 42" flat screen TVs, high-speed WiFi and Toto Washlet systems in the bathrooms.
The indoor pool at APA Hotel Woodbridge isn't huge, but it's designed intelligently as part of a spacious fitness center. The hotel staff cleans and re-stocks the pool area consistently, and the pool is just steps from a separate gym equipment area. If you consider swimming part of your workout regimen, this hotel's indoor pool is a good fit for your needs.
Hotel LBI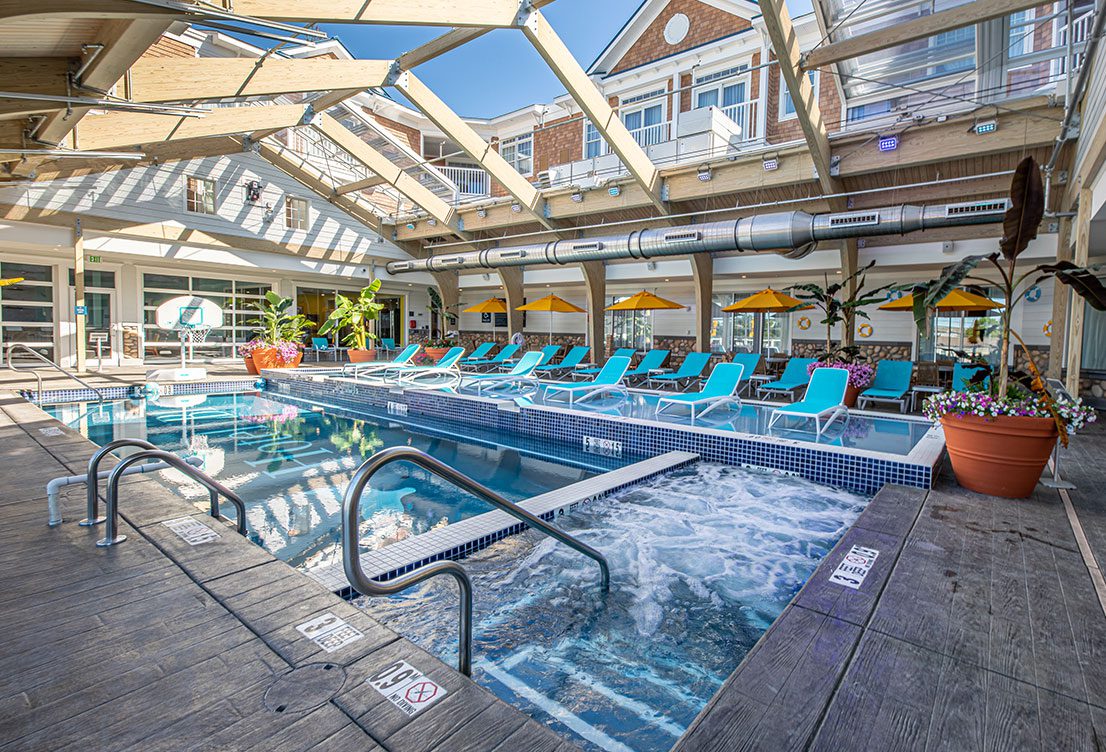 350 West 8th St, Ship Bottom, NJ
Hotel LBI has long been considered one of NJ's finest shore hotels, and the premier hotel destination on Long Beach Island. There's so much to do here — rooftop cocktails, oversized studio suites, and a fabulous restaurant — not to mention time spent on the Jersey Shore beaches!
It would be easy to overlook the Hotel LBI indoor pool and jacuzzi. But don't miss it. The pool area is gorgeous, with full-span skylights letting the sunshine in over the pool and hot tub. There are plenty of lounge chairs on the pool deck, which is designed to resemble an upscale beach house.
Ocean Place Resort and Spa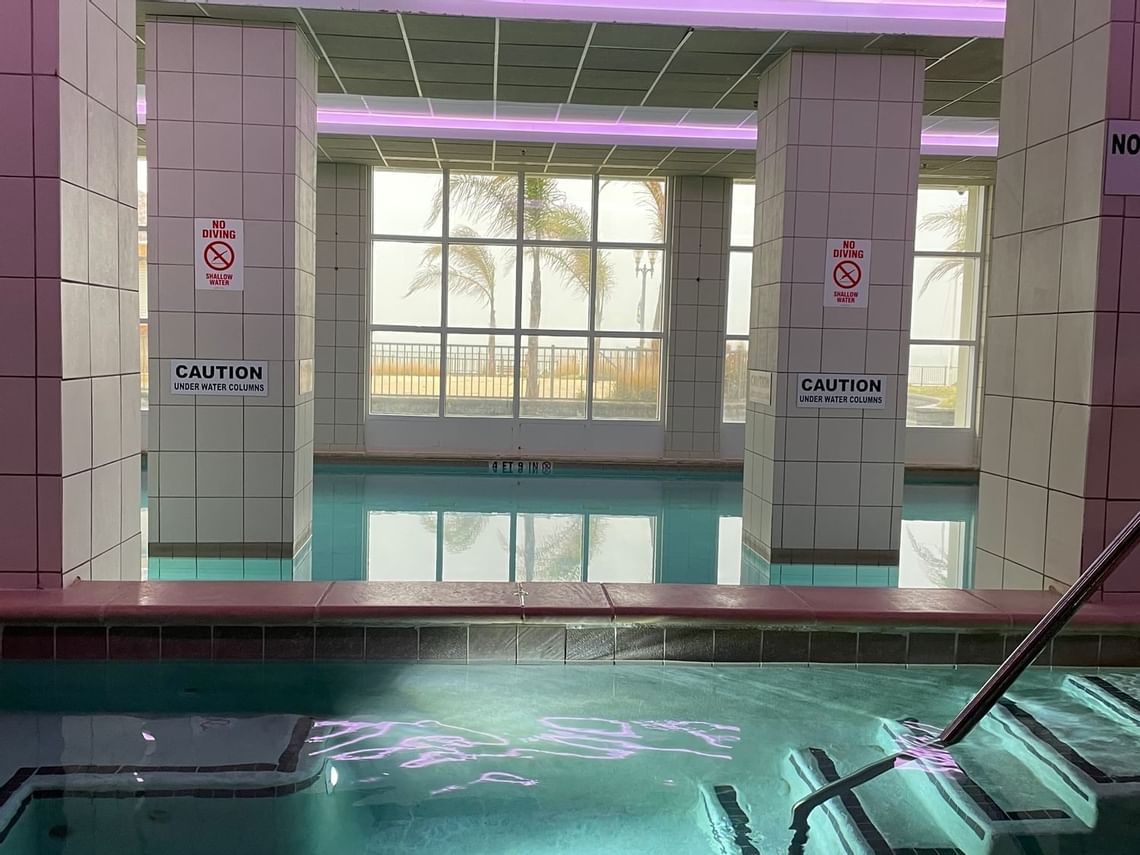 1 Ocean Boulevard #1, Long Branch, NJ
The Spa at Ocean Place Resort made our short list of the top 9 luxury spas in New Jersey, and rightfully so. But there's much more to do at Ocean Place Resort after your Boardwalker massage and hydra-seaweed wrap treatment.
The indoor pool and jacuzzi are open to in-house resort guests for 13 hours a day (8:00 a.m. to 9:00 p.m.) — an excellent length of time for beachgoers with a packed schedule. The pool area is designed to match the overall spa aesthetic, and feels cozy and refreshing.
South Jersey Hotels With Indoor Pools
The Claridge Hotel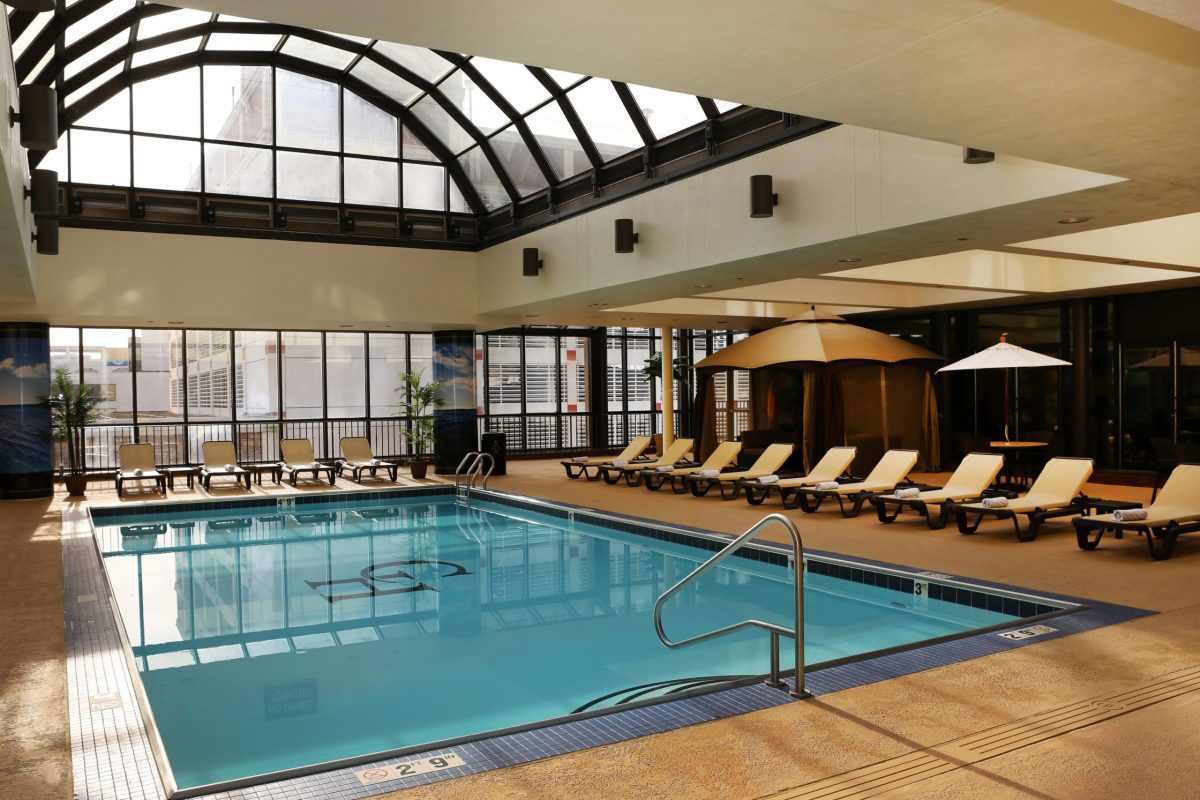 123 S Indiana Ave, Atlantic City, NJ
The Claridge Hotel offers strong amenities near the Atlantic City Boardwalk. If you want to stay at a hotel away from the casino atmosphere, the Claridge is an excellent choice. The VUE Rooftop Bar & Lounge offers some of AC's best outdoor dining.
The indoor pool facilities at the Claridge in Atlantic City are traditional, clean and well-maintained. The arched glass ceiling over the pool's deep end extends into a floor-to-ceiling view of Atlantic City. There's plenty of room to swim, splash around, or relax poolside with a podcast or book.
The Grand Hotel of Cape May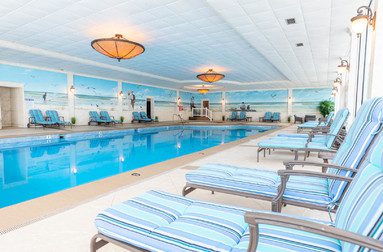 1045 Beach Ave, Cape May, NJ
The Grand Hotel is a transitional, modern hotel hotspot in the center of Victorian Cape May. It's a popular wedding destination for its photogenic outdoor views, upscale suites, and excellent dining and entertainment at Hemingway's Restaurant.
The Grand Hotel of Cape May offers a salt water indoor heated pool that's always 85°F, as well as a salt water jacuzzi. The plush lounge chairs on the pool deck are a great place to retreat from the busier outdoor pool and relax with some light reading.
Montego Bay Resort

1800 Boardwalk, North Wildwood, NJ
Montego Bay Resort in North Wildwood offers some of the best suites for family vacations in Wildwood. It's located right on the beach along the Wildwood Boardwalk, and offers multiple dining options, a tiki bar, and suites with private terraces.
If you bring your kids to Montego Bay Resort, they won't leave the pool area. The heated indoor pool offers 2 waterpark quality slides in a fun, colorful environment. There's also a giant aquatic-themed "Prime Play" area for the kids, and plenty of separate hot tub space for adults.
The Water Club Hotel (MGM Tower)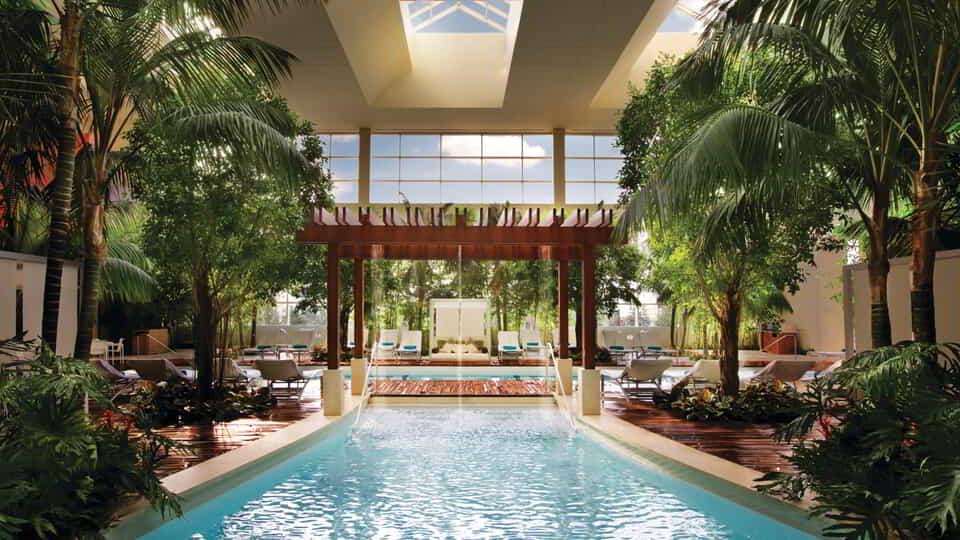 1 Borgata Way, Atlantic City, NJ
If you want to dive into a 5-star pool experience in Atlantic City, stay at MGM Tower (formerly The Water Club). Break away from the Atlantic City Boardwalk and head inland towards the Borgata — The Water Club is right next door and offers direct Borgata access and its own distinct ambience.
The Water Club's motif centers around earth tones, fresh plants and running water. This begins with their 5 indoor and outdoor heated pools, each with its own design elements. The pools are designed for adults, with poolside bars available.
Learn More About NJ Hotels With Luxurious Amenities
New Jersey's best hotels provide more than high-end indoor pools and hot tubs. The top Garden State hotels are rich with decadent spas, concierge services, executive golf courses and gourmet restaurants.
If you love reading about luxurious hotels and accommodations, check out our list of the Jersey Shore's glamorous luxury hotels.
It's a great read while you're relaxing by the indoor pool!