One of the oldest towns in New Jersey has become the poster child for "smart growth" and with the continued shift towards walkable living being desired, the military capital of the American Revolution is adding some modern housing to its historic landscape.
Morristown, just over 18,000 people and about 40 miles from NYC, is undeniably farther removed from the region's urban core than other growing downtowns. However, it does feature direct train service to Penn Station, which helped their population grow by almost 15% during the 1990s.
State officials took notice, designating Morristown as of one of New Jersey's first "transit villages" back in 1999. Those efforts, along with a revamped zoning code and a few redevelopment plans, have jolted life and development into areas near South Street, the town's main drag.
The latest residential project to break ground in Morristown is Metropolitan Lofts at 11 DeHart Street. Woodmont Properties and Roseland Residential Trust started construction last month on the 59-unit luxury rental building, which is the final component of a mixed-use redevelopment project that replaced the former Epstein's Department Store.
Metropolitan Lofts is aiming for a slightly different look than many of Morristown's historic brick structures; the development is seeking to emulate cast-iron loft buildings found in New York City's SoHo neighborhood and will feature zinc components on the exterior. The building's residences will be a mix of one and two-bedroom apartments that will feature quartz countertops, stainless steel appliances, and other high-end features, while 1,100 square feet of retail space will be built at the street level. Three of the building's units will be designated as affordable.
The first two phases of the overall project were built across the street and include 53,000 square feet of retail at the Shops on the Green, a 795-car public parking facility, a condominium building called 40 Park and a rental building named The Metropolitan.
Elsewhere, Mill Creek Residential broke ground in May on phase two of their three-part Speedwell Avenue Redevelopment Plan. The latest section will be called Modera 55, which is the sister building to Modera 44 that's just across the street from the site.
Modera 55, scheduled to open in Spring 2018, will consist of 185 rental units at Prospect and Early Streets that will feature "resort-style amenities," which include a rooftop deck with an outdoor kitchen plus a dining and bar area. Some of the property's other perks will include a pet spa, a private parking garage with electric car charging stations, a business center with conference rooms, a 24-hour fitness center, and a landscaped courtyard with an in-ground pool.
The building will be a mix of studio-, one-, two- and three-bedroom units, and 28 apartments will be designated for low- and moderate-income tenants. As a give back to the community, Mill Creek will also build a public one-acre linear park that's currently being planned out.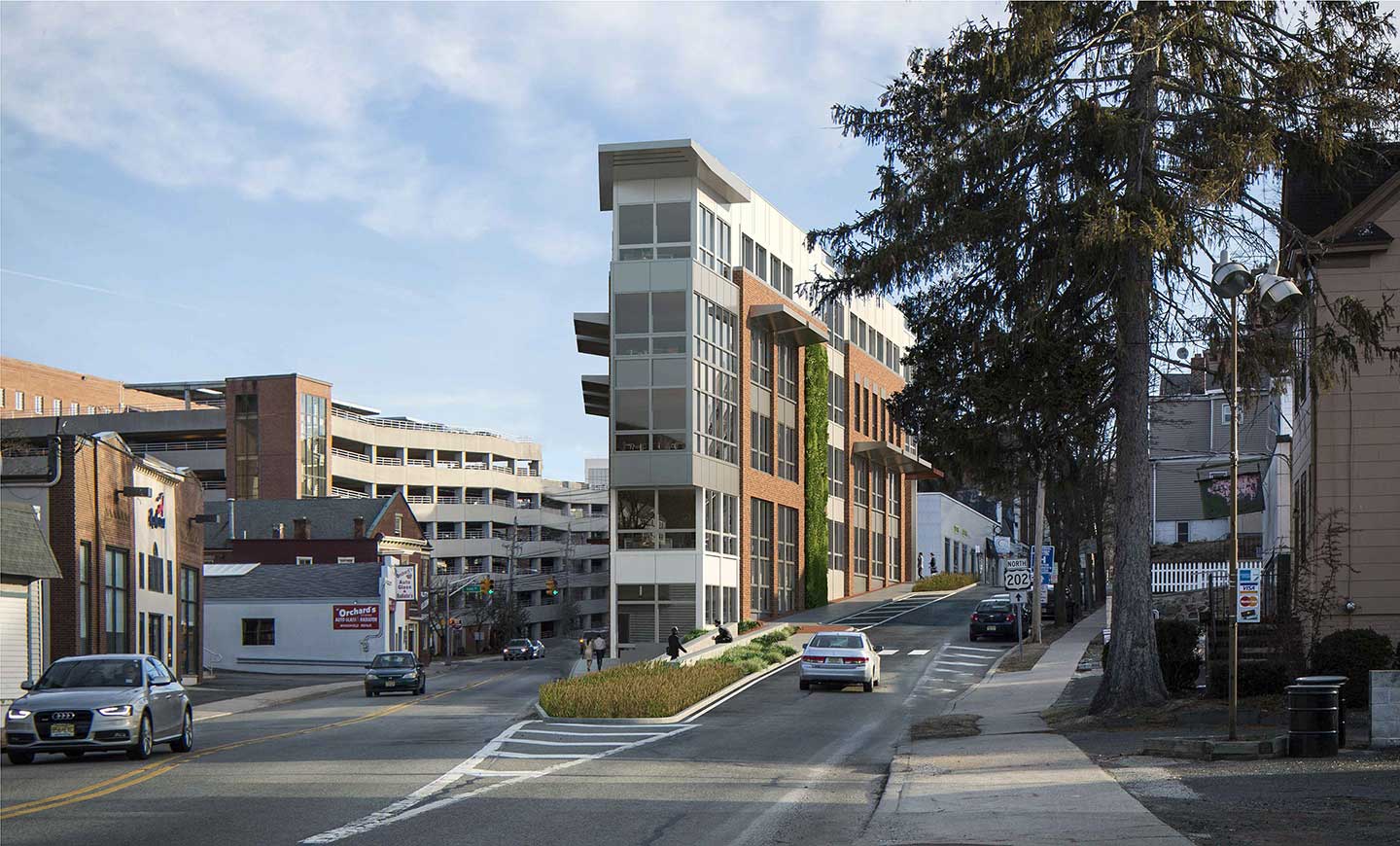 At least one company is trying to complement all the new residential development with some revived office space. Turner Construction should soon finish their Hampshire Co. development at Bank and Market Streets, a 42,000 square-foot building that will be the future home of Philadelphia-based law firm Fox Rothschild. The land the project is on is irregularly shaped and slopes downward, which necessitated a slender building design.
While historical figures like George Washington made their mark on Morristown's history, Hoboken-based Marchetto Higgins Stieve Architects are placing their stamp on the modern version; Metropolitan Lofts, Modera 55 and Hampshire Co. were all designed by the firm.
With plans in the works for a Cambria hotel project near the historic Morristown Green, the town's building boom doesn't seem to be slowing down.