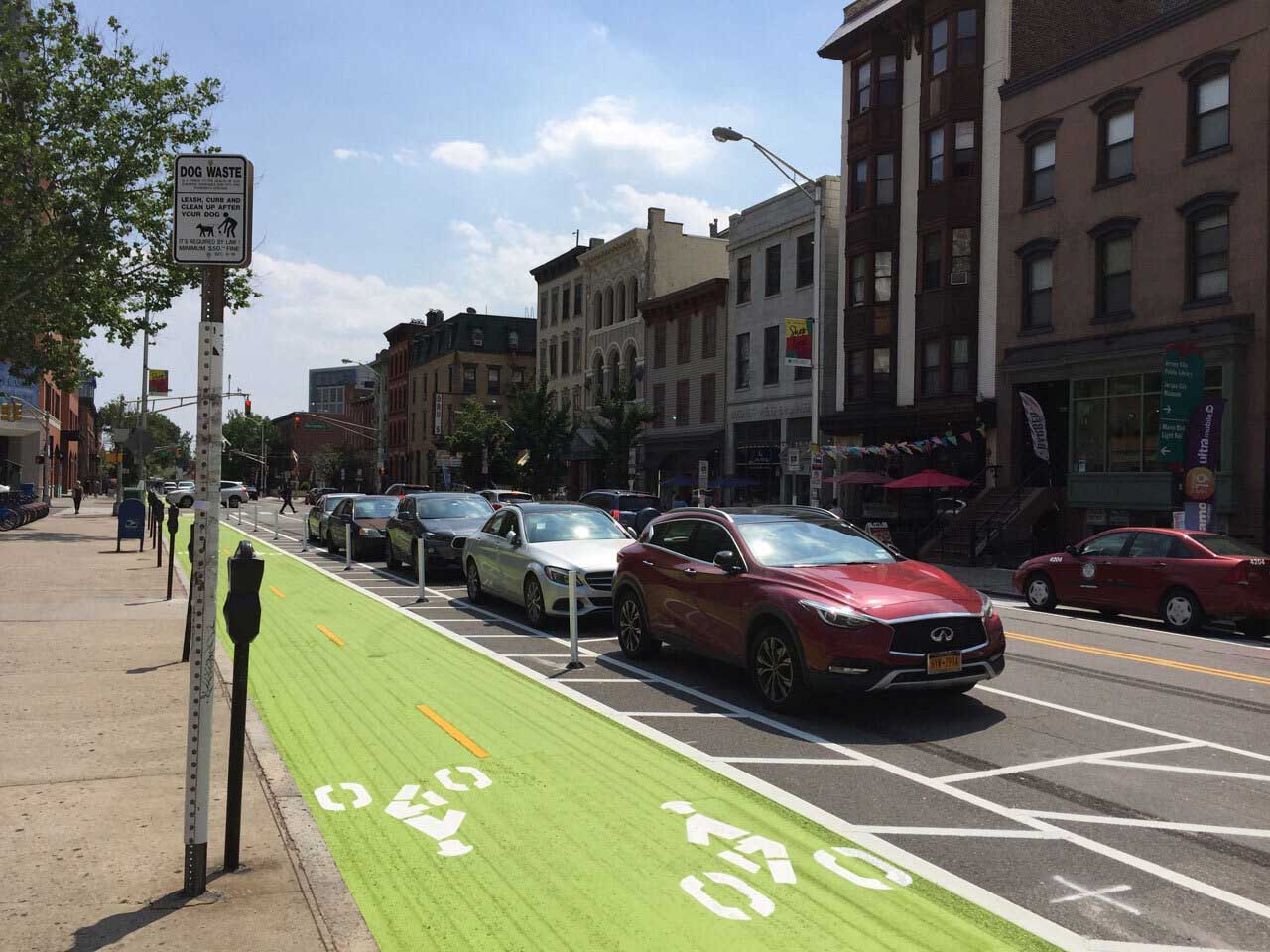 Just a year after making a notable commitment to improving cycling infrastructure in a variety of neighborhoods, work will soon begin to bring new protected bike lanes to several of the city's most prominent streets.
Last summer, Grove Street was the recipient of Jersey City's first protected bike lane. The revamp of the roadway added bollards, delineators, and a three-foot buffer between vehicle lanes to create a safer experience for bikers amid the popularity of bike share programs like CitiBike.
Nine miles of additional protected lanes along thoroughfares like Washington Boulevard, Bergen Avenue, and Montgomery Street followed and this year looks to expand on that effort both by extending some existing protected bike lane routes and creating a few new ones.
Observant drivers on Grand Street may have noticed concrete barriers on the south side of the road, which have been placed there as an added layer of protection. Work is slated to begin later this year extending an existing protected bike lane that terminates near Jersey City Medical Center.
The city's 2020 work on protected bike lanes includes extending the Grand Street lane westbound, which will turn along Pacific Avenue and hook up with an existing Class II bike lane along that street.
Bergen-Lafayette's main road won't be the only one getting some bike-friendly love, as a 1.1 mile stretch of Johnston Avenue from Grand Street to Communipaw Avenue near the Liberty State Park Light Rail station will be getting a protected bike lane. The street is fairly well traveled by bikers accessing the park and a plethora of developments are underway along the road.
Downtown will see an extension of the protected lane along Columbus Drive from Brunswick Street running along Merseles Street near the I-78 Turnpike Extension. A block of Marin Boulevard from 18th Street to the Hoboken border is also set to get a protected lane heading northbound.
The longest stretch of protected bike lane to be added this year will total 1.5 miles and run westbound along Montgomery Street. The extension will run from Downtown all the way to Bergen Avenue and hook up with an existing protected bike lane on that road, better connecting cycling infrastructure between the city's east and west sides.
The upcoming lanes are expected to be completed by the winter and are one component of Jersey City's commitment to a campaign called Vision Zero, which aims to eliminate traffic fatalities by 2026. The new lanes are arriving amid a renewed interest in biking being driven by the realities of COVID-19 and the potential hazards of riding the region's cramped mass transit options.
CBS News recently reported that biking has enjoyed a surge in popularity during the pandemic, while the New York Times claims that the country is facing a shortage of bicycles due to the increased demand.
Related: