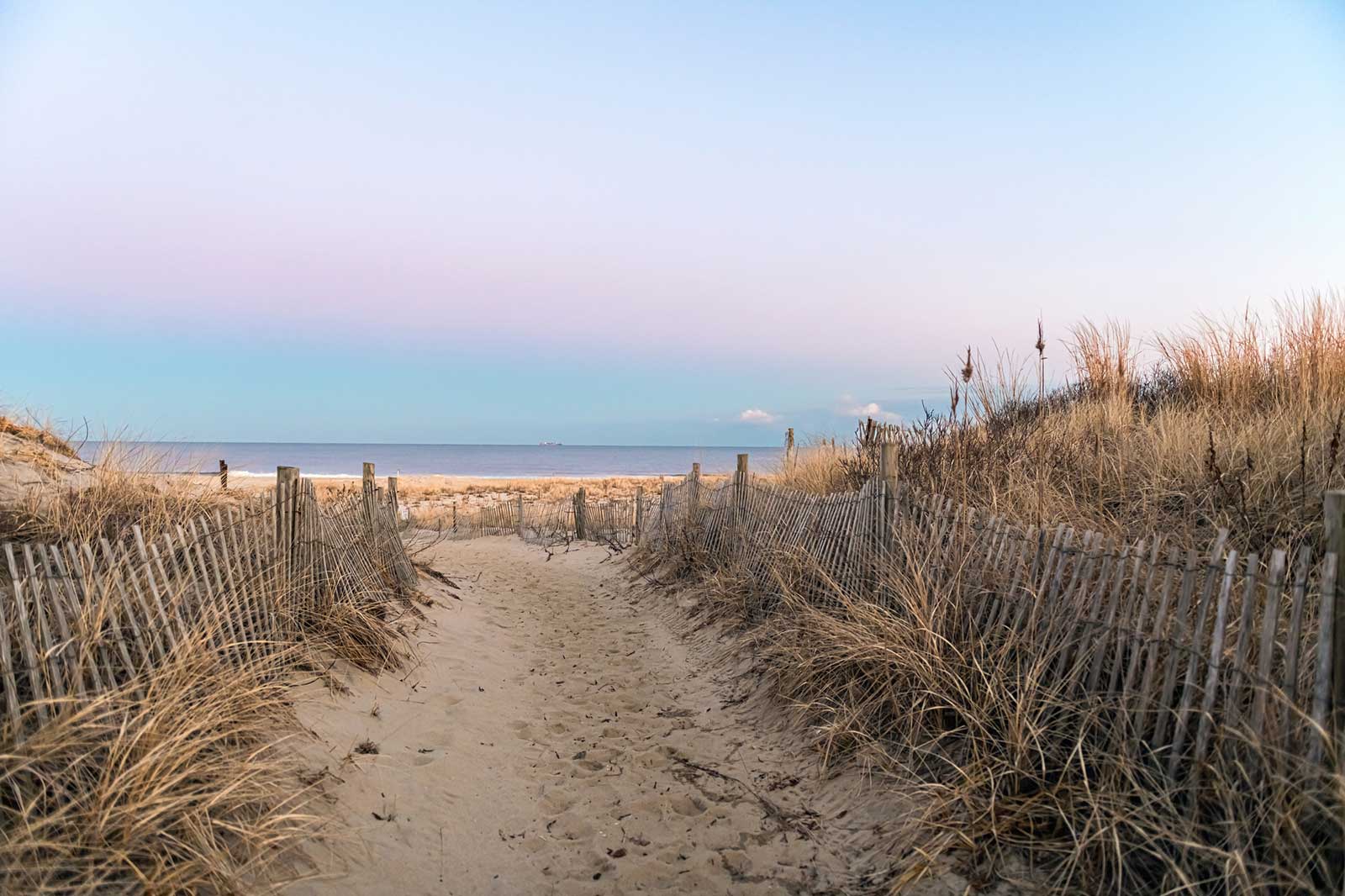 With a coastline that spans over 140 miles, an inquiry to locals regarding the nicest beaches in New Jersey can spark a debate almost as heated as the Taylor Ham vs. Pork Roll dispute. The shore is a big part of the Garden State's culture and is undeniably diverse, filled with modern neighborhoods and historic districts alike.
The sheer volume of shore towns and communities along the Garden State guarantees a perfect New Jersey beach for everyone, as the region offers secluded enclaves, amusement parks, casinos, water sports, striking architecture, horse and buggy tours, and more than a few surprises. If you're looking for fun things to do in New Jersey in the summer, chances are high that you'll end up at the beach at some point. Here's our list of the best beaches in New Jersey, starting from North Jersey and heading south.
Check out our other New Jersey Guides:
What are the nicest beaches in New Jersey?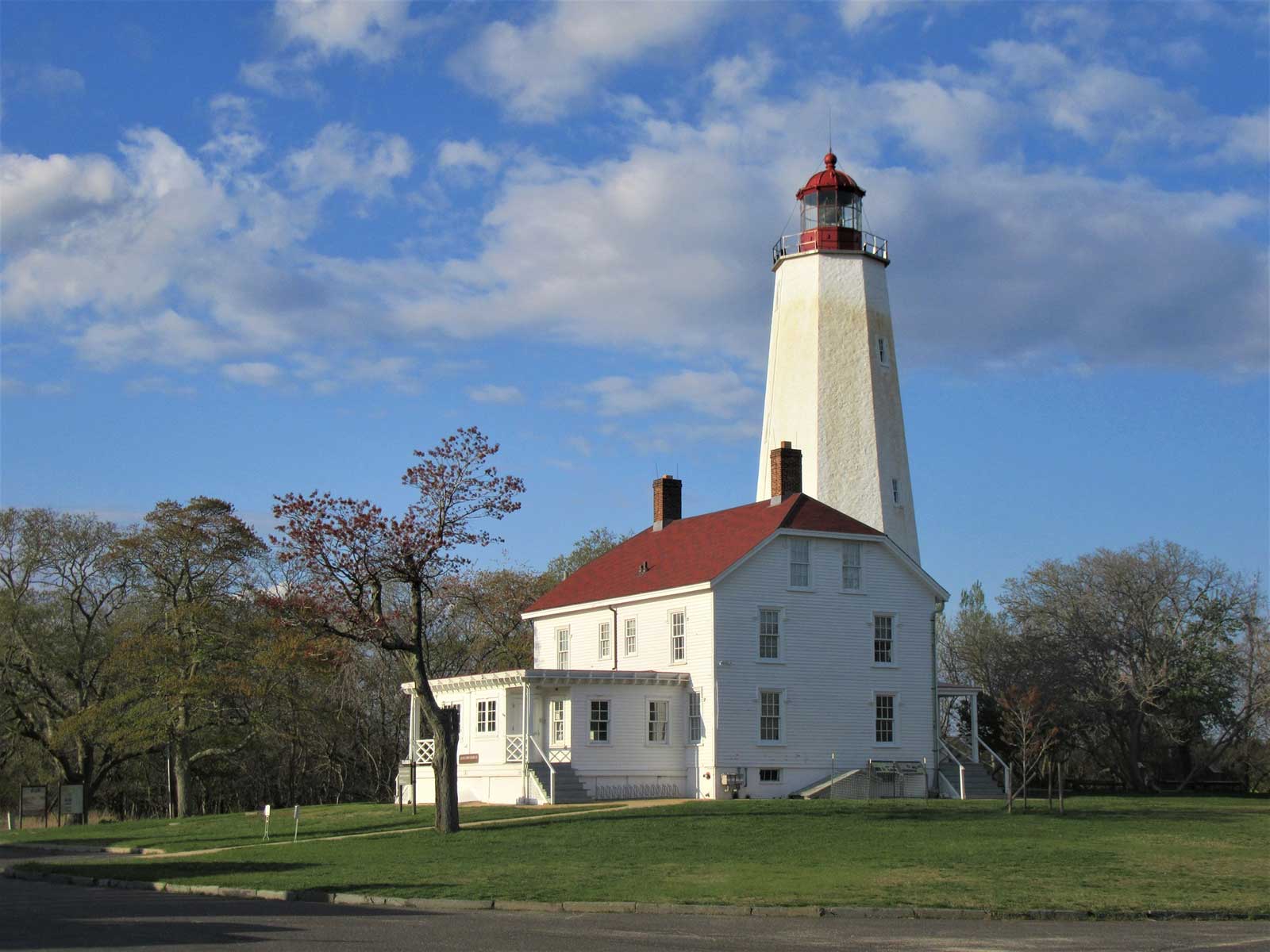 #1 Sandy Hook
The only beach on our list that doubles as a National Park, Sandy Hook is part of the Gateway National Recreation Area and is definitely one of the nicest beaches in New Jersey. An island connected to the town of Highlands, Sandy Hook features several beaches with distant views of New York City and the oldest operating lighthouse in the United States, first opened in 1764.
A little bit of everything populates the landscape, as campgrounds, kayak rentals, and nature trails accompany the beach areas. For those interested in a side of history with their sunbathing, the former Fort Hancock military base features a museum.
Sandy Hook also holds the unique distinction of hosting New Jersey's only "clothing optional" bathing area at Gunnison Beach for those truly adventurous souls. Paid parking is available near the area's entrance, visitor's center, and northern sections.
#2 Long Branch
Situated in a more proper town than Sandy Hook, Long Branch has long been one of the most prominent North Jersey beaches. The city's Seven Presidents Oceanfront Park puts that on full display, as the surfing hot spot also features volleyball courts, a skate park, and playground areas (fees apply during peak season).
The park takes its name from Presidents Grant, Hayes, Garfield, Arthur, Harrison, McKinley, and New Jersey's own Woodrow Wilson, all of whom spent time at the area's resorts. Long Branch sports a shopping area along Broadway off the beach in addition to redeveloped restaurants and a boardwalk near the prominent Pier Village.
Just north, Monmouth Beach has several areas that dodge the New Jersey beach tradition of paying to catch some rays. Free beach access to the public is allowed in multiple sections, and street parking is available to non-residents.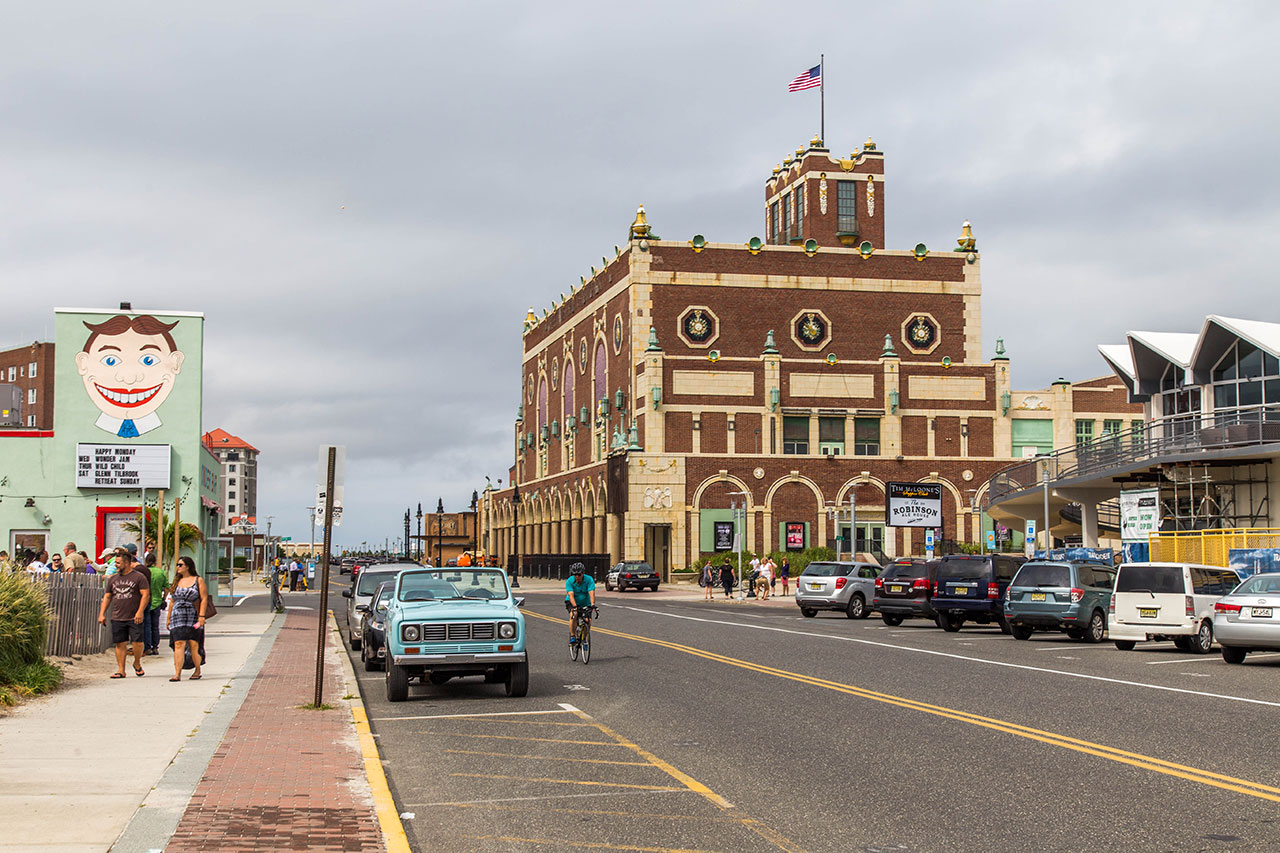 #3 Asbury Park
One of the definite arts hubs along the Jersey Shore, Asbury Park has seen a revitalization in recent years that has blended old and new. Modern townhomes have popped up alongside the restored historic buildings along Cookman Street, which feature storefronts hosting everything from restaurants to glass blowers to distilleries.
The iconic Stone Pony is still going strong since gaining notoriety as the musical birthplace of Bruce Springsteen and the city has several other music venues like Asbury Lanes that host live concerts. Asbury Park beach has a full boardwalk that boasts the Convention Hall, the Beaux-Arts Asbury Park Casino, and a historic carousel among playgrounds and splash pads.
Other unique activities in the city include Asbury Park Pedal Boats, which allows visitors to pedal floating swans along Wesley Lake. Beach fees apply in Asbury Park, which has mostly metered parking and several garages that are open to the public.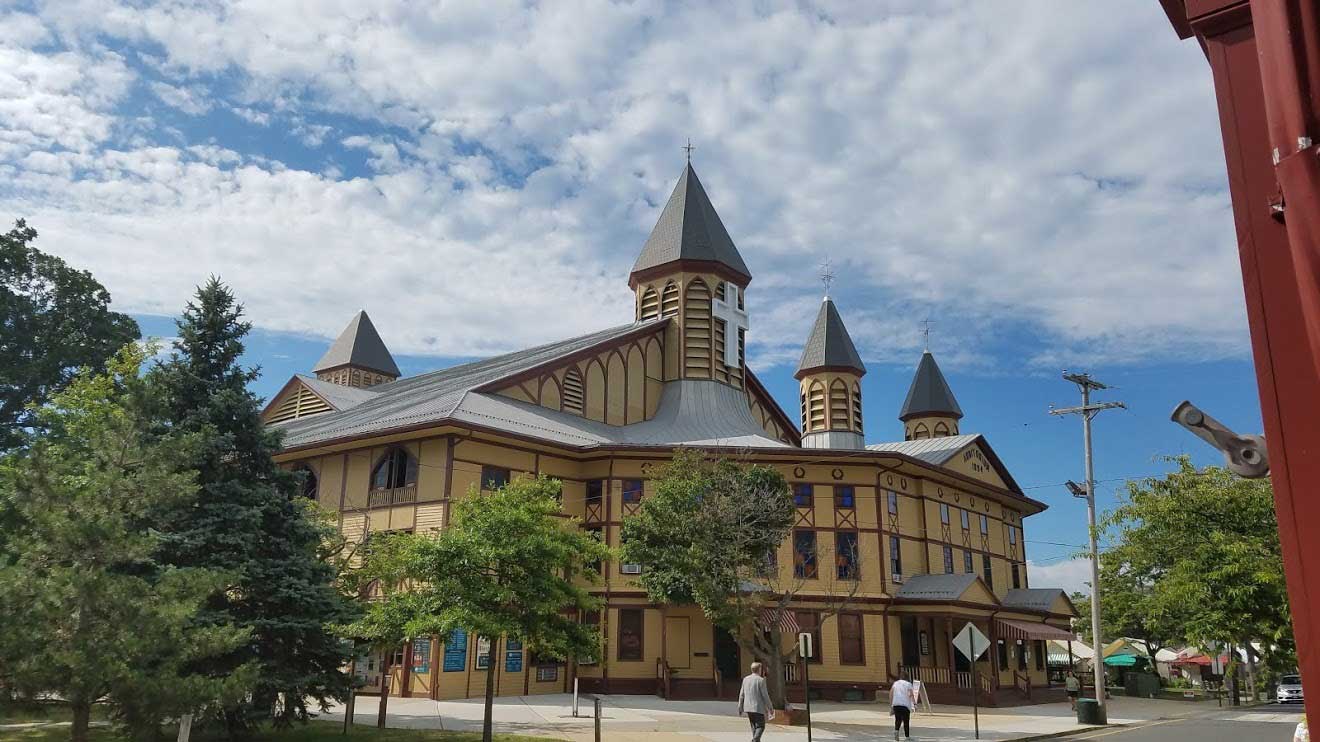 #4 Ocean Grove
One of the more unique beaches on our list, Ocean Grove has become known in modern times for its restored Victorian-style homes. Technically part of Neptune Township, the unincorporated area is listed on the National Register of Historic Places and was founded in 1869 by a group of Methodist clergymen.
The New York Times once dubbed the community the "Queen of Religious Resorts," as visitors would travel miles to attend spiritual ceremonies. The Great Auditorium, completed in 1894, still hosts Sunday services to this day alongside the traditional shore fare of ice cream shops and boardwalk strolls.
Some of the religious history of the area is intact, as the beach is closed on Sunday mornings between 8:30 am and noon. Ocean Grove is also still a "dry" town, so you'll have to grab a drink elsewhere after taking in the architecture.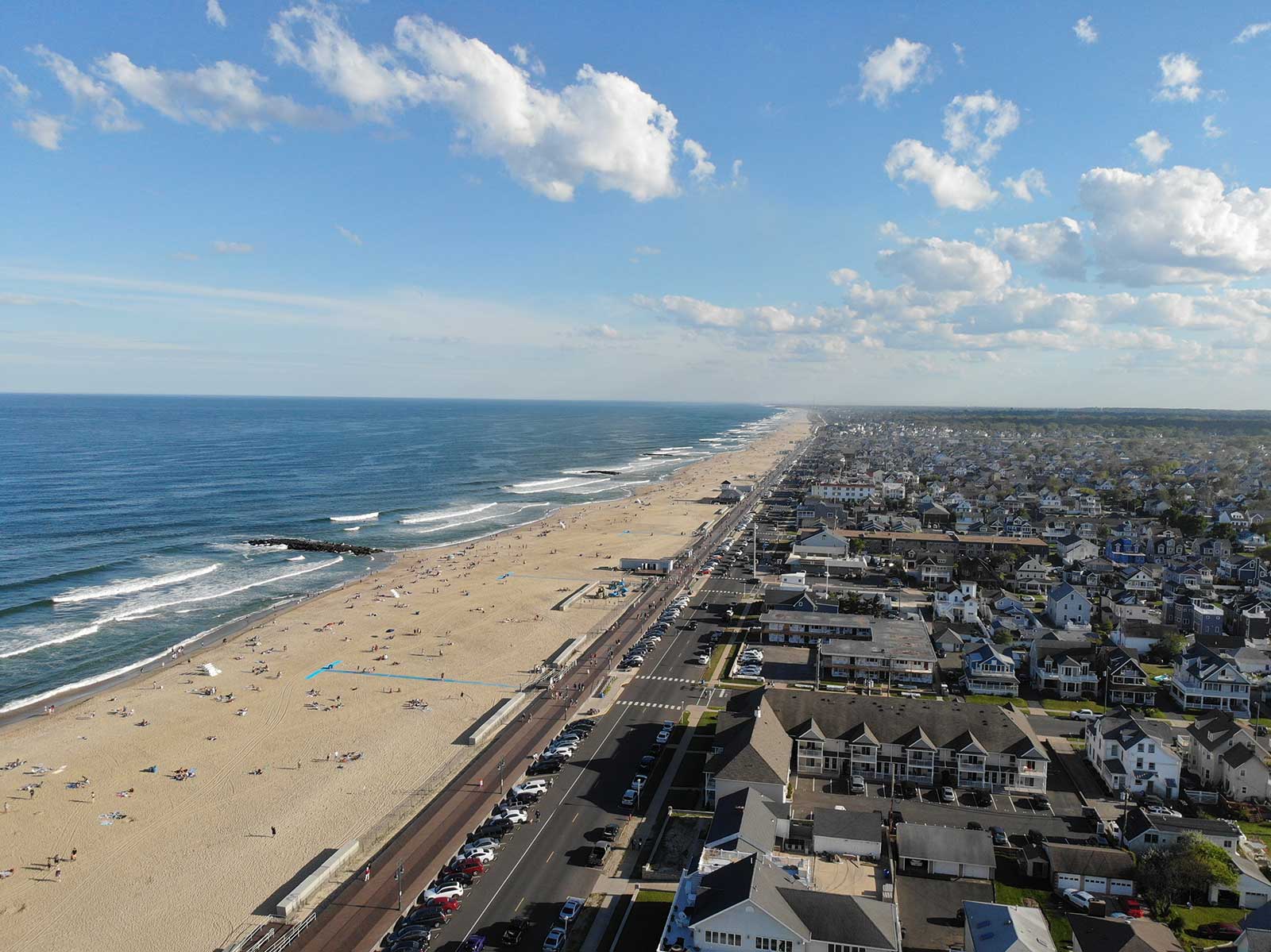 #5 Belmar
Perhaps the best true day trip spot in Monmouth County, Belmar is a combination of a quieter boardwalk alongside a nightlife scene. Venues like D'Jais Bar & Café are balanced out by the town's Main Street, which sports an eclectic combination of record shops, restaurants, and attractions like BeachHaus Brewery.
Home to the state's annual seafood festival held every May, Belmar charges beach fees but generally has free street parking for visitors. The town has perhaps the coolest Bruce Springsteen tribute along the Jersey Shore, as a guitar statue in his honor sits appropriately at the intersection of E Street and 10th Avenue.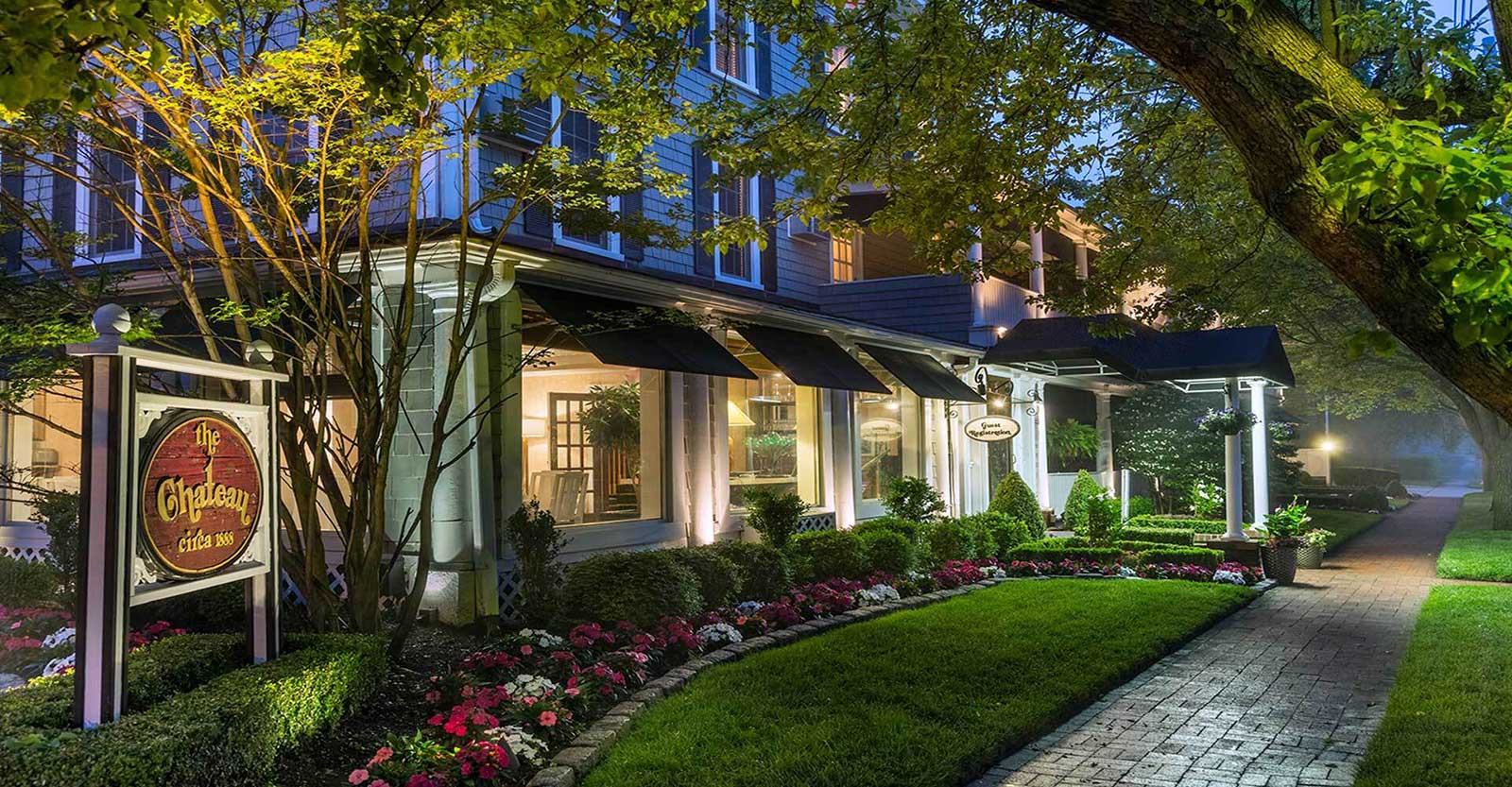 #6 Spring Lake
If you want some house gawking sandwiched around your beach visit, Spring Like is probably the spot for you. Sometimes called the Irish Riviera due to its population makeup, the town's homes evoke the stately esthetic of Newport, Rhode Island both in terms of size and history, while a shopping district along 3rd Avenue serves those looking for some non-beach activities.
Speaking of the beach, Spring Lake's does charge an access fee but is one of the more secluded in the state with a dune separating Ocean Avenue from the boardwalk. The borough is also home to Breakers on the Ocean and several other hotels that date back over a century where one can grab a cocktail and relax.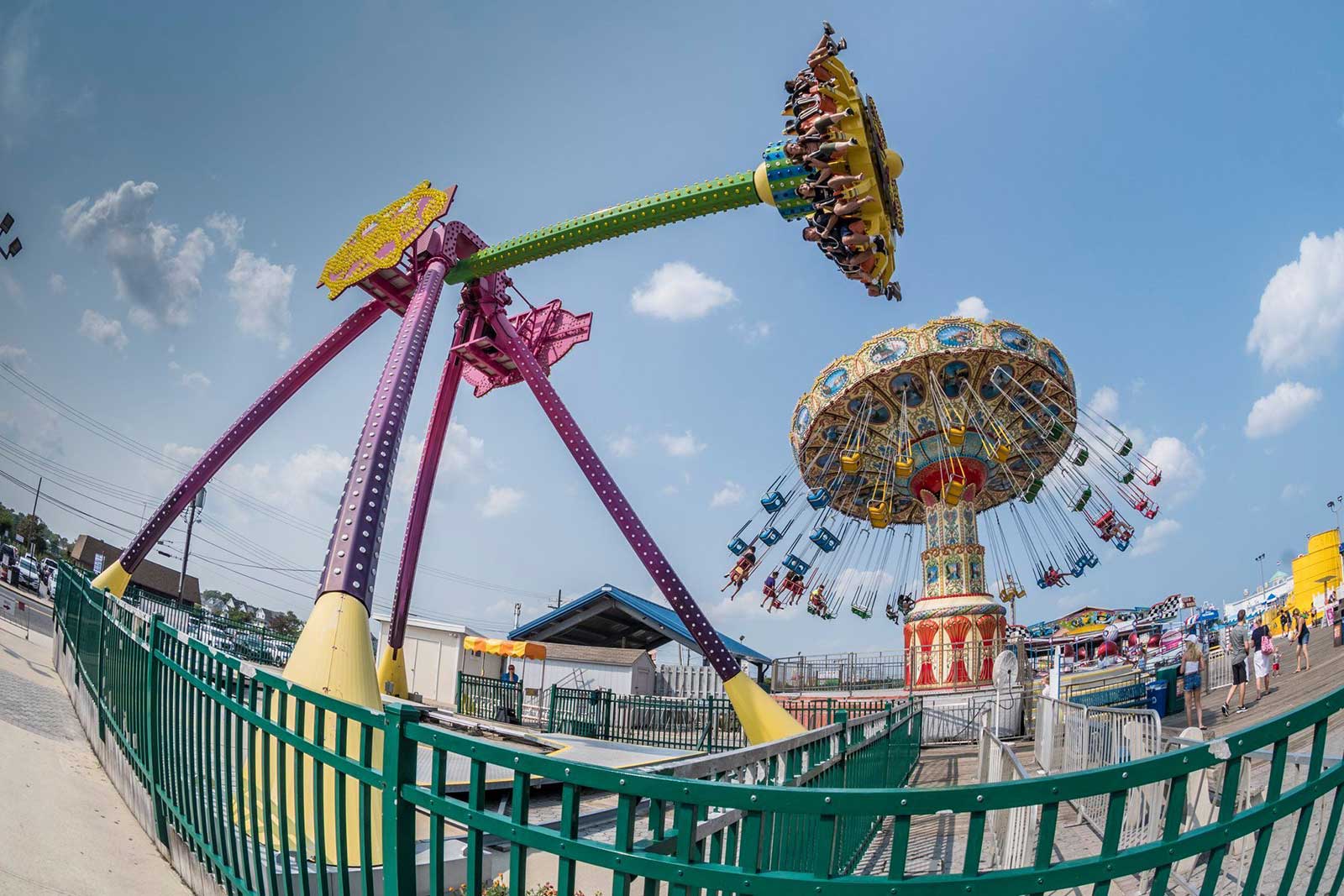 #7 Point Pleasant Beach
Heading south to Ocean County, Point Pleasant Beach surely lives up to its moniker. Amusement is the name of the game at this spot, which boasts amenities like Jenkinson's Boardwalk and the South Beach Arcade along the township's coastline.
Point Pleasant, known for its various motels, boasts several mini-golf courses, an aquarium, and more along its populated boardwalk. Street parking is available throughout the town alongside several paid parking lots along the ocean.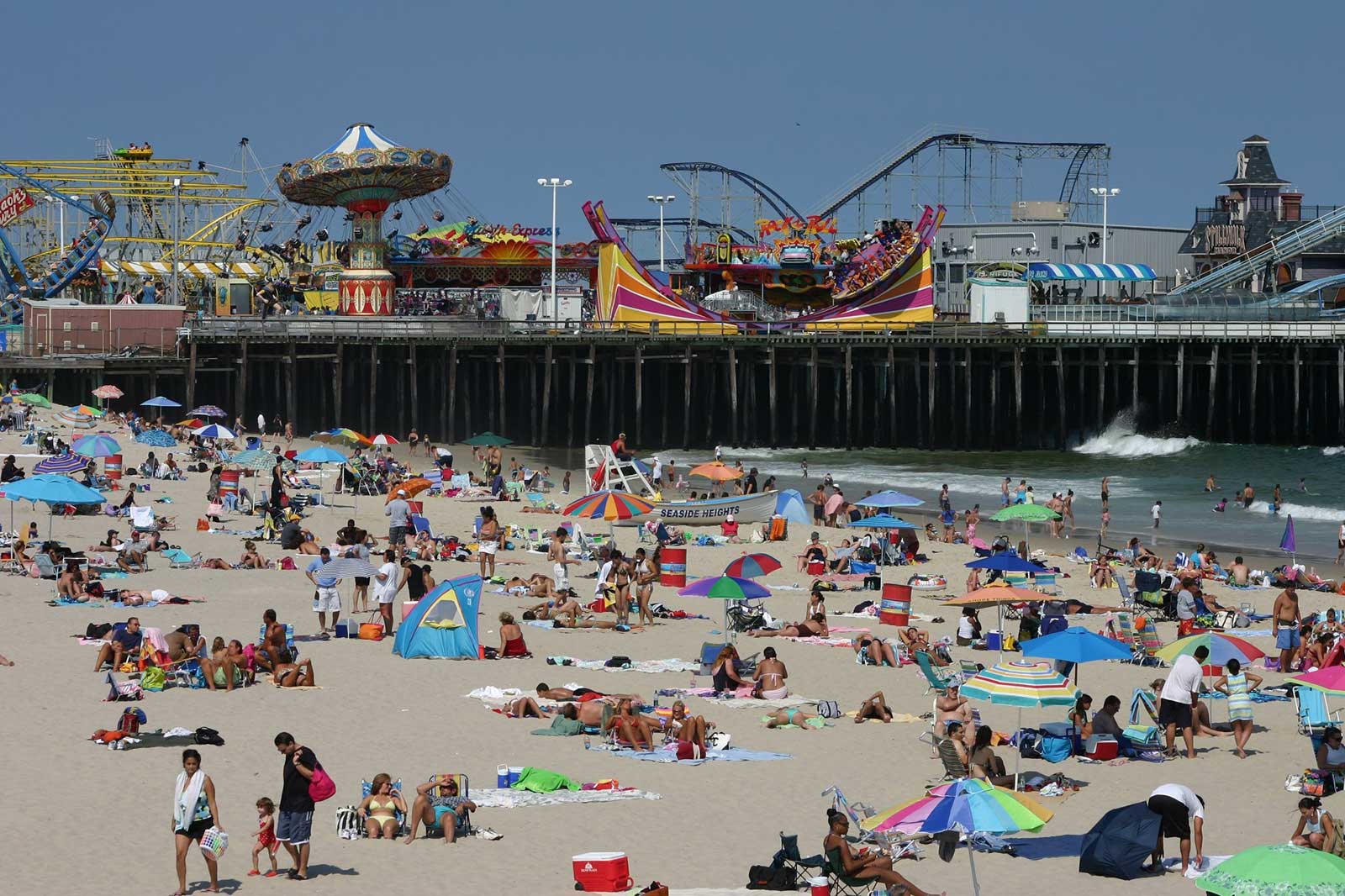 #8 Seaside Heights
Where does The Jersey Shore take place?
OK, we know. The TV show. Sure. While the borough may have risen to national prominence "thanks" to Snooki and company, Seaside Heights is more than just cabs and GTL. Arguably the state's most lively boardwalk includes attractions like rollercoasters and a Ferris wheel along Casino Pier or bumper cars at Lucky Leo's.
A plethora of bars, restaurants, nightclubs, and more line the coastline along this slice of the Jersey Shore, which has one of the higher beach access fees in the state at $10/day.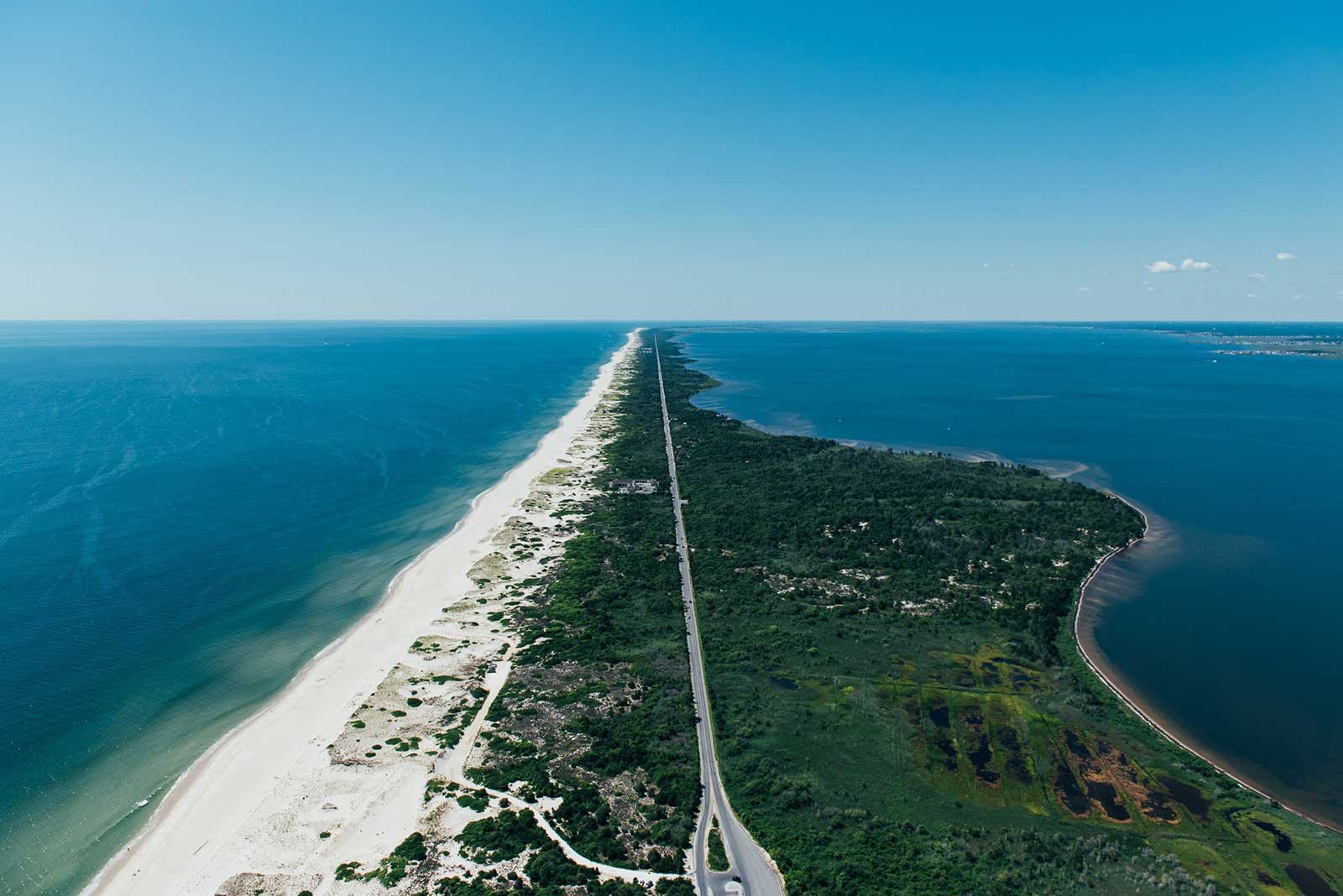 #9 Island Beach State Park
On the flipside of Seaside is this state park, which is free to access during 2022 thanks to Governor Murphy's waiving of entry fees at all state recreational areas. Spanning ten miles along Barnegat Bay, this narrow barrier island is mostly untouched by development and is one of the purest and best beaches in New Jersey.
Great for bikers and wildlife explorers, the park sports a true beach in the geographic center of the island with free parking in a lot. The end of a pedestrian footpath leads to an inlet along the southern tip of the island that offers great views of the Barnegat Lighthouse.
#10 Long Beach Island
Technically a combination of six different towns that span about 18 miles, this barrier island destination offers a balance of tranquility and activities. The entire stretch of LBI lacks a boardwalk for a quieter beach experience, but restaurants and other attractions dot the landscape of Long Beach Boulevard in the towns of Surf City and Ship Bottom.
Other popular attractions along LBI include Schooner's Wharf, a collection of stores that includes one built inside the belly of a reconstructed ship, and the Fantasy Island water park. Parking can be hard to come by without renting a place to say along the island, which spans just four blocks east to west at some of the narrowest points.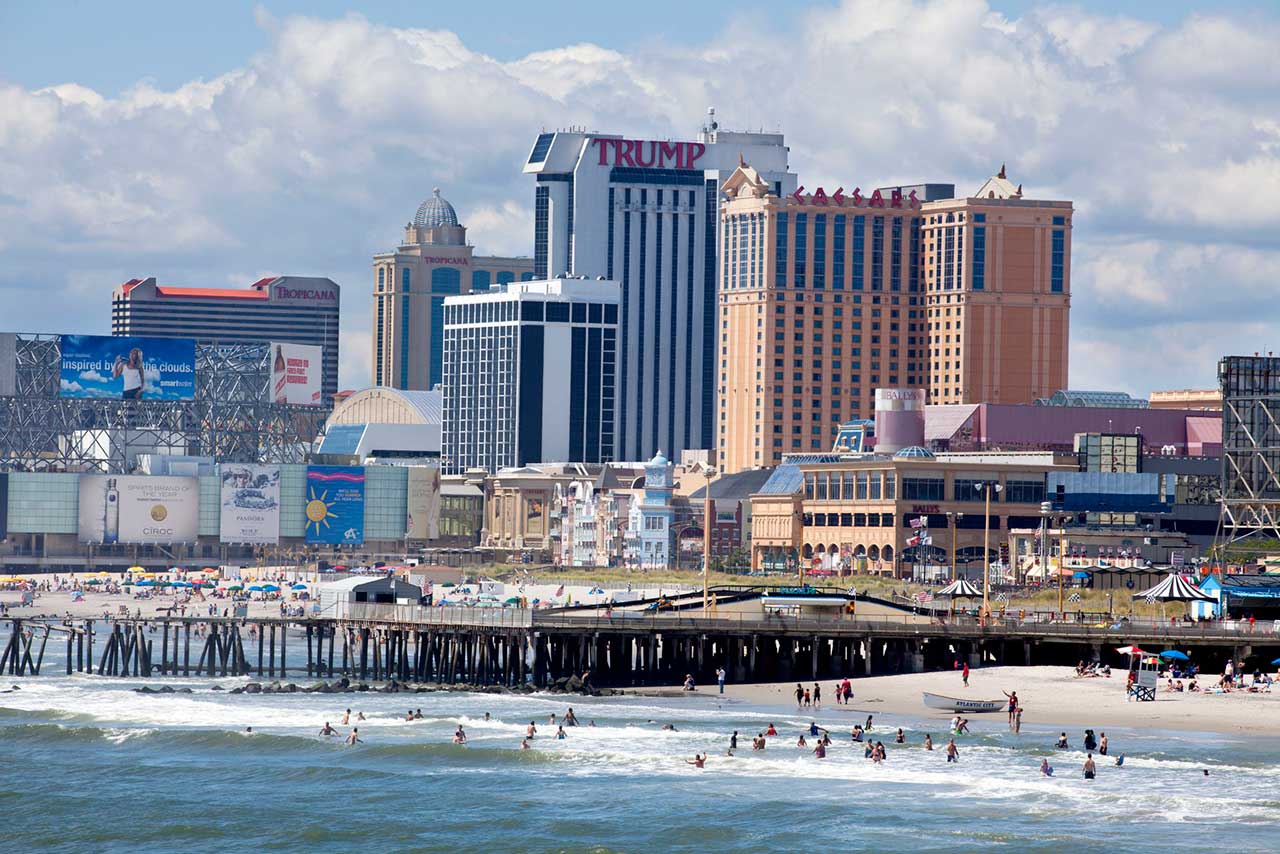 #11 Atlantic City
Perhaps no New Jersey beach has evolved more over the years than Atlantic City. Dubbed "America's Playground," the city welcomed its first casino in 1978 and has seen the coastline transformed by modern facilities like Ocean Club and Caesar's Palace.
Is Atlantic City's beach nice?
But there's more to this gambling mecca than blackjack and craps, as the beach in Atlantic City is completely free to the public. It sits next to the world's longest continuous boardwalk spanning five miles and includes the recreational Steel Pier and destinations like Bally's Beach Bar.
Atlantic City's contributions to American culture are significant, as its' street names inspired the board game Monopoly. The city can also claim to be the original birthplace of salt water taffy and concerts from popular acts are still held inside Boardwalk Hall, a National Historic Landmark that dates back almost a century.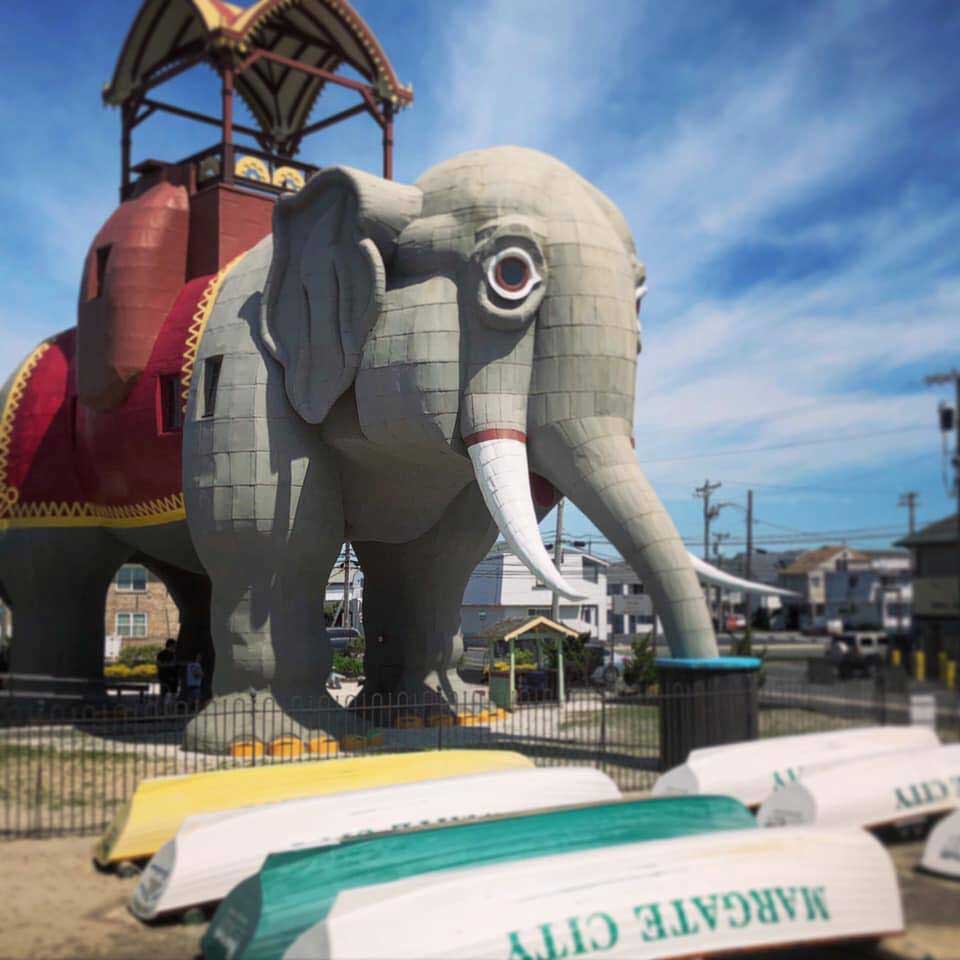 #12 Margate City
Just a short drive south from Atlantic City is Margate City, which provides an admittedly sleepier alternative to the former's notorious nightlife. But while the quieter beach lacks a boardwalk, Margate City still hosts mini-golf, restaurants, and other amenities visitors to the South Jersey beaches seek.
The city's most famous resident sits just off the Atlantic Ocean and dates to 1881. Lucy the Elephant, a six-story elephant-shaped building, was once a residential home before being converted into a museum during the 1970s.
#13 Ocean City
Not to be confused with the Maryland beach town of the same name, New Jersey's version of Ocean City proudly dubs itself "America's Greatest Family Friendly Resort." The city has not allowed the sale of alcoholic beverages within its limits since its founding in 1879 but offers a plethora of water parks, roller coasters, and more along its substantial boardwalk, which includes Gillian's Wonderland Pier.
Ocean City also boasts a shopping and dining district along Asbury Avenue and several local businesses provide jet skiing, kiteboarding, paddle boarding, or windsurfing services for the thrill-seeking type. The city charges beach fees for those ages 12+ and provides parking within several municipal parking lots not far from the beach and boardwalk.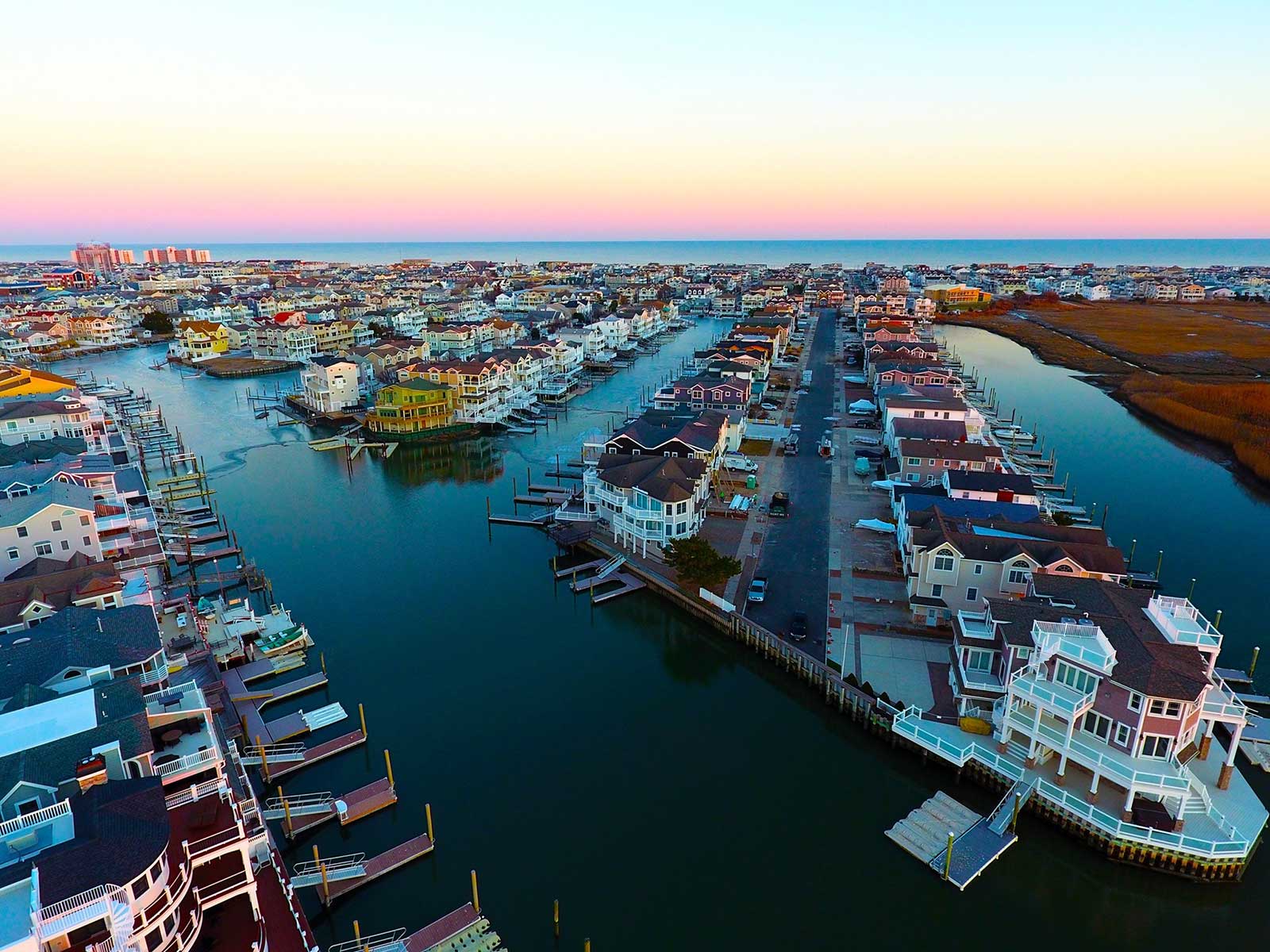 #15 Sea Isle City
The first beach in Cape May County to make our list, Sea Isle City tries to offer the best of both worlds. About half of the city's beach has a boardwalk, with the southern portion sporting sand dunes and a quieter vibe for families.
Sea Isle City isn't quite sleepy however, as an oceanside stage at Excursion Park hosts live music throughout the summer at least once per week. The city is also home to various bars, which effectively diverts Ocean City vacationers looking for nightlife.
Street parking is ample in Sea Isle City and while the beach does charge an access fee, several beaches in Strathmere just north are free to the public.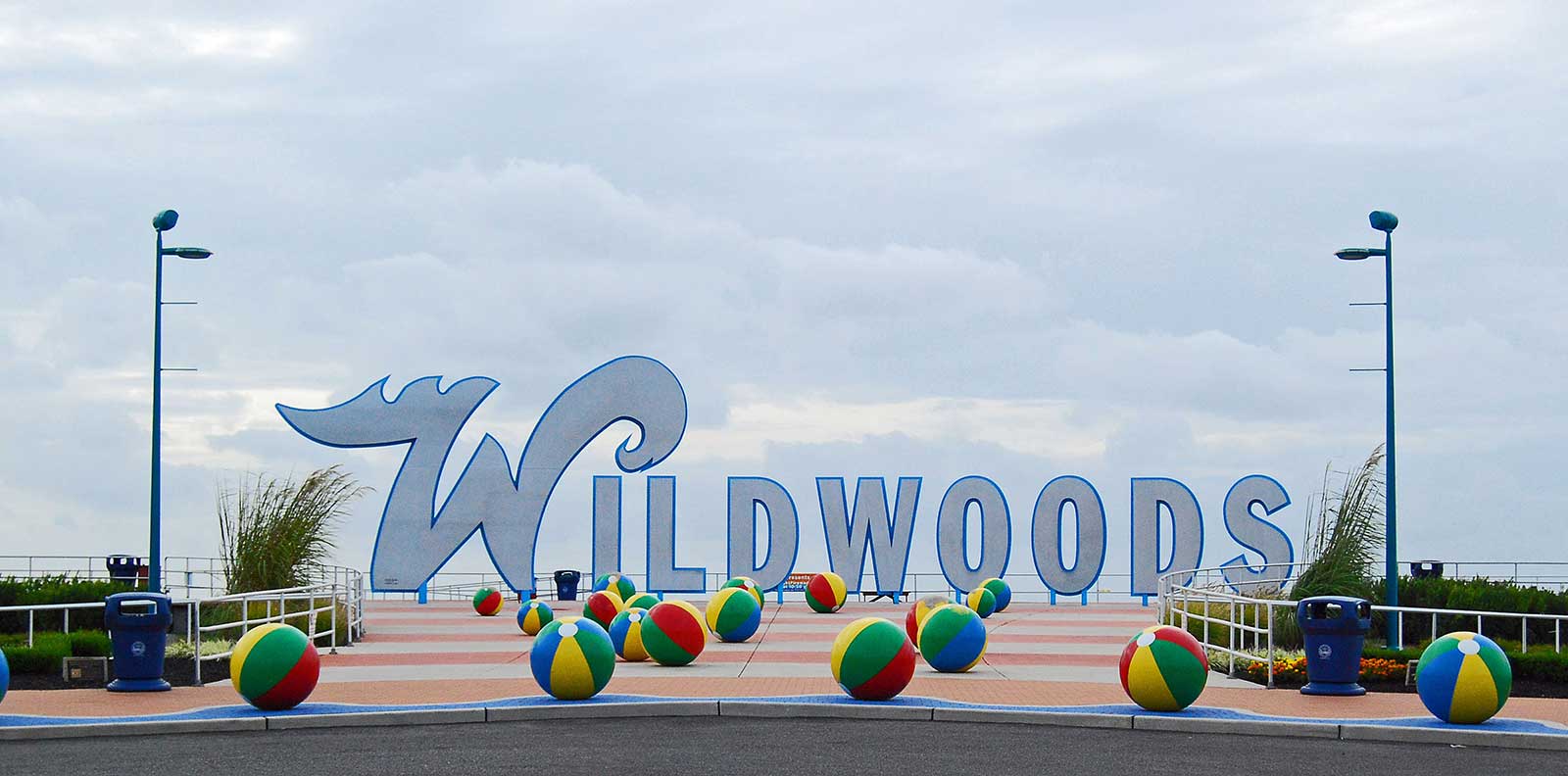 #16 The Wildwoods
Speaking of free beaches, the four collective Wildwoods have plenty of them. North Wildwood, Wildwood, West Wildwood, and Wildwood Crest all sport some of the best Jersey Shore beach destinations and are surrounded by a decidedly retro-minded aesthetic along an extensive boardwalk.
The Wildwoods are home to over 200 motels that were mostly built during the Doo-Wop era of the 1950s, with many of them still sporting neon signs while making up the Wildwoods Shore Resort Historic District. Outside the hotels, attractions like Morey's Piers and the Oasis Ocean Water Park add to the fun.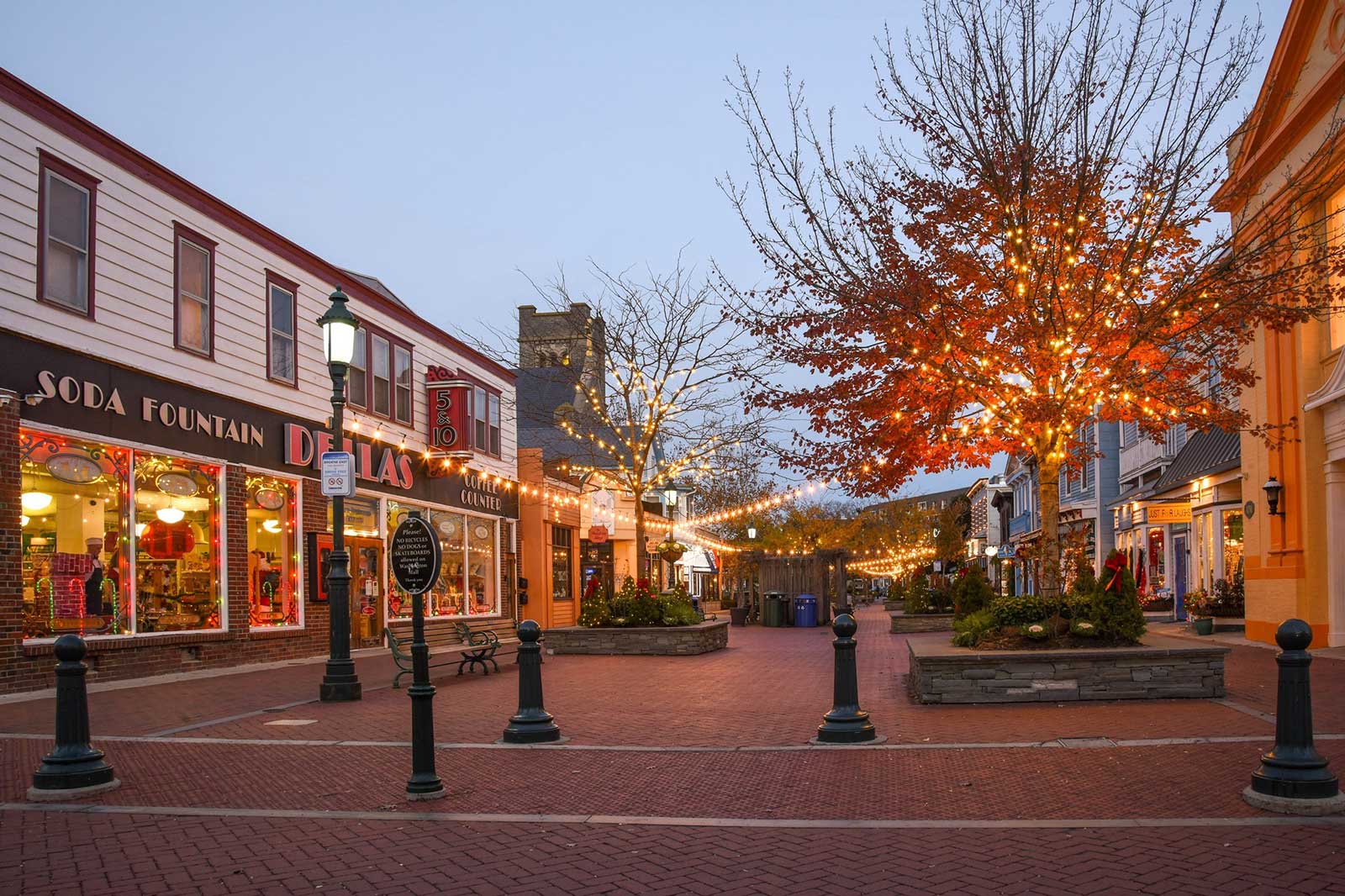 #17 Cape May
The only city in America that is entirely designated a National Historic Landmark sits at Exit 0 of the Garden State Parkway. Cape May first emerged as a resort in the 19th century and has one of the largest collections of Victorian homes in the country alongside other landmarks like Congress Hall, a hotel that opened in 1816.
Preserved history is so prominent in Cape May that the city offers horse-drawn carriage rides for visitors seeking a break from the beach. The Washington Street Mall, a multi-block pedestrian corridor just off the ocean, sports shopping, and restaurants, while the nearby Cape May Point lighthouse is surrounded by a nature preserve.
Cape May also boasts an ample winery scene just outside the city limits plus a plethora of craft breweries, wildlife areas, and a newly renovated ferry terminal with service to Lewes, Delaware.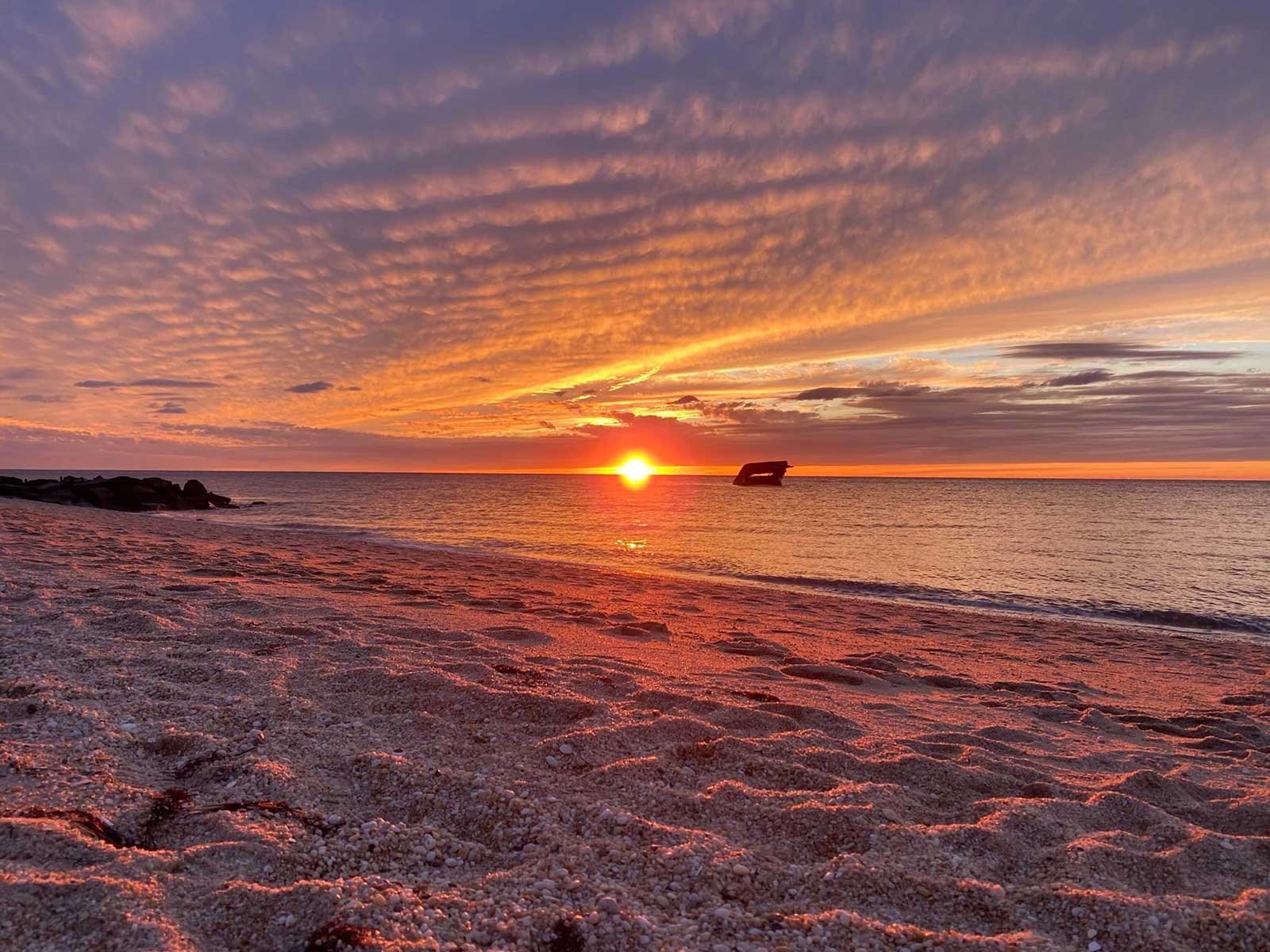 #18 Sunset Beach
Also situated in Cape May but on the Delaware Bay side, this somewhat secluded beach gives visitors the chance to see a western sunset over water along America's eastern coast. Gentle bayside waves crash over the remains of the USS Atlantis, a concrete ship constructed during World War I that has called the South Jersey beach home since 1926.
Several other historic sites fall along this free beach, which has ample street parking along nearby Sunset Boulevard. A lookout tower built during World War II offers sweeping views of the sunsets, and ceremonies are held on certain nights complete with a performance of Taps to honor fallen soldiers.
That concludes our list of New Jersey's nicest beaches
New Jersey is known as one of the most diverse states in the country. It boasts a rich mix of ethnicities, cultures, topographies, industries, and more. It's no surprise then that the state also offers a very diverse mix of beaches as well. Regardless of what you're looking for, you'll find something to appreciate on this list of the best beaches in New Jersey.