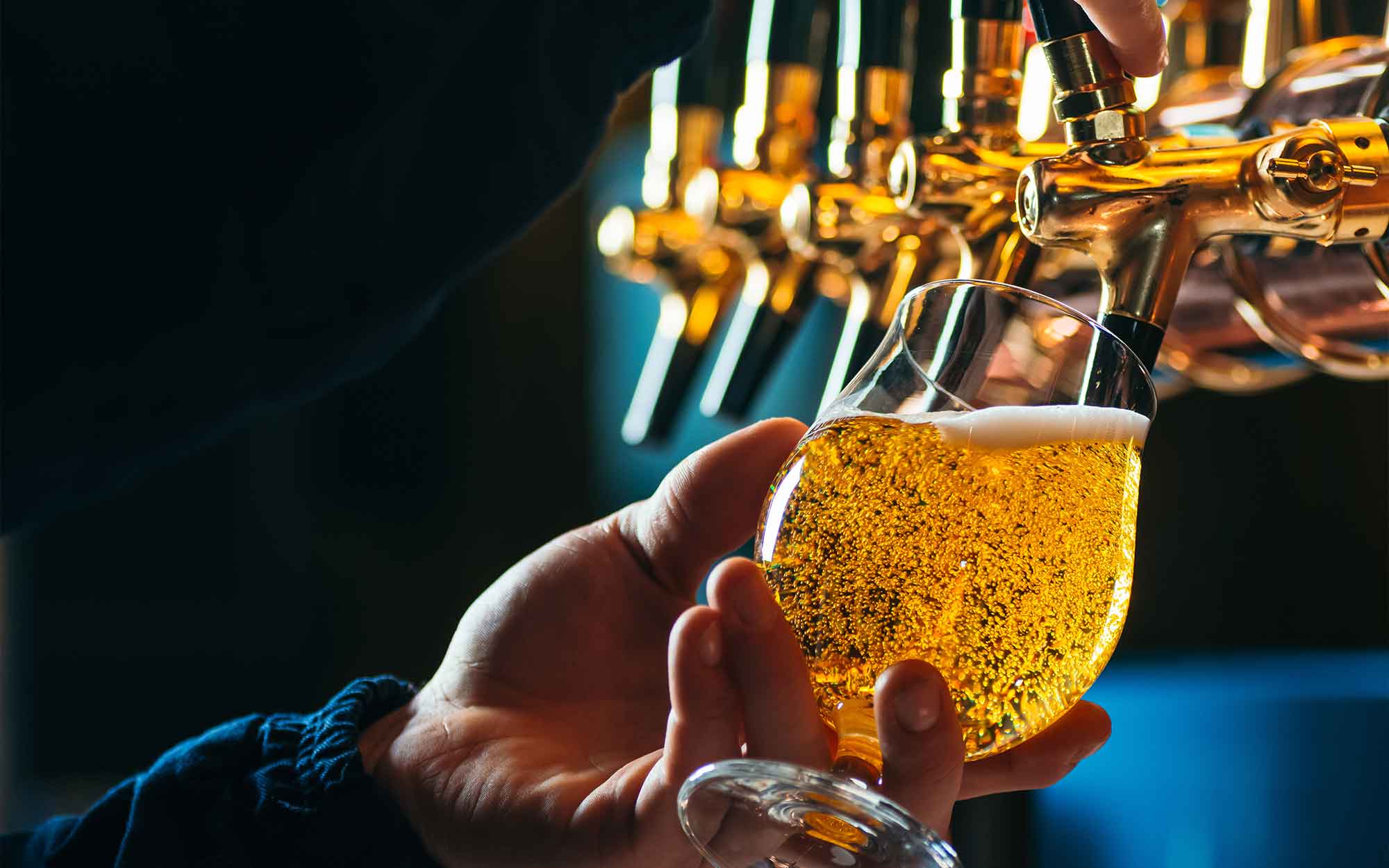 New Jersey is a rapidly growing craft beer community, featuring some of the most notable brew pub and microbrewery names in the country. With so many options for New Jersey breweries, it can be difficult to select the right craft brewery for your next trip or weekend out.
A great taproom or tasting room can elevate your brewery experience from 'good' to memorable. But it may be hard to decide which New Jersey breweries have the best taproom for you.
Fear not! There are fantastic options throughout the state for your unique needs. From pet-friendly spaces to outdoor seating, gluten-free options to tasting rooms that honor military veterans, we found 11 of the best breweries in NJ with amazing taprooms you absolutely must visit.
Whether you live in New Jersey or are planning a trip, there's a brewery on this list that is right for you. Let's get started!
The Best New Jersey Breweries You Must Visit This Year
902 Brewing Company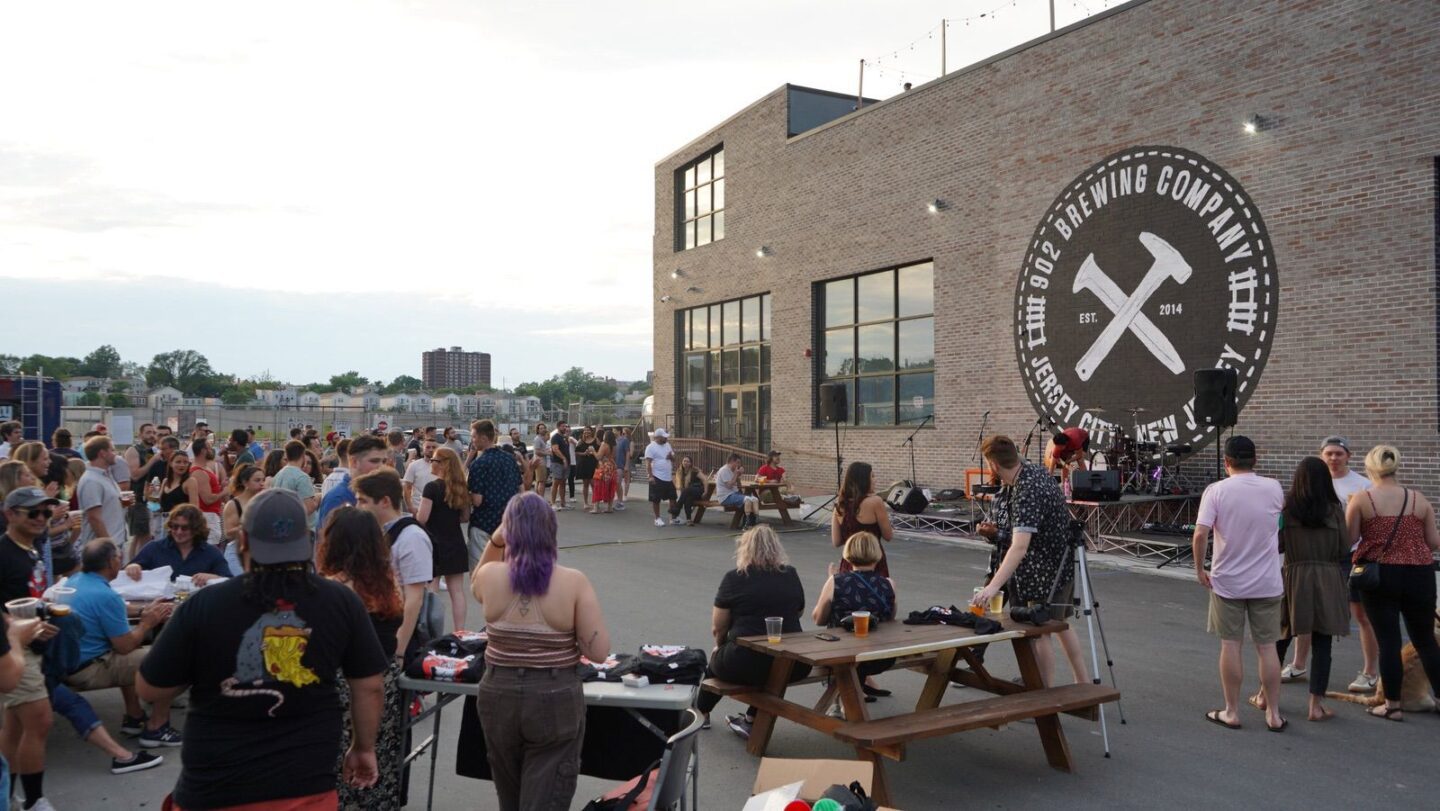 902 Brewing Company started as a group of friends and a 3-gallon pot. It's since grown into a stunning location near Liberty State Park — the first of 2 Jersey City breweries on our list.
The vibe of 902's taproom is friendly and inclusive. The outdoor space, with its massive brick logo wall, is an essential Jersey City hangout during summer months. Check out their Brew Jersey IPA collaboration and their Let The Wheat Drop Belgian blonde.
Reason to love 902 Brewing: "Good beer, nice people, great location." One simple online review summarizes the vibe of 902 Brewing's facility and taproom. Enjoy outdoor seating, a rooftop patio, or a seat inside 902's industrial-vibes taproom itself. You can also rent a 902 Brewing beer trailer!
101 Pacific Ave, Jersey City, NJ
http://www.902brewing.com/
Backward Flag Brewing Co.
The backward flag adorns the right shoulder of the U.S. Army uniform. After 13 years of Army service, Torie Fisher founded Backward Flag Brewing Co. as a celebration of military service, community, and great beer.
Backward Flag was founded in 2015 and quickly earned praise for its atmosphere and quality craft beer. Visitors' eyes are immediately drawn to the tasting room walls, which feature military and service member patches as well as photos of fallen Gold Star military heroes.
Backward Flag is more than an homage to veterans — their menu has expanded to include a great selection of stouts, IPAs and pale ale. Try a 4-beer flight for an introduction to the best beers currently on offer.
Reasons to love Backward Flag: Backward Flag offers discounts to veterans and first responders. Its garage-style tasting room is relaxing and warm, and its location (15 minutes south of Toms River) is convenient for Jersey shore travelers. Kids and pets are welcome, and private events can be booked through the brewery's website.
699 Challenger Way, Forked River, NJ 08731
https://www.backwardflagbrewing.com/
Brix City Brewing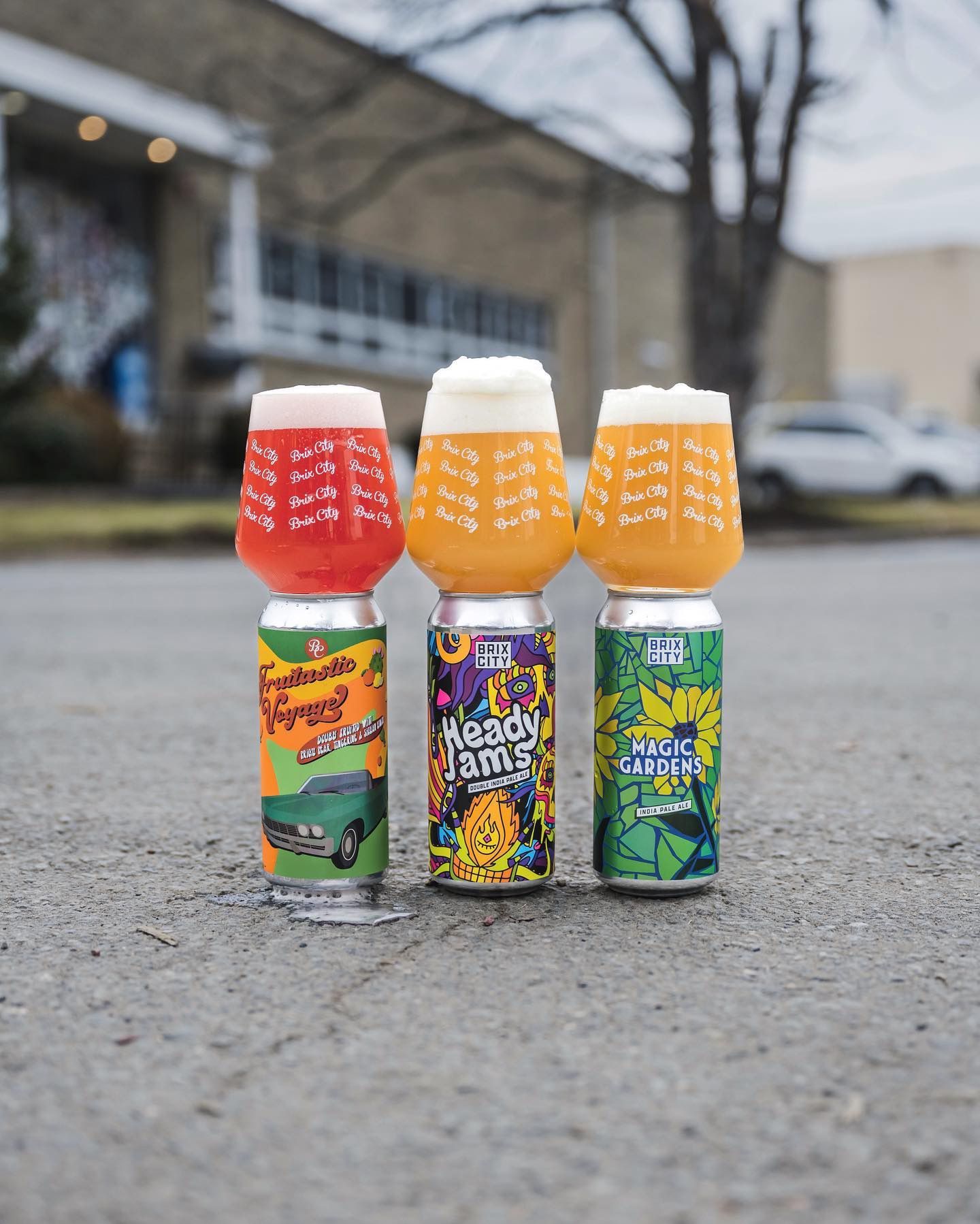 Brix City Brewing is another great New Jersey brewery with military roots. The Bergen County craft beer scene has boomed for the better part of a decade, and Brix City's Little Ferry location is part of its heart.
The Brix City taproom is open 7 days a week. Current taproom offerings are updated frequently on their website. The Gloria 5.5% ABV Belgian style blonde ale is available year-round. Bolder drinkers must try Electric Jams, an 8% ABV sour double dry hopped IPA with wild berry and melon notes.
Reasons to love Brix City: The taproom is located under 10 minutes from the George Washington Bridge — an easy trip for Manhattan residents and commuters. Brix City's active menu is expansive (at time of publication, there are 18 beers on tap), and craft beer lovers across New Jersey can find Brix City beers on offer at dozens of liquor stores.
4 Alsan Way, Little Ferry, NJ 07643
https://www.brixcitybrewing.com/
Carton Brewing Company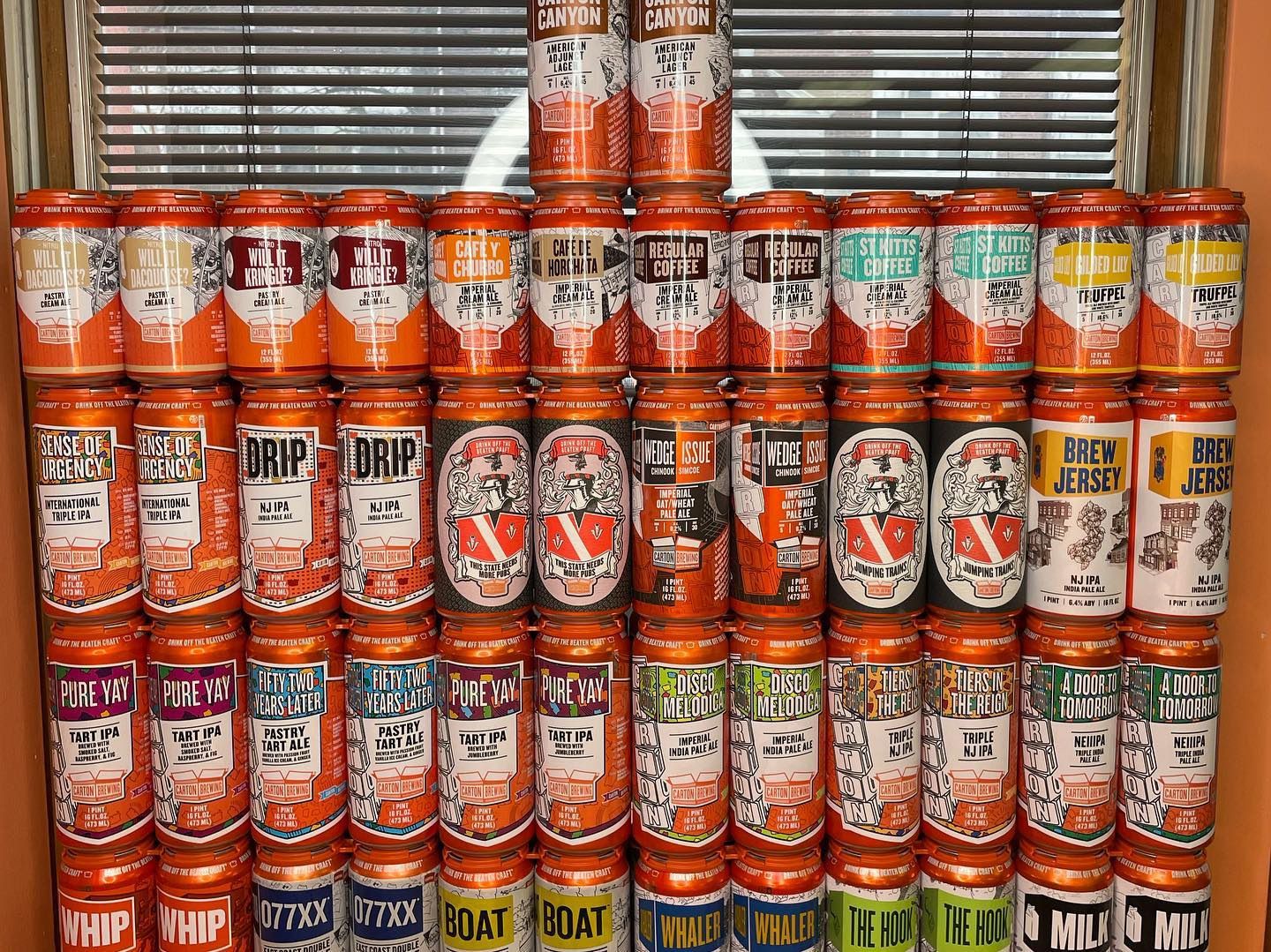 You've likely seen (or tried) one of Carton's cult favorites, like Brew Jersey or their wildly popular seasonal Regular Coffee. But the depth of Chris and Augie Carton's brewing repertoire makes their Monmouth County taproom a can't-miss destination for craft brewery lovers.
Carton cans are impossible to miss throughout New Jersey liquor stores. The Carton taproom is open 5 days a week with varying hours. Be sure to check their Instagram for updated schedules. The Carton taproom experience is well worth the journey. If the weather's nice, check out the Beer Garage for outdoor seating and a unique tasting experience.
Reasons to love Carton Brewing: Carton's love for great beers is matched by its wit in naming them. Beers like Clam Jam, East of Eden Mama and Twin Outboard Whaler bring the joy of seaside lifestyle to every brew. Carton is one of the most adventurous New Jersey breweries, stepping into bold flavors and collaborations with fearless abandon. The result is central Jersey's most audacious craft beer creator.
6 E Washington Ave, Atlantic Highlands, NJ 07716 (parking on 1st Avenue)
https://cartonbrewing.com/
Departed Soles Brewing Company
Departed Soles is an homage to craft beer, a shared love for sneakers, and a friendship that's endured past death. The tap list at its Jersey City location is diverse, reflecting the melting pot of the city it serves.
The Departed Soles taproom offers a rotating variety of options. Some of its best beers include Rick Rolled, a gluten-free oat coffee stout, and Phantasmagoria, a non-GF double dry hopped double IPA. Drinkers looking for a locally-inspired beer that packs a bunch should try the 8% ABV Free Blurred, a hazy NJ double IPA.
Reasons to love Departed Soles: Departed Soles has great offerings for gluten-free beer lovers in its taproom, the first tasting room in Jersey City. Dogs on leashes are welcome at Departed Souls, which is reached easily by PATH train, light rail, ferry and NJ Transit. The tasting room is inviting and welcoming, with a commitment to serve any and all who walk through its doors.
150 Bay St #2a, Jersey City, NJ 07302
https://www.departedsoles.com/
Icarus Brewing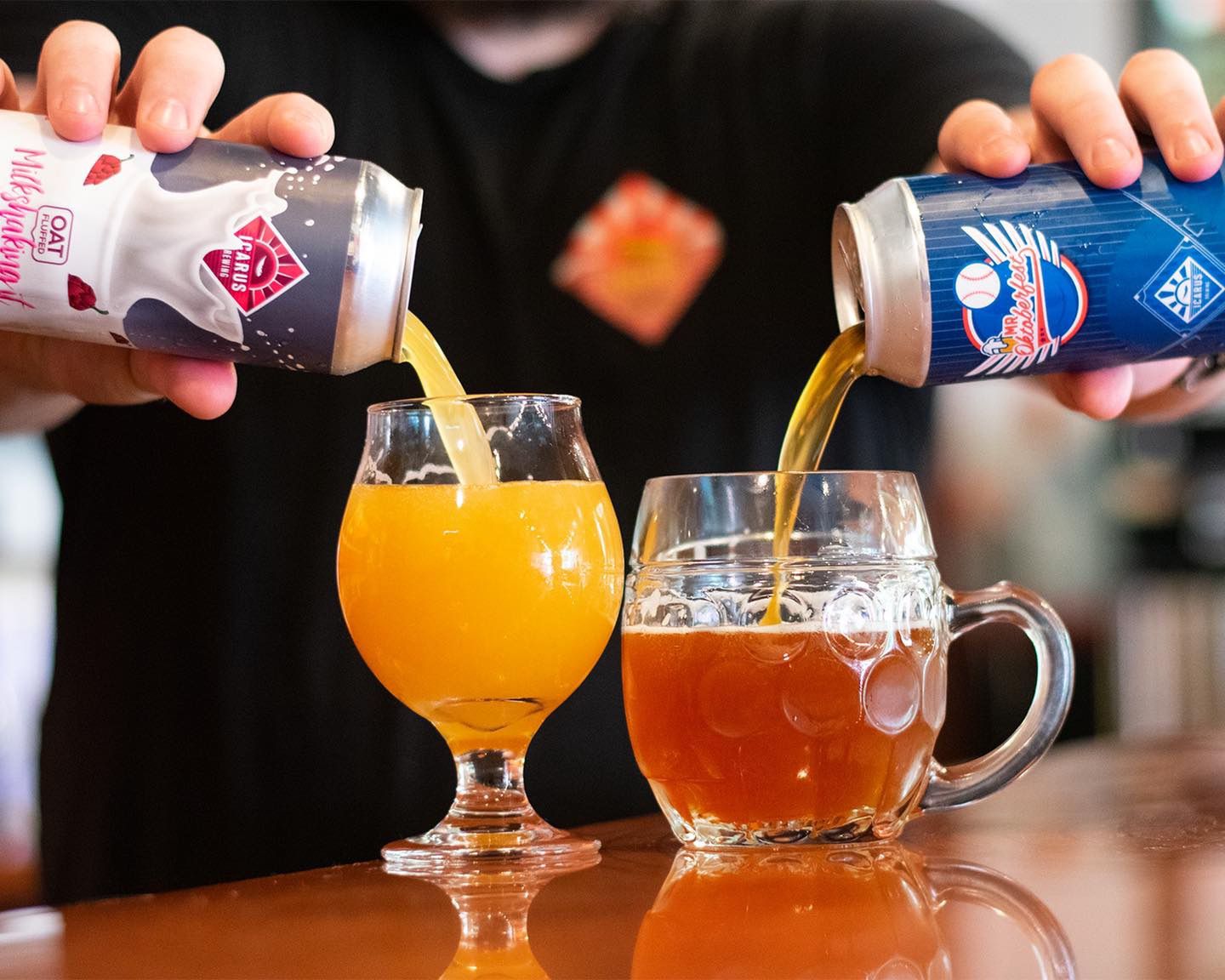 Ocean County returns to our list with Lakewood's Icarus Brewing. Icarus is well-represented in the retail beer market, with cans and kegs available for sale. Icarus is also a member of Brew Jersey and the Brewers Guild of New Jersey.
Book a tour of the Icarus brewery through their website for a fascinating behind-the-scenes look at their brewing process. Each tour lasts 5-10 minutes and includes a walkthrough of their warehouse and brewhouse facilities. Icarus has a wide variety of beers on tap. The barrel-aged offerings, like the 23-month Take It Into Overtime, are tremendous.
Reasons to love Icarus Brewing: Lakewood's first microbrewery, Icarus models its business on 3 core values — quality, innovation and community. The brewery strives to release 3-5 new beers each week, and the tasting room hosts frequent fundraisers supporting local charities. Be sure to stop by the seasonal Beergarden for outdoor seating with plenty of shade.
1790 Swarthmore Ave unit 3 lot 2, Lakewood, NJ 08701
https://icarusbrewing.com/
Kane Brewery
New Jersey beer enthusiasts are familiar with the Kane Brewing hexagon logo, which is in high demand throughout retailers and liquor stores. From Head High to Sneakbox, Kane is the unquestioned master brewer of pale ales in the Garden State.
The Kane taproom is located under 10 minutes from Asbury Park beach, making it an appealing destination for shore lovers. Interested drinkers can dive beyond the pale ale options to explore Kane's quality IPA and imperial stout selection. Fans of fruity beer must try the Field & Oak bottles, like the Golden Raspberry and Peach & Noyaux varieties.
Reasons to love Kane: Kane has a limited taproom schedule (Friday-Sunday), but the visit is well worth your time. Over 20 brews are on offer at any time, including a wide array of the renowned Field & Oak bottle pours. You can also visit Kane's Beer Garden during seasonal hours. Kids and service animals are welcome.
1750 Bloomsbury Ave, Ocean Township, NJ 07712
https://www.kanebrewing.com/
Lone Eagle Brewing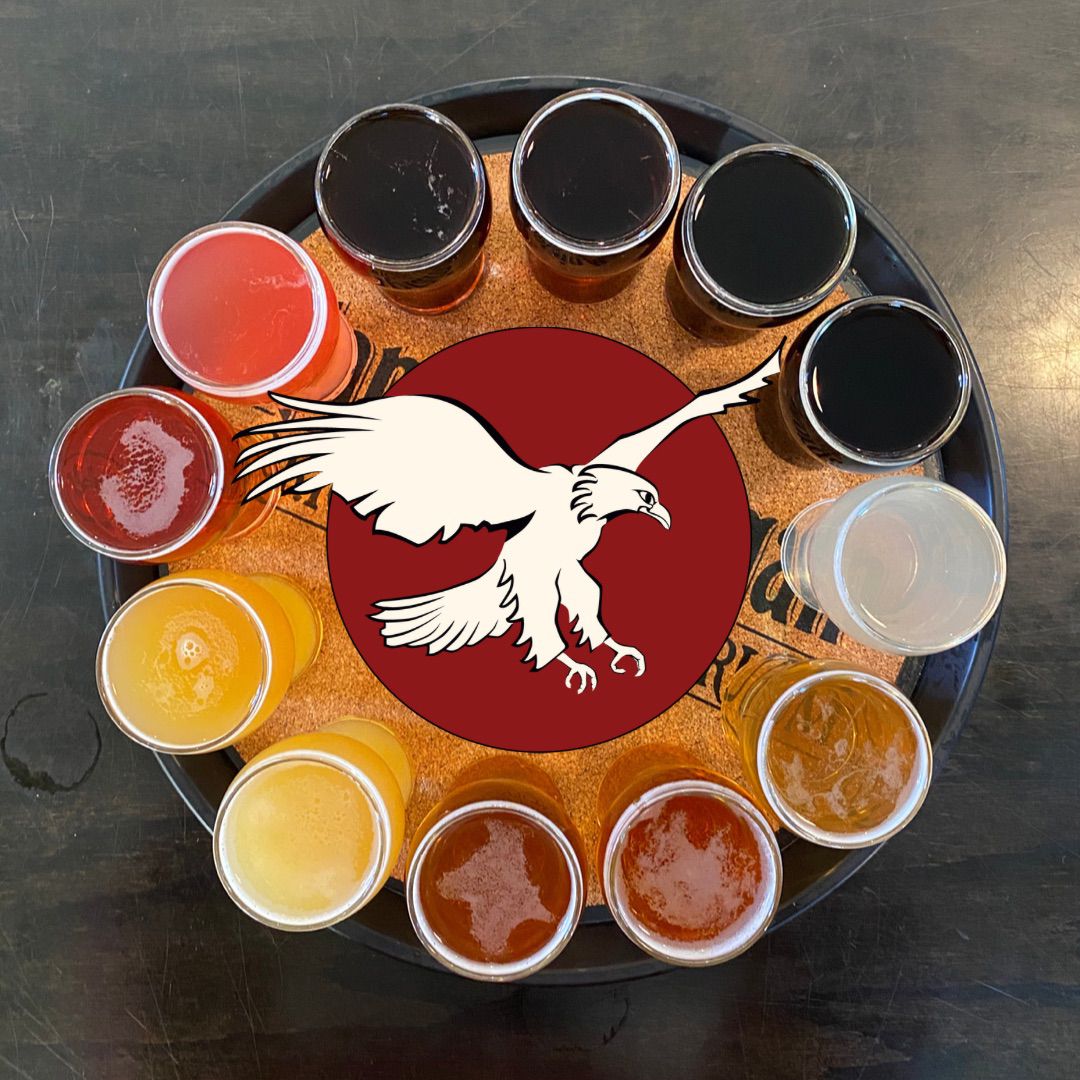 Lone Eagle's brewery and taproom is a love letter to Hunterdon County. The owners worked with students at Hunterdon County Polytech to create its tables and benches, featuring reclaimed wood from Hunterdon County itself.
The tasting room accommodates 100 patrons, with room for 60+ more on its outdoor patio. Still, the space feels cozy and inviting, helped along by a particularly friendly staff. It's a great spot to enjoy one of Lone Eagle's award-winning IPAs and lagers, and a nod to the potential of Hunterdon County as a New Jersey craft brewery destination.
Reasons to love Lone Eagle: Drinkers looking to host private events can take advantage of Lone Eagle's private loft, overlooking the brewing and tasting area. Fans of Lone Eagle's brews can purchase and refill 64 oz. growlers for off-premise consumption. Take a tour of the premises before relaxing with one of a dozen tap selections.
44 Stangl Rd, Flemington, NJ 08822
https://www.loneeaglebrewing.com/
Red Tank Brewing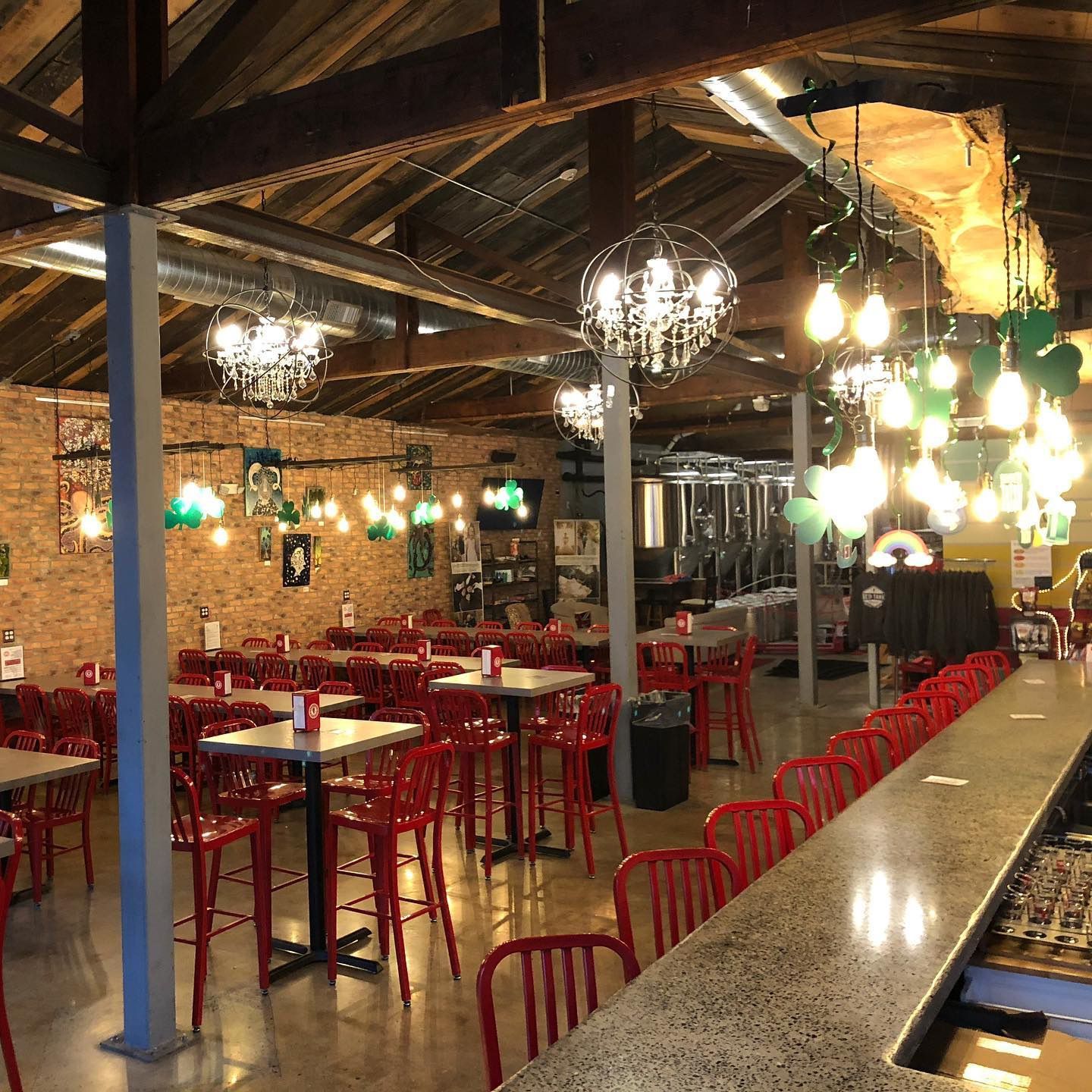 Red Tank is quickly becoming a staple of downtown Red Bank. Owners John and Lovina Arcara are Red Bank residents who utilize a local farm-to-table mentality to create beers that taste uniquely local.
The brewery has a modern, industrial feel, marked by brick, stainless steel and signature red chairs. The brew pub beers on tap include references to the Arcara's family members and favorite musical acts. Try the Hazy Cosmic Jive, a Bowie-inspired New England flagship IPA, or the dry and creamy Broad Street Stout.
Reasons to love Red Tank: Red Tank's diverse location offers live music, private events and a tour of its stainless steel brewhouse. The brewing company supports a number of philanthropic efforts, like UNICEF and the Multiple Myeloma Foundation. Drop in Wednesday through Sunday, and visit their website for updated tap offerings.
77 Monmouth St, Red Bank, NJ 07701
https://www.redtankbrewing.com/
Spellbound Brewing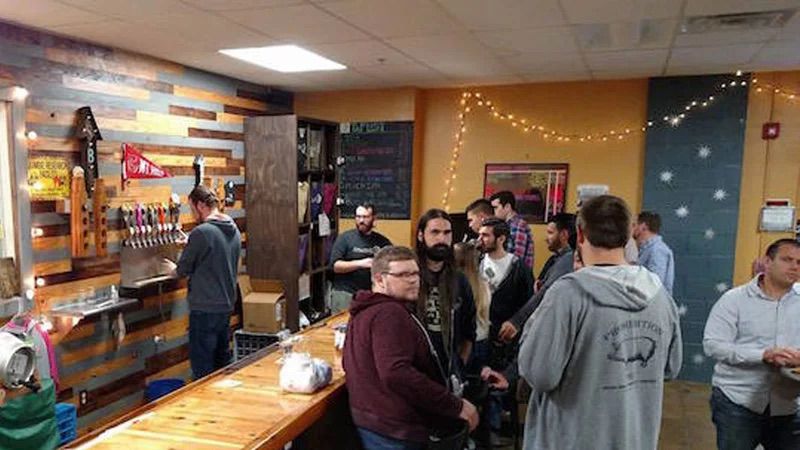 There's a real sense within the tasting room that Spellbound was created by friends. The Spellbound theme is evident throughout its branding, from the team's black cat Ester to its dreamy crescent moon logo. The South Jersey brewery has certainly cast a spell on its followers.
The Spellbound Brewing name has picked up steam in recent years thanks to a mixture of great core brands and seasonal offerings. Its best beers include the Cherry Belgian Tripel and the intriguing Arcana Ginger Lemongrass Ale (5.5% ABV with notes of ginger, citrus and gentle hops).
Reasons to love Spellbound: Spellbound has donated over $230,000 to local efforts, giving back to the Burlington County community it serves. The tasting room is open Wednesday-Sunday (you may even meet Ester!), with brewmaster Matt Kennedy manning the taps and offering expert suggestions.
10 Lippincott Ln #12, Mount Holly, NJ 08060
https://www.spellboundbrewing.com/
Twin Elephant Brewing Company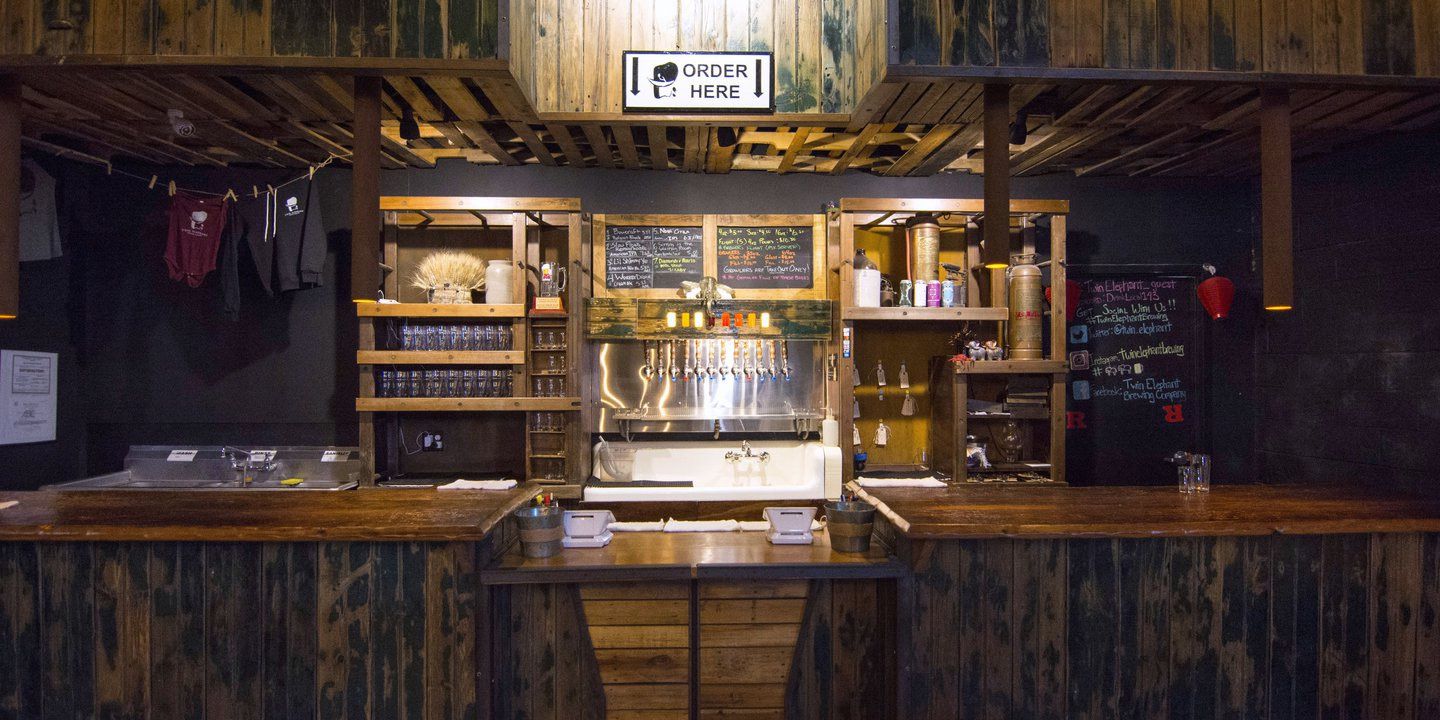 Many people overlook Morris County when discussing the north Jersey craft beer community. Twin Elephant is quickly changing that narrative with its gorgeous taproom and a portfolio with a commitment to classic beer styles.
The "suds list" at Twin Elephant features a varied selection reliant on fresh ingredients and classic recipes. The result is a menu that is highly drinkable and relatable. Patrons like the Dr. Octagon American IPA for its melon and citrus kick, and the smooth malt of Rugged Snuggle American brown porter.
Reasons to love Twin Elephant: The taproom exudes Morris County's historic charm, with rich wood accents and dark colors. Operating hours are Wednesday-Sunday, with special family-friendly hours on Saturday and Sunday afternoons. Twin Elephant recommends reservations, which are easily made on its website.
13 Watchung Ave, Chatham, NJ 07928
https://www.twinelephant.com/
New Jersey Breweries Offer So Much to Love
It's a testament to the Garden State brewing scene that we've barely scratched the surface of the state's breweries. From the NYC suburbs to the Jersey Shore to south Jersey, the New Jersey craft beer scene has never been hotter.
Whichever New Jersey beer company on this list you choose to support, you'll certainly leave happy. Discover some of the best beers in the state, sit back and enjoy the journey.