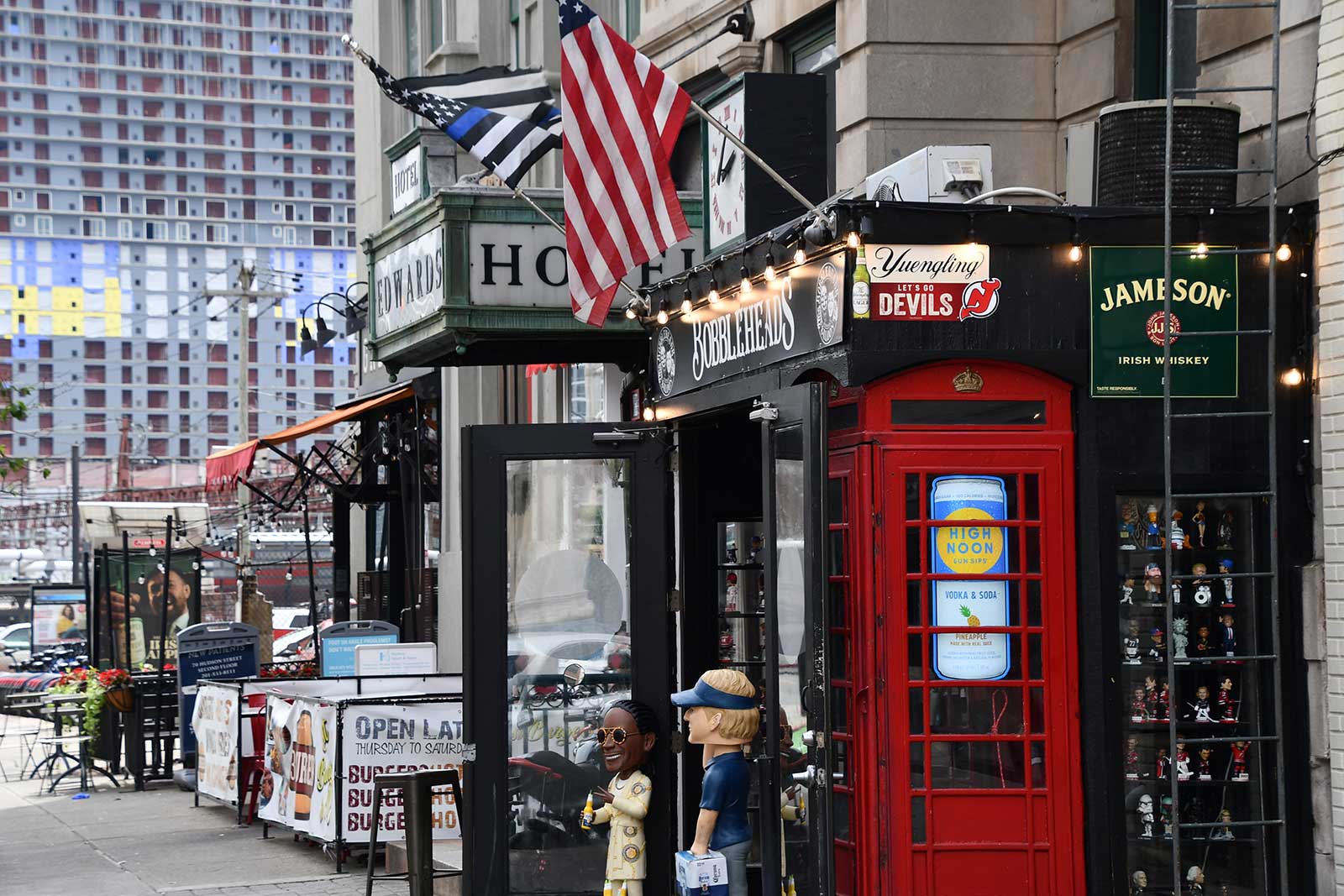 This article is all about the best restaurants in Hoboken.
While Hoboken's culinary scene is admittedly smaller than neighboring Jersey City, the spot affectionately known as the Mile Square City packs quite a diverse collection of restaurants into its smaller scale.
New eateries serving everything from Persian cuisine to dim sum have teamed up with legendary spots in business for decades to create a hospitality scene that goes well beyond the lively bars and nightlife that surrounds the city's train station on weekends.
Narrowing down the list of the best restaurants in Hoboken proved to be a difficult task considering all the local favorites and hidden gems, but here is our best effort to assemble many of Hoboken's top eateries across the entire city.
Best Restaurants in Hoboken: Where to Eat
Antique Bar & Bakery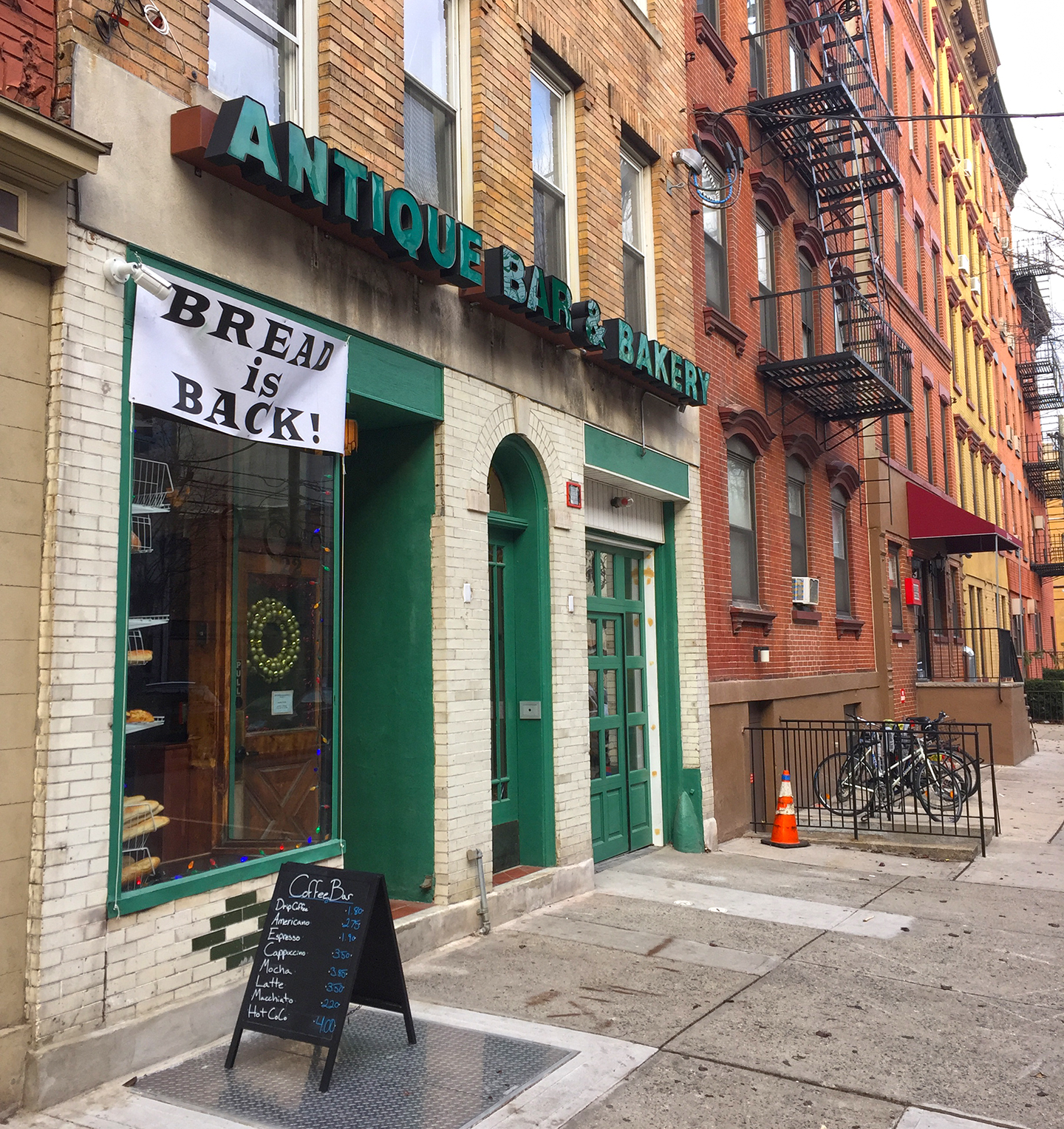 You can't start a Hoboken list without mentioning favorite son Frank Sinatra, who was once so enamored with Antique Bakery's bread that he had it shipped out to him when he was on the road. The no-frills bakery was revamped in 2016 to showcase the restaurant's 100-year-old custom built coal-fired oven and add a full bar with wood paneling, several salvaged lighting pieces, and vintage movie posters.
Antique's famous breads have stayed with the changes and are now complemented with a menu from Chef Paul Gerard, formerly of SoHo House in Manhattan. Highlights include their birria burger or a hot hole short rib with Yukon mashed potato. Epic sides like lasagna edges or Mexican cauliflower with charred chili aioli round out the Antique Bar & Bakery experience. Save room for dessert, as their family size bread pudding with Tuaca caramel sauce is worth the wait.
122 Willow Avenue, antiquebarandbakery.com
Halifax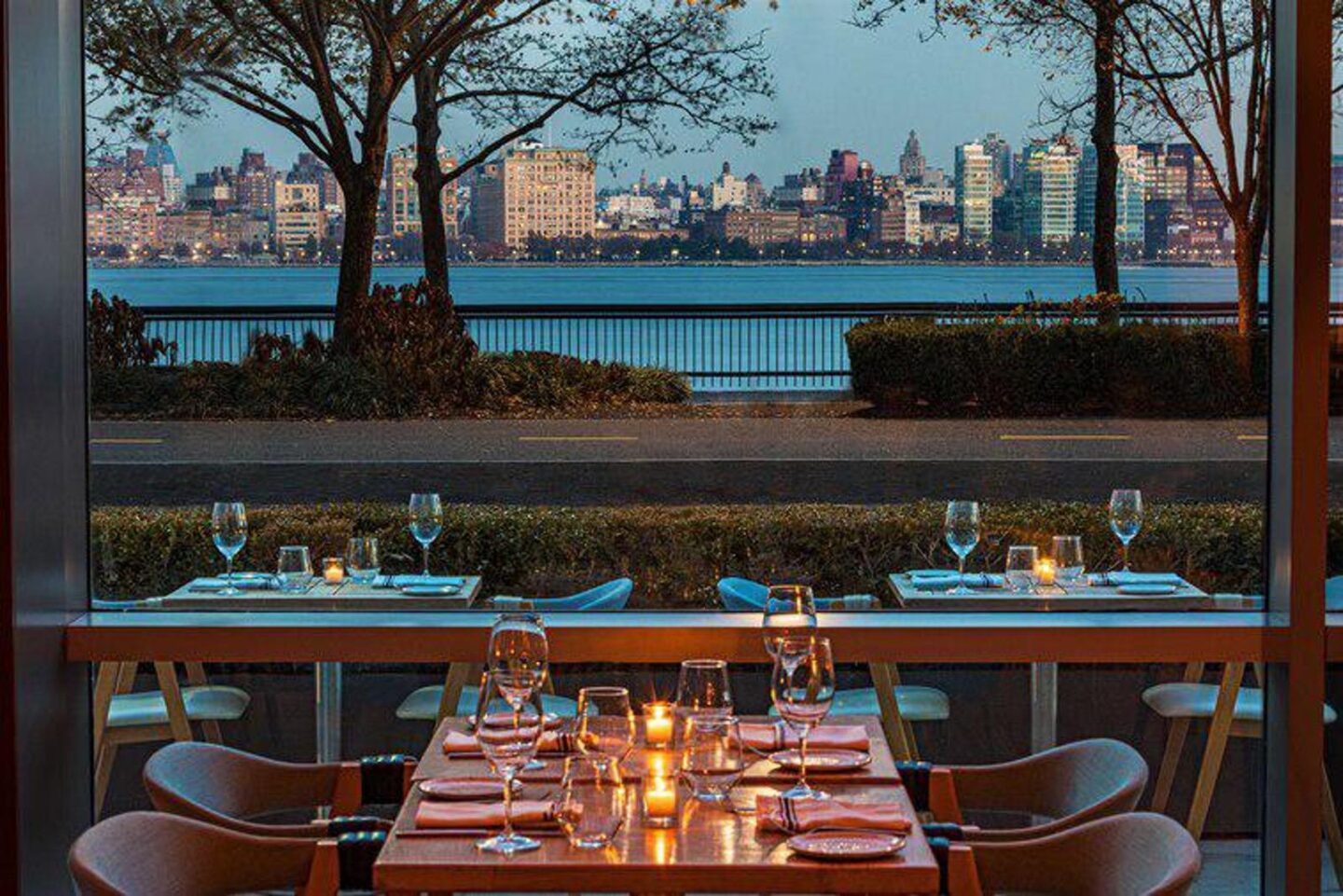 Situated on the ground floor of the W Hotel, Halifax specializes in Northeastern farm and coastal cuisine with an emphasis on local and sustainable ingredients. Named after the capital of Nova Scotia, the airy space boasts tall ceilings and large windows that offer a picture-perfect Hudson River view – if you're looking for a Hoboken restaurant with a view, this is the spot.
The seafood-forward restaurant boasts a seasonally rotating menu that currently offers summer-friendly options like a rabbit duo, sea scallop Capaccio, and a classic New York strip. Fresh oysters at their raw bar are $1.50 every Monday all day long, and Halifax offers a full bar with local beers on tap and brunch service on the weekends.
225 River Street, halifaxhoboken.com
Barbès
This Manhattan restaurant relocated to Hoboken about five years and quickly won raves for their blend of Moroccan and French cuisines. Named after the famous Paris neighborhood at the foot of the Sacré-Coeur known as a melting pot of Parisian and North African culture, Barbès boasts a full bar and live jazz from Thursday through Saturday dinner service.
Highlights on the menu include steak au poivre, lamb meat balls in a light tomato sauce, or a grilled shrimp dish over pesto couscous with a coriander harissa sauce. Their trademark Rock'n Moroccan cocktail, which blends vodka, agave syrup, fresh lime juice and mint leaves, adds to the fun.
1300 Park Avenue, barbesrestaurant.com
Augustino's
You can't talk about Hoboken's food scene without mentioning an old-school Italian restaurant, and Augustino's might be the best of a proud bunch. Reservations can be hard to come by at this culinary staple, which has been visited by a plethora of celebrities including Nick Jonas, Johnny Depp, and Eli Manning over the years.
The cash-only restaurant focuses on southern Italian cuisine with delights like lobster tails scampi or a veal marsala with mushrooms. An extensive wine list, rotating specials, and trademark hospitality add hard-to-find warmth to this cozy space.
1104 Washington Street, (201) 420-0104
The Cuban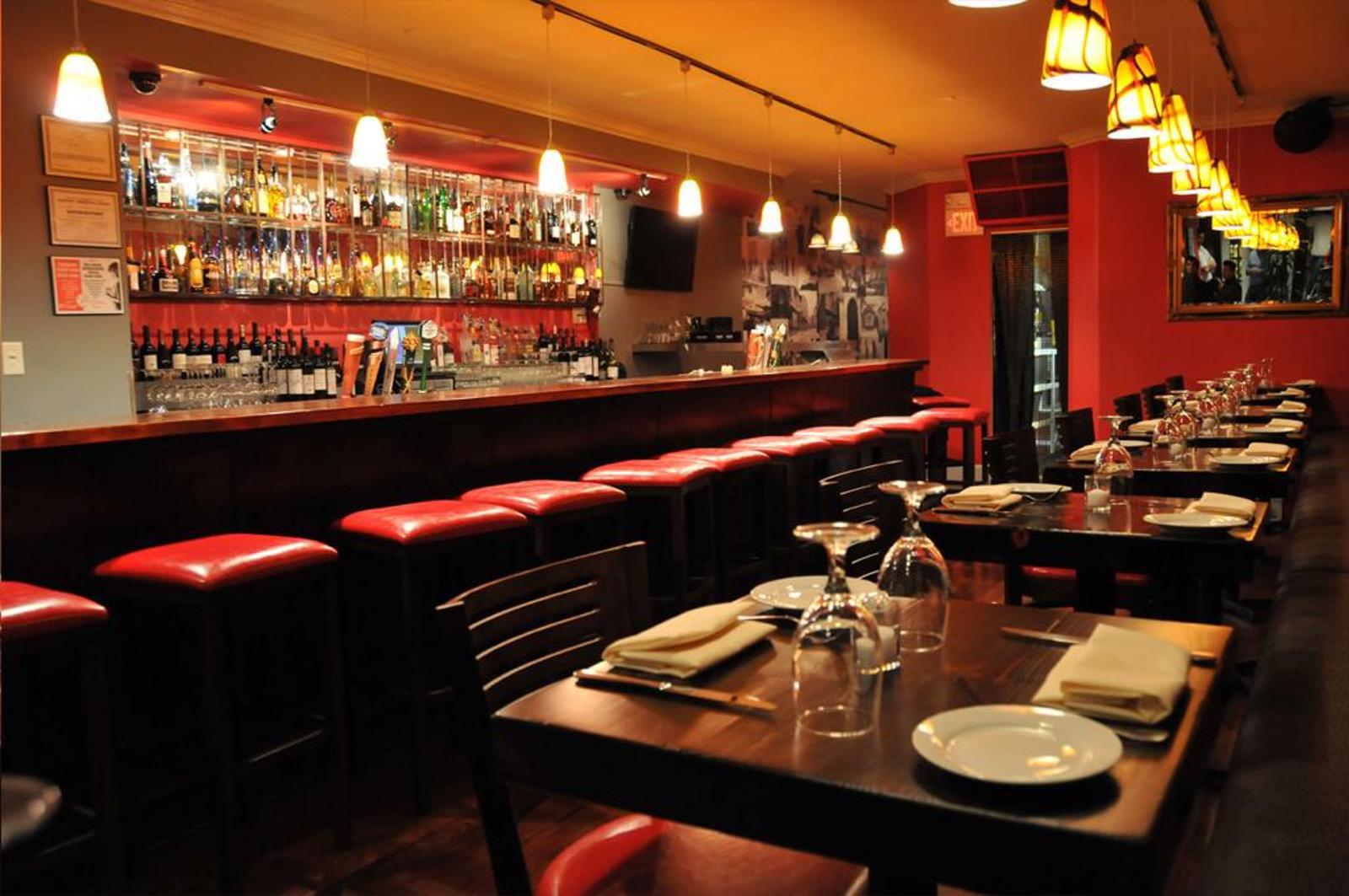 While Hoboken's Italian roots are well celebrated, immigrants from Latin America thrived in the city throughout the 1970s and The Cuban pays homage to that history. With a lively bar area plus a large inviting dining room, the upscale Havana-inspired restaurant serves classics like ropa vieja alongside dishes like a pollo criollo, which blends an Amish free-range boneless half chicken with chorizo sweet plantain fried rice and garlic onion mojo.
333 Washington Street, thecubannj.com
Seven Valleys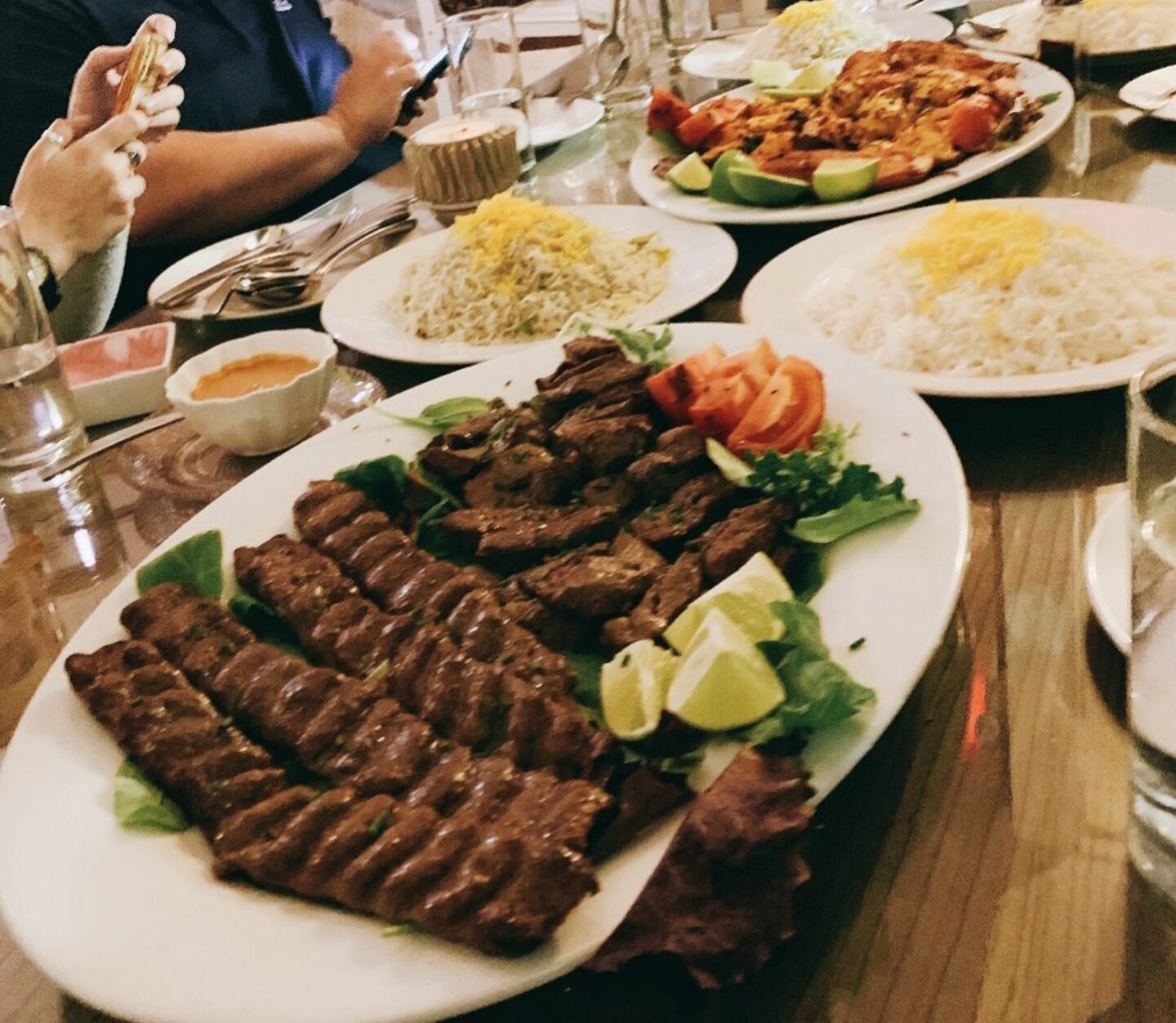 One of the more unique restaurants in Hudson County, the Persian-inspired Seven Valleys opened just about five years ago. The eatery's name comes from a book of the same title that was written in the 1860s by Bahá'u'lláh, who founded the Bahá'í Faith that teaches the essential worth of all religions and the unity and equality of all people.
A major highlight of Seven Valleys is their specialty basmati rice dishes like zereshk polo, which mixes barberries, currents, and saffron. Entrees at the BYOB eatery include kabob selections of beef, seafood, and vegetarian options alongside several stews like Gheimeh, which blends cubed beef, yellow peas, and sun-dried limes in Persian tomato sauce.
936 Washington Street, sevenvalleysrestaurant.com
Stingray Lounge
Perhaps the best true raw bar in Hoboken, the star of Stingray Lounge is their fresh seafood sourced daily complemented by their house made ground horseradish, sauces, and mignonettes. Their cocktails are just as inspired, with their Penicilin concoction mixing Chivas and Laphroaig scotch with lemon, ginger, and honey or their Singapore Sling blending Bombay Sapphire gin, cherry heering, Cointreau, Benedictine, pineapple, lime, and grenadine.
One shouldn't sleep on the entrees at this swanky spot, which include a blue crab stuffed flounder dish with old bay rice and a cedar plank grilled salmon with saffron toasted couscous and shirazi salad.
1210 Washington Street, stingrayloungehoboken.com
Amanda's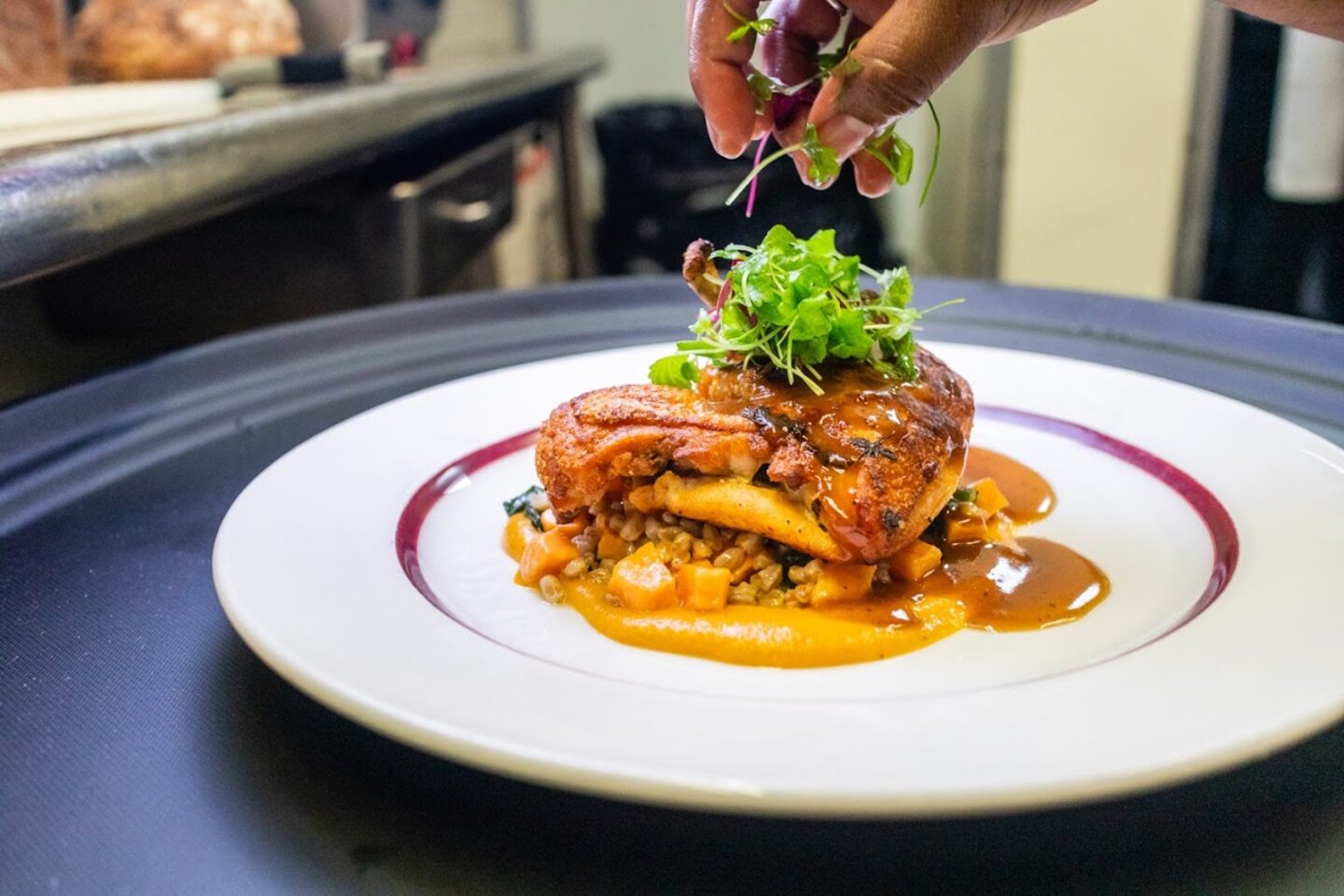 Situated on the ground floor of a historic brownstone, Amanda's is easily one of the best "date night" spots in Hoboken. The space more closely resembles a cozy home than a restaurant and features fireplaces, ornate crown moldings, and even a library plus a rear patio seating area for al fresco dining.
The new American fare with Argentinean influences at Amanda's is supported by a full wine and cocktail list alongside live music during every shift that adds to the ambiance.
908 Washington Street, amandasrestaurant.com
Saku
In business for just about five years, Saku has quickly become the go-to spot for innovative sushi rolls complete with an extensive sake, wine, and beer list. The space itself is gorgeous, boasting separate light "yin" and darker "yang" areas that create a decidedly unique vibe.
The restaurant's extensive sushi menu includes innovative options like their rainbow roll, which combines spicy eel, kani, crunch, avocado, tuna, salmon, tobiko and spicy mayo. Omakase-style service is available at the bar area, which serves specialty drinks that rotate nightly and even a few dessert cocktails like a cold brew martini.
936 Park Avenue, sakuhoboken.com
Olivia's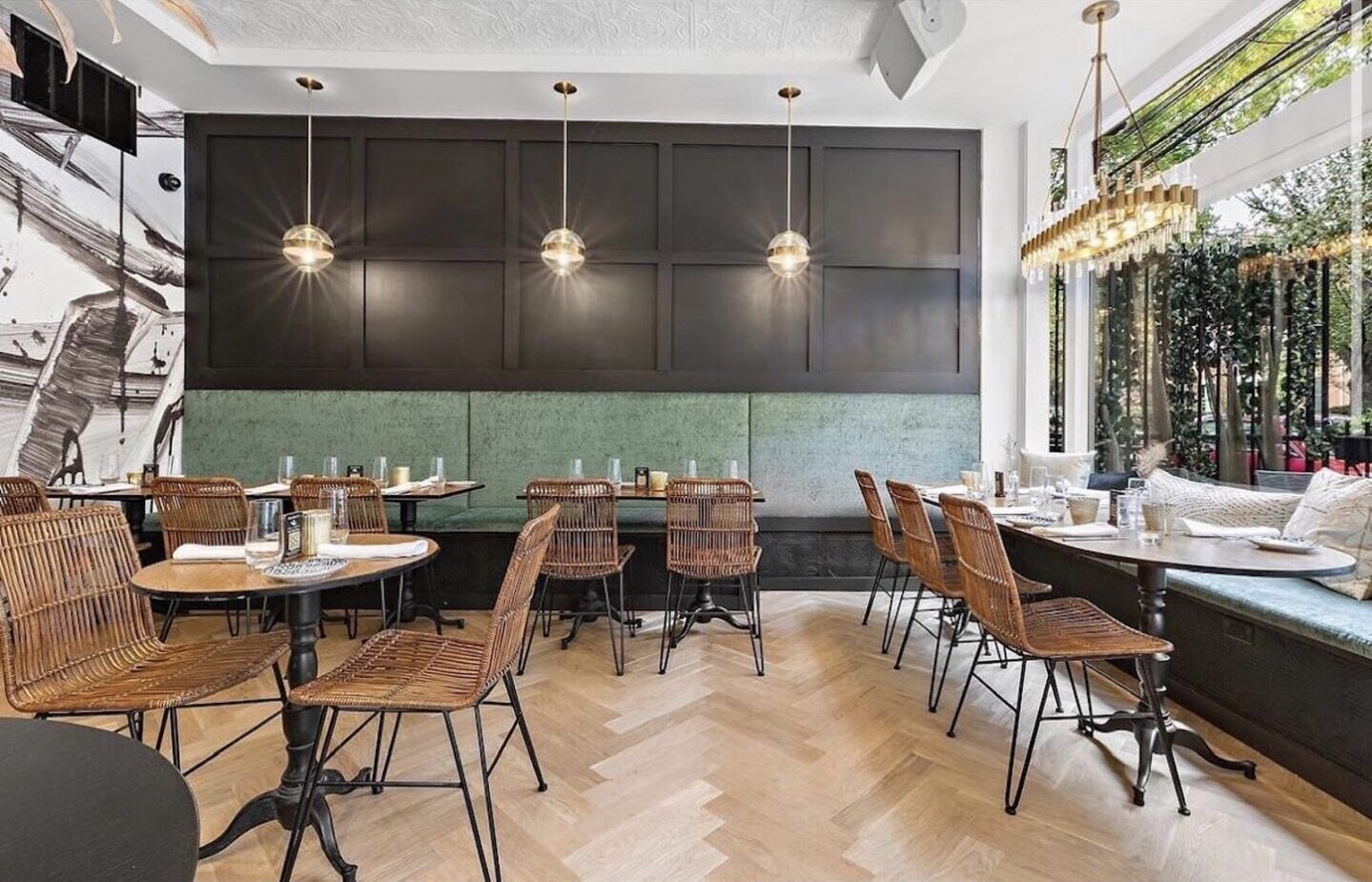 Launched in 2021, Olivia's celebrates the diverse flavors of Latin and Mediterranean cuisine with influences from Spain to the south of France to Peru. Their menu comes courtesy Chef Ricardo Cardona, an executive of New York City's Sofrito and the Hudson River Café.
Olivia's seasonally rotating menu is accented by an extensive wine list, cocktails, beer, and mocktails and their recent expansion created a cozy event space.
1038 Garden Street, oliviashoboken.com
Sirenetta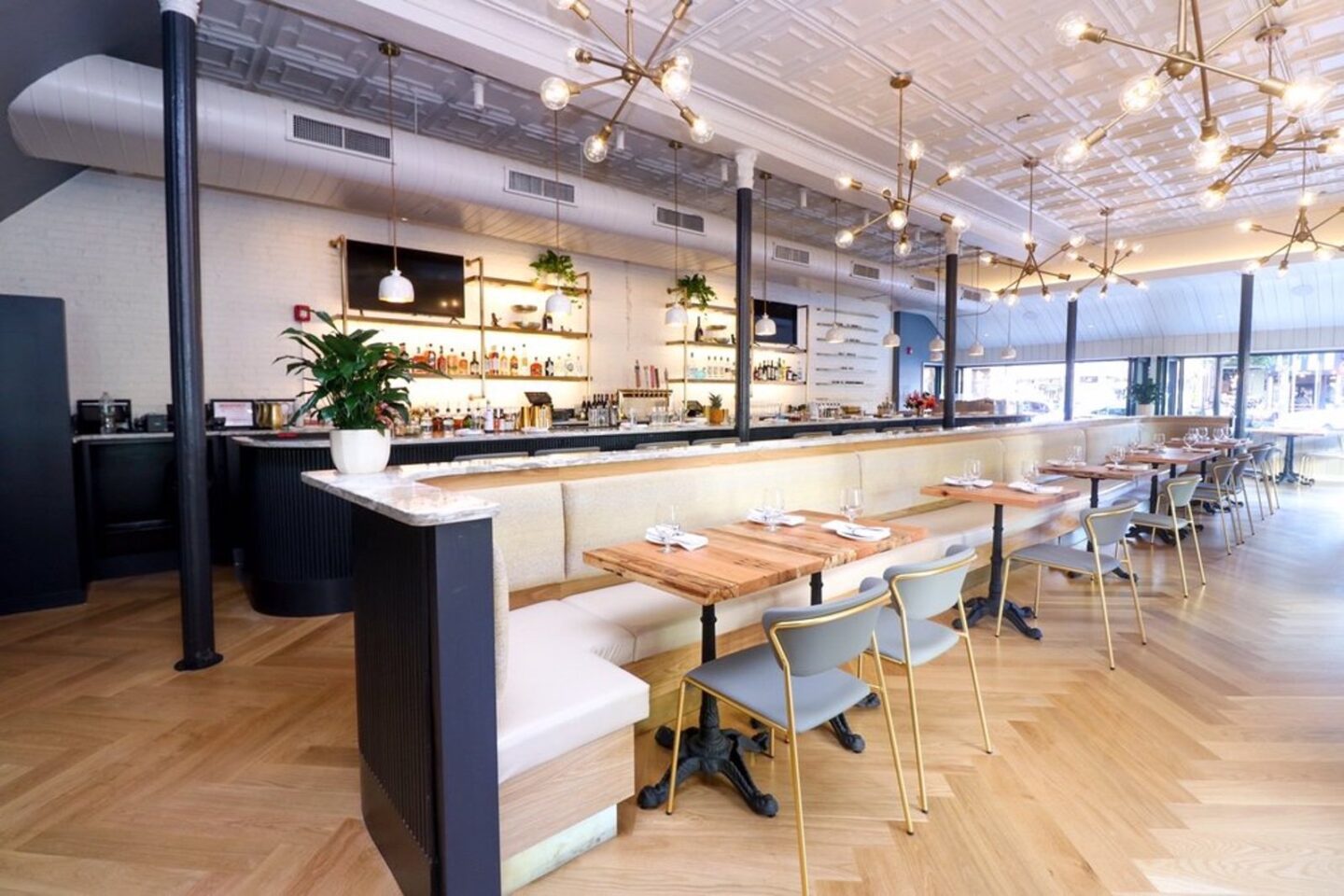 Taking over the iconic home of Maxwell's rock club might be considered a daunting task for some, but Sirenetta have blazed their own trail since opening three years ago. Taking their name from the Italian for "mermaid," the raw bar and seafood restaurant's frutti di mare combines squid ink garganelli with scallops, shrimp, white fish, and escarole while other dishes like prosciutto wrapped hake or grilled branzino highlight Italian cooking techniques.
Sirenetta has kept some of Maxwell's legacy alive with live music on Wednesdays inside their Backstage venue, a rear lounge with a full bar serving lighter fare.
1039 Washington Street, sirenettahoboken.com
Dino & Harry's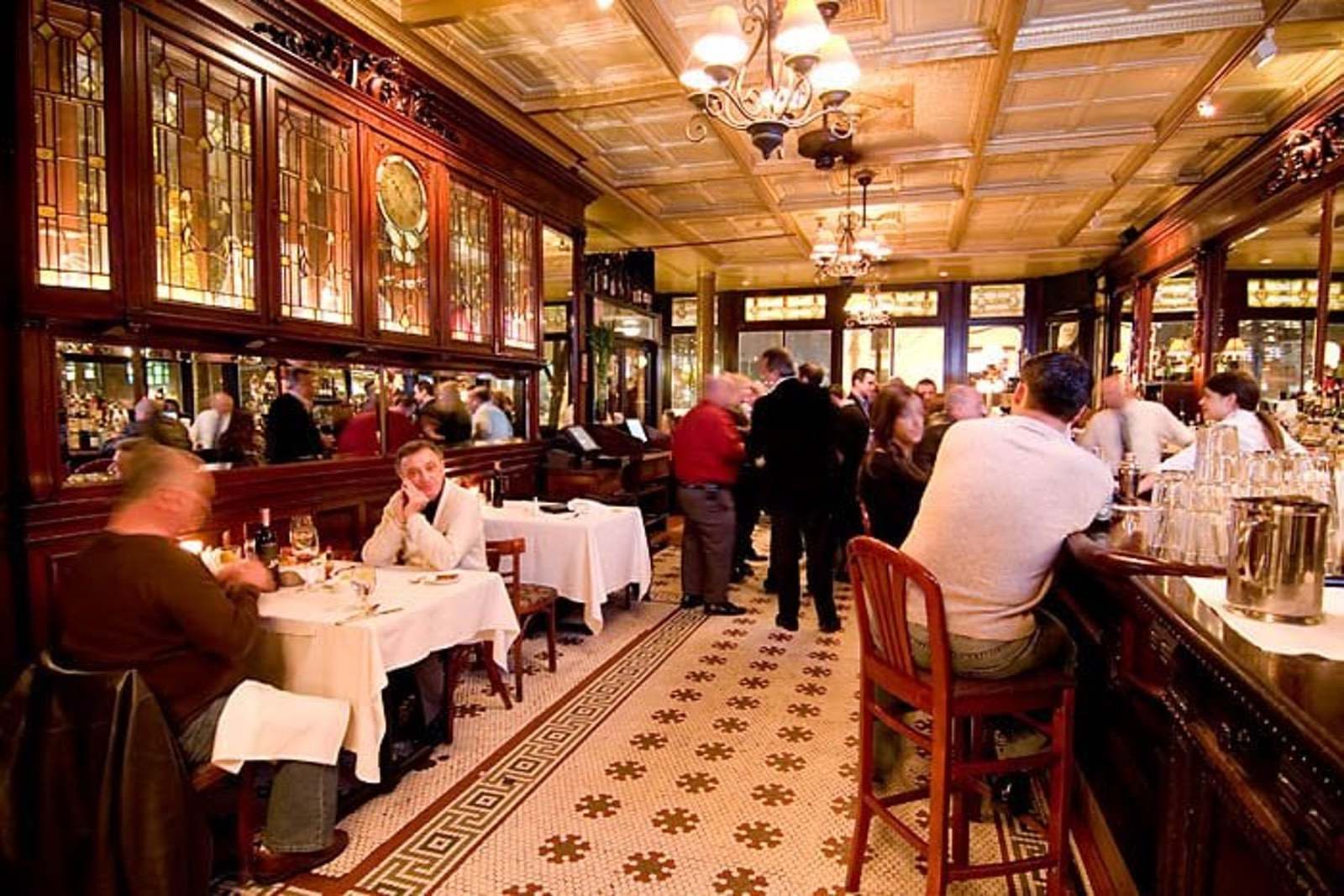 Like stepping into a time capsule but in the best possible way, Dino & Harry's has served the community for over 30 years inside their stately space built well over a century ago. Their hand-carved cherry bar dates to the late 1800s and sports a negroni menu alongside stained glass designs and other preserved details.
Steaks and chops are the name of the game at Dino & Harry's, with sirloins, filets, porterhouse, and rib eyes complemented by their house made sauces and sides. Their extensive wine list includes both "new world" and "old world" selections and the restaurant hosts live jazz on Tuesdays and Wednesdays plus pianists on weekends.
163 14th Street, dinoandharrys.com
Number 11 Food Store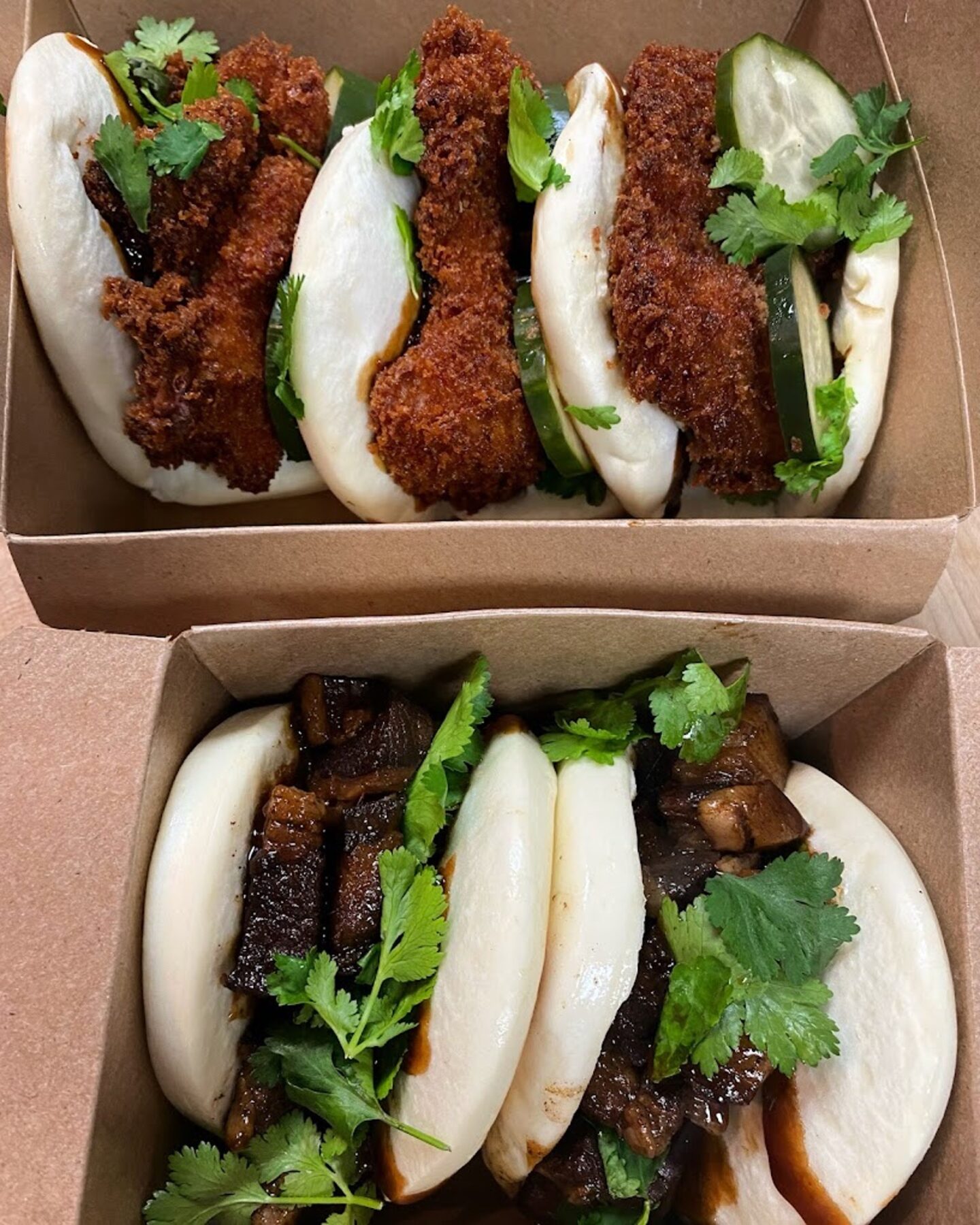 Don't let the hole-in-the-wall look of this curiously named restaurant fool you, this take-out and counter service spot has become one of Hoboken's best restaurants. The team that operates the pizza-centric Dozzino in Hoboken opened this spot last year serving what they dub "good food that looks Chinese."
Number 11 Food Store has taken the classic Chinese take-out concept and added Italian and American influences, if you're looking for the best Chinese food in Hoboken then you should try this creative outpost. Must try dishes include the pepperoni fried rice and a mala fried chicken baowich that blends the American South with Taiwanese spice. The menu is constantly being tweaked at this BYOB spot, which features limited seating next to Church Square Park.
342 Garden Street, numberelevenfoodstore.com
Changó Kitchen
This Latin American spot was initially launched as Zafra by James Beard-nominated chef Maricel Presilla before being renovated into its current edition. The change kept the restaurant's Cuban classics including their yuquita fritas appetizer and churrasco con chimichurri entrée while adding new options like mofongos, a Puerto Rican dish made up of fried green plantain with proteins like shredded beef, roasted pork, fried cheese, or shrimp.
Changó Kitchen is a BYOB affair and those who bring their own booze can have mojitos, pina coladas, margaritas, daiquiris, or sangria made for them by the pitcher or glass.
301 Willow Avenue, changokitchen.com
Dear Maud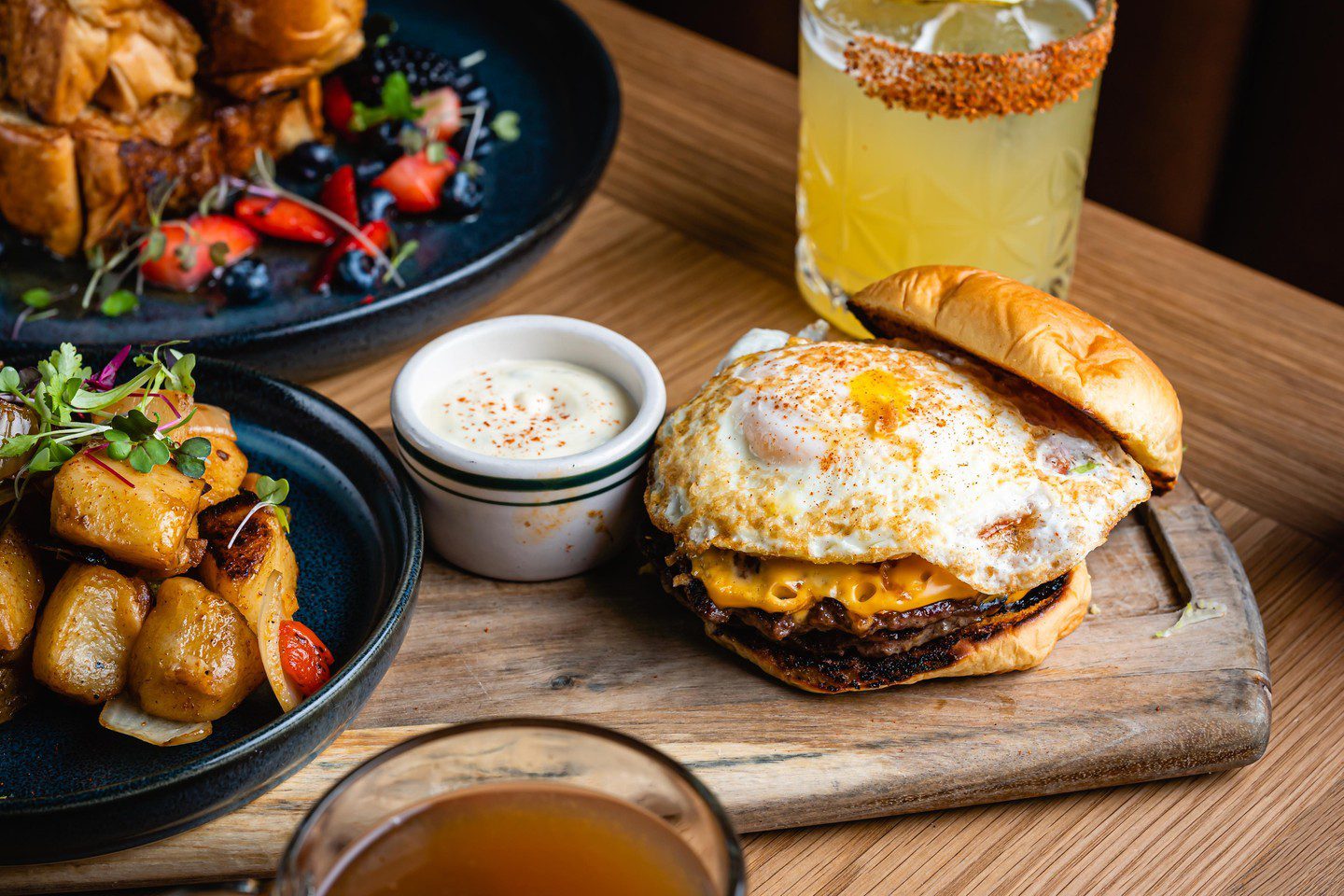 The ownership group behind Jackdaw in Manhattan's East Village opened this spot last year and quickly raised First Street's bar scene. The upscale pub serves decidedly elevated cocktails that include their signature Dear Maud that mixes Blanco tequila, El Silencio mezcal, lime, pineapple, agave, and tajin.
The food menu blends Irish public house with American and Asian influences with dishes like a fried chicken Korean style with spicy mayo and sweet chili or crispy rice with spicy tuna. A variety of flatbreads round out the experience at Dear Maud, which is named after Irish actress and activist Maud Gonne.
205 First Street, dearmaud.com
La Bohéme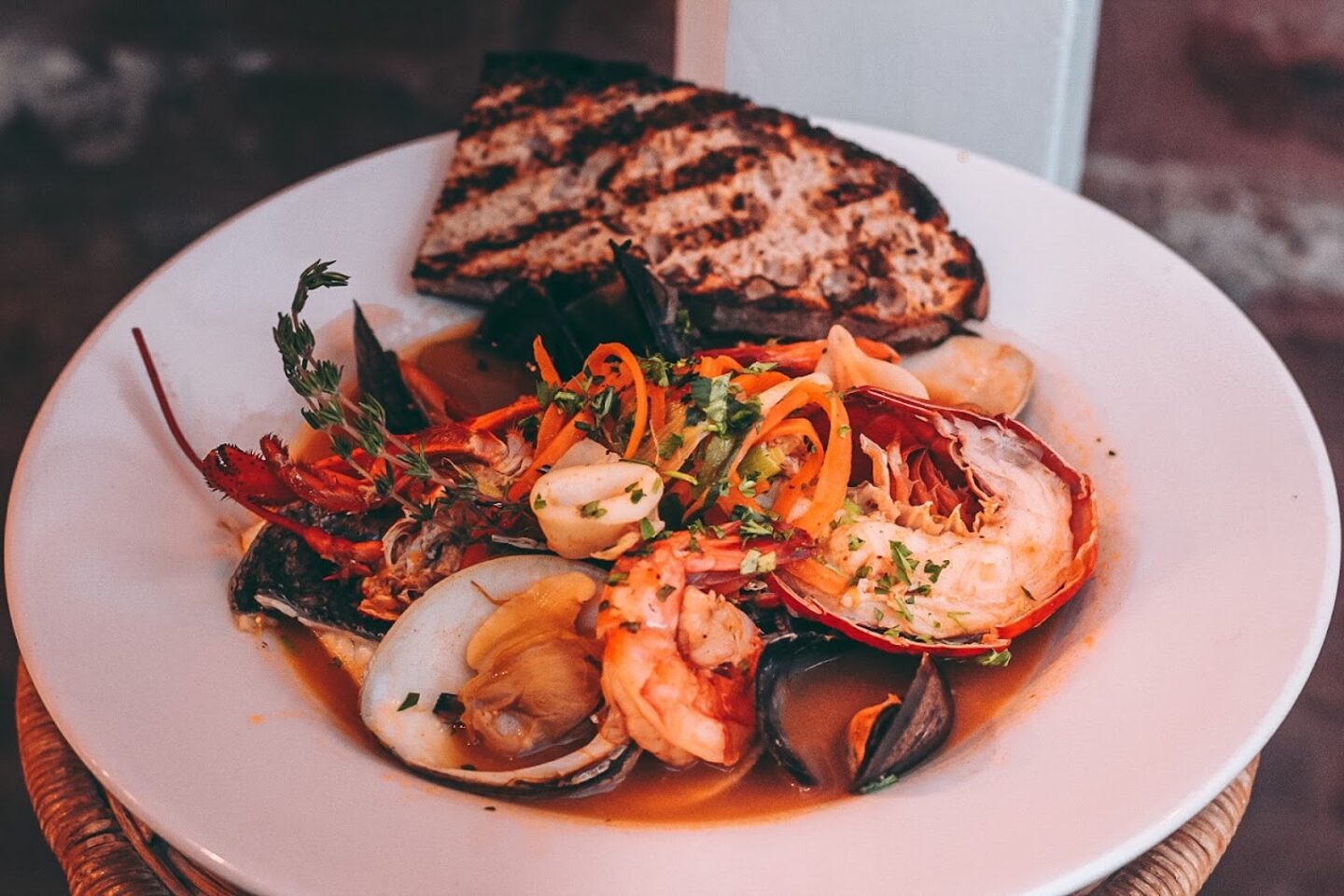 Focusing on southern French cuisine with Mediterranean influences, the aesthetic centerpiece of La Bohéme is their brick oven visible to patrons sipping a cocktail at their bar seating area. But the oven is not just for show, as it churns out their unique pizza options that include a pumpkin puree variety with caramelized nuts and broccoli rabe.
Other highlights at La Bohéme include a house bouillabaisse stew with lobster, scallops, mussels, clams, shrimp, black sea bass, and vegetables or steamed PEI mussels. Escargots in parsley garlic butter or a grilled skirt steak with shallot sauce add to the fun, as does a weekend brunch service.
233 Clinton Street, labohemerestaurant.com
Pilsner Haus & Biergarten
This Austrian-Hungarian biergarten completely reimagined a former factory along what used to be the outskirts of the city into a sprawling space that feels like a true European beer hall complete with communal tables, an outdoor cobblestone garden, and an indoor stage area for live music acts.
Huge Bavarian pretzels, pierogis, cheddar or curry bratwursts, polish kielbasa, spätzle, chicken schnitzel, and more adorn the menu at Pilsner Haus, which boasts an extensive collection of international and local beers on tap. The restaurant's half price menu on Mondays remains one of Hoboken's best bargains.
1422 Grand Street, pilsnerhaus.com
Muteki Ramen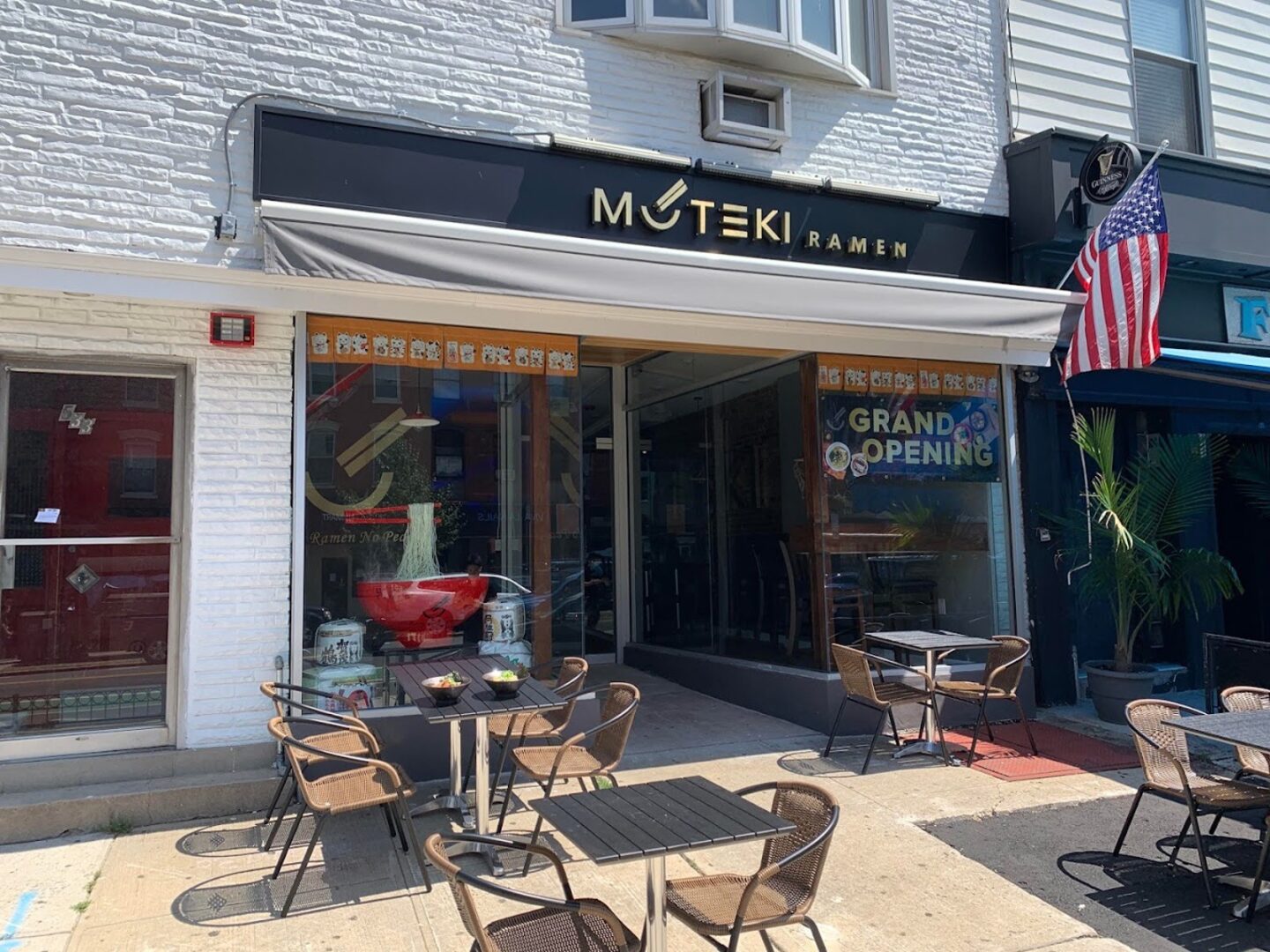 This restaurant's namesake dish features a hearty broth plus pork and chicken chashu, cabbage, bean sprouts, kikurage mushrooms, bamboo, corn, egg, and fish cake. Other highlights of their customizable ramen dishes include a Yuzu Shio variety with lemon that surely has cured more than a few colds since Muteki Ramen opened several years ago.
This sleek BYOB spot also slings a variety of bao bun appetizers and savory dishes like fried okonomiyaki, a Japanese pancake filled with cabbage, cheese, and a sweet sauce. Japanese-style fried oysters served with yuzu mayonnaise sauce and a slew of rice donburi dishes have kept locals coming back for more.
533 Washington Street, mutekiramen.com
Northern Soul Kitchen + Bar
Known for their live music program, pool tables, darts, and open mic nights, Northern Soul Kitchen + Bar upped their food game significantly when they moved to their current address in 2016. The pub offers healthy comfort food for vegetarians and omnivores alike featuring shared plates like a house poutine, hummus, or jackfruit crab cake sliders.
Mains at Northern Soul include a salmon avocado BLT, a tofu mignon sandwich, or a beyond Bolognese pasta dish. If you're looking for the best brunch in Hoboken, the restaurant is one of the few to offer a brunch menu seven days a week from 11 a.m. to 4 p.m. and sports sheltered gazebo outdoor seating areas complete with cooling fans.
700 First Street, northernsoulbar.com
South Lions
This Cantonese-style restaurant filled a big void in the Hoboken dining scene when they brought their dim sum to Washington Street last year. South Lions serves a wide range of small dishes that include offerings like sticky rice with preserved pork or shrimp shumai, which are dumplings with a mixture of shrimp and squid.
Unique dishes like fried shrimp balls, durian cakes, or a fried vegan bean curd roll are found throughout their expansive menu, which is complimented by a selection of bubble teas that add to the fun. The restaurant will be expanding to Jersey City in the coming months.
512 Washington Street, southlionsusa.com
Honorable mentions
Fiore's House of Quality, 414 Adams Street: Go to this old-school Italian deli on a Thursday or Saturday and order the roast beef special. You'll thank us later.
Shaka Kitchen, 110 Washington Street: Chef Kiersten Gormeley's win on Food Network's Chopped raised the profile of this health-conscious eatery, which serves modern tacos, land and sea bowls, and tasty smoothies.
Tosti, 1024 Washington Street: Their delectable brunch-esque menu is served seven days a week, with highlights including a turmeric tuna croissant with red onions, provolone, and an apple raspberry compote.
Leo's Grandevous, 200 Grand Street: In business since 1939, this spot was another one of Sinatra's favorite haunts.
Elysian Café, 1001 Washington Street: The oldest operating restaurant space in Hoboken dating to 1895, this eatery inside a converted hotel serves French classics and a notable weekend brunch.
Court Street, 61 6th Street: Their Lobsterfest every Wednesday night remains one of the city's hidden gems.
La Isla, 104 Washington Street: This BYOB spot has been holding it down for three decades and is known for their Cuban classics and brunch menu highlighted by a French toast stuffed with strawberry and guava cream cheese with almond corn flake breading.
Dozzino, 534 Adams Street: Some of the best pizza in Hoboken – rotating artisanal pizzas in a BYOB space with a backyard fire pit? Yes, please.
This article showed you some of the best restaurants in Hoboken. Thanks for reading!