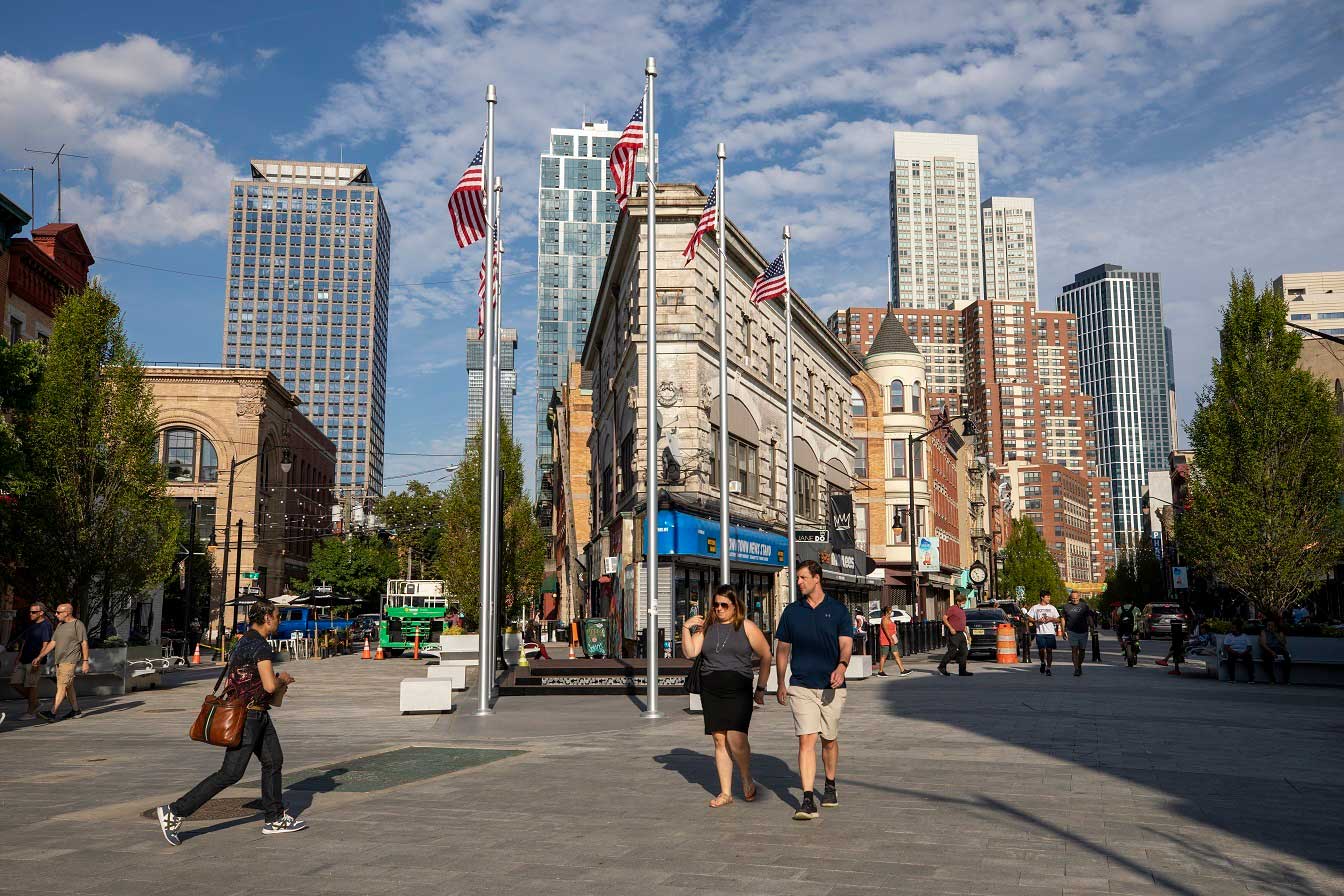 A car-free plaza that has endured years of planning, false starts, and some growing pains is now officially renovated and open to the public just in time for one of the biggest culinary stretches of the year.
On July 10, Jersey City officials held a ceremony unveiling the completed Newark Avenue Pedestrian Plaza. The $7 million endeavor hopes to become one of New Jersey's premier destinations for shopping, dining, and community events by transforming a green paint version of the car-free road that has been around since 2015.
The two-block stretch of road had a tough go of it during 2020 but has bounced back in a big way over the last year or so. Several new businesses including Brick Lane, Grace O'Malley's, Tamborium Bar & Grill have opened in recent months, with more new ones like Boots & Bones, Ela Green Kitchen and Local Mōdiv on the way.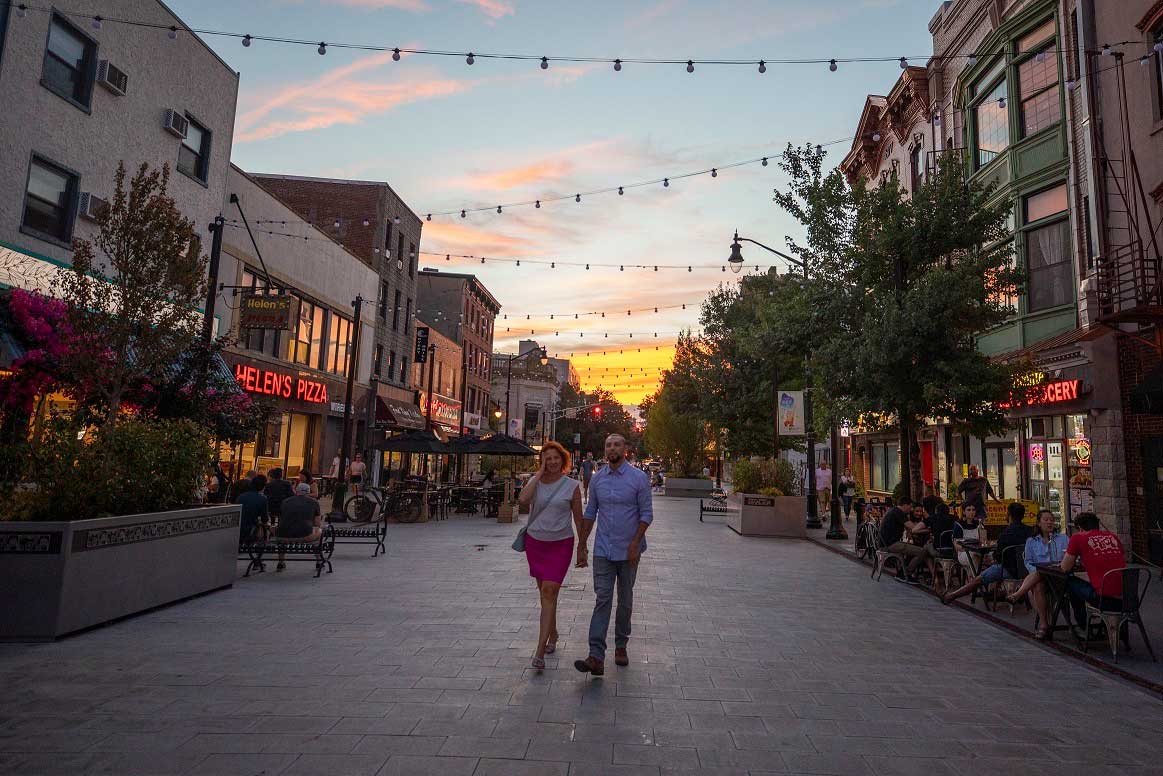 Jersey City finally awarded a contract to overhaul the streetscape in 2021 and renovations picked up significantly this spring. The Newark Avenue Pedestrian Plaza is wrapping up construction just in time for Jersey City's Restaurant Week, which begins on July 17 and runs through the end of the month.
"Today's ribbon-cutting is the final piece to accomplishing a permanent, community-driven pedestrian mall that boosts local business, attracts investment, and, most importantly, establishes a premier location to foster community with various free public events throughout the year, weekly entertainment on the new concert stage, and daily foot traffic where residents and visitors can enjoy all the plaza has to offer," said Mayor Fulop during the ceremony.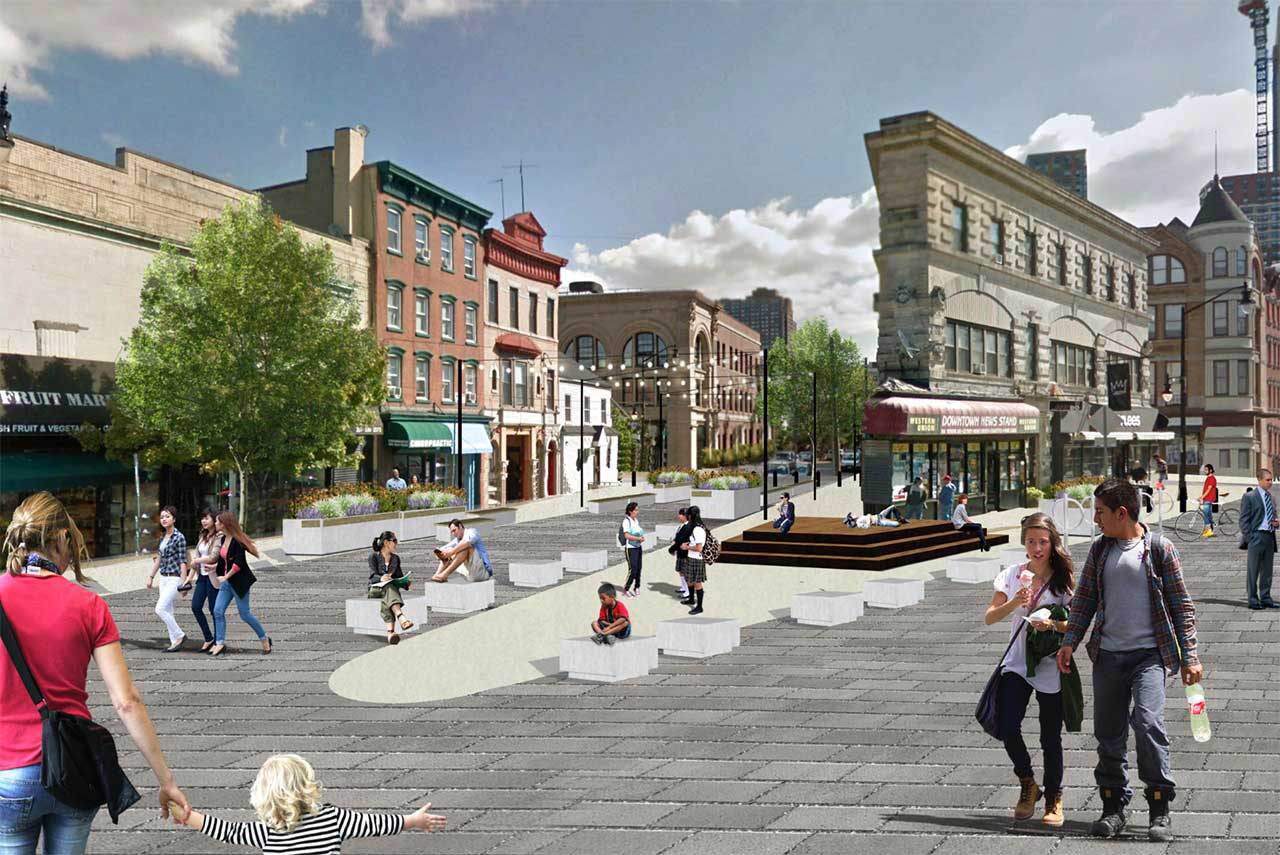 Upgrades to the plaza include an outdoor concert stage for community events that will be free and open to the public. Granite pavers have replaced the original painted green asphalt and elevated the street level to match the sidewalk for a more cohesive structure with better stroller and wheelchair accessibility.
Decorative trench drains now line both sides of the plaza alongside rain garden tree planters and café lighting for improved visibility. Besides underground utility and infrastructure improvements, the project added 24 new trees planted, 20 planter boxes with landscaping, 14 large square planters with built-in seating under trees, 30 recycling and garbage combination units, 16 bike racks, and 40 benches.
"The pedestrian mall has become a vital point in the area, and I couldn't be happier," added Rachel Sieg, Executive Director of the Historic Downtown Special Improvement District. "I feel an immense sense of pride and accomplishment with the conclusion of this project, and I hope that visitors and residents of Jersey City will enjoy the Mall for many years to come."
During the height of COVID-19, the plaza was lengthened to Grove Street between Montgomery Street and Christopher Columbus Drive. While that section is less formal than the Newark Avenue portion, the city says expanded outdoor capacity helped restaurants and small businesses stay afloat amid the pandemic and safely reopen sooner.
Jersey City has two other major investments in main streets under construction, including a $4 million facelift of Central Avenue and an overhaul of West Side Avenue.