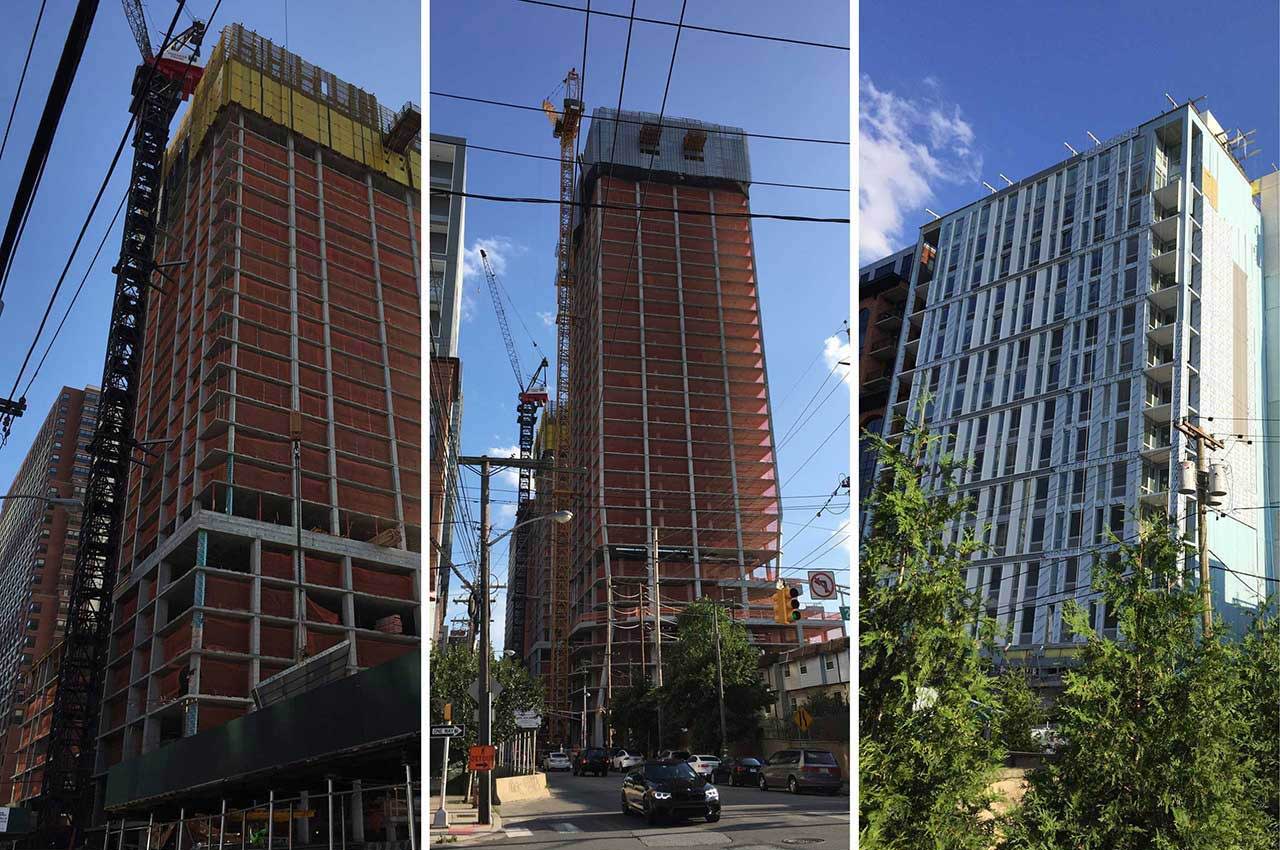 The coronavirus pandemic has done little to slow the frantic pace of construction in New Jersey's second-largest city and several mock-ups are providing a glimpse into how the neighborhood might transform if approved projects in the area get built during the coming years.
Over the summer, we profiled a stretch of road that might be the busiest construction zone in the Garden State. Several developers are teaming up to add 1,407 residential units, almost 11,000 square feet of retail, college dormitories, and two theater spaces to several blocks of Marin Boulevard that will undoubtedly transform the city's Powerhouse Arts District.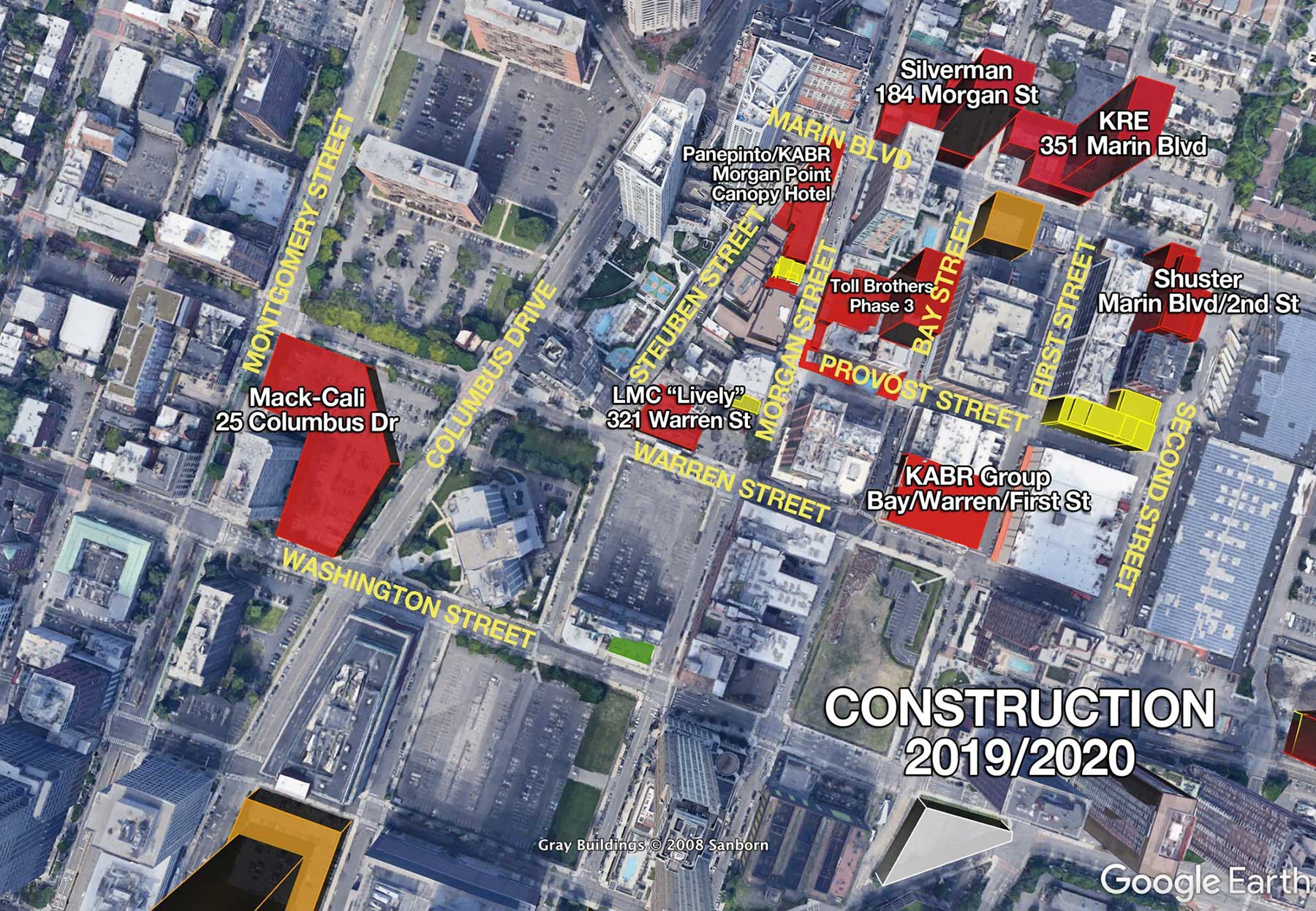 The map above shows all the developments in the neighborhood that have hosted construction at some point during the last two years, including projects like Mack-Cali's The Charlotte at 25 Columbus Drive and The Lively at 321 Warren Street. While this relatively small zone has seen many new additions, another east-looking rendering shows exactly how many new high-rises could be coming near the city's waterfront.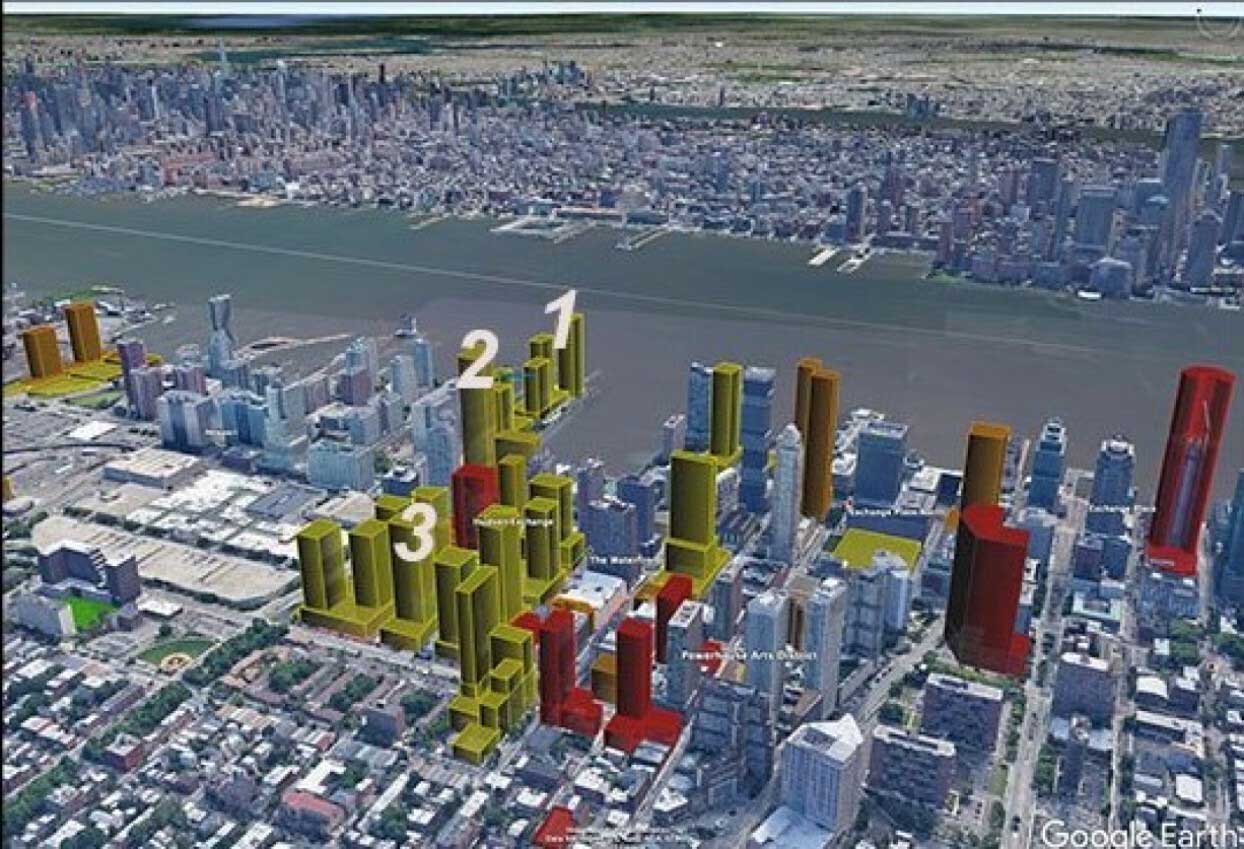 Highlighted in red are developments currently under construction like 99 Hudson, the second tower of VYV, and the third phase of Toll Brothers' Provost Square. The yellow portions consist mostly of projects that have already been approved by the city's planning board or ones that can be built as-of-right.
Notable endeavors in the yellow sections include the remainder of Forest City's massive Hudson Exchange development, LeFrak's 2,000-unit plan for the Sixth Street Pier, the 950-unit Avalon Tower, and Mack-Cali's 68-story Harborside 8.
LMC's Laurel & Saddlewood project and a proposed high-rise at 111 First Street have not been fully greenlit by the city but are nonetheless shown in yellow on the rendering. The image also features orange-shaded graphics for the remaining two Urby towers, a commercial project from Mack-Cali called Harborside Tower, and several as-of-right buildings in northern Newport. Those developments have all been stuck in limbo during recent years.
Three renderings generated from the rooftop of 148 First Street show how dramatic the skyline's change is slated to be, as the Hudson River will likely not be visible from many vantage points if all the approved developments come to fruition. Jersey City has decidedly gone vertical over the last decade of growth, as the city is currently home to 13 of the state's 15 tallest buildings.
It is unclear how fast the yellow high-rises on the map could start rising in the real world, as many of the approved developments have yet to announce any firm groundbreaking dates.
Related: