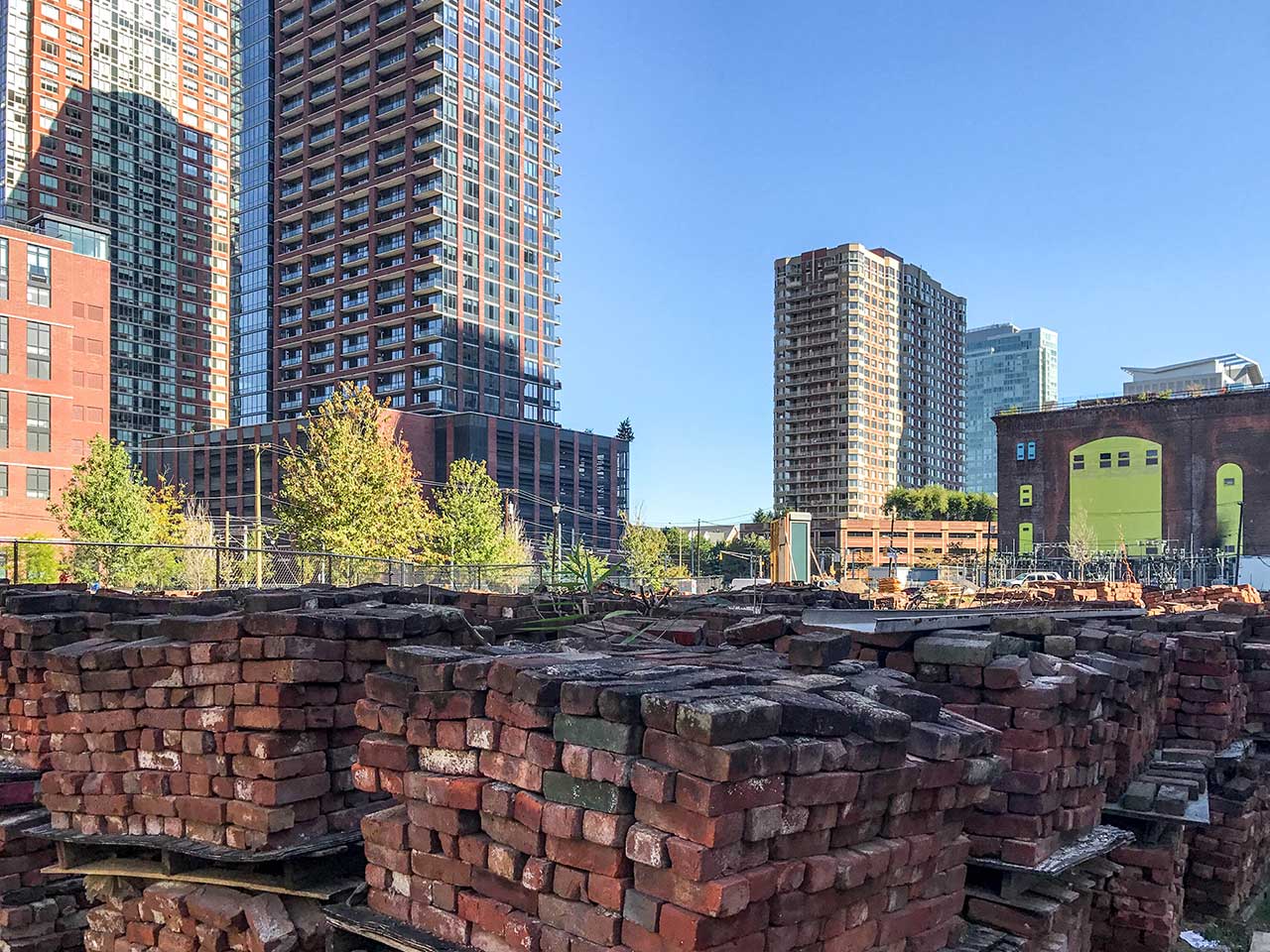 On Christopher Columbus Drive, among the row of murals between Barrow and Grove Streets, there is a poster that reads "111 1st Street". It's a temporary poster, adhered to the plywood that currently covers the ongoing expansion to South House Restaurant, and it momentarily connects the history of Jersey City to its present.
The story of 111 1st Street is detailed in David Goodwin's new book, Left Bank of the Hudson: Jersey City and the Artists of 111 1st Street. Goodwin, a past chairman of the Jersey City Historic Preservation Commission, became interested in 111 1st Street shortly after he moved to Jersey City and witnessed what he saw as an architecturally interesting building being torn down. Left Bank of the Hudson chronicles the history of the P. Lorillard Tobacco Company, the artist community that sprung up in Jersey City's rundown, post-industrial zone, the legal and political fight to save 111 1st Street and its community, and ultimately, the building's demolition.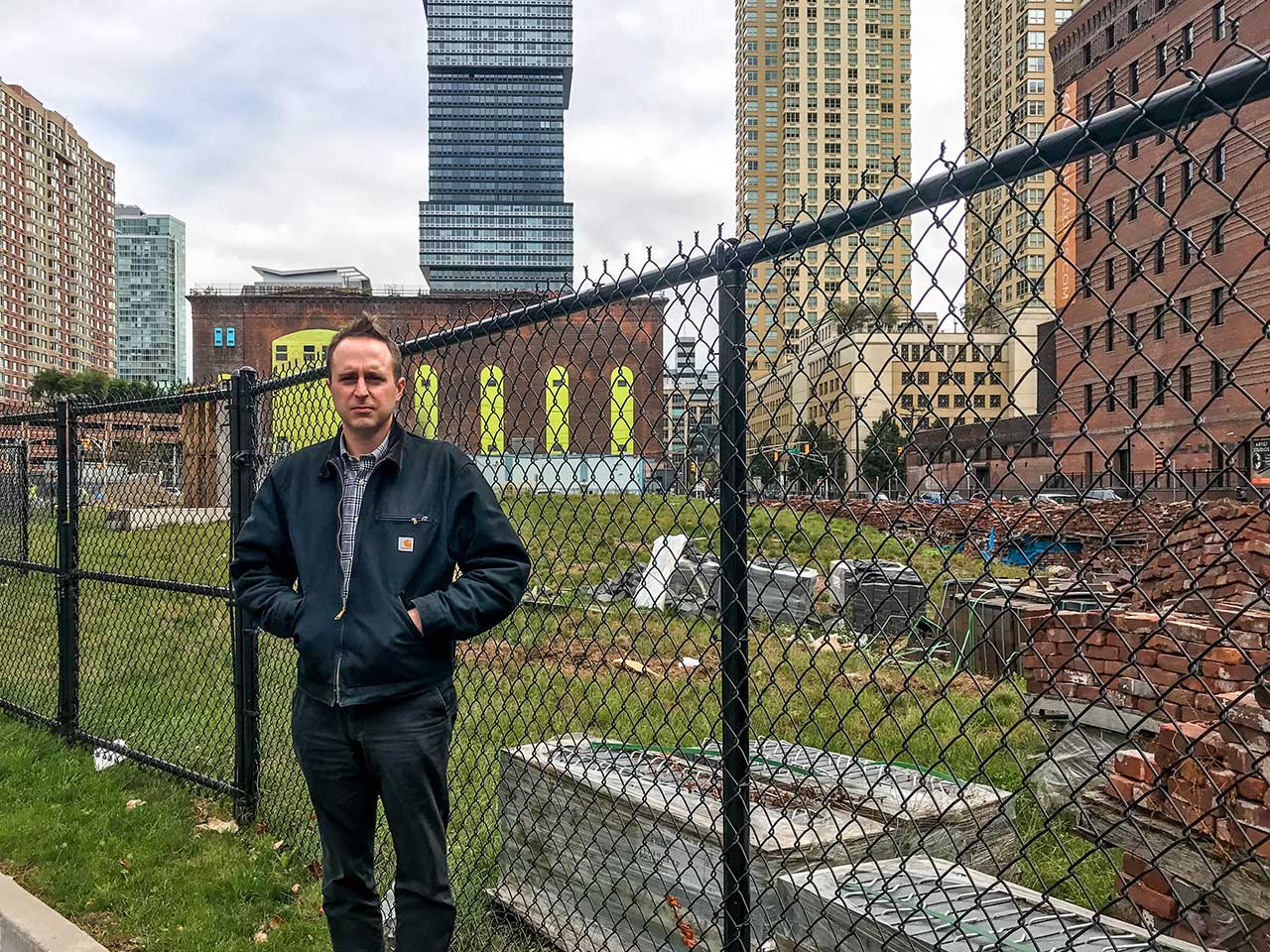 111 1st Street, located in the Powerhouse Arts District, is the site of the former P. Lorillard Tobacco Company warehouse that was built in 1866. The warehouse, until its destruction, served as a reminder of Jersey City's industrial heyday. The Lorillard plant ceased operations in 1956 and three decades later, artists began leasing the vacant commercial space as studios.
At the time, Jersey City was considered an ancillary arts scene to Manhattan and even Hoboken, and Goodwin explains in Left Bank of the Hudson, Jersey City still had a reputation for danger, poverty, and urban blight. Still, 111 1st Street was marketed solely to artists and it is estimated that 400 artists were working within walking distance of the building.
"I see artists as the canaries in the coal mine twice over," explains Goodwin. "So they're the first sign of change coming and then they're usually the first pushed out."
A clear sign of change occurred when New Gold Equities purchased two buildings – 110 1st Street and 111 1st Street – for $3.4 million in bankruptcy court in 1991. At first, the creation of an arts district in downtown Jersey City seemed likely; the city passed the WALDO ordinance in 1996 that intended to create an arts district. But by 2001, something shifted. Tensions between the artists and 111 owner, Lloyd Goldman, began to rise. At this point in the book, Goodwin dives into the interplay between the 111 artists and Goldman, the legal battles, the insular municipal politics and the gentrification process that ultimately culminated with the demolition of 111 1st Street in 2007.
The loss of 111 1st Street and its community has had a lasting impact on Jersey City. "111 could have been the beacon to draw artist in large numbers to Jersey City to Hudson County New Jersey, instead of just to Brooklyn," says Goodwin. "I think if this building was saved in some shape and this community saved in some shape, this really could have been the Powerhouse Arts District, which it's not today."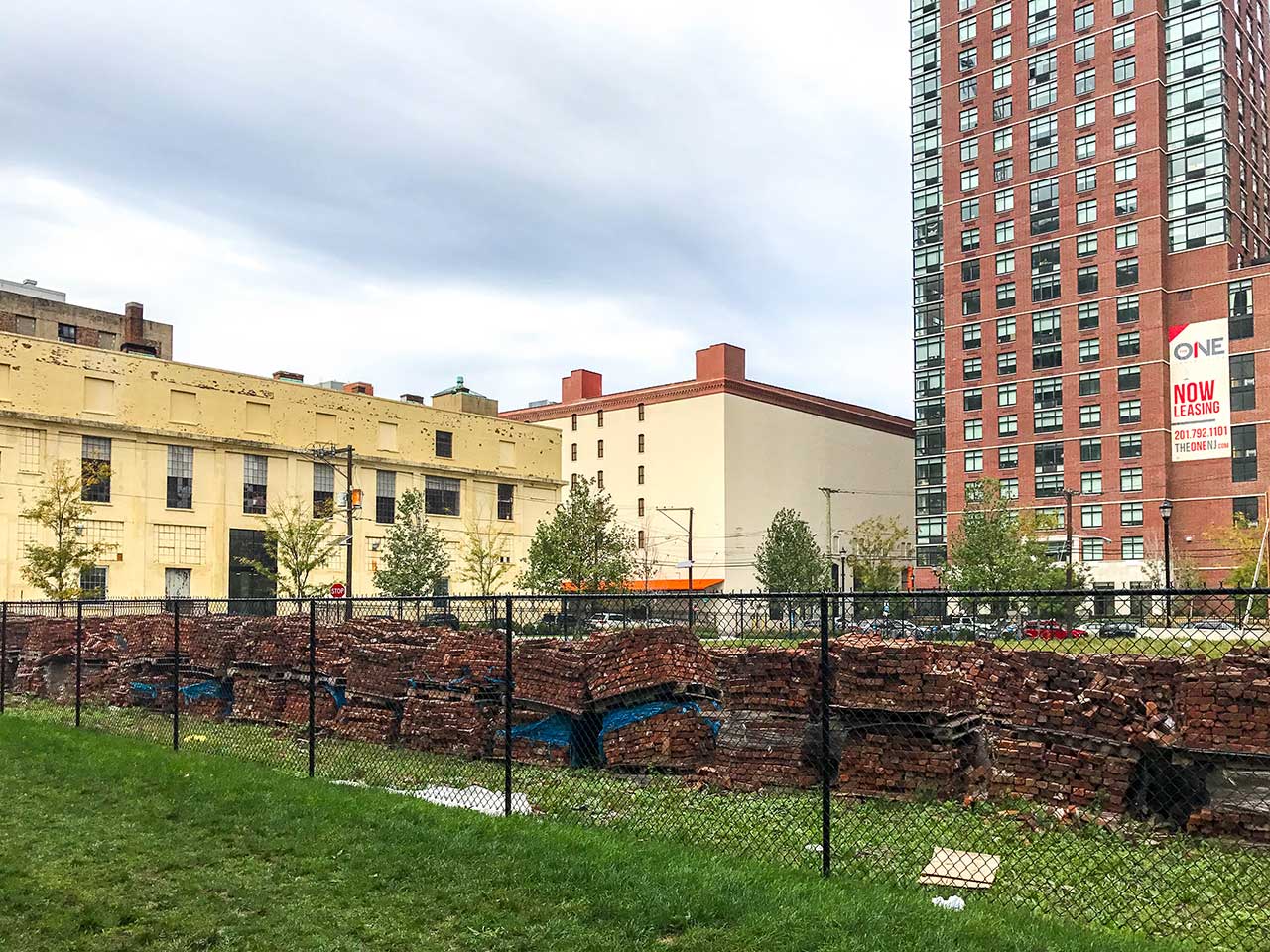 Today, 111 1st Street is a parking lot and the bricks from 111 sit, precariously stacked behind fencing on the corner of Bay and Warren Streets; they serve no apparent purpose.
At least one-quarter of the 111 lot is a staging ground for construction crews still working on The One, the luxury highrise that is now at the site of 110 1st Street. A strip of grass on Bay Street that runs parallel to Modera Lofts has become an informal dog park. (Modera Lofts, the former Butler Brothers building, now almost ironically markets artist's studios.)
"It's more of a mystery to me as why [the 111 lot] is not being developed," says Goodwin. "It's very weird to me that it's just sitting there. In some ways, if you just build something at least that'll be a better end to the story than letting it sit there because then it seems it was all for nothing."
The visuals of the empty lot are striking as new developments on Bay Street and Marin Blvd gain more height every day. The Powerhouse – itself an iconic Jersey City warehouse – sits adjacent to the empty lot, falling into disrepair. The iconic smokestacks were removed in 2013 and there is speculation that the Powerhouse cannot be preserved. (If the Powerhouse cannot be saved, Goodwin says, "it sort of raises the question of why is this neighborhood important because it's called the Powerhouse Arts District.")
For newer residents, 111 is a largely unknown story. Thus the story of 111 1st Street becomes an illustrative lesson for Jersey City to continue preserving its history and to make a place for the arts going forward. "I think there is a general sense among certain segments of the population that [Jersey City]'s changing rapidly and if places aren't preserved for artists and art in our city very soon, we might be living in a city we don't want to be in," says Goodwin.
Beyond Jersey City, the story of 111 resonates, especially in other post-industrial cities facing their own development and growth. "There's a universality here," says Goodwin. "People want to preserve what makes their cities interesting – whether that's a building or a community – and they see a building such as 111 1st Street as what makes a place worth caring about. One of the reasons why people keep moving back to cities is they want to feel that connection to a story larger than themselves."
Though the demolition of 111 1st Street is a great failure in Jersey City's history, it offers a guide for other communities in a similar situation. "That would be a great legacy for the artists of 111," says Goodwin, "if their loss could be others victory."