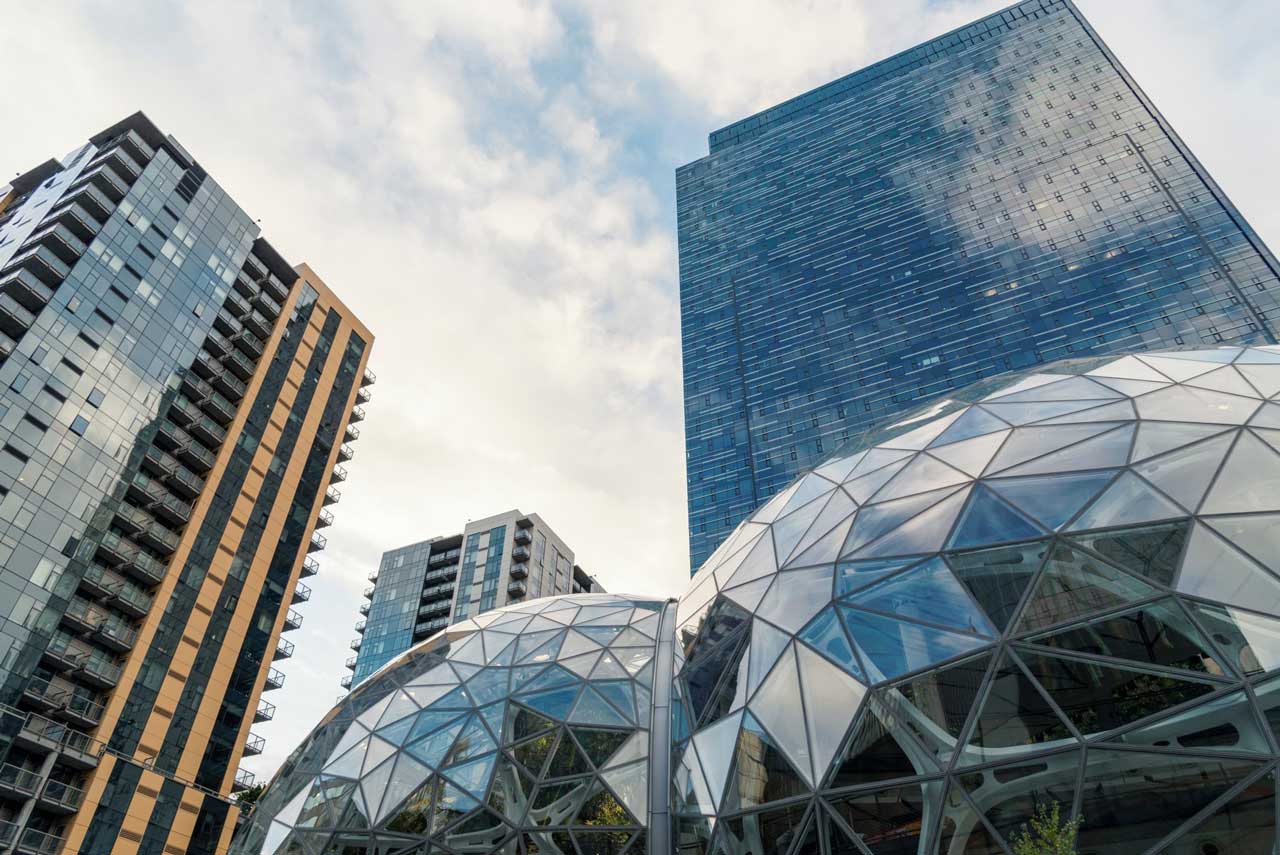 Last month, we obtained the application that was sent by Jersey City officials to Amazon in an unsuccessful bid for the company's second headquarters, or HQ2. In it, the city offered LeFrak's 700 Washington Boulevard in Newport and multiple Mack-Cali properties in Harborside as possible locations and stated that "all levels of government in and around Jersey City are fully supportive of making any adjustments to local, state, and federal regulations to ensure a successful Amazon development project." It was also mentioned that a separate document containing letters of support for Jersey City's bid was sent to the Seattle-based corporation.
Now, through a public records request, Jersey Digs has received all 31 letters that were sent to Amazon from local politicians, business leaders, and heads of local institutions. Several of the letters from corporate officials included similar sentences about what they feel are some of the benefits of moving a company to Jersey City, including state incentives, access to talent, and employee satisfaction. Others discussed the properties that they own and their history in Jersey City. The names and affiliations of all those whose letters were included are as follows:
-David J. Arena, Global Head of Real Estate at JPMorgan Chase & Co.
-Michael C. Bodson, President and Chief Executive Officer at DTCC
-Peter Bottega, Director and Head of Corporate Real Estate Services for the Americas at Societe Generale
-Anthony Cammarata, Jr., Managing Director at Goldman Sachs
-Andrew Campbell, President at Eastern Millwork
-Annette Chaparro, Assemblywoman for New Jersey's 33rd District
-Nicholas A. Chiaravalloti, Assemblyman for New Jersey's 31st District
-Sandra B. Cunningham, State Senator for New Jersey's 31st District
-Thomas A. DeGise, Hudson County Executive
-Alan Dixon, Managing Director and Chief Executive Officer at Dixon Advisory USA
-Steve Goldstein, Executive Vice President and General Counsel at Tokio Marine America
-Paul Davies, Chief Financial Officer at Tory Burch
-Michael J. DeMarco, Chief Executive Officer at Mack-Cali Realty Corporation
-Paul and Dan Fireman, Founders at Liberty National Golf Club
-James LeFrak, Vice Chairman at LeFrak
-Liberty Science Center (No Name Provided)
-Donald J. Liloia, Senior Vice President at NY Waterway
-Angela V. McKnight, Assemblywoman for New Jersey's 31st District
-Peter Mocco, Managing Member at Liberty Harbor North, LLC
-Carol Mori, Executive Director at Garden State Episcopal Community Development Corporation
-Raj Mukherji, Assemblyman for New Jersey's 33rd District
-Maria Nieves, President and Chief Executive Officer at Hudson County Chamber of Commerce
-Mike Perlis, Chief Executive Officer and Chairman at Forbes
-Jeffrey Persky, Executive Vice President at Kushner Real Estate Group
-Vincent Prieto, (Former) Speaker of the New Jersey General Assembly
-James Rhatican, Vice President of Land Use and Development at Hartz Mountain Industries
-Joseph F. Scott, President and Chief Executive Officer at Jersey City Medical Center
-Brian P. Stack, State Senator for New Jersey's 33rd District
-Scott G. Stephenson, Chairman, President, and Chief Executive Officer at Verisk Analytics
-Marco Taglietti, M.D., President and Chief Executive Officer at SCYNEXIS, Inc.
-Ning Yuan, Chairman and President at China Construction America
Of the seven that applied, Newark was the only New Jersey municipality that was selected by Amazon as one of the 20 finalists. The city's application also featured multiple letters from leaders of local companies and organizations, with several previewing upcoming development projects that were previously undisclosed to the public.
Click here to view all of the letters of support that were included in Jersey City's HQ2 application.