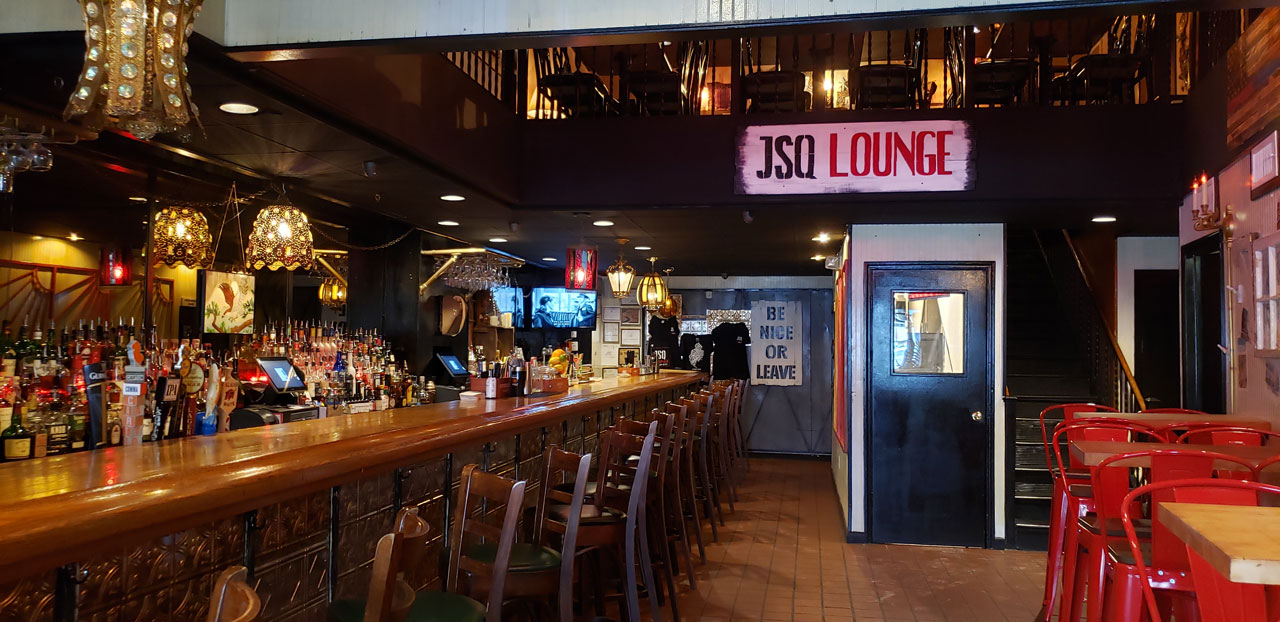 Jersey Digs has been reporting on the evolution of the beloved Journal Square Pub into JSQ Lounge since late last year when bar owner Joseph Barone sold the neighborhood staple after 28 years. Closed in early 2019 for a two-week deep spring clean, JSQ Lounge debuted its old-school-new vibe in mid-March and has been staying true to the regulars while steadily welcoming newcomers since.
New owners and Jersey City natives, Frank and Sebastian Cupo, were adamant from the start that JSQ Lounge would be a "Jersey City bar for Jersey City, by Jersey City" and they have keenly incorporated the colorful history of this place while leaving some breathing room for it to grow with the neighborhood.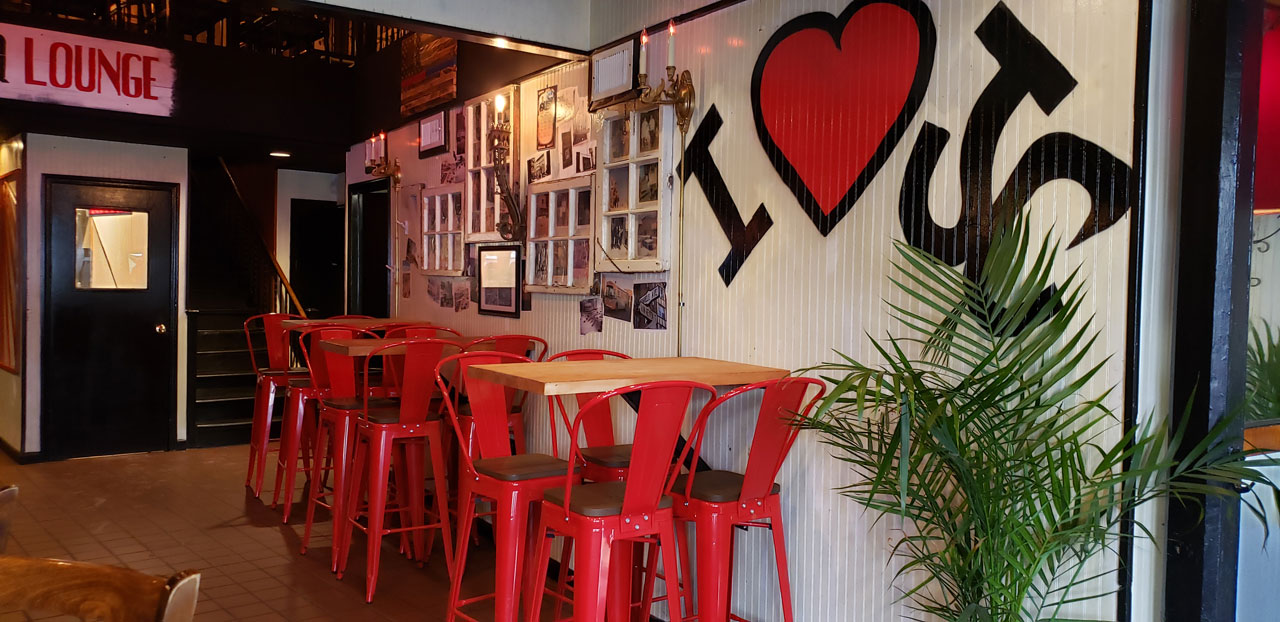 Tory Aunspach, co-owner of everyone's favorite seafood shack Hooked JC, was brought in to manage the transition from Pub to Lounge and is spearheading the scratch kitchen that is now in the soft opening phase. With an energetic and infectious work ethic, he is really good at what he does, particularly hiring, training, and managing staff, and it shows. Behind the bar, friendly bartenders craft classic cocktails as easily as they sling a beer and a shot — "The Waldorf of dive bars," as Tory likes to say.
Also purveyors of all things local, JSQ Lounge serves Corgi Spirits, Misunderstood Whiskey, and Jersey City's Departed Soles as well as Hoboken's 902 beer on tap among others. This local classy but unfussy feel extends to the refreshed interior thanks to interior designer and expert visual merchandiser Cindy Blanco and her tireless commitment to the project. "JSQ Lounge is the coolest thing I've done in my 36-year career," Cindy told Jersey Digs.
Having worked with the Cupos for years, they trusted her vision implicitly with one catch — she had to check out Sebastion Cupo's storage which was packed with things salvaged from pre-war building renovations over the years. Cindy was skeptical, but she also had next to no budget, so she took a look. After having what she described as a happy freak-out, she put a post-it on every piece she wanted and her kitschy vintage vision came to life.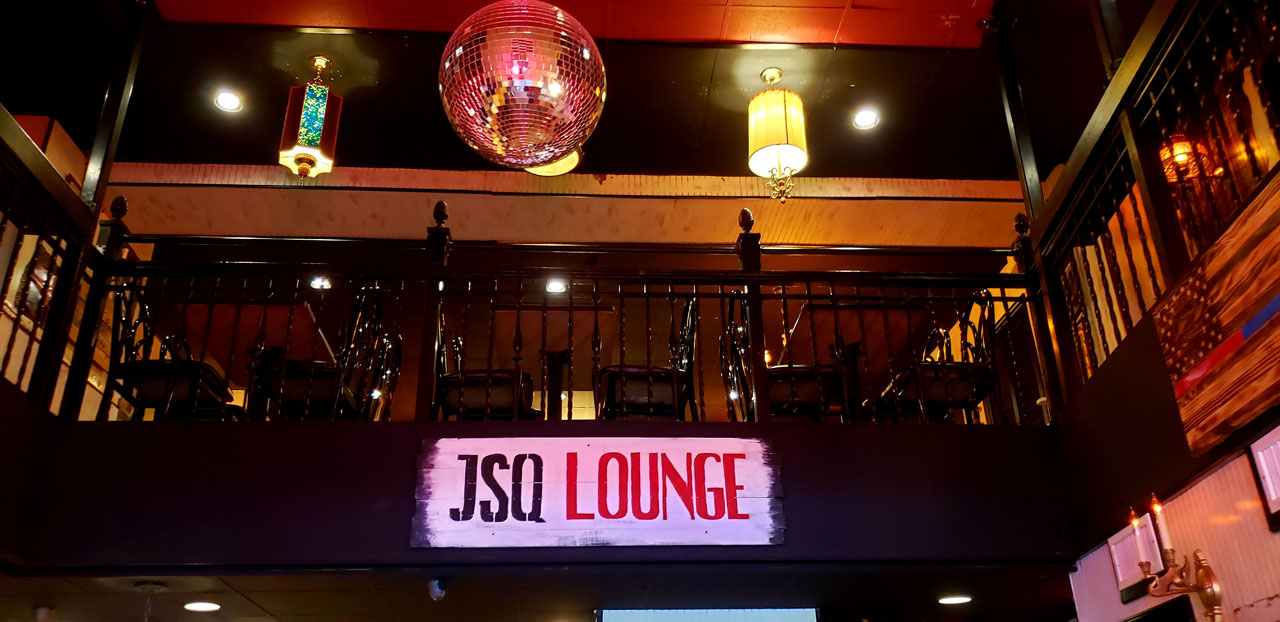 Nearly everything in the bar is from the 60s, 70s, or earlier, including the gorgeous antique light fixtures hanging throughout. Cindy worked day and night to transform the space, layering elements throughout for a historical worn-in feel.
A glittering disco ball hangs right in the center of the double-height ceiling. And the wall clock from the original Tube Bar glows neon pink day and night. The custom wooden bar is also from the original Tube Bar and was designed for a standing-room-only crowd. The story goes that only the Tube Bar's owner, former heavyweight boxer Louis "Red" Deutsch, had a seat and everyone else stood, leaning on the bar's wide curved edge. But times have definitely changed — women weren't allowed in the Tube Bar until 1974 — and chairs now line the bar which runs nearly the entire length of the first-floor space.
Upstairs is more like a mezzanine, overlooking the level below, and is ideal both for larger groups with some four-top tables and a cozier rendez-vous with comfy couches and chairs. Cindy's 1980s East Village inspiration really shines with plenty of funky tchotchke making this space feel quirky, cool, and unpretentious and you will not want to leave until last call.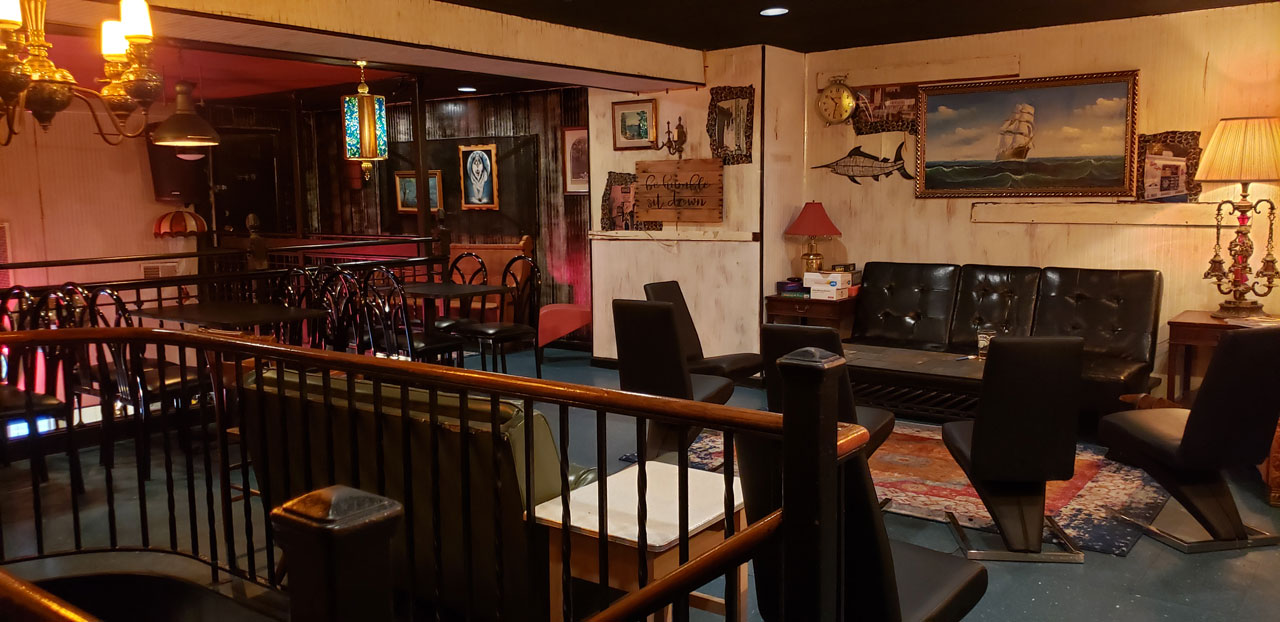 Downstairs is a work in progress but Joe Barone's ingenious hand-welded keg chutes are still in working order and the basement level promises to be lively with a full bar; games like shuffleboard, pinball, and maybe a classic arcade game or two; and a space perfect for private events and eventual programming. Tory envisions JSQ Lounge as something for everyone without seeming like it's all over the place and a place where you can make a whole day and night of it.
While considering the menu, Tory sat down with fellow chef Caroline Phillipuk and rapped awhile about what cuisine could both reflect and distinguish the neighborhood. After a few drinks, they settled on the chicken wing, but not just any chicken wing or one kind of chicken wing. Wings will be the signature staple and a medium for exploring a myriad of flavors from Tikka Masala and Chinese 5 to Buffalo and Carolina BBQ, mirroring the crossroads of cultures that Journal Square has always been. The JSQ Lounge scratch kitchen offering is now offering a full menu with vegetarian options as well, beginning with service from 5 p.m. to 10 p.m. with hours soon extending from noon to 1 a.m.
Joe Barone started at the NYC bar Prospect Palace in the late 1940s after returning from World War II and owned at least half a dozen more bars over the years. He's known to be very generous around the neighborhood, saying he promised himself when he came back from the war that he would never refuse anyone who asked for help. Mr. Barone still stops in and really likes what's been done with the place. So much of what is now JSQ Lounge is his history preserved, his legacy, and we can all drink to that.
JSQ Lounge is open seven days a week: 12 p.m.-2 a.m. Sunday through Thursday and 12 p.m.-3 a.m. Friday and Saturday. Stop in for happy hour every weekday from 3 p.m.-6 p.m. And check out their Instagram (@jsqlounge) for the latest and a taste of Jersey City, old and new.
Related: