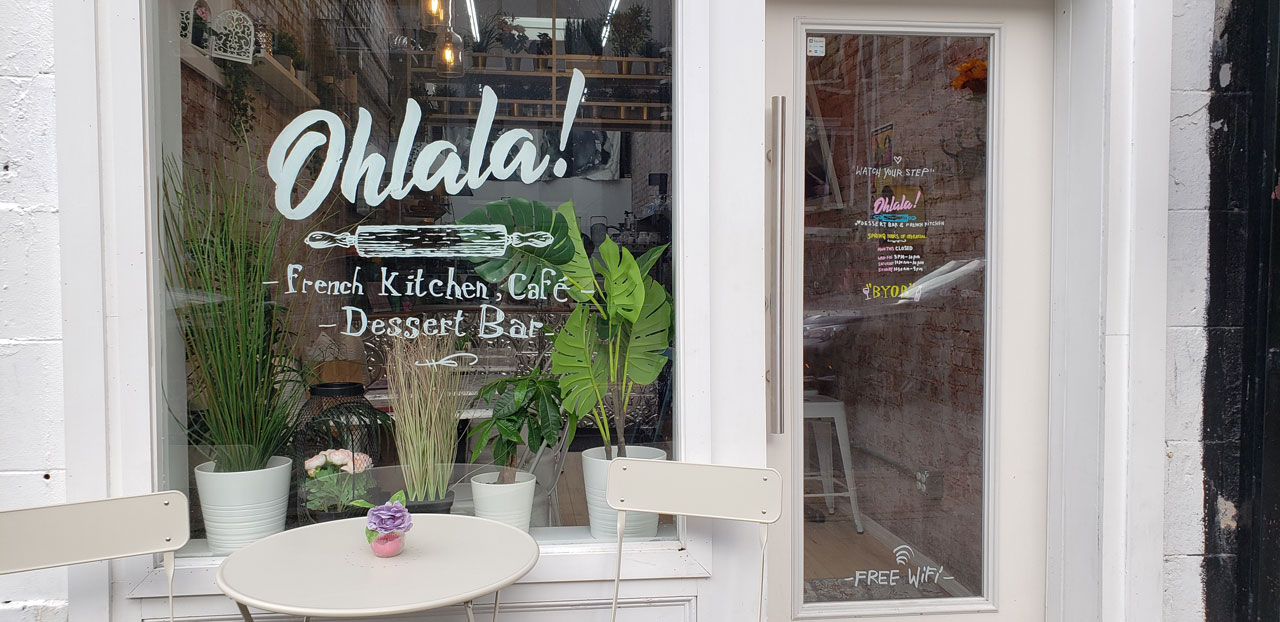 If you've been to France, then you know the unmistakable scent of fresh butter sizzling on a griddle and the heavenly taste of an authentic crepe — perfectly thin and delicately folded to contain its sweet or savory filling. But whether you have been to France or not, now you only really need to go as far as Ohlala in Jersey City for the real thing. Open since March at 688 Bergen Avenue, Ohlala French Kitchen is bringing bona fide French fare to McGinley Square in an impossibly charming space.
The sweet storefront welcomes immediately with a bright white facade and a single cheery sidewalk table and chairs. Three lights above the exterior arched detail lend a farmhouse feel, adding to the quaint country kitchen look, and the hand-painted window invites all who pass by to stop in with an exclamation point and a cute rolling pin.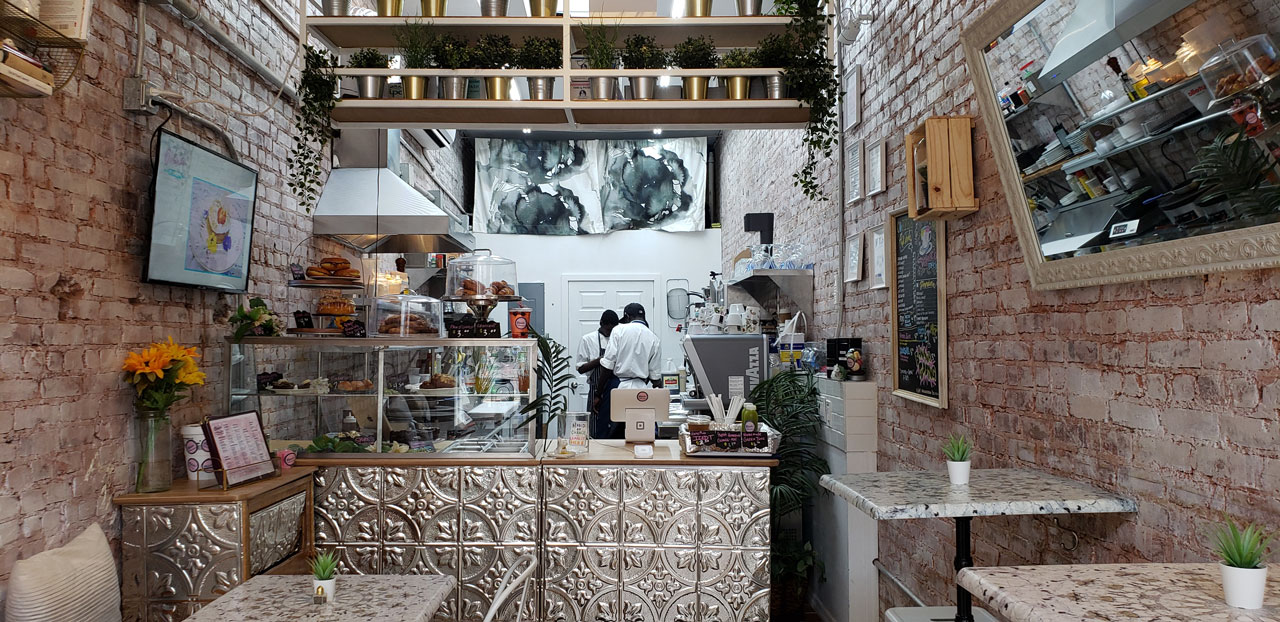 Lined with green plants and flowers, the large windows let in loads of light and the high ceilings create an airy interior. Once a barbershop, Ohlala's owners Diana Vasquez and Ariles de Tizi embraced the bittersweet opportunity of the vacant space after the original owner passed away.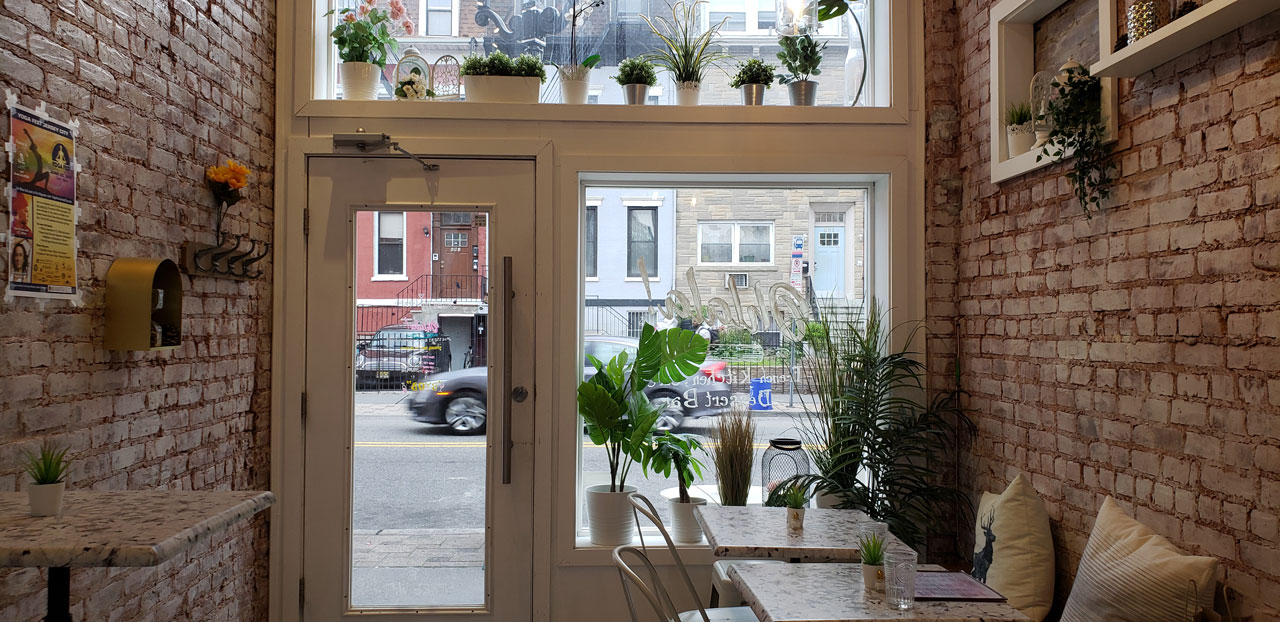 Vasquez is a Jersey City native, born and raised in The Heights, and a commercial real estate broker while de Tizi is a French painter with years of Parisian restaurant experience — a matchup made for a beautiful build-out and a veritable French menu.
Warm and chic with hardwood floors and exposed brick they scrubbed and painted and varnished themselves, Ohlala is the kind of kitchen-cafe-bar where a cup of coffee turns into hours of socializing over a full meal. Seating is varied with low tables offering cozy bench seating along one side and a few high tops along the other. Pretty pendants lights punctuate the dining area and a large elegant mirror adds dimension.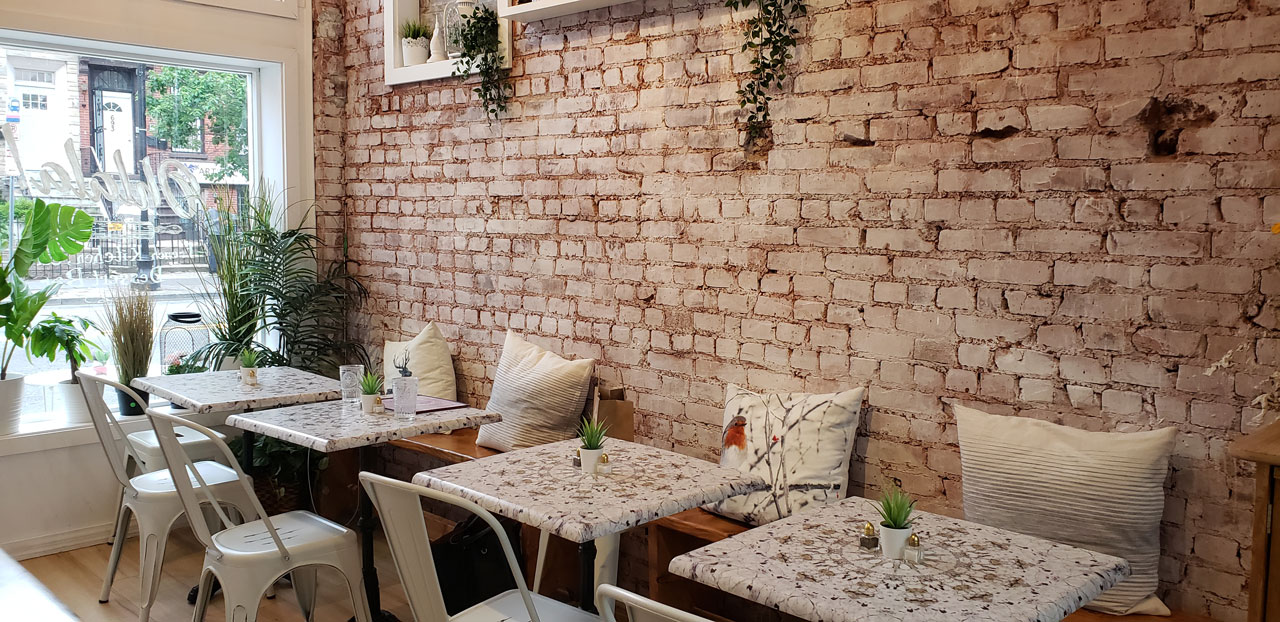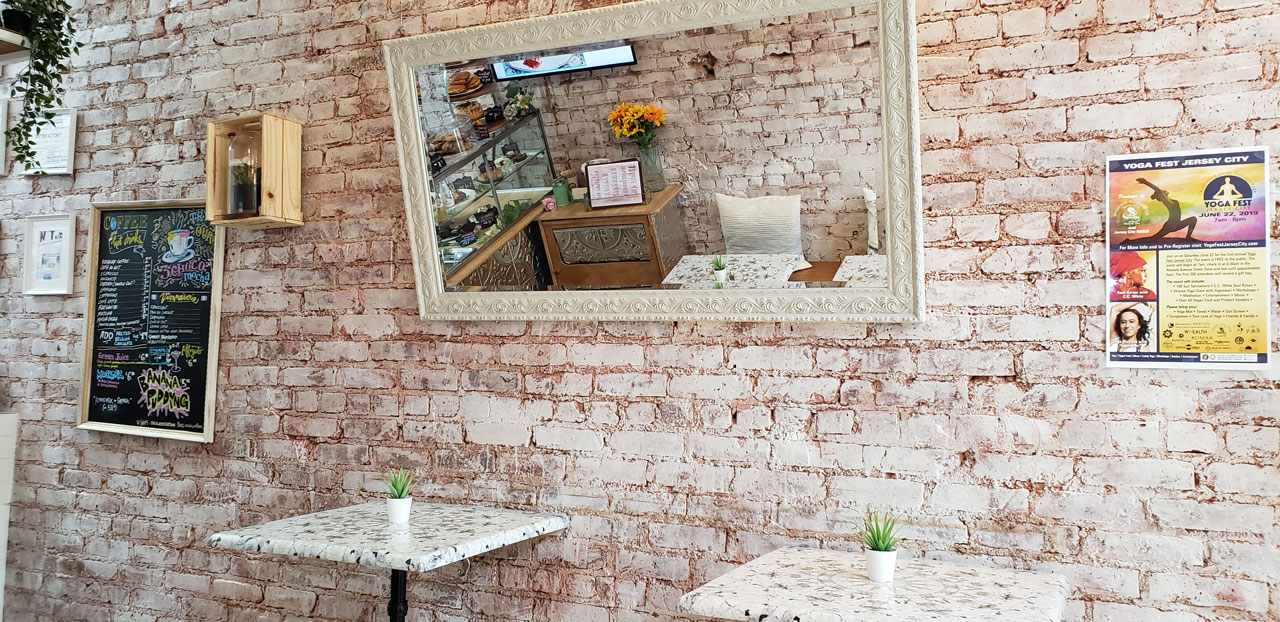 The eye is immediately drawn to the beautiful bi-level plant stand hanging immediately over the service counter clad in shiny pressed tin and then to the extensive menu of French specialties. A full coffee and pastry offering is just the beginning as Ohlala serves breakfast, lunch, dinner, and dessert, as well as brunch on weekends. In addition to sweet and savory crepes, try a tartine or a classic croque; the curry chicken bowl is a customer favorite and salads plus vegetarian and vegan options round out the menu.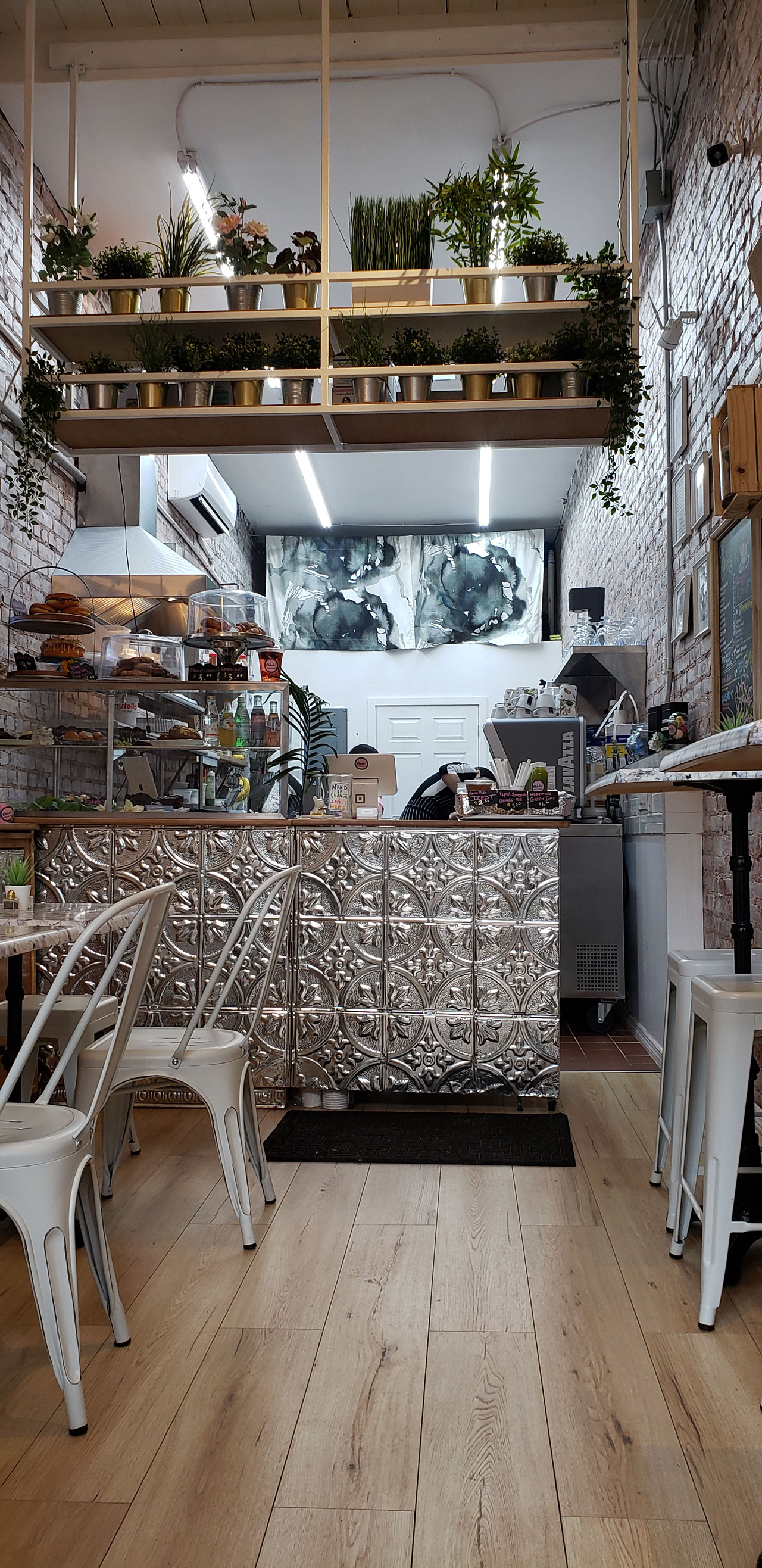 And do not even consider skipping dessert. The French Donut, filled with praline cream, is their sought-after signature and the banana pudding is a big hit. Ohlala is also BYOB and it's easy to see how this darling space can go from day to night, from cappuccino to nightcap, seamlessly.
Vasquez and de Tizi love the McGinley Square area and are thrilled to serve and grow with the community. The neighborhood continues to embrace the concept and in response, Ohlala has extended their hours and is available to cater as well. You may also find them on Grub Hub for delivery and on Instagram (@ohlalafrenchkitchen) for mouthwatering food photography.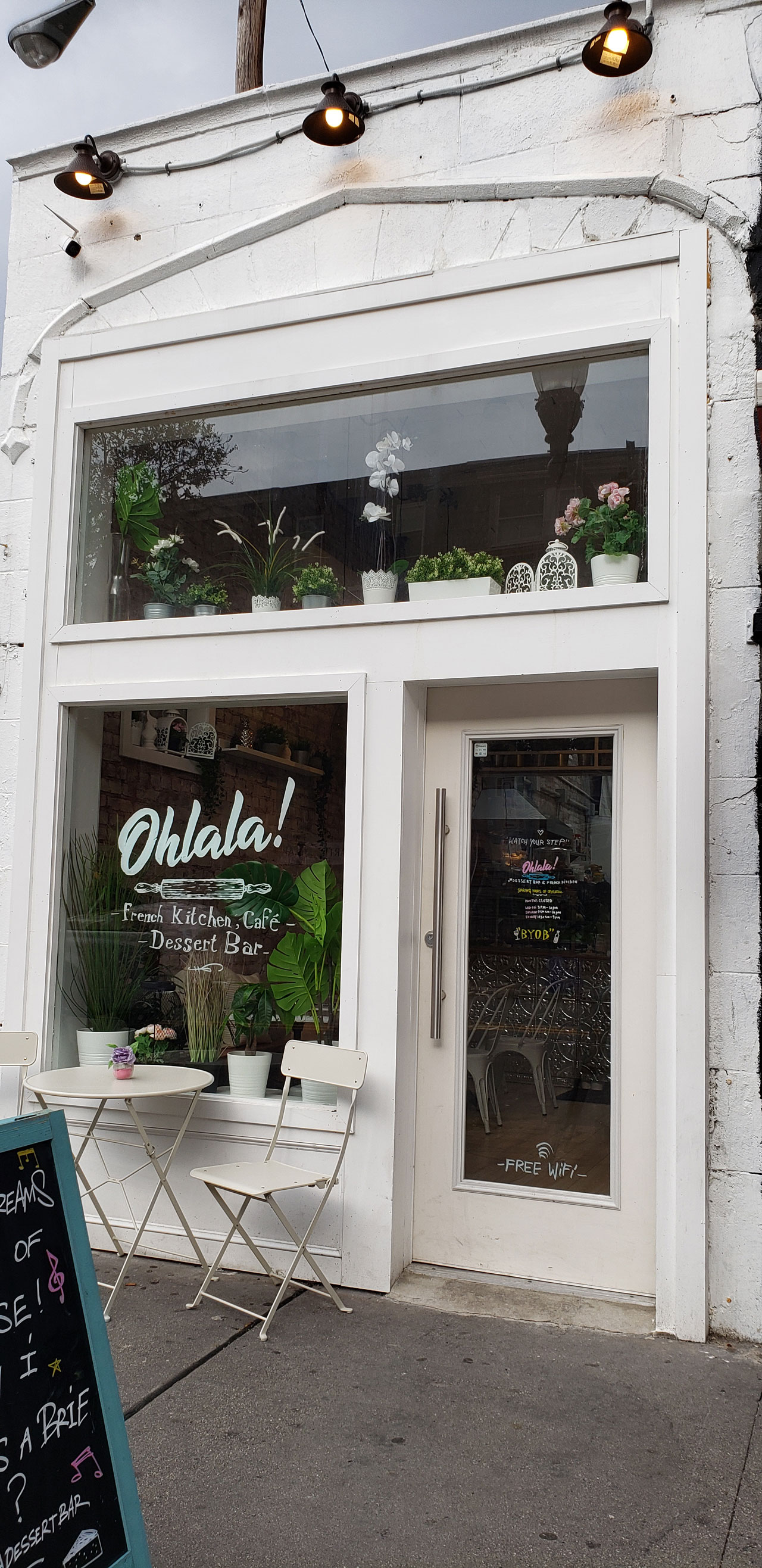 Ohlala French Kitchen is open Tuesday-Friday from 7 a.m.-3 p.m. (breakfast and lunch) and on Wednesday, Thursday, and Friday from 6 p.m.-11 p.m. for dinner. Weekend hours are Saturday 10:30 a.m.-11 p.m. (brunch and dinner) and Sunday 10:30 a.m.-10 p.m. (brunch and dinner).
Related: