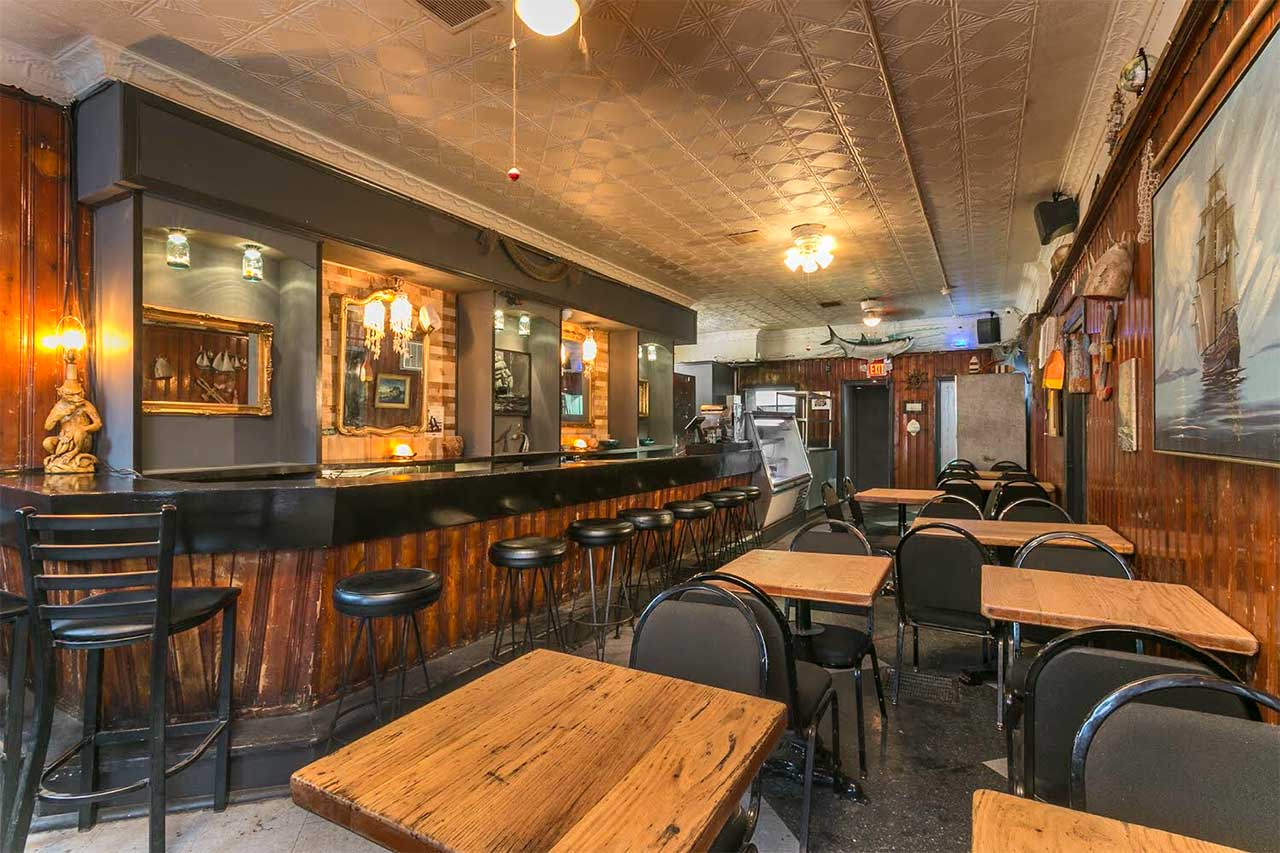 With front windows that resemble portholes on a ship and knotty pine paneling on the walls, 467 Communipaw Avenue has all the salty charm of an oceanside seafood shack only smack dab in the middle of Bergen-Lafayette. Built in 1848, the building has been home to a few restaurants over the years, and since April, partners and first-time restaurant owners Natalie Miniard and Tory Aunspach have been working tirelessly, uncovering what the space was maybe always meant to be–Hooked JC.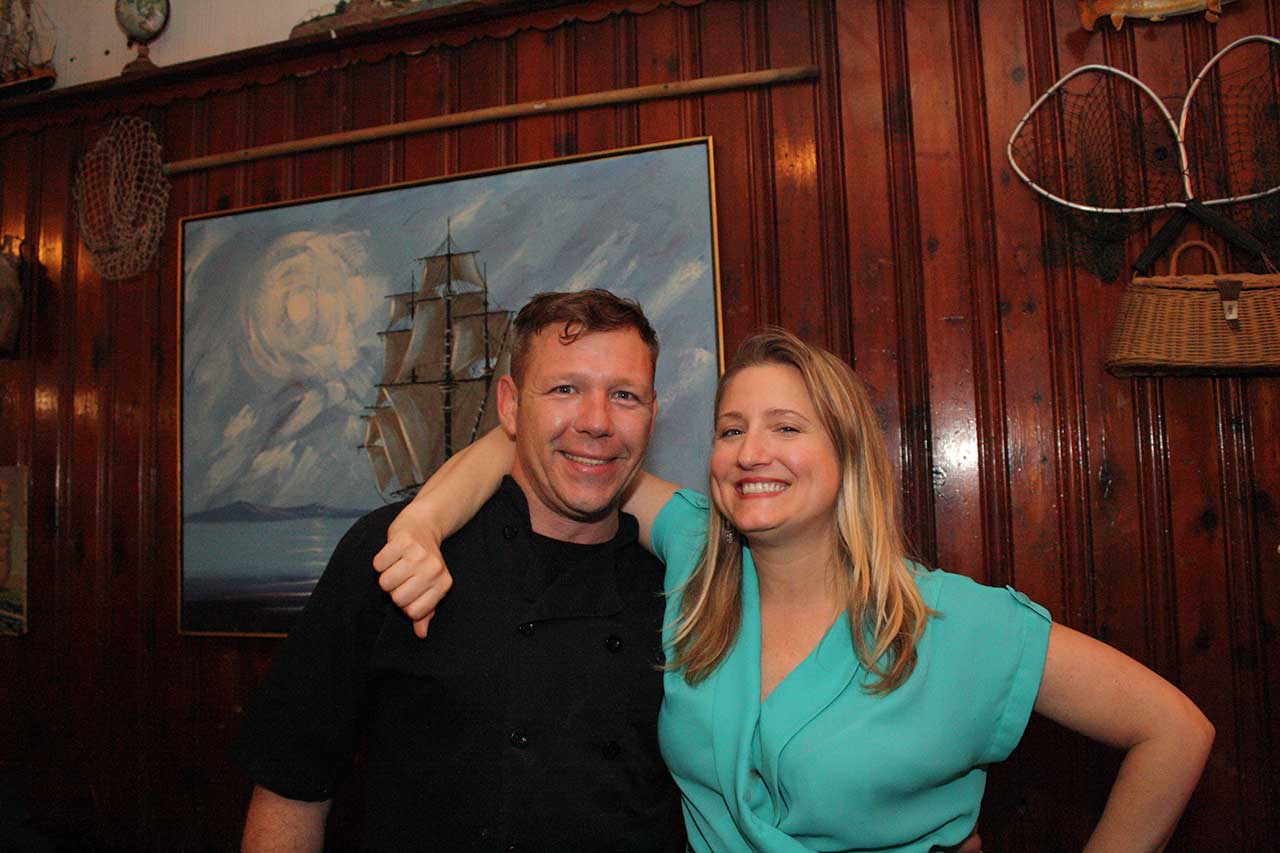 Natalie and Tory go way back. Their story sounds as serendipitous as finding perfect pine paneling under water damaged sheetrock, but detail after detail makes it clear that more than chance brought them here. Natalie and Tory went to the same middle school and high school in Florida, riding the bus together for years; fast-forward to not too long ago when they reconnected through the magic of Facebook and each were in a uniquely qualified position to partner up on this restaurant adventure.
Natalie is an established and successful real estate broker in Jersey City with an infectious passion for building and strengthening the community through real estate. Tory is a lifelong hospitality professional who worked most recently as a chef on private luxury yachts, sailing along the shores of the Bahamas and Baja, and has an easygoing expertise that has already brightened up this corner of the neighborhood.
After Tory thoroughly impressed Natalie with his cooking and presentation skills at a pop-up dinner party they attended, she knew he needed to open something in Jersey City. Seafood seemed to be lacking, so they set out to find their shack and that is truly where fate stepped in. The space is so perfectly suited, you would think the building came before the concept.
Tory, who took the lead on the project as Natalie has a real estate office to run, worked day and night to create a space perfectly befitting the concept. A shoestring budget spent at countless auctions and estate sales informed the decor in the best way with old paintings of tall ships, big mounted fish for the walls, and sea shack nicknacks. Everything has been either cleaned up or repurposed right down to the 1960s linoleum floor and the mason jar light fixtures filled with Natalie's grandmother's shell collection.
Tory's seafaring experience hooked him up with the fishermen who will soon be his purveyors. It will be a fresh sea to table menu and he literally knows the people pulling the fish out of the water. Simple counter service will offer 3 fresh catch options blackened, grilled, or fried as a po' boy sandwich, platter, or salad. Chicken, steak, and veggie options are available, too with eight different housemade sauces to top it all off. Eventually, they plan to sell the same fresh caught raw fish to go as well.
The neighborhood has been more than welcoming, peeking in on the progress for months and stopping to tell their stories of the bars and restaurants that came before. Many residents have come in to fill out a job application and Tory is sure he can assemble a great kitchen and counter crew mostly from the neighborhood.
The building really revealed itself during renovation–even a fishing pole was found in the basement which now hangs over the bar. Natalie and Tory have come a long way since buying a payphone at auction just hoping there were quarters inside (there were!) and they credit everyone that helped them along the way for getting them to this point, including the city inspectors who were very helpful to the aspiring entrepreneurs. They wanted to open the kind of place where you might find the mayor standing next to the garbage man in line and it already feels like the hole-in-the-wall joint everyone will be talking about. Opening on or near July 1st, head to the seafood shack in Bergen-Lafayette and you'll be Hooked!
Be the first to know when they open by liking Hooked JC on Facebook or following them on Instagram @HookedJC.
Correction – A previous version of this article incorrectly stated the building was built in 1948. It's been updated to reflect the correct date, 1848.