Weekend Walks is our weekend column where we explore the photographic beauty of various neighborhoods through the lenses of history, architecture, and commerce.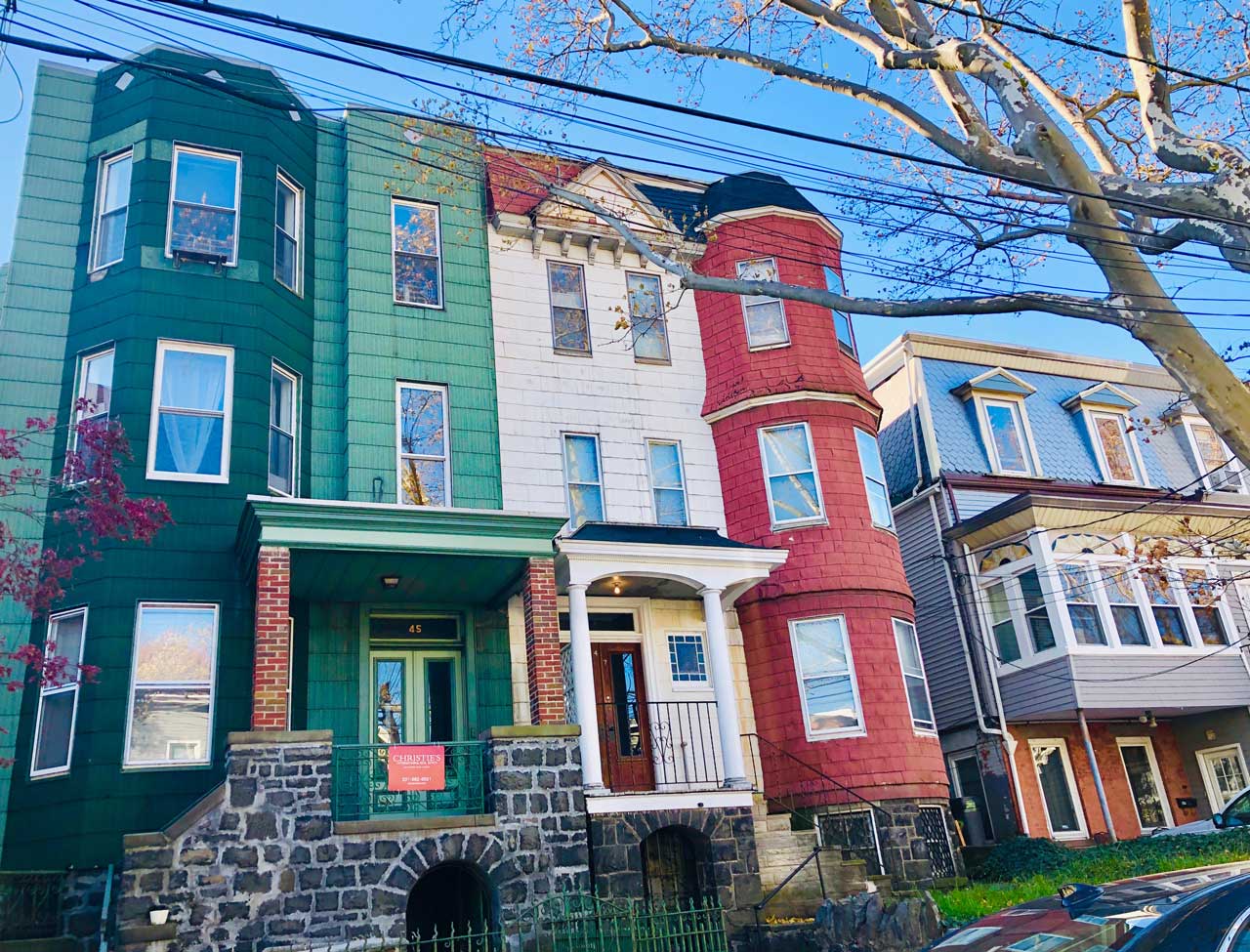 When a neighborhood becomes popular and trendy, how does one prevent it from also becoming so crowded that its character changes completely? Often by the time politicians and the general public realize an area is getting attention, it's too late to stop the transformation. But somehow Jersey City Heights — the community atop the Palisades overlooking Hoboken — has managed to maintain its neighborhood feel, with historic houses, tree-lined streets, and art festivals among newer eateries and bars.
(If you're interested in relocating, chat with the real estate experts at our partner 
Triplemint
).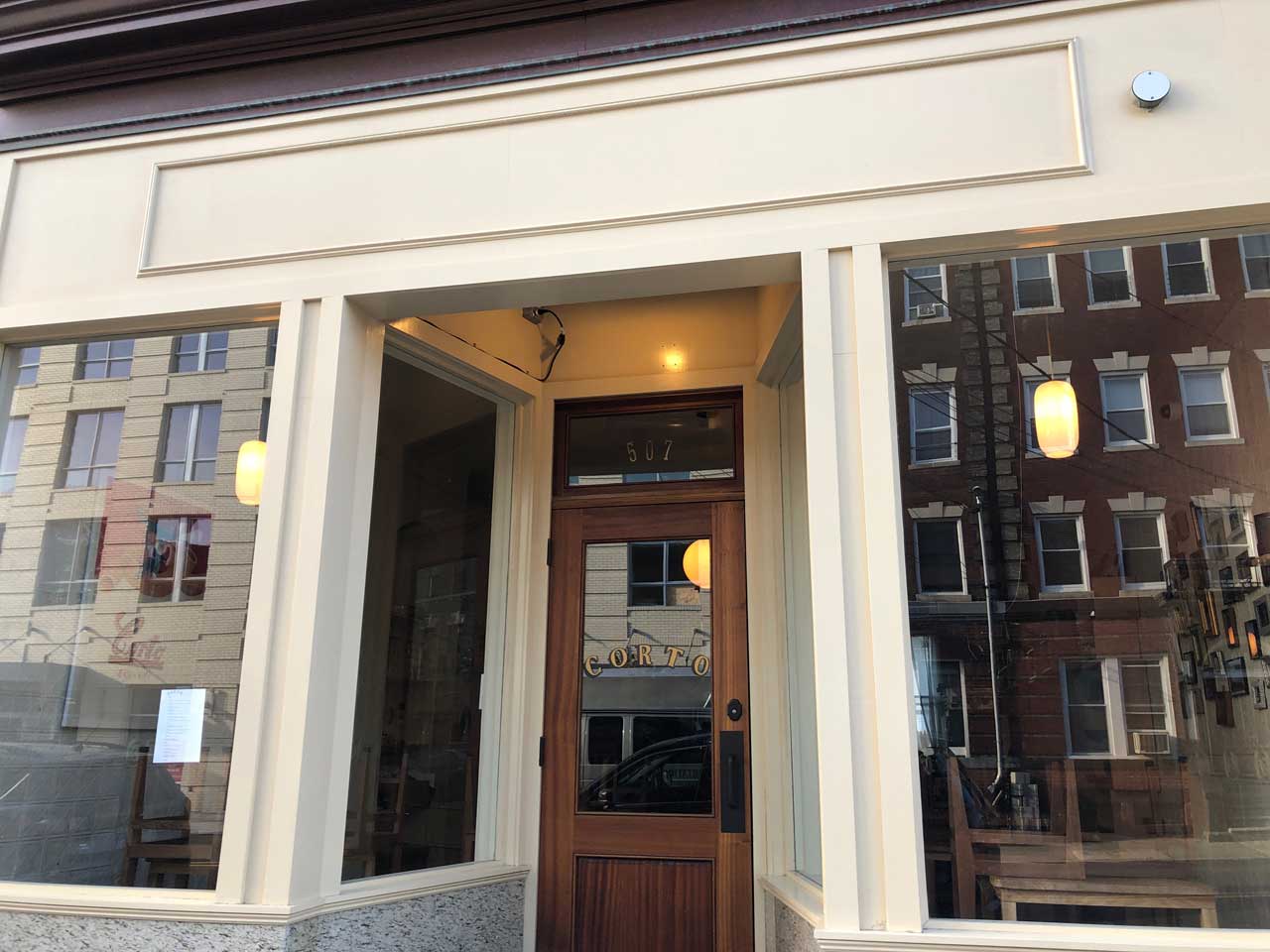 "Heaven on earth!" shouted resident Betsy Hamilton, a senior citizen, from the porch of her Ogden Avenue home on a recent Friday afternoon, when asked what she thinks of the neighborhood. She moved here with her family in 2003. "It's a wonderful place for families," she said, adding hastily, "And dog owners." Her little black dog, Bean, pranced on the sidewalk, seemingly agreeing.
"People said to us, you're crazy to open a coffee shop here," said Travas Clifton, a few blocks away, as he brought supplies to his popular coffee shop, Modcup on Palisade Avenue, across the street from scenic Riverview-Fisk Park. He opened the shop in 2014. Besides its coffee, the cafe is known for its refusal to give out a wifi password, an effort to keep customers chatting instead of staring at their devices.
Some worry about rising prices in the Heights — older single-family homes have sold this year for nearly $1 million — but they're still glad to be here. (If you're interested in relocating, chat with the real estate experts at our partner Triplemint).
"When I moved here [in 2010]," said resident William Spencer, a photographer who's making a documentary about diners, "there wasn't one shop where you could go sit down and have a cup of coffee. There wasn't a cool place to eat lunch. It was pre-gentrified. But if people tell the secret, and they tell two friends, and they tell two friends, the secret's over. There are too many people."
Still, he says he's made friends and expanded his worldview just by sitting in Modcup and other nearby shops. "There's an arts scene," he said, "there's an LGBT community. I've heard every kind of political view." (Modcup is in an area known as the Riverview Arts District.)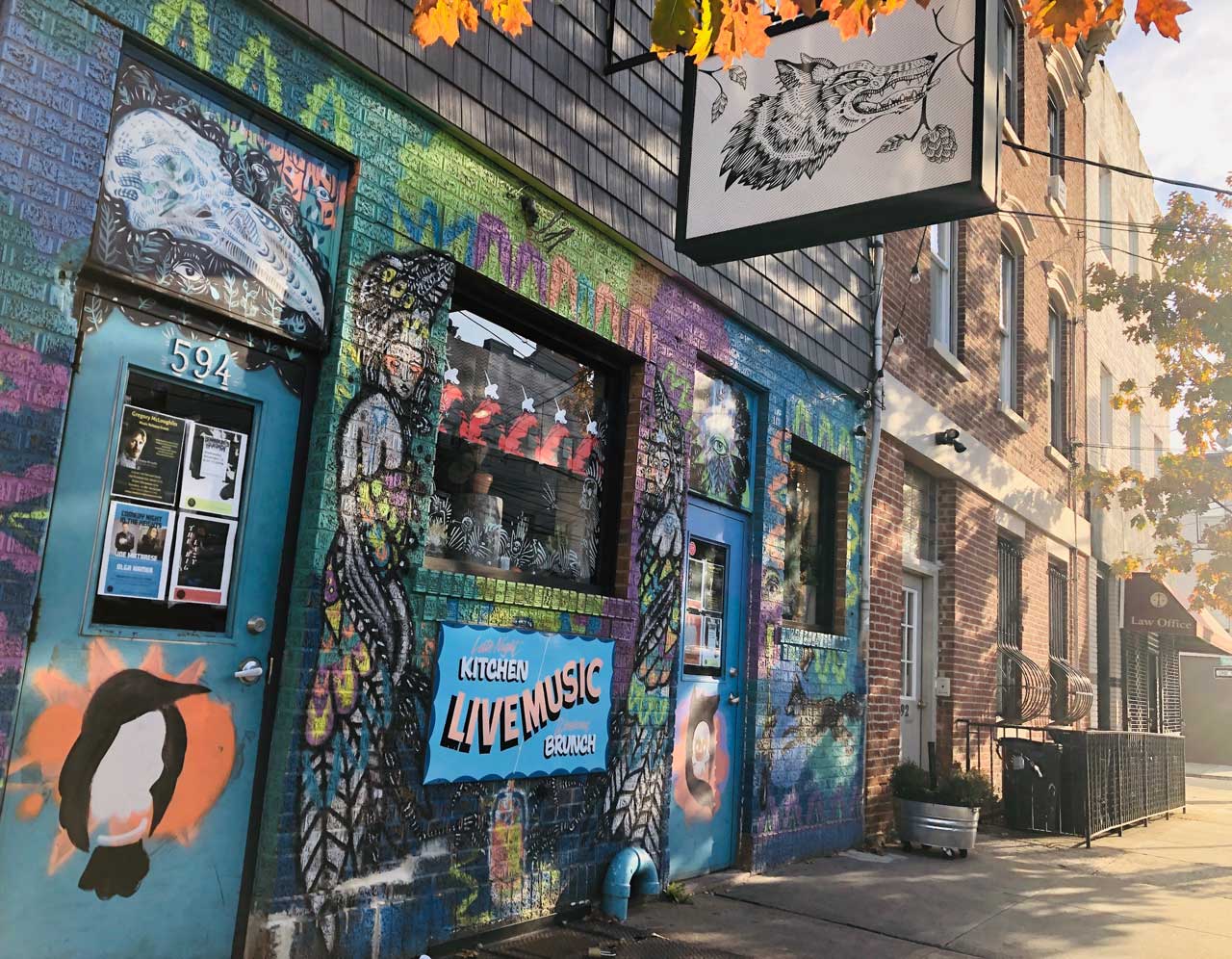 Clifton said that the newer business owners and artists are "risk takers" who don't just conform to trends, and are more creative with their offerings.
While The Heights does have several larger residential projects underway and completed — such as Laidlaw Lofts, an adaptive reuse of an old laundry business that served cruise liners — those developments aren't as common a sight as the smaller home rehabs. On weekdays, the sounds of power tools pierce the quiet and demolition dumpsters line the streets. (At one point, the mayor instituted a temporary demolition ban that received pushback.)
"This is a nice quiet spot," noted a nanny who was watching a toddler in tiny Janet Moore Park, a playground at the end of Ogden Avenue near a public garden and giant wall mural. "The people that come into the park are very nice. We've made friends with everybody." She and a resident who just moved there, who was watching her neighbor's child, agreed there were downsides to the area too — it's hard to keep a car, for instance. But they liked the ease of the commute. (Residents can use the "100 Steps," buses, or the Ninth Street light rail elevator to get down the hill to Hoboken's train stops.)
Evidence of the neighborhood's artsy feel is everywhere — on a bright red house with its own name on a sign, it's called Rouge, and another house nearby that has a distinctive hand-painted door.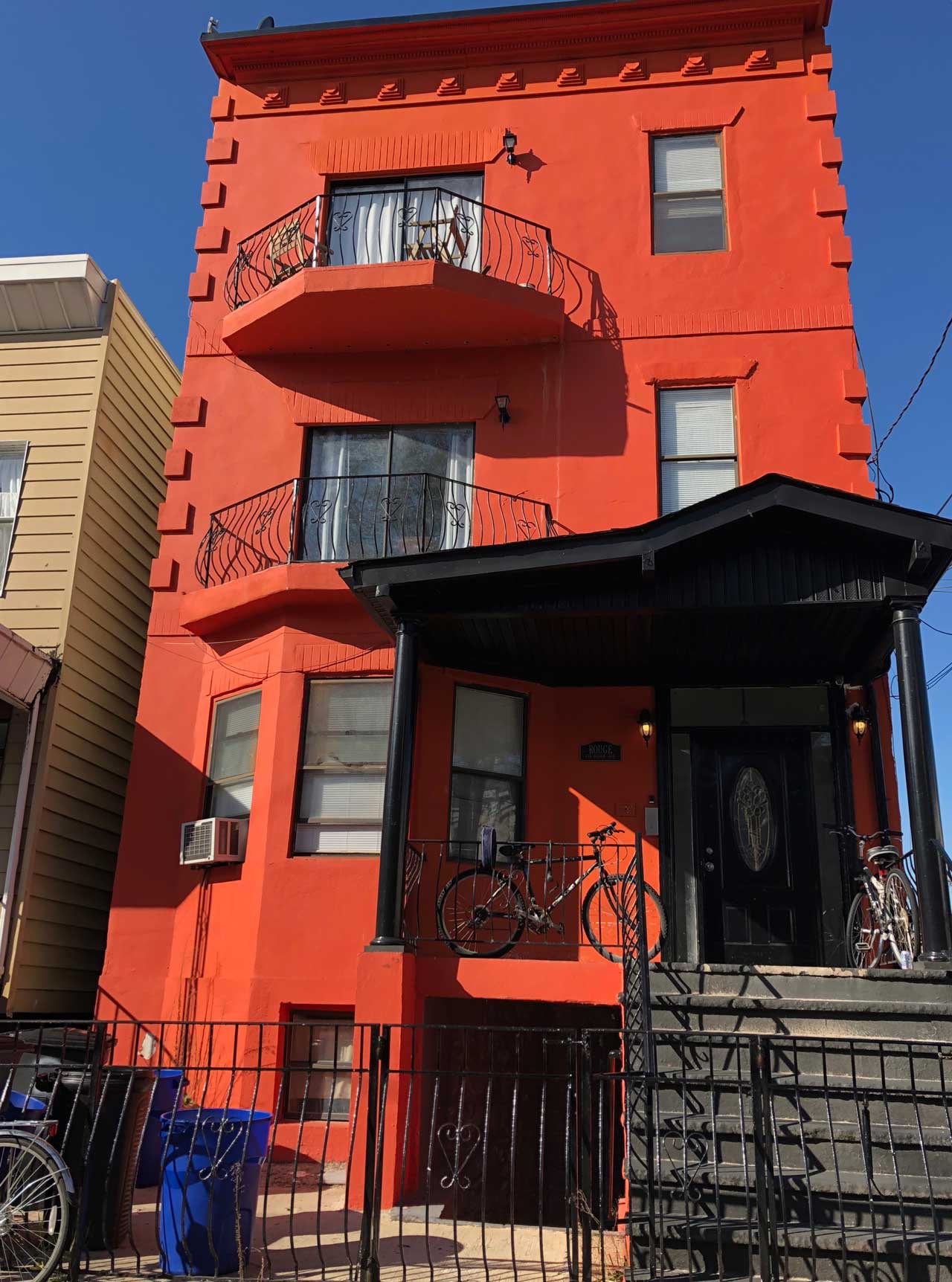 "It's pretty quiet here," said recent widower Larry Mason, 71, who was standing in the street outside his daughter's house on historic Webster Avenue. After he lost his wife in January, he moved from a South Jersey retirement community to live with his daughter, son-in-law, and his teenage grandson. "I walk up and down the street," he said, adding a warning about a passing feline: "Just don't pet that cat."
Webster Avenue is one of many streets whose turn-of-the-century homes feature hand-painted numbers on their doors and intricate roofs. Several houses in the area are leftover from the 1800s and even the 1700s, with stables-turned-garages nearby.
Among them is the 1742 house of one of the founders of the colony of Pavonia, in New Netherland, of which The Heights was part. The Van Vorst family built the stone house at 531 Palisade Avenue, and it still stands today (see photo).
It was in 1852 that what is now The Heights section was incorporated as the town of Hudson City. Later, in 1873, it merged with several communities to become part of Jersey City.
Over the years, The Heights has served as a home to bankers, members of the shipping industry, and veterans. Pershing Field, a 13.5-acre park in The Heights, was built on a former World War I military training ground.
The area is bounded by busy Route 139 and several highways that separate it from Journal Square to the south. That section of The Heights contains Christ Hospital, which opened in 1872, and nearby historic structures and old businesses.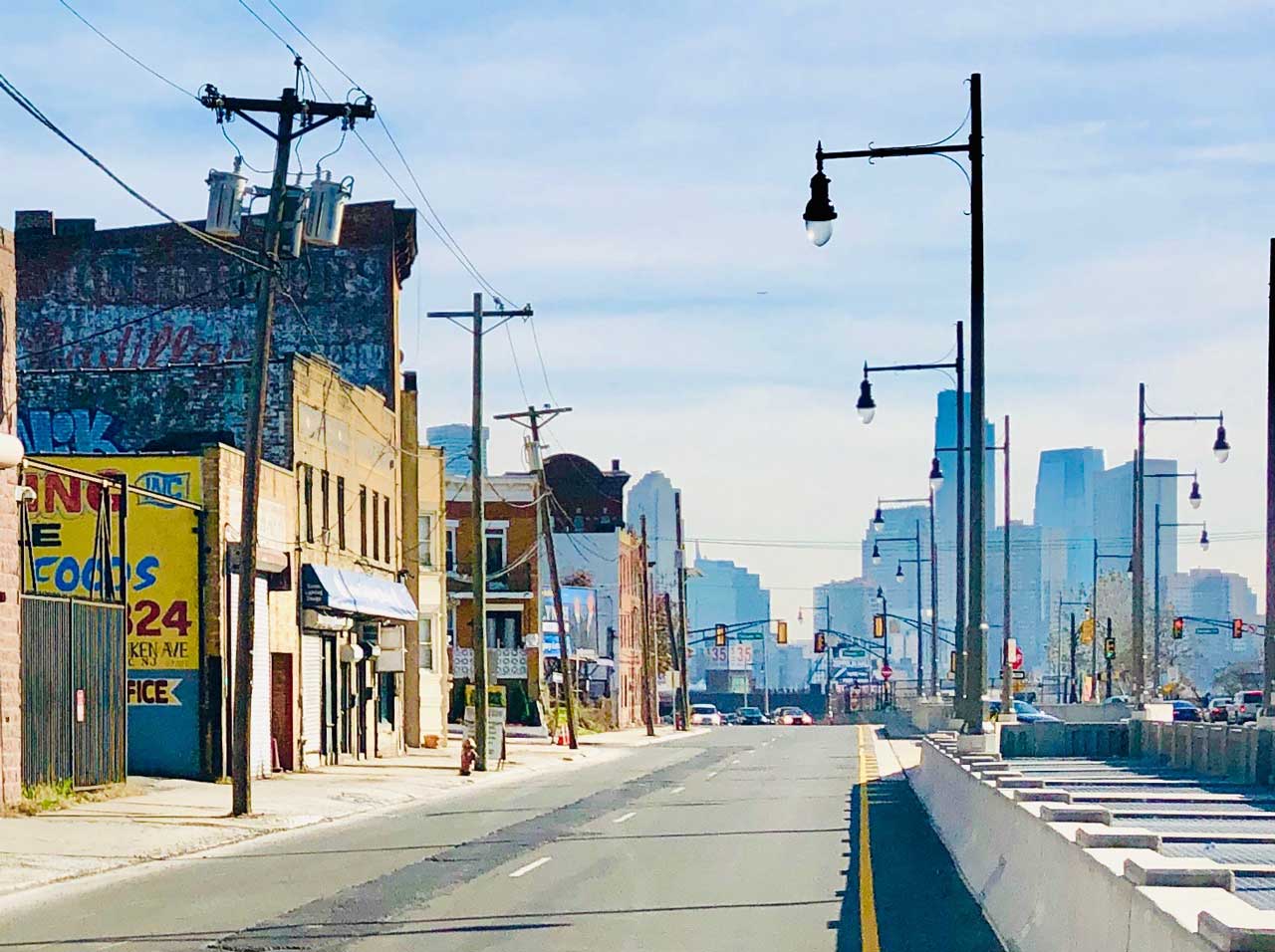 The northern end of town borders Union City. Near the western slope are several busy business corridors, such as Central Avenue, with its popular family-run businesses like the Andrea Salumeria deli.
Several of the older establishments have survived even with competition from the newer businesses — and in some areas, that's a lot of competition. On Franklin Street, a short walk from the 100 Steps, several small eateries have opened, including the Froth on Franklin coffee shop, which sometimes hosts spoken word performances. Just a block away is the new Green Pear Café.
That neighborhood recently saw the opening of The Franklin, owned by Union City chef Jaime Ramirez, who always dreamed of owning his own restaurant.
Mauro "Moe" Mazzilli, who has run the Moe's Bait and Tackle fishing supply shop out of a garage near Palisade Avenue and South Street since 1970, recently put his three plots of land up for sale for $2.3 million. He plans to retire to Pennsylvania in the near future. But he thinks the changes in the community have been positive.
"It's all for the better," he said. "This was always a decent neighborhood."
Related: