A new mid-rise development from a New York-based company has survived a legal challenge and will soon be rising on a corner lot in the Powerhouse Arts District.
Ryan Serhant, the celebrity NYC broker best known for his role on Million Dollar Listing New York, joined several local dignitaries including Jersey City Mayor Steven Fulop yesterday for a groundbreaking ceremony hosted by EPire and Nest Seekers International. The event marked the beginning of formal construction at 144 First Street, a property EPire purchased back in 2019.
The company quickly drew up a new proposal for the 10,000-square foot lot, which was once home to the now-demolished Juan Ribbon Machine Shop. Designed by New York-based Fogerty Finger, the 12-story development is slated to top out at 125 feet and will include two ground-floor retail spaces.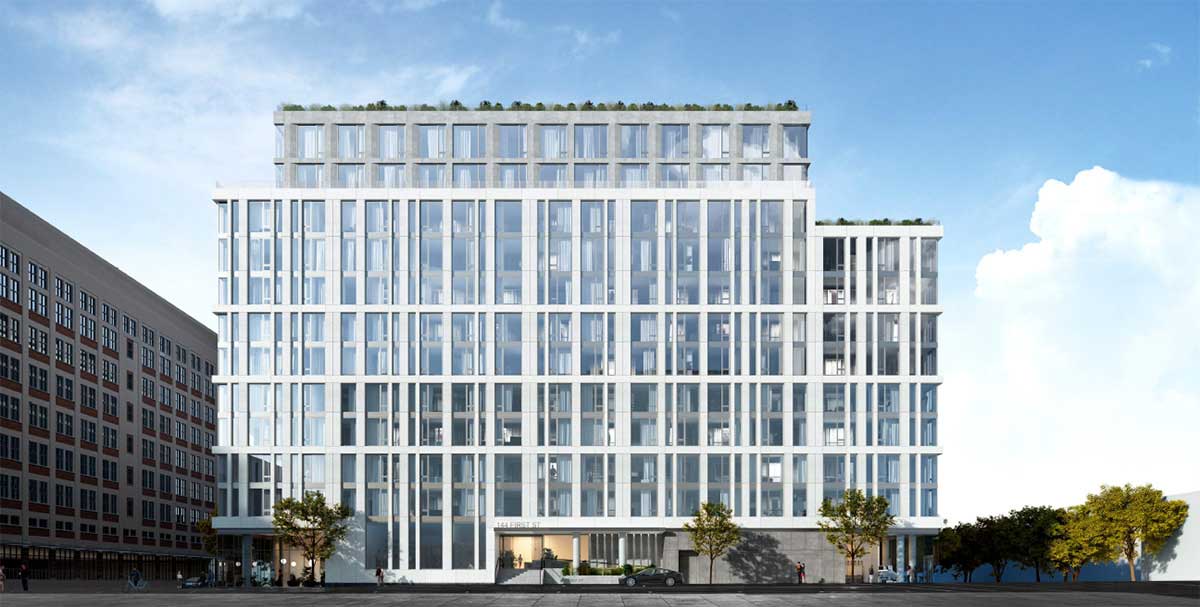 The remainder of the project will consist of 84 condominiums, which sets the property apart in an area otherwise dominated by rental units. Amenities at the future development include a doorman, gym, rooftop with outdoor kitchen and wellness area, indoor lounge, children's playroom, bike parking. and private storage.
"Jersey City represents one of the hottest, up and coming neighborhoods in the tri-state area that is soon to be rivaling the likes of Miami and New York City for the artistic hub of the world," says Nest Seekers International Broker Marc Brenner. "Once construction is complete, a wonderful family atmosphere and ultra-luxury amenities will combine for the premier luxury building of the New York City area."
Nest Seekers International in collaboration with Ryan Serhant will exclusively sell the units at 144 First Street.
The project falls within a neighborhood that is booming. Our reporting from last summer highlighted 1,407 residential units, almost 11,000 square feet of retail, college dormitories, and two theater spaces that are in various phases of construction in the vicinity.
The development party has only expanded since then, as Kushner Companies and KABR Group broke ground on Warren at Bay earlier this year. That adaptive reuse project will consist of office and retail space and has already drawn high-profile restaurants like Tacombi and HaiDiLao Hotpot to the property.
The area's latest development at 144 First Street appears to have survived a lawsuit that was filed last October by a subsidiary of DVORA development. The case was looking to void the project's approvals over a height allowance the planning board granted to EPire, which DVORA argued would block residents' views at their nearby building.
According to court records, a remote trial on the matter was scheduled for June 10. While the case is still listed as "active" in public records, the groundbreaking indicates that the matter is resolved.
With construction now underway, Nest Seekers International plans to enter full sales mode within six to 12 months.