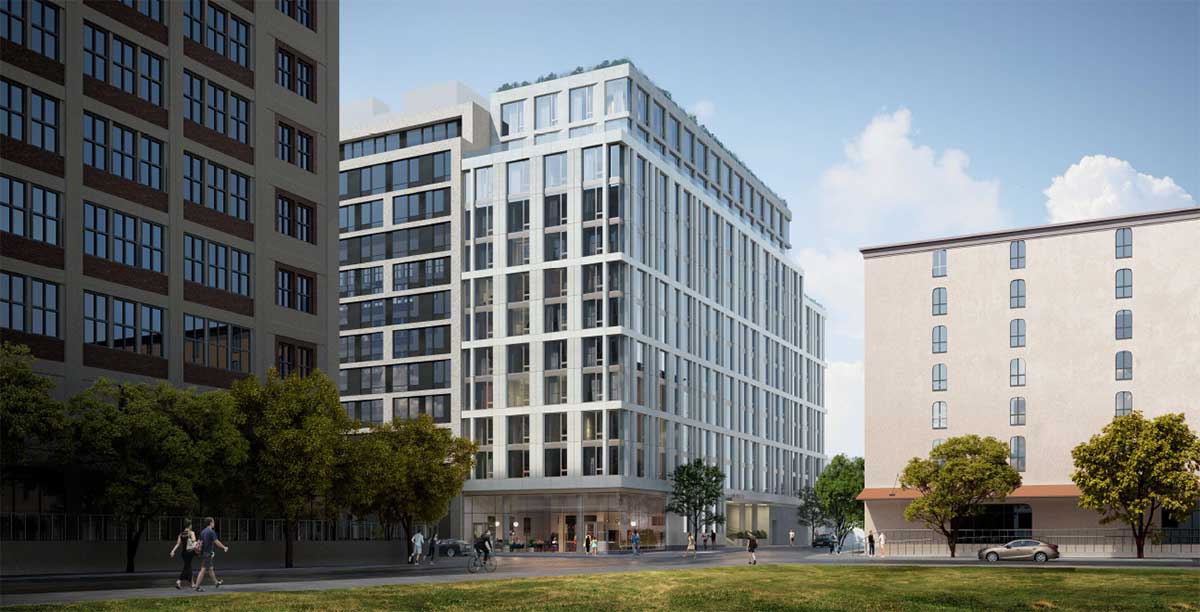 A mixed-use project looking to replace a factory that was torn down almost five years ago has potentially hit a snag, as the owners of a nearby building are looking to the courts to halt the development.
On October 2, 148 First Street Urban Renewal LLC filed a lawsuit in Hudson county court seeking to stop a 12-story development at 144 First Street. The plaintiff, a subsidiary of DVORA, owns the Art House development directly next door to the site of the proposed project.
The 10,000-square-foot lot was once home to the Juan Ribbon Machine Shop, which was demolished in 2016 to make way for new 11-story development. New York-based Epire purchased the land earlier this year and drew up new plans for a 12-story building that includes rooftop amenities.
Epire's application was approved over the summer by the city's planning board, who are named as a defendant in the case. 144 First Street falls within the Rehabilitation Zone of the Powerhouse Arts District Redevelopment Plan and DVORA's lawsuit says the plan stipulates any new building at the site "shall be no greater than 11 stories and 115 feet."
The latest 12-story version of the project tops out at 125 feet and DVORA claims that Epire's rationale to justify the additional floor and height variance "were all reasons personal to the owner and provided no public benefit whatsoever." The suit additionally says that Epire's 12-story edition of the development "will block the views from [the Art House's] rooftop amenities."
DVORA says they did not oppose approvals of the previous 11-story version because "it was designed in such a fashion as to not materially interfere with [their] view of New York."
DVORA says that the planning board lacked credible evidence to support its decision to approve Epire's extra floor and "improperly relied on uncorroborated hearsay testimony and net opinion testimony."
The complaint also claims that the roof structure on Epire's proposal should have been considered height as part of the building, which requires a "d" use variance that was neither requested nor granted.
The lawsuit wants the planning board's approval of 144 First Street declared null and void. When contacted about the lawsuit, Epire Founder and CEO Alessandro Bonati told Jersey Digs that while the filing saddened him, he was not surprised.
"Unfortunately, everyone in Jersey City knows [DVORA CEO] Eyal Shuster by now and his litigious and arrogant behavior," said Bonati. "He might have a business model based on wasting judicial resources and attorney fees."
Bonati noted that Shuster filed another lawsuit earlier this year hoping to derail a different 50-story development on Marin Boulevard. He claims that Shuster declined to provide any comment or suggestion regarding Epire's project during the planning phase despite being invited to do so.
"Epire worked closely together with both the Planning Board and Powerhouse Arts District Neighborhood Association in order to work collaboratively and propose as small of a variance as possible and keep the Jersey City community part of the process," said Bonati.
A spokesperson for Jersey City has yet to issue any official comment after we inquired about the litigation.
The 144 First Street property is surrounded by a massive string of construction sites we recently profiled that will add 1,407 residential units, almost 11,000 square feet of retail, college dormitories, and two theater spaces to what is likely the busiest stretch of the Garden State.
Related: