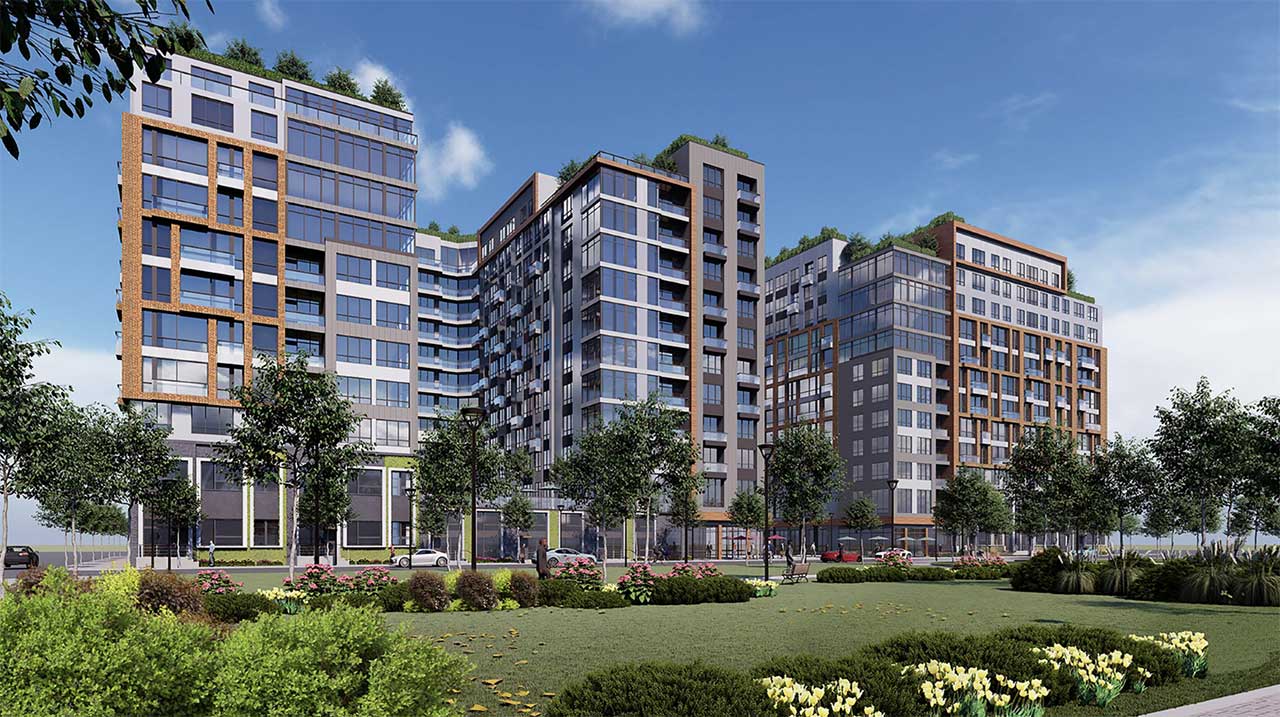 As Downtown's northern fringe continues to transform from a formerly industrial neighborhood, a project that's been in the works for years is looking to contribute to the altering landscape.
Back in 2016, Hoboken Brownstone Company won approvals for a major 1,181-unit development spanning three parcels at 305 Coles Street. The project has been split in two pieces since then and last month, we profiled a portion that's now known as 286 Coles Street.
That share of the venture is currently owned by New York-based Albanese Development, who have proposed construction of a 670-unit mixed-use building on a parcel just south of the Cast Iron Lofts. But Hoboken Brownstone Company, under subsidiary Coles Jersey Development Co. LLC, still own the vacant 305 Coles Street land and reworked plans for the 3.7 acre parcel are set to be heard by Jersey City's planning board during their next digital meeting.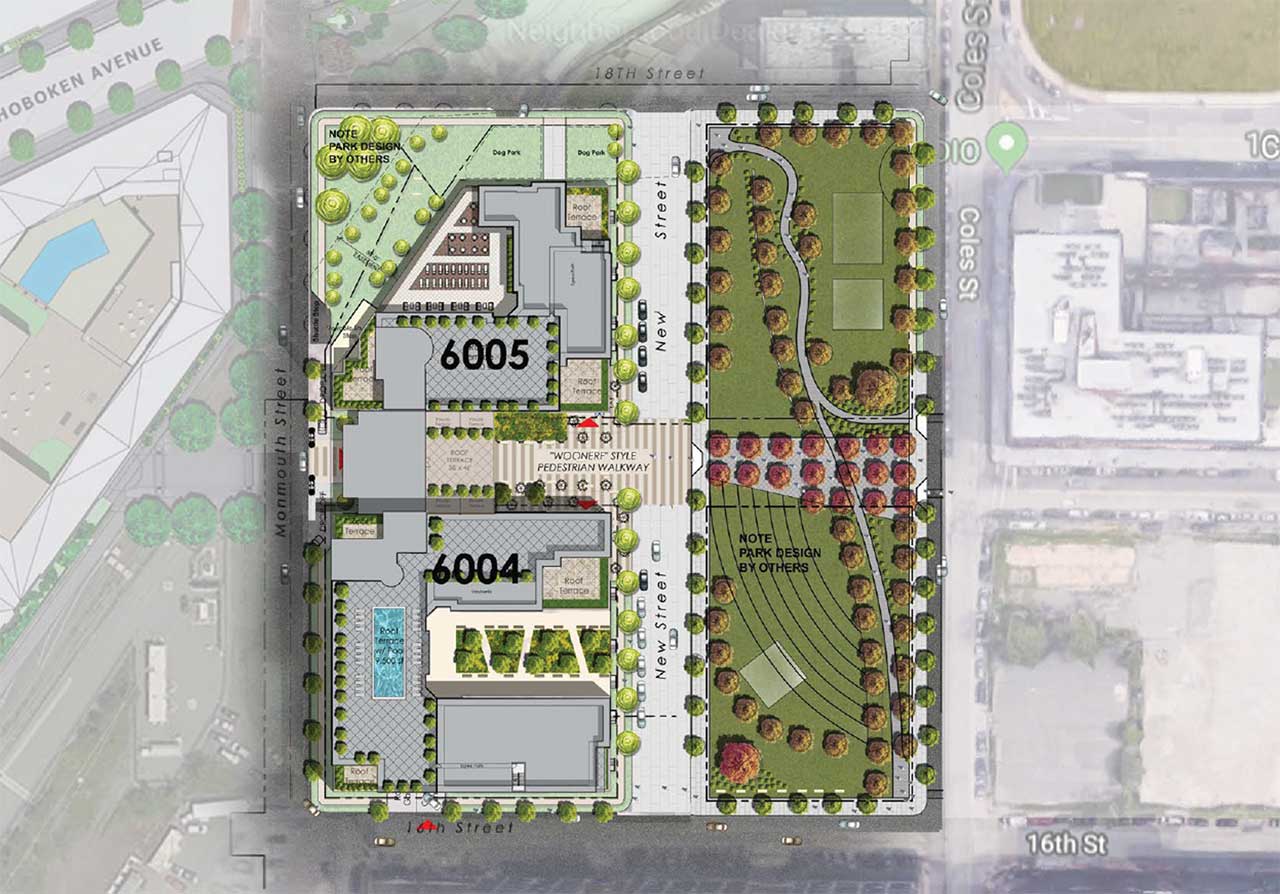 Designed by Lambertville-based Minno Wasko, the newest 305 Coles Street proposal consists of two buildings that would both rise 12 stories and include a total of 511 residential units. The southernmost structure would be U-shaped and include 308 units, which would be complemented by a 203-unit building connected via a skybridge.
A mix of studio, one- and two-bedroom apartments are included in the plans, with select units set to include balconies. 267 off-street parking spaces in a garage are featured and the design includes use of several different colors of brick and composite panels on the exterior of the development, which has signage referring to it as Park Lane in the application.
Amenities in the development are plentiful, as both buildings would have a club room complete with outdoor courtyard on their prospective second floors. The skybridge connecting the structures is set to include a fitness center, co-working space, and a lounge, while the roofs of both buildings would sport terraces loaded with comforts.
The U-shaped southern building would feature common roof space spanning over 13,000-square feet that includes a pool, while the northern property's roof area would include 6,280 square feet of usable space.
Part of the effort to develop these parcels is activating the streetscape a bit, as Hoboken Brownstone Company previously donated 1.5 acres of land across the street to create the upcoming Coles Street Park. The endeavor, being built out as part of the nearby Emerson Lofts project, includes a stage for live music and events, an enclosed playground, two separate dog runs, and open areas.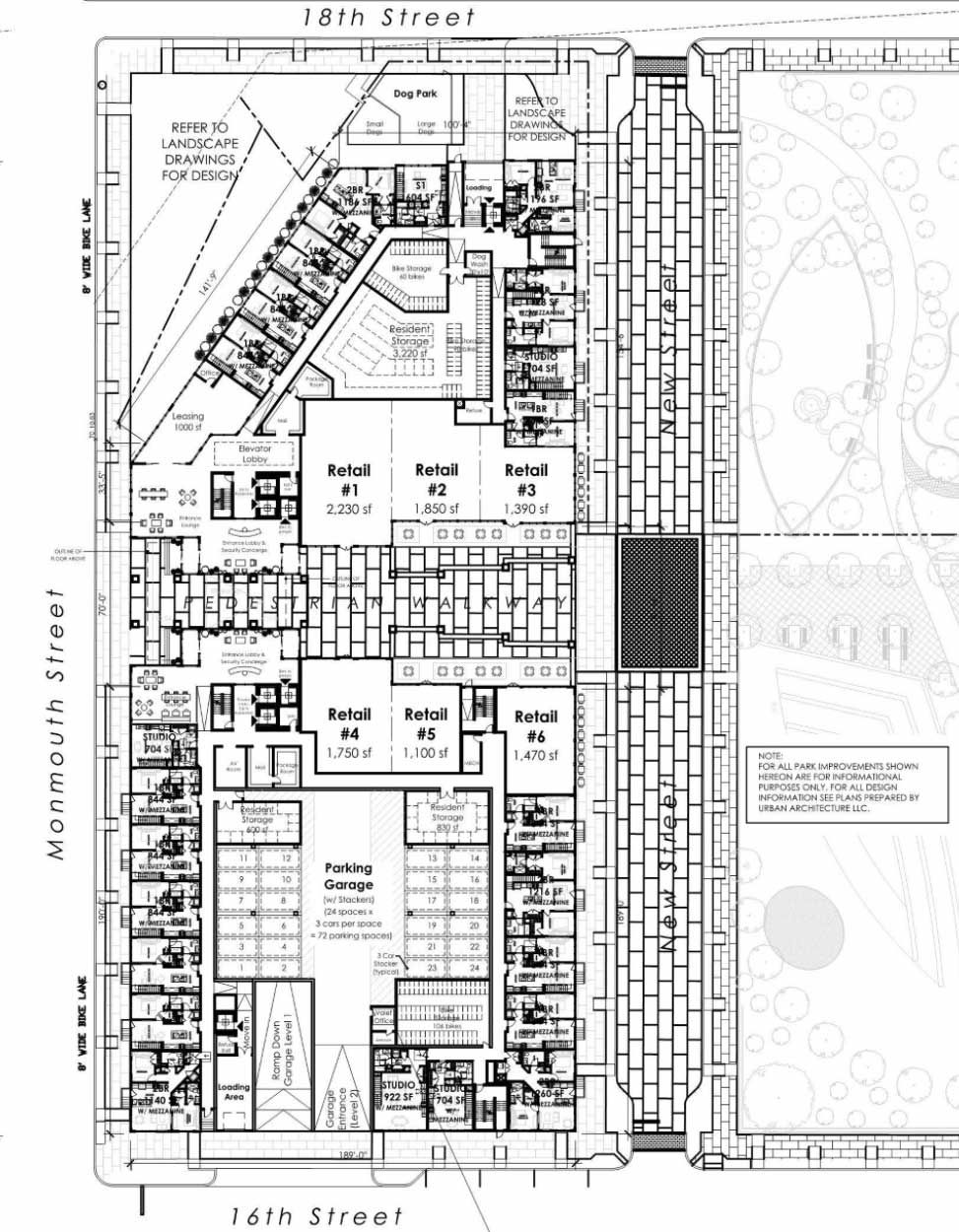 To connect 305 Coles Street to the park, a new pedestrian plaza would be built along 17th Street between the two development's buildings as part of the new plans. The plaza would cross a newly created roadway and be surrounded by six retail storefronts totaling 9,790-square feet that are included on the ground floor of the development.
While approvals previously obtained by Hoboken Brownstone Company are still in effect, four additional variances will be needed to move the new version of 305 Coles Street forward as envisioned. They include deviations for 12 stories in height where only 11 floors are allowed, one related to the minimum square footage of the units, another for minimum sidewalk width due to stoops included in the plans, and a final one for going over the maximum allowable number of residential signs.
Both the 305 Coles Street and 286 Coles Street applications are scheduled to be heard by the city's planning board during their May 19 meeting, which will be held remotely on Zoom. Commencing at 5:30 p.m., it can be accessed here or by using the meeting ID 817 6783 4613.
Related: