A buyer is under contract to purchase the parcel from the charity, who have already moved a rehabilitation services center out of the building in preparation for the deal.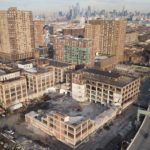 Several companies are bringing over 3,000 housing units, a 1.5-acre park, and more than 73,000 square feet of retail space to a post-industrial neighborhood near the Hoboken border.
The proposal by Newport Associates Development Company calls for 108 residential units, office space, and parking near 18th Street and Marin Boulevard.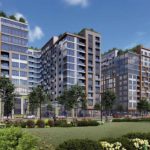 A fresh plan for the vacant property includes 511 apartments spread out over two buildings connected by a breezeway that would overlook a new pedestrian plaza and retail.
A tiered building could rise along the northern fringes of Downtown as Albanese Development Group should be pitching their latest project to the planning board very soon.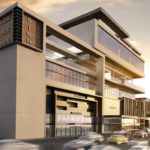 A 2.6-acre property currently home to Buy-Rite liquor store could be transformed into a sprawling retail, restaurant, and hotel property under a new proposal.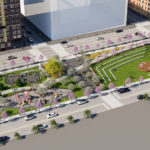 Manhattan Building Company will spend $2 million to construct a new 1.5-acre greenspace in a Downtown neighborhood that's rapidly growing.
The massive plan to redevelop a former radio factory along Downtown's northern fringe has obtained a construction loan to help build a 26-story tower.
Recently, the development team hosted Jersey City Mayor Steven Fulop for a ceremonial ribbon cutting to officially open the new property.
A property tucked underneath the Palisades could be home to a 340-unit development that's along the city's rapidly developing border with Hoboken.