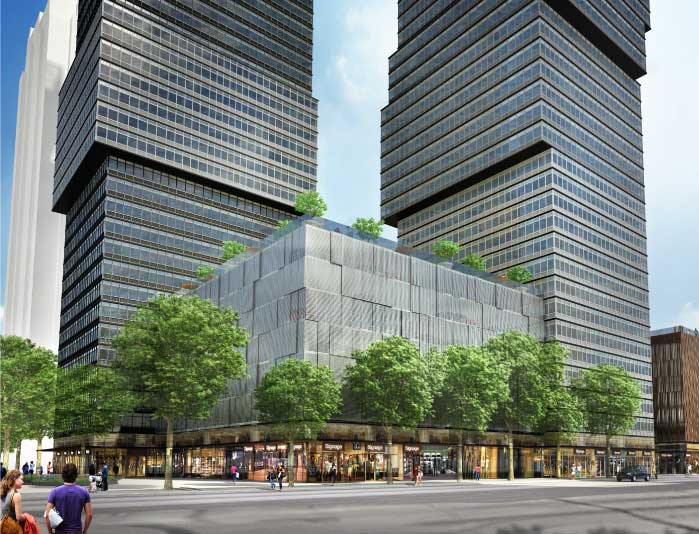 The second act for one of the largest redevelopments along the Hudson River is finally moving forward as a revamped application has been drawn up for the next portion of Jersey City Urby.
Situated a block from the Jersey City waterfront along Greene Street, Urby's three-tower mega-project heralded a new era of development when it surfaced back in 2015. A partnership between Ironstate Development and Mack-Cali subsidiary Roseland Residential Trust, construction of Urby's first 69-story tower wrapped in 2016 and quickly set leasing records.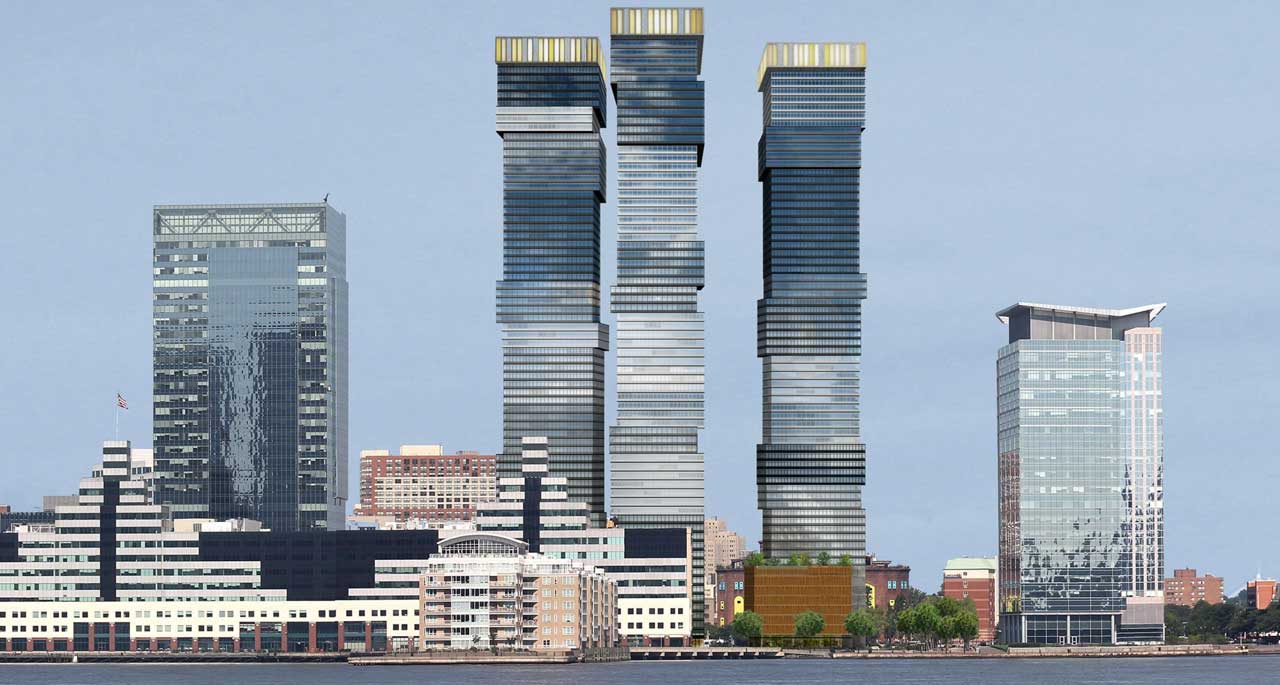 The totality of the Urby development was slated to include a trio of 69-story towers with a combined 2,358 residential units, but a neighboring parcel set to host the other high-rises has remained a parking lot for several years.
Our most recent update from 2020 indicated that the project might be scaled back, as Mack-Cali's then-CEO was quoted during an earnings call declaring the original project was "going back to the city" before describing the second phase in smaller terms.
The world and real estate market has changed pretty dramatically since then and the companies behind Urby have officially submitted new plans for the parking lot at 191-201 Hudson Street. The total proposal adds about ten more units than what was first pitched in 2015 and seeks to build the final two 69-story towers as the second phase.
Both high rises would top out at 677 feet tall and the original Urby designer, HLW International, is still listed as the architect of record on the application. The two towers are slated to consist of 1,606 residences and up to 164 of the units "shall be designated with a hotel use," a detail never disclosed in the previous Urby proposal.
The lion's share of the units, or 1,128 of them, would feature one bedroom, while 95 studios and 383 two-bedroom spaces would round out the project. The development's application does not list any affordable housing component at the complex.
The ground floor of the two towers would include a combined 32,000-square feet of retail space and listed amenities on the application include a health club. Urby's final phase also would feature 272 garage parking spaces with a valet option.
Jersey City's planning board has not yet announced a date when the application could be heard, but the submission is a clear sign that the stalled project is moving forward behind the scenes. The Urby brand has expanded significantly following its 2016 launch, opening developments on Staten Island, Harrison, and Stamford, Connecticut since.
The company is hard at work on their currently under construction Journal Square Urby as well as a complex in Newark that is slated to open in the coming months. Urby also won approvals last year to bring the concept to a property in Hoboken.