The latest addition to Downtown's skyline, the sleek and striking Jersey City Urby, has opened its on-site leasing office and it's drawing residents with a blend of robust lifestyle programming and unique social spaces, plus a truly remarkable design aesthetic.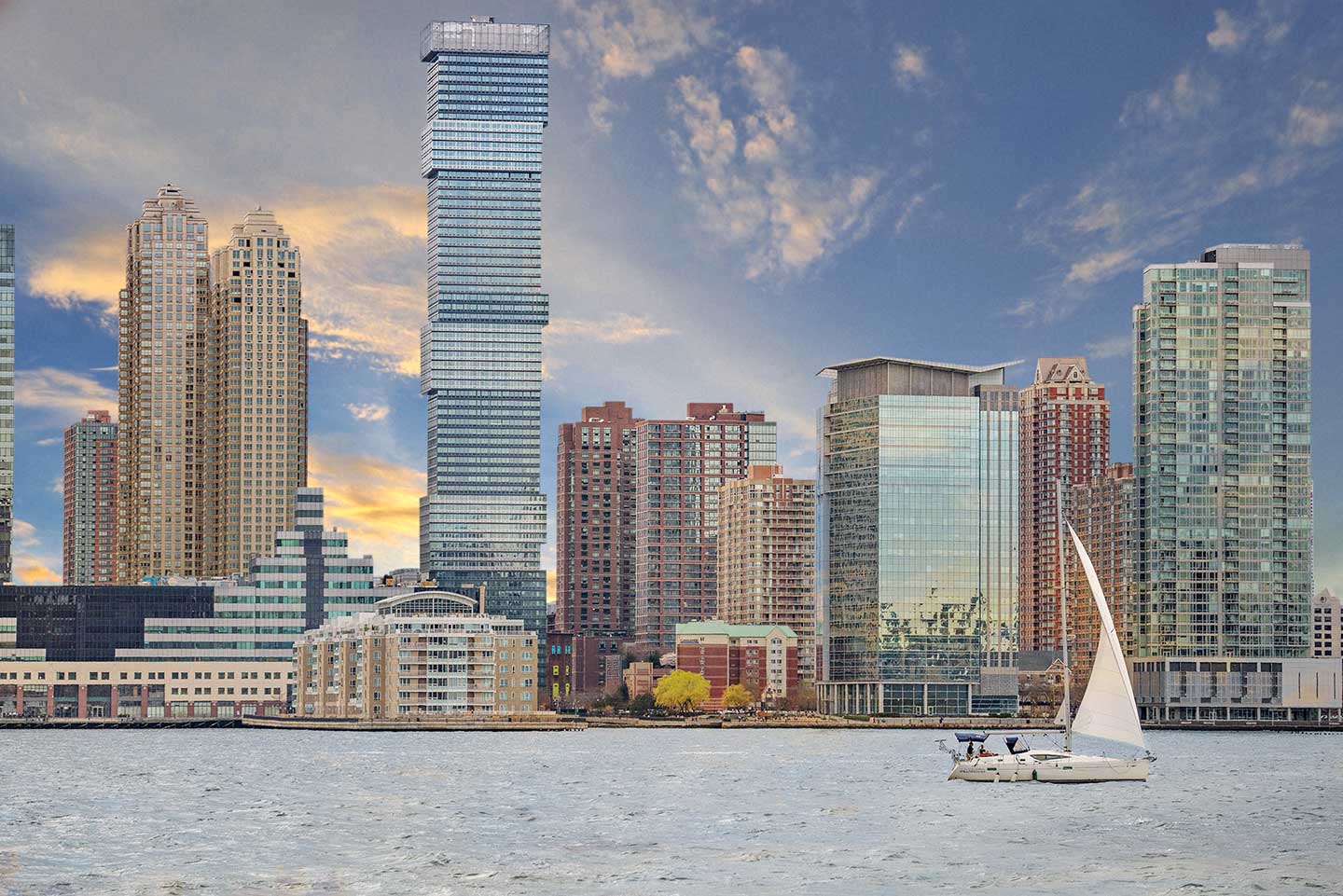 Located at 200 Greene Street, just off the Hudson River waterfront, the interiors and architecture of Jersey City Urby are designed by renowned Amsterdam-based Concrete, who are behind the designs of CitizenM hotels around the world. The 69-story tower is the tallest residential building in Jersey City at 713 feet. Comprised as a series of stacked structures, the building's unique shape actually has a functional purpose. Many of the unit types rotate their location from level to level. That means that residents who want one specific floor plan are not limited to one specific view.
So the one-bedroom M4+ units and the two-bedroom L1+ units occupy all four corners of the building, on different floors. That means that residents can choose their exposure and their view, including sweeping lower Manhattan views to the east, Statue of Liberty and harbor views to the south, and idyllic sunsets to the west. Whichever exposure you choose, you'll get all of it, thanks to wall-to-wall windows throughout each unit.
In all, there are 762 apartments, and twelve different floor plans from which to choose. They range from studios to two-bedrooms, and offer a variety of interesting configurations. Studios come with separate alcoves, bedrooms have two access points, and many of the apartments have sliding doors that can provide a feeling of spaciousness or privacy, as your mood demands.
For another distinctive feature of the residences at Jersey City Urby, check out the versatile built-ins that line the windows, perfect for usage as shelf storage or a desk workspace. The closets also boast built-ins, maximizing the utility of the room these apartments have to offer.
As remarkable as the views and the design of these apartments are, the communal spaces and resident programming offered here elevate the resident lifestyle to another level. On the 68th floor you'll find the Urby Creative Lab, which presents a variety of programs in a magnificent perch that overlooks the island of Manhattan. Residents can partake in workshops on subjects like flower arranging, homemade apothecary, interior design, and arts & crafts, all led by a dedicated staff of programming specialists.
On the 9th Floor, you'll find a host of additional social spaces. There's a communal kitchen, which hosts cooking classes, demonstrations, pop-up dinners, promotional tastings, and Q&A sessions from local chefs. In the gym, which is fully outfitted with state-of-the-art cardio equipment, certified trainers from popular health club Base lead regularly scheduled yoga, barre, cardio, and strength training classes.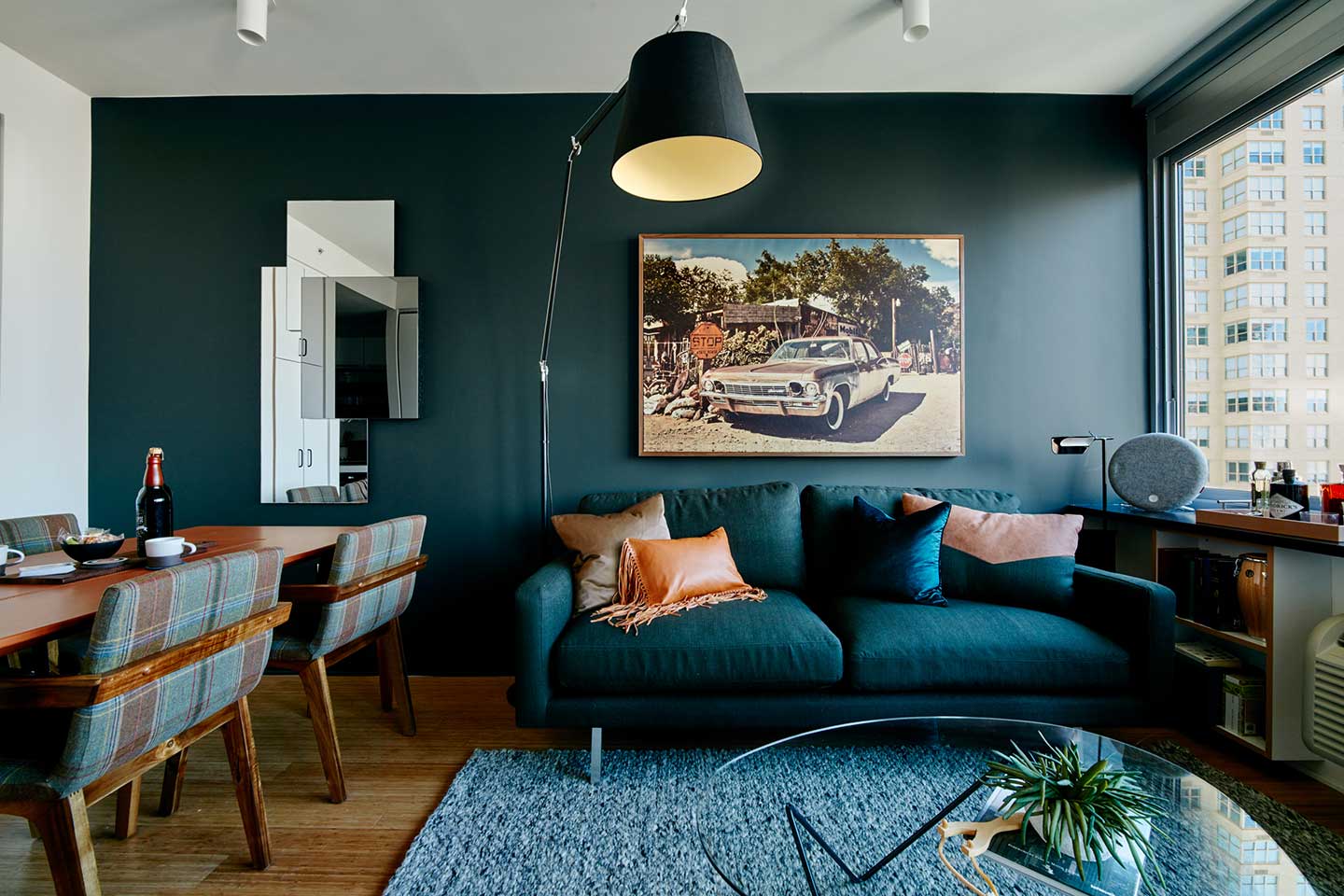 The 9th Floor is also where you'll find a heated outdoor saltwater pool with gorgeous Hudson River views. Measuring 50'x50', this spectacular setting gets put to good use as well, hosting sunset celebrations, lawn game tournaments, and guided meditation sessions. There's also a garden lounge, perfect for relaxing with a good book or getting down to work on your laptop.
Greeting residents when they walk into the building's lobby is 9 Bar Café. Named for the amount of pressure necessary to prepare a perfect shot of espresso, this Jersey City institution is expanding from its original Erie Street location, bringing with it coffee drinks, local baked goods, breads, and a selection of breakfast and lunch choices. Born in Rome, owner Stefania Cocozza runs her shop with old-world authenticity and skills gained through 20 years in the coffee business.
You'll have more time to enjoy the Urby lifestyle thanks to an exceptionally easy commute. Within an eight-minute walk are three PATH stations: Exchange Place, Grove Street, and Newport. And the building's location just off Newark Avenue puts you right in the heart of Jersey City's thriving dining and shopping scene.
Each unit also includes in-home washer/dryer and dishwasher, along with stainless steel appliances and hardwood floors. Smartphone building and apartment entry add a little extra high-tech convenience as well.
Amenities and services available to residents include a 24/7 digital package system, concierge service, bicycle storage, car parking, and a dog run. Creators Ironstate Development and Roseland Residential Trust (a subsidiary of Mack-Cali Realty Corporation) have put inspiration into action here. This is the second Urby concept in the metropolitan area, the first opened in Staten Island in 2016, and Harrison Urby is slated to debut later this year.
When you're ready to rethink what life can be like in a rental community, look into Urby Jersey City. Studios start at $2,400, with rents for one-bedroom apartments starting at $2,800 and two-bedrooms from $3,400.
For more information, visit JerseyCityUrby.com, call 201-333-8989, or email [email protected]. You can also stop by the leasing office at 200 Greene Street, open from 10 am to 6 pm Monday through Wednesday, 10 am to 7 pm Thursday and Friday, and 10 am to 5 pm Saturday and Sunday.
[gmap]200 Greene St, Jersey City, NJ 07302[/gmap]
200 Greene St, Jersey City, NJ 07302