An entire block of Jersey City's emerging West Side could soon be home to a mixed-use project that will feature a public square that hopes to activate the streetscape.
During their December 8 meeting, the planning board unanimously approved a scheme to revitalize an L-shaped lot at 20 Carbon Place. The endeavor, which emerged last month, comes courtesy of Rahway-based Twenty Carbon Place Corporation and Alkova Companies, who submitted the development application.
The 1.7-acre parcel, which falls between West Side Avenue and Route 440, has long been home to a scrap metal yard operated by The Fortune Group. The property has been divided into three lots and Hoboken-based MVMK Architecture designed the new development, which will see two 12-story towers separated by an 8,000-square foot public plaza.
The exterior of both towers will use brick and dark zinc composite aluminum panels. A partial curtain wall will be utilized on the structures, which will shift to glass-heavy for the top two floors.
Both towers are slated to include a total of 450 units breaking down as 89 studios, 253 one-bedrooms, and 108 two-bedrooms. Both structures will have one-story sections that allow for second floor outdoor dog runs, while the third floor of both towers will feature 4,300-square foot common terraces in the rear of the buildings.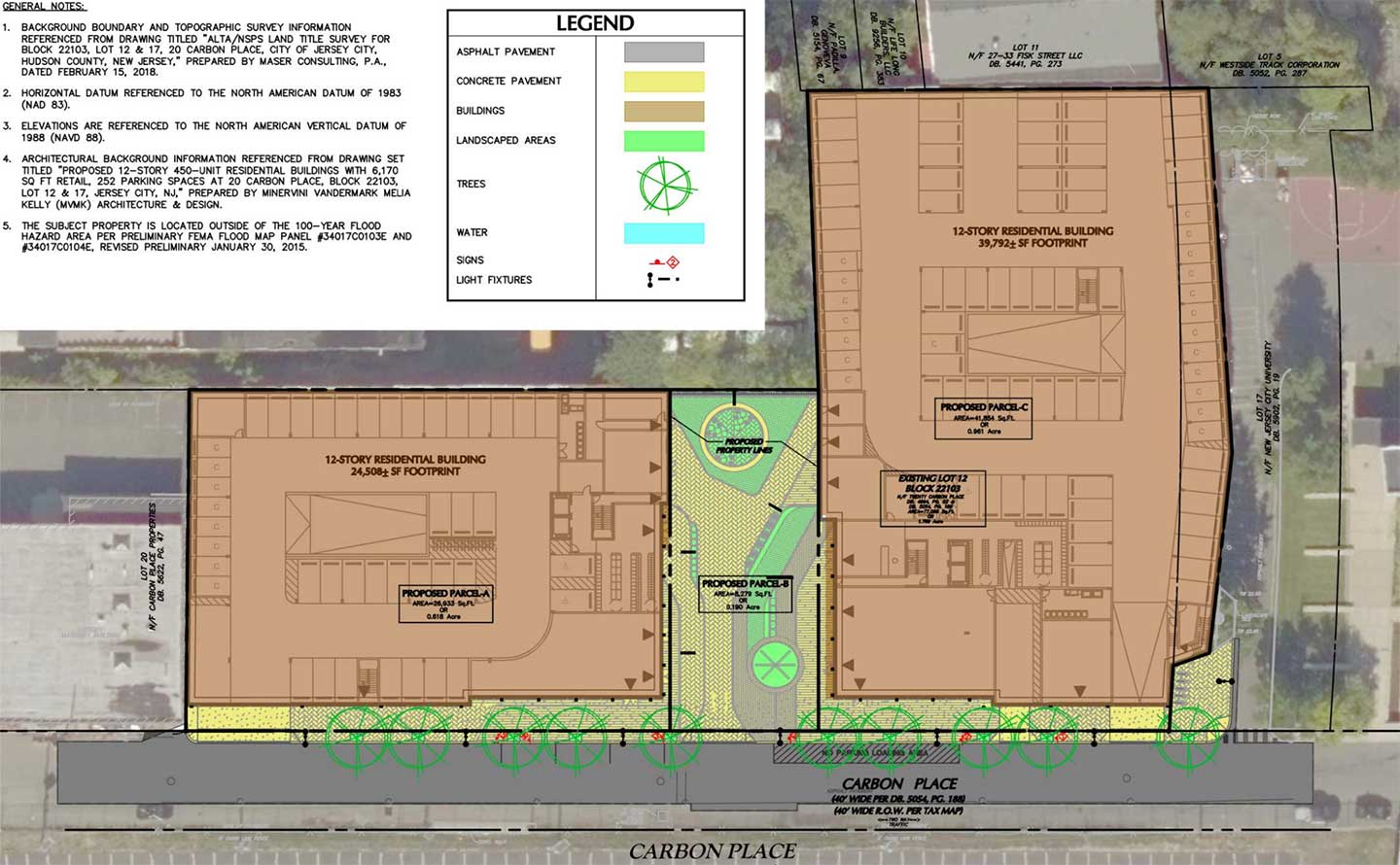 Many interior and rear-facing units at 20 Carbon Place will sport private terraces and both buildings will feature rooftop amenities with planter beds and green roof areas. Blueprints for the building dubbed the East Tower show a rooftop swimming pool.
The development will include parking for roughly 252 cars and 377 bicycles plus three separate retail spaces fronting Carbon Place. The largest storefront will run 3,000-square feet, with the second spanning 2,180 square feet and the final running 990 square feet.
A public plaza between the towers will feature seating areas, pavers, landscaping, and several sculptures. The development falls within the Route 440/Culver Avenue Redevelopment Plan and was granted two variances during approval related to the number of sidewalk trees and maximum distance between the street trees.
20 Carbon Place is located near much of NJCU's campus and developments like Rivet, The Agnes, and the upcoming Bayfront have started adding significant modern living spaces to the neighborhood. A groundbreaking for the area's latest project has yet to be been announced.
Related: