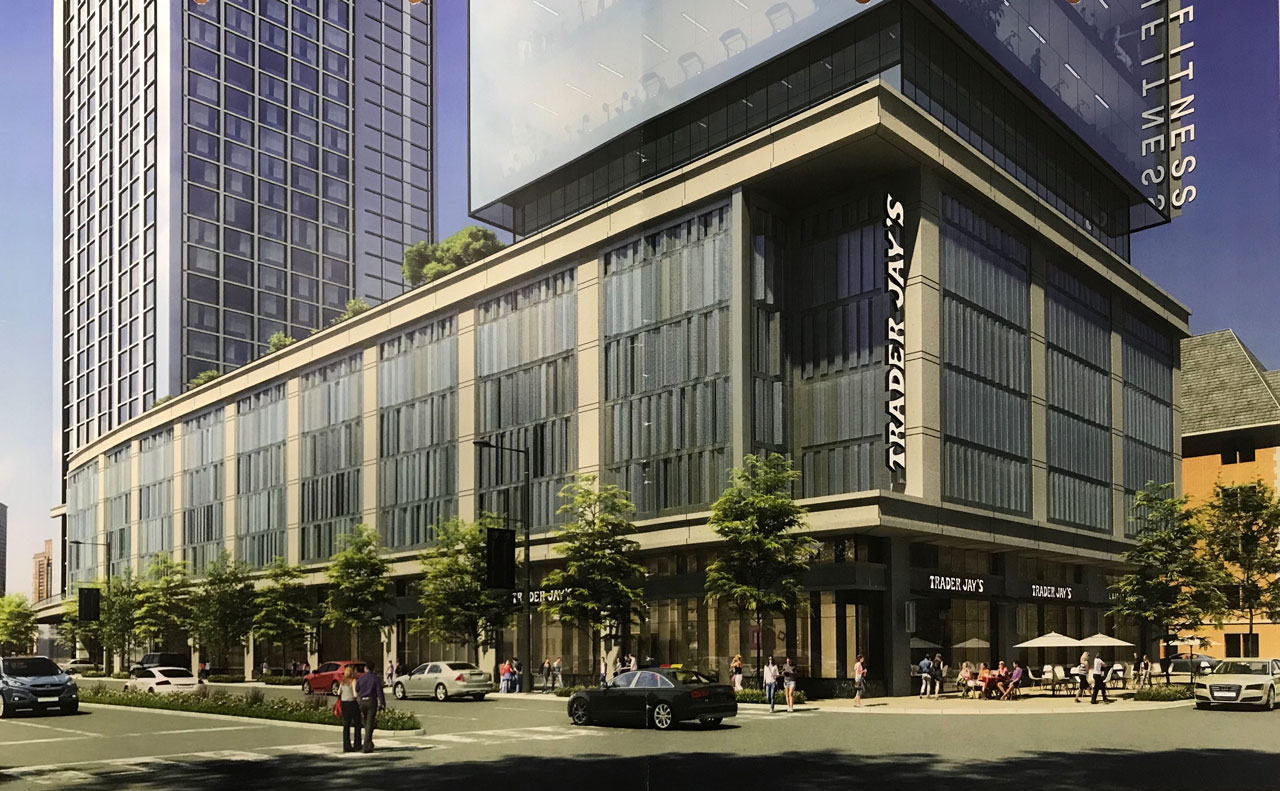 Ever since Trader Joe's opened an outpost in Hoboken, locals have been wondering if neighboring Jersey City would be next in line when it comes to the grocer's expansion. While many questions remain about the possibility, it looks like one waterfront development has TJ's on the brain.
We recently profiled details and renderings of the upcoming Avalon Tower development, which was officially approved by the city's planning board on September 10. The high-rise portion of the 950-unit project will rise just about 722 feet high, which will make it the fourth-tallest structure in the entire state when it's completed.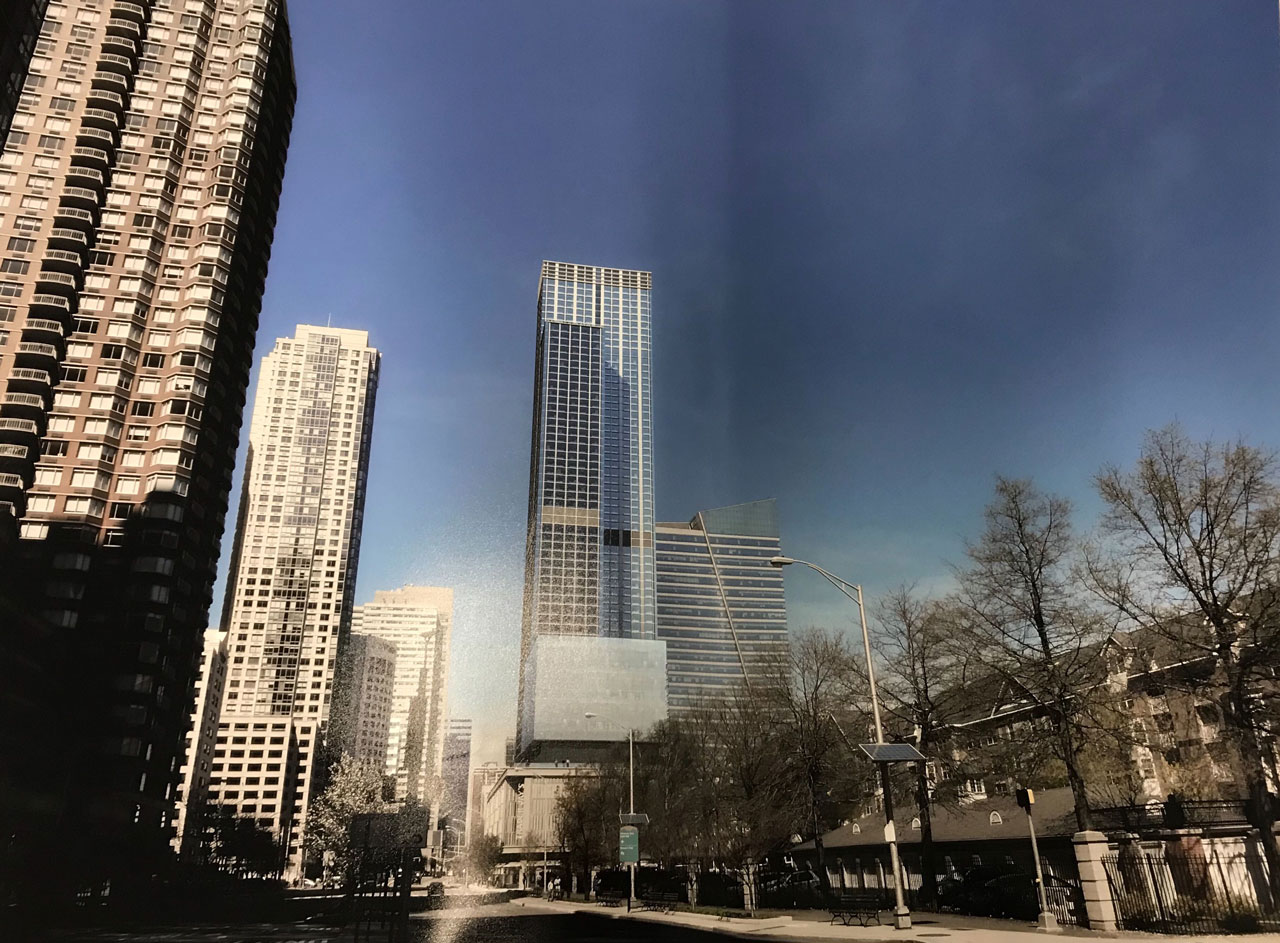 A six-story parking garage complete with four retail storefronts will be built just south of the tower along Washington Boulevard, and a rendering Jersey Digs has uncovered features an interesting detail. The structure's southernmost storefront has a sign that reads "Trader Jay's" adorning it, even utilizing a font that's eerily similar to Trader Joe's trademark text.
However, it's worth noting that there is no formal documentation in the application for Avalon Tower that confirms Trader Joe's involvement with the project. The building's developer, AvalonBay Communities, has ignored media inquiries from pretty much everybody (including the Jersey Journal) and Trader Joe's has not yet returned our request for comment on the matter.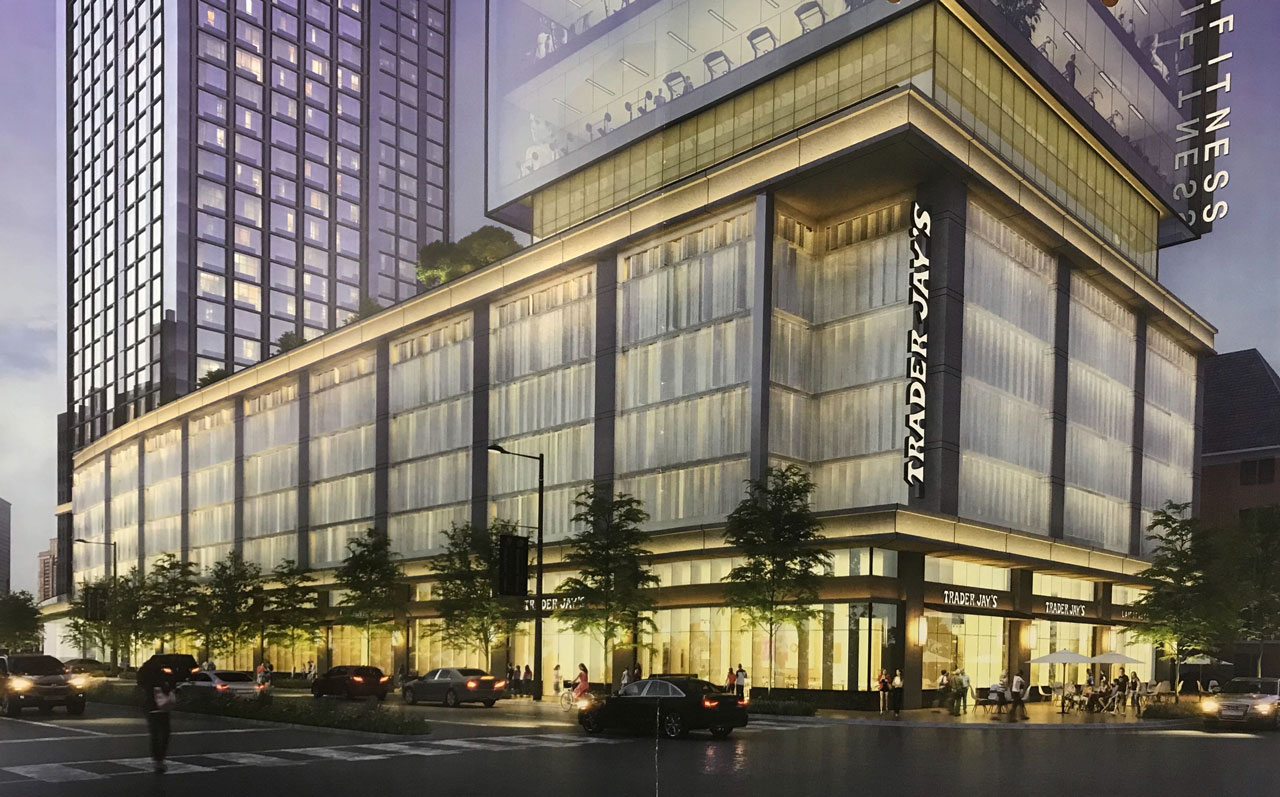 For whatever reason, supermarket chains seem hesitant to confirm their entry into the Hudson County marketplace. Trader Joe's told h-Mag back in 2015 that they had no immediate plans to open their eventual outpost in Hoboken despite the fact that at the time, they had already gone before the city council seeking parking changes for a loading zone near the upcoming store.
Similarly, grocery giant Whole Foods failed to confirm our initial reports about their Weehawken store when we first broke them back in 2017. They also initially had no comment when we reached out while reporting on details of their upcoming Jersey City location, eventually confirming the store's imminent arrival almost two months later.
If Trader Joe's does come to the eventual development at 444 Washington Boulevard, patrons will have a 130-space surface parking lot nearby that will include spots set aside for those visiting Avalon Tower's retail component. Jersey Digs will continue to monitor any updates that we receive as to whether Jersey City will be getting Hudson County's second Trader Joe's outpost.
Related: