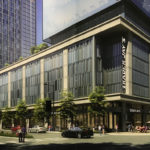 An architect's rendering suggests that the grocery store could be coming to a new mixed-use development along the city's waterfront.
In what is likely the most anticipated grocery store opening in Hoboken's history, Trader Joe's has finally released its opening date.
In a press release yesterday, Trader Joe's officially announced its plans to open in Hoboken. It will be located in Harlow Hoboken at the southwest corner of Willow Ave. and 14th St. and will be approximately 11,700 square feet. With the announcement came a rough timeline for the new store.
Two new mixed-use buildings are about to add more life to Hoboken's northwestern edge, with both projects being undertaken by a local name with a bunch of experience in LEED developments.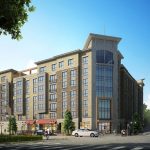 Hoboken City Council held a special meeting to review a modified plan for the long awaited Trader Joe's coming to the Willow14 development at Willow Street and 14th Street.