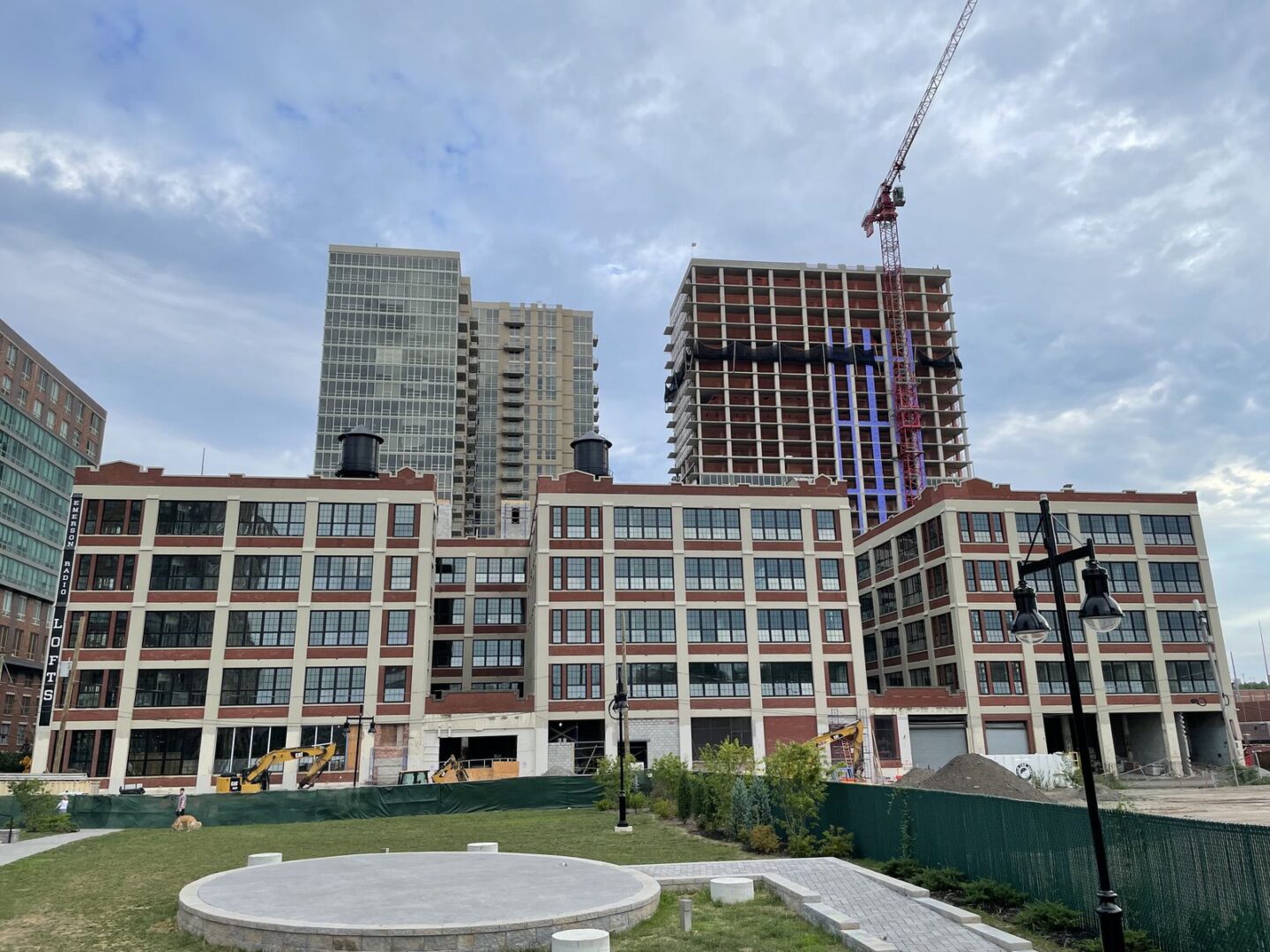 An effort to revitalize a former factory in a historically forgotten stretch of Jersey City has hit another milestone as the second tower of a four-phase complex has hit its maximum height.
Drivers along the I-78 corridor in Jersey City have surely noticed the rise of Hudson House, a project that has been long in the works. A rezoning effort that began in 2017 ended with approvals the following year to revitalize several blocks in the shadow of the Holland Tunnel into a 1,000-unit complex featuring three 26-story towers plus an adaptive reuse of a 600,000-square foot manufacturing facility.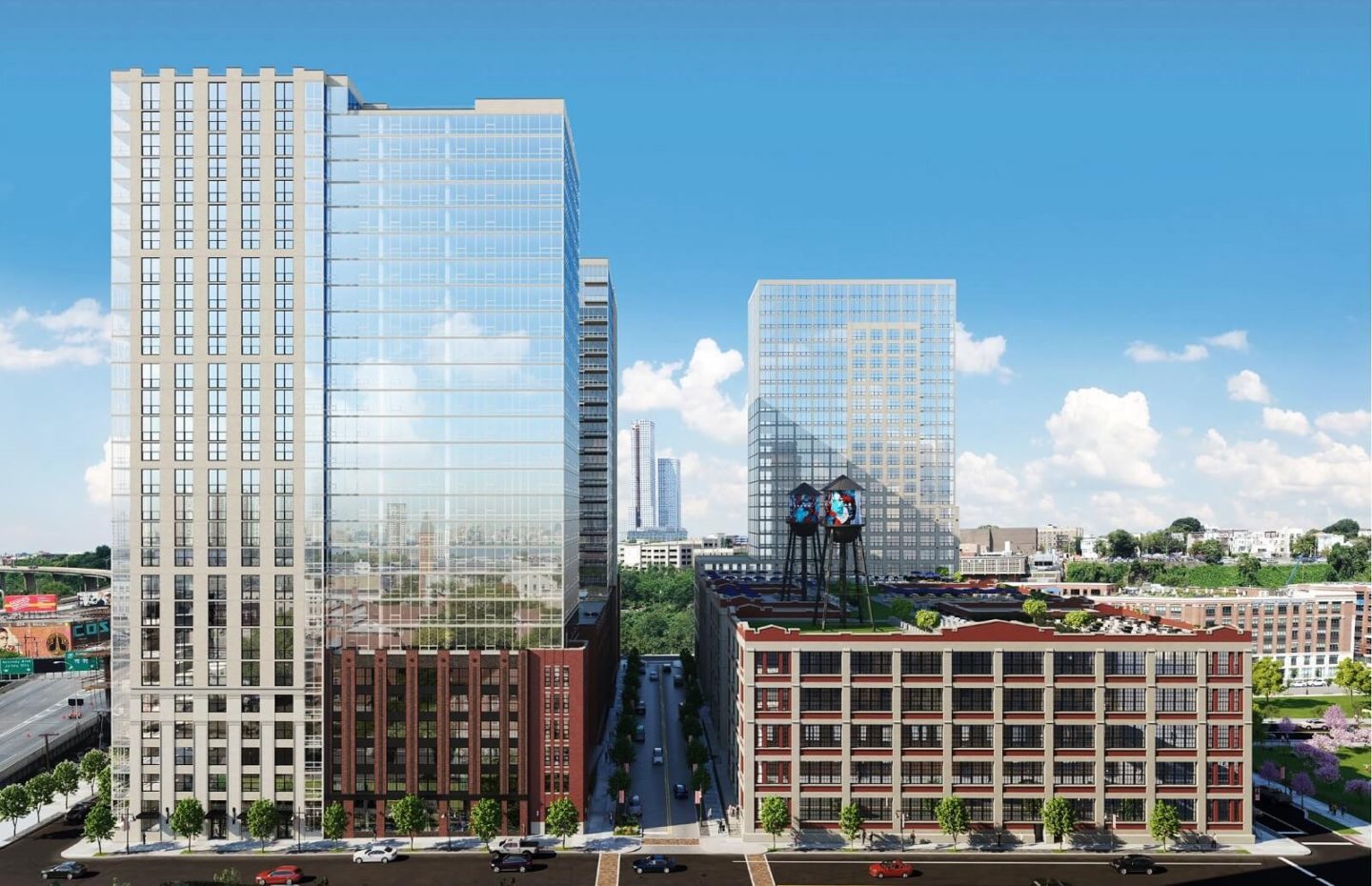 The five-story factory in question was first constructed in the 1920s by the Continental Can Company and was later used for decades by Hackensack-based Emerson Radio. The facility built radios, records, and televisions in the early days of those products before it was acquired by developer Manhattan Building Company.
Construction on the first 26-story tower began in 2019, with the building opening as Hudson House early last year. A second high-rise has now topped out on the Monmouth Street side of the property that is linked to the first tower by a six-story base.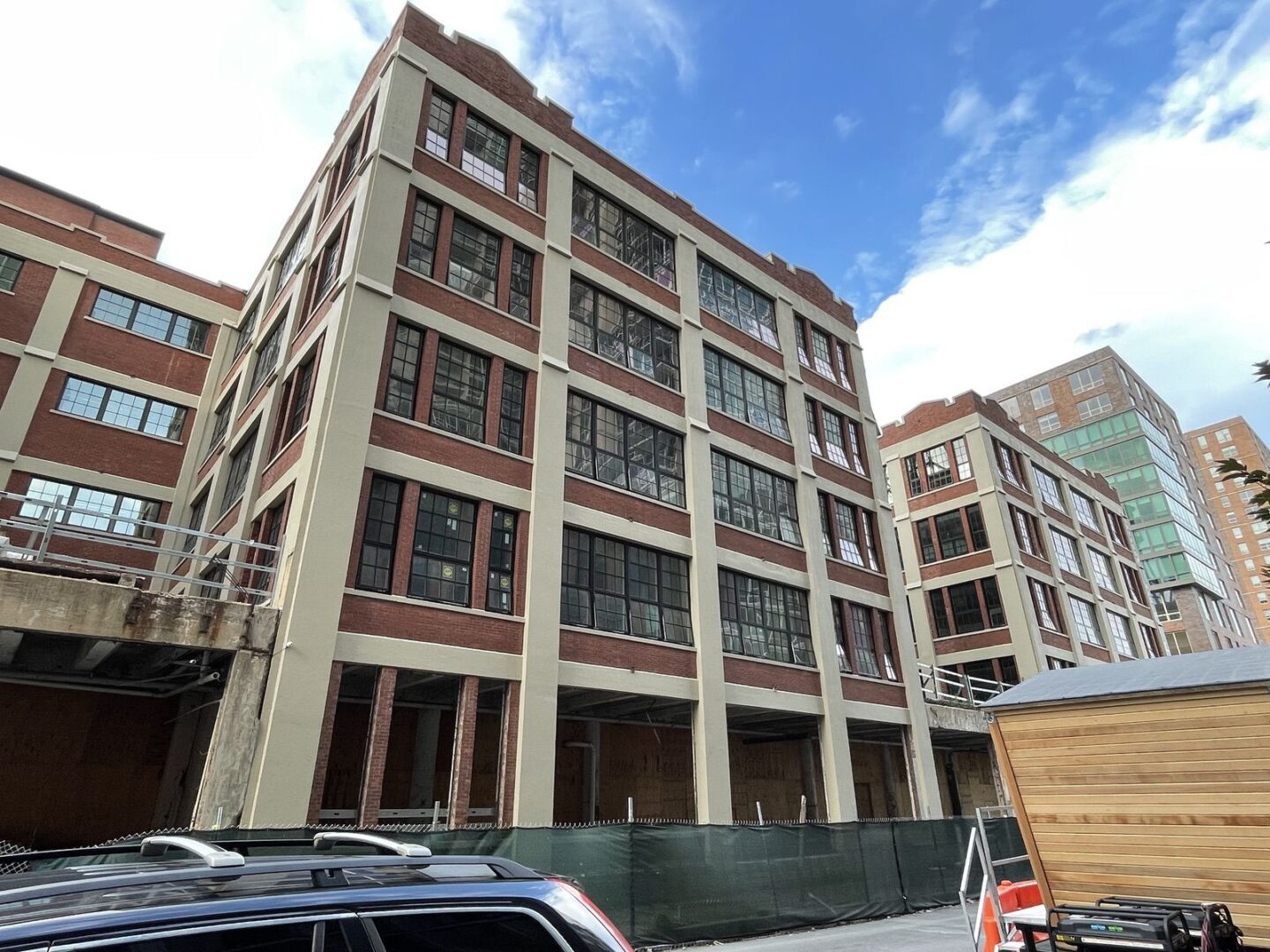 No additional retail is included in this phase, which will consist of 300 new units and 159 parking spaces. Protected bike lanes and proper sidewalks have been added to the blocks surrounding the complex, including along both sides of the nearby I-78 ramp across the street.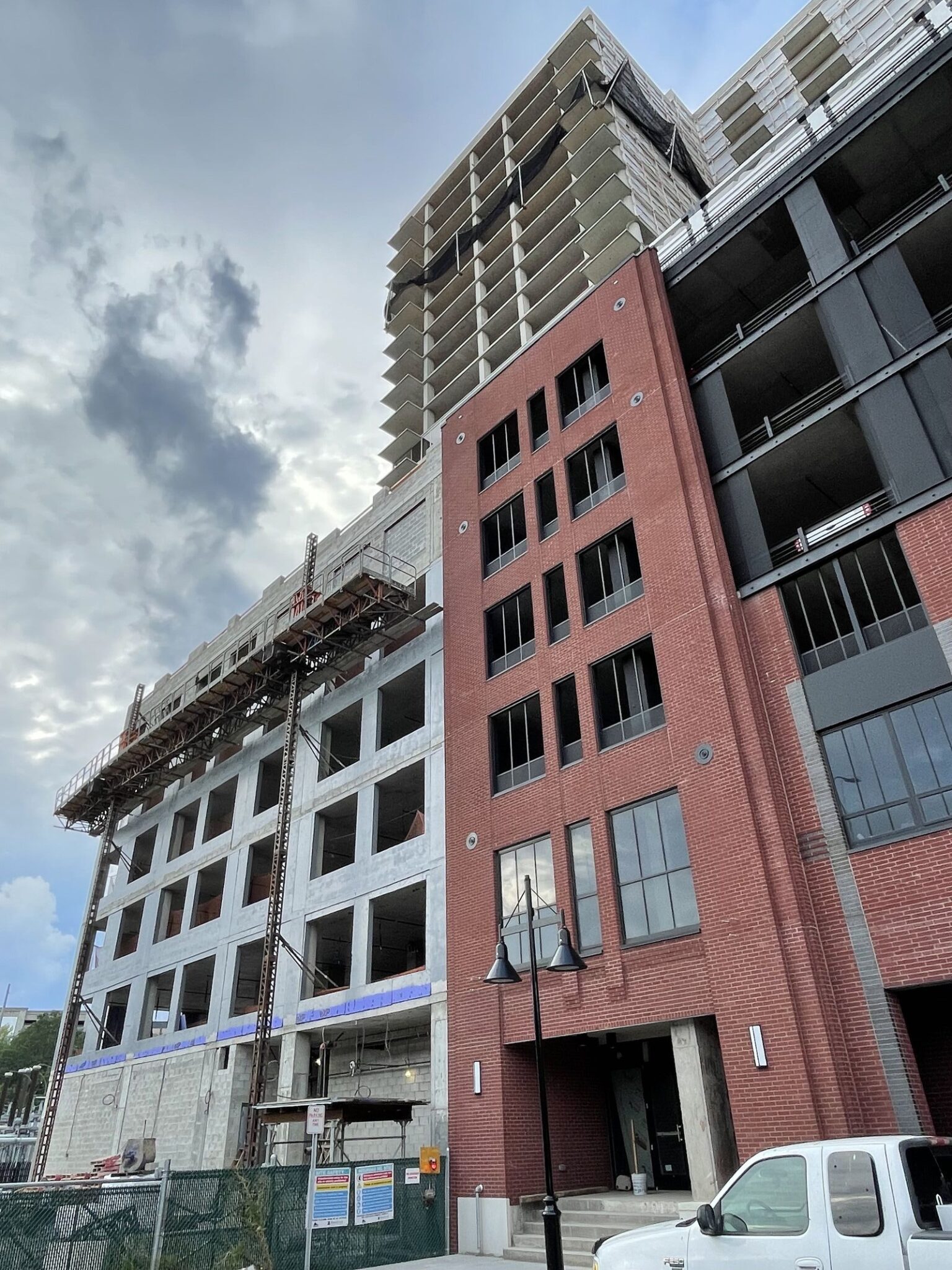 Jersey Digs reported last year on efforts to restore the historic portion, which represents the second phase of work. Still ongoing, the construction is rehabilitating the former factory into a 150-unit complex with 60 parking spaces and includes over 34,000 square feet of retail that is being branded as the Emerson Radio Lofts.
The historic portion of Hudson House is also slated to feature a 23,900 square foot public use space to be deeded to the city that Mayor Steve Fulop has previously indicated could be utilized as a police station. Other perks at the former factory portion include a rooftop amenity space with a pool, fire pits, a movie projection screen, greenery areas, and an outdoor TV section.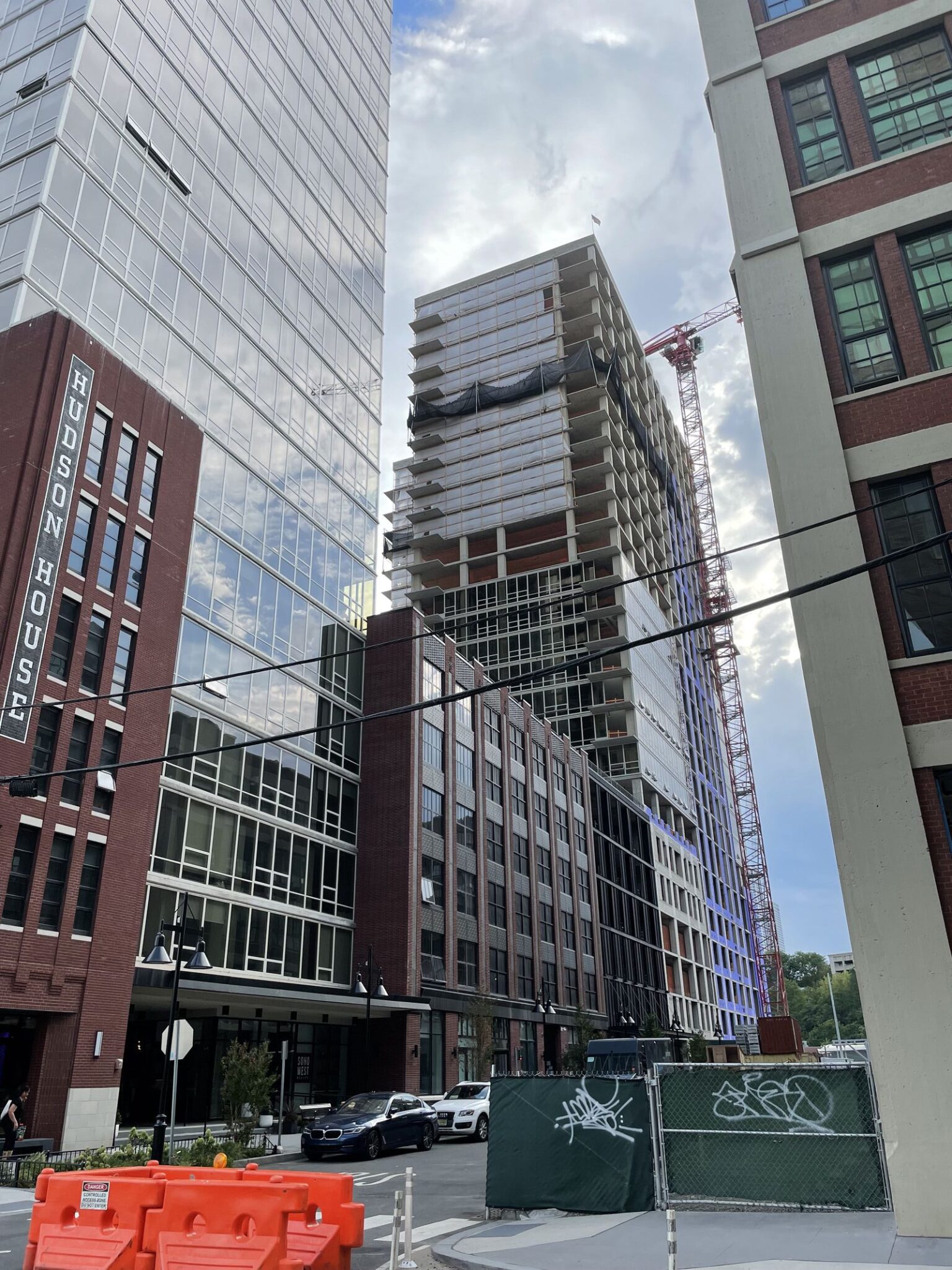 The fourth and final phase involves the construction of a final 26-story tower on the Monmouth Street side of the property that will connect to the historic property between 15th and 16th Streets. That component, which has not begun construction, will include another 200 residential units.
The second phase of Hudson House, which should wrap construction in the coming months, overlooks Coles Park. The green space, opened in 2021, was constructed by Hudson House developer Manhattan Building Company as a community giveback during the approval process.