Home
Tags
301 16th Street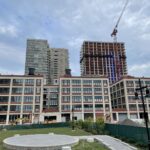 The second tower of a 1,000-unit Jersey City development is transforming the former Emerson Radio Factory into a mixed-use complex.
The former Emerson Radio Facility is undergoing a restoration that will bring 150 loft-style apartments and 34,000-square feet of retail to the northern end of downtown Jersey City.
A prominent landmark in a rapidly developing neighborhood could be revived and expanded under a proposed new district, which would preserve a piece of Jersey City's history and update it for modern times.