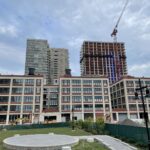 The second tower of a 1,000-unit Jersey City development is transforming the former Emerson Radio Factory into a mixed-use complex.
Landmark Hospitality is launching an Italian steakhouse Felina Steak in Jersey City, which is set to feature a sprawling rooftop cocktail bar boasting indoor and outdoor lounges.
The former Emerson Radio Facility is undergoing a restoration that will bring 150 loft-style apartments and 34,000-square feet of retail to the northern end of downtown Jersey City.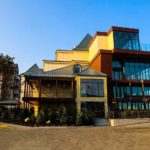 Landmark Hospitality's latest restaurant is now serving fresh seafood and aged chops inside Hudson House, Jersey City.
One of the last properties along the Hudson River to be rendered vacant by Hurricane Sandy is getting revitalized into a farm-to-table restaurant, rooftop bar, and banquet facility.