Inspired by Hoboken's #thisplacematters campaign, we're profiling long-standing businesses in Hudson County that contribute to the distinctive culture of North Jersey. Know a business worthy of a feature? Email us: [email protected]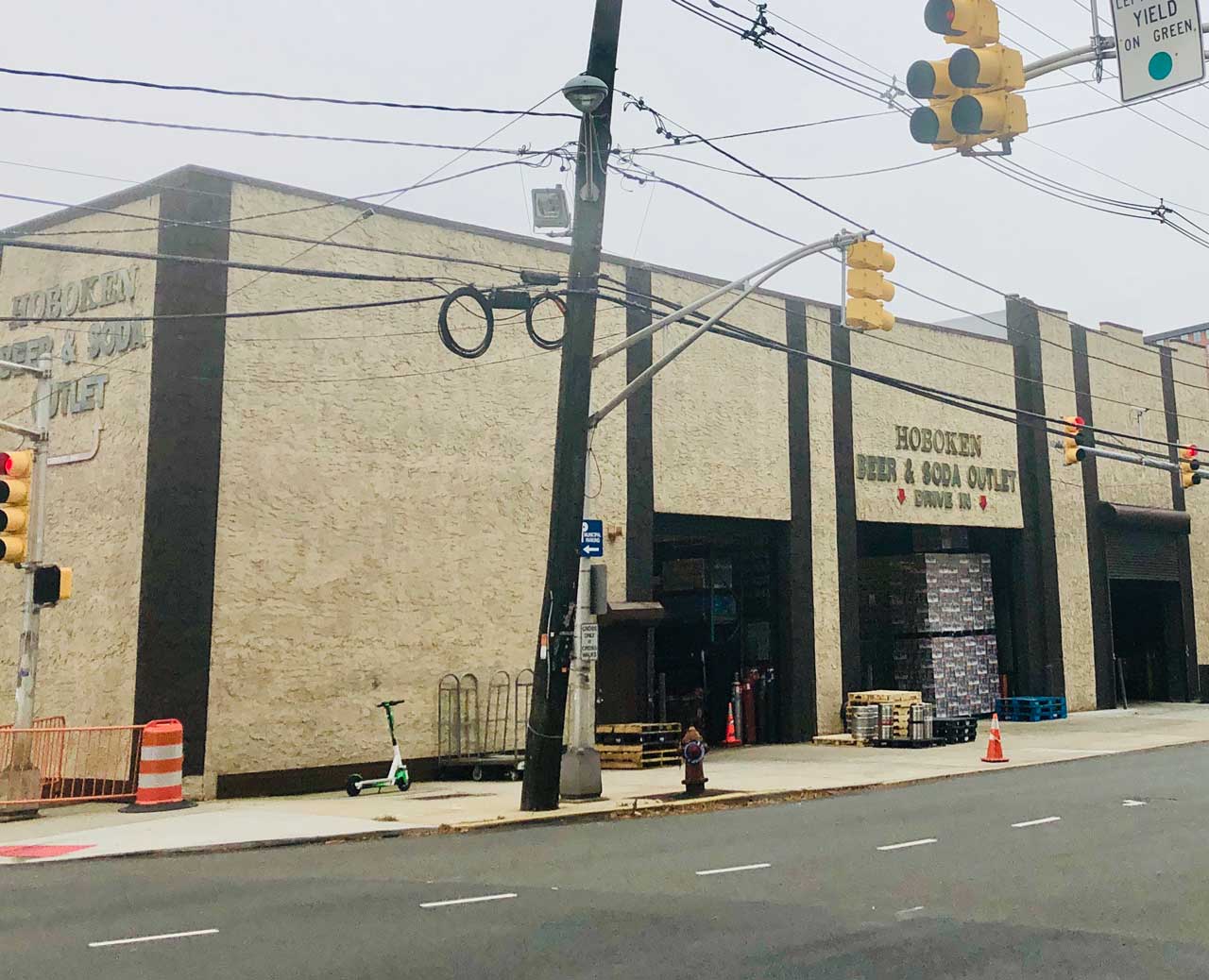 From his prime vantage point at a busy Hoboken corner near the border with Jersey City, Hoboken Beer and Soda Outlet owner Joe Mignoli has seen it all, particularly the changes in his industry since his father moved his soda business to Hoboken in 1975.
Joe's father, also named Joe (different middle names), used to carbonate and bottle municipal water at a plant on Second Street in downtown Jersey City before he bought a small building in Hoboken. That was long before people became more health-conscious, and before spring water became, as they say, "a thing." Since then, Joe has seen lots of other changes in soda and alcohol preferences.
"Hard seltzer is popular now," he says on an unseasonably cold Tuesday, looking out of his small, heated office in the warehouse, from which he can watch traffic pass on two sides. "White Claw has a strong hold. Time will tell."
He says he's not sure of the reason for the hard seltzer trend.
"Because it's healthier than beer?" I suggest.
"It's beer," he says.
I laugh.
"No, it is beer," he emphasizes. "It's derived from malt."
In fact, many of the trendy drinks of the past — Bartles and Jaymes Wine Coolers, Smirnoff Ice, Mike's Lemonades — are flavored malt liquor.
Mignoli's company is one of the last drive-through alcohol stores in the region. Thrillist lists the outlet in "10 of America's Best Drive-Thru Liquor Stores."
Mignoli won't sell other alcoholic beverages besides the beer varieties, for legal reasons. And he's careful with the beer.
"We have refused people," says his wife, Teri, who has worked there for 20 years and also has seen it all. (The pair met at a Jersey City bar in the 1980s.)
Joe's been getting calls about CBD drinks, but isn't sure he wants to stock them, or even that he supports the legalization of marijuana for recreational use, "Because how do you measure the impairment?"
Joe's father started bottling soda around 1950 at 375 Second Street in Jersey City, calling his brand Colonial.
"He'd get the sugar in 100-pound bags and mix it with water," Joe says. "I worked there. I would put the bottles on a conveyor belt."
His father sold popular flavors like orange soda.
In 1969, the elder Joe learned of a soda business on South 12th Street in Newark, Star Brewing, so he bought that company too. As he delivered bottles to liquor stores, he thought about running his own.
A man who ran a flea market on Newark Street in Hoboken, where the Skyline Condo building is now, suggested the elder Joe rent a building there. Eventually, Joe did and then bought the small building across the street, where they are today.
They own 6,000 square feet of space on the corner of Newark and Grove streets.
Young Joe worked for the family business while growing up in Jersey City Heights, then obtained a degree in business management at St. Peter's College. When the elder Joe passed away, young Joe took over.
Now he sits atop a prime parcel in rapidly developing Hoboken, but he's not thinking about selling just yet (maybe in five to 10 years he'll retire, he says).
He takes the business seriously. Wife Teri says he's a fountain (so to speak) of beverage knowledge.
So, what don't people know about soda and beer?
"Seltzer and club soda are the same," he says. "People swear they're different."
And what's the strangest drink he's ever sold?
"We sold Cave Creek Chili Beer," he says. "There was a hot pepper in each bottle. It tasted like drinking pepper juice out of a jar." (An article about it on a website refers to it as "the worst beer in the world.")
Joe's business sells 400,000 to 500,000 cases of beer each year, he says, not surprising, as he's sandwiched between two towns with a robust bar and restaurant scene (and robust recent college graduates moving in).
But business has been harder now that he has to compete with big-box stores like BJ's and Costco. "We offer friendly service and competitive pricing," he says. "And the convenience of a drive-through. You don't have to find parking. If you ask for something at Costco, they say, 'Let me go find someone to help you.' "
Teri observes a customer pulling in via Newark Street, then coming to a stop before the exit. "He knows to pull all the way up," she notes. "Our guys in the booth confirm the quantity so no mistakes are made. And they're on their way."
Besides beer and soda, the store sells CO2 gas for bars and home brewing systems (and for fish tanks), nitrogen tanks for cold brew coffee, and kegs.
While they sell 400 types of beer, as well as sodas and waters, they don't branch into other products much. So what has changed most over the years?
"They've drunk less soda," Joe says of his customers. "The waters have gone up in demand, Vitamin Water and flavored seltzer, like LaCroix and Poland Spring. To be honest, when I was a kid, [soda was] all we drank. When we played ball, I used to fill a cooler with cola and ice, not water."
Craft beer was popular for a time and is coming back, he says. Energy drinks are popular, "But the only ones that sell are Red Bull and Monster."
So besides retiring, any dreams of stardom?
Joe has sold products to Buddy Valastro of "Cake Boss," but he says there probably won't be a "Beer Boss."
"I think we missed that ship," he laughs. "We heard many suggestions. Nothing ever evolved."
Joe's beverages of choice are Corona or Guinness, while Teri likes Corona, wine, and sangria.
Even though Joe's been at the same job for decades, he's not tired of it yet.
"I enjoy it," he says. "It's the only job I've ever had. I'm here five to six days a week."
Hoboken Beer and Soda Outlet is located at 559 Newark Street, Hoboken, 201-792-2776. Besides the drive-through, people can walk in.
Related: