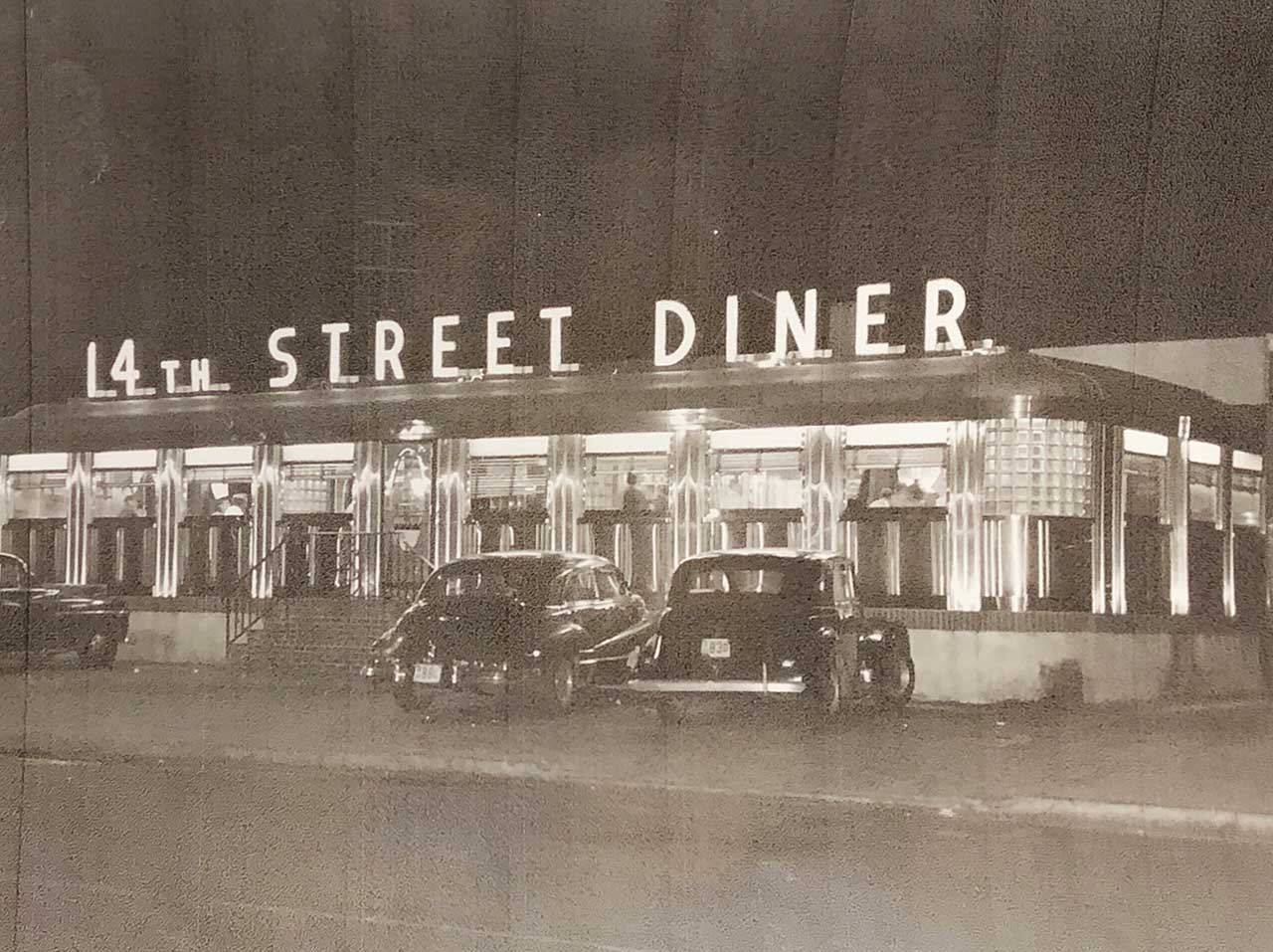 It's not easy being a mom-and-pop shop in a rapidly developing town, so Hoboken's Historic Preservation Commission has launched a campaign to bring more attention to the mile-square city's most iconic stores – some of which have been around for more than a century.
In May, the commission, composed of nine volunteers, began highlighting the 25 oldest businesses in town with special signs in their windows and a social media campaign using the hashtag #thisplacematters. Each post on Instagram includes a history of the business and then-and-now photos.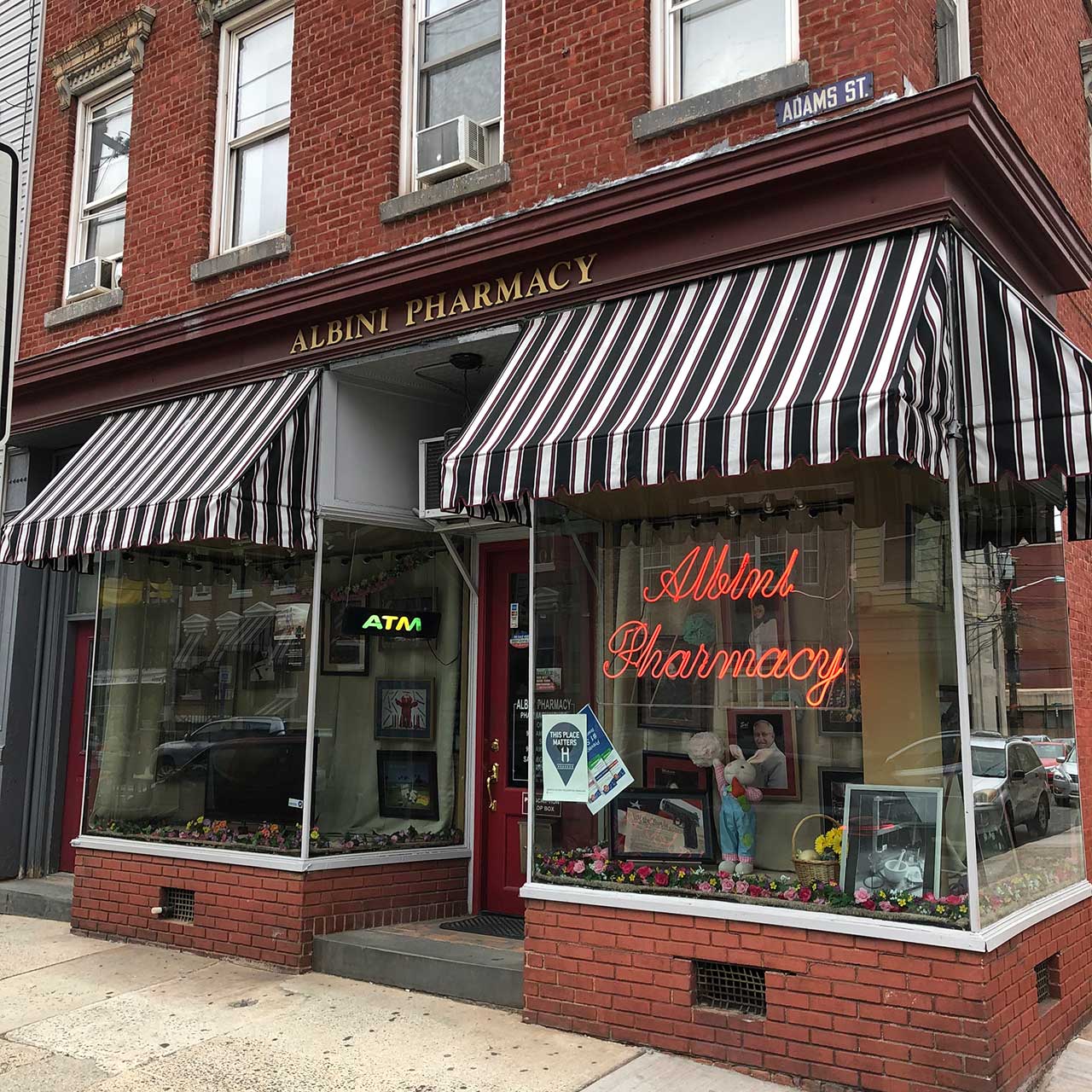 The oldest store dates back almost a century and a half: Albini Pharmacy on Adams Street, with its photogenic striped awning. It opened in 1880.
Mueller Insurance on upper Washington Street, founded in 1906, is the oldest business in town run by the same family. Obviously, it has had to change with the times, now answering questions on renters' insurance and flood insurance rather than farms and horseless carriages.
Commission Vice Chair Jon Vesey said that the National Trust for Historic Preservation started a #thisplacematters campaign more than two years ago. During National Historic Preservation Month in May, some of the members of Hoboken's board thought it was a good time to bring the campaign to Hoboken.
"We created our own logo and rebranded the campaign for Hoboken," said Vesey. "Typically, historic preservation is about buildings and parks, but that's not all we are. We're responsible for helping foster civic pride. We decided to do something to embrace businesses, to show that we're about more than 'Your sign is too big' or 'Your lighting is too bright.' "
The commission meets monthly to decide on issues relevant to the three historic sections of Hoboken – Washington Street, the downtown City Hall area, and Castle Point Terrace. They also oversee 37 locally designated historic sites in town (some of which have national designations too), such as the oldest churches. The committee may vote on issues of signage, renovations, demolition, and new construction, with various aspects of those issues also dealt with by the Planning and Zoning boards.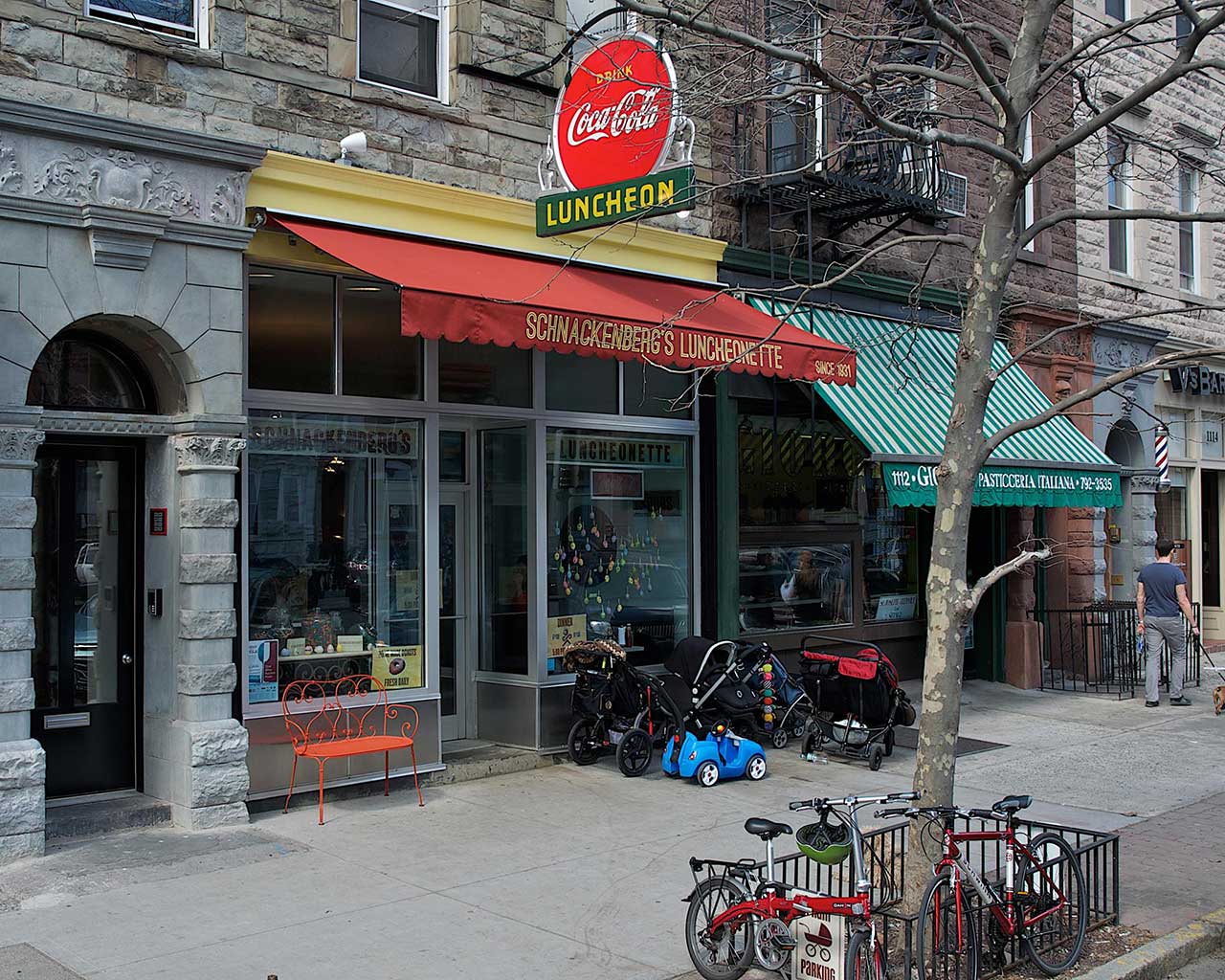 Vesey acknowledged that the recent closing of Schnackenberg's – a beloved 88-year-old luncheonette on upper Washington Street – was an impetus for the campaign. Many locals were saddened when it shut down, although the Alfalfa salad restaurant in its place carries on some of its traditions.
Other decades-old Hoboken businesses have closed in recent years, such as United Decorating at 421 Washington (1899-2015), which used to provide party favors and bunting for the city's parades. In modern times, it sold shirts and hats for St. Patrick's Day.
Vesey said old shops are "a big part of what makes Hoboken Hoboken," referring to what longtime business tell us about the city's history. "If you think of Mutzfest [a competition in which local delis compete] or the Clam Broth House, there's history. Stan's Sports did our t-shirts, and if you grew up in Hoboken, that's where people went to get their Little League shirts."
The bars and restaurants near the city's south waterfront hark back to a time when dockworkers came in from their shifts to drink beer and eat shellfish. With the advent of bigger container ships and more dependence on air travel, smaller ports like Hoboken lost business to larger waterfront cities.
Vesey said there was no one place to research the oldest businesses in town, so the city had to draw from a variety of resources. Those who feel a business was missed on the list can reach out via the Instagram campaign.
He also said that people have suggested some iconic businesses that aren't old enough to make the top 25. He said the businesses on the list are older than 1980. However, he said, perhaps someday, the commission will conduct a campaign related to those.
Changing times
Meanwhile, some longtime restaurants have closed even since the campaign started. Vesey noted that Sasso's Deli on Garden Street was on the list at first, but closed before the campaign got going.
But the survivors are worth a visit for their products, architecture, and other features.
Piccolo's on Clinton Street is well-known for its famous cheesesteak sandwiches (much thicker than Philly cheesesteaks) and boasts signage from half a century ago.
"Piccolo's has been a Hoboken tradition since 26-year-old Joseph "Sparky" Spaccavento returned from the Korean War in 1955," notes the commission's post on Instagram. "Joseph's son Pat keeps the tradition alive and the Sinatra playing."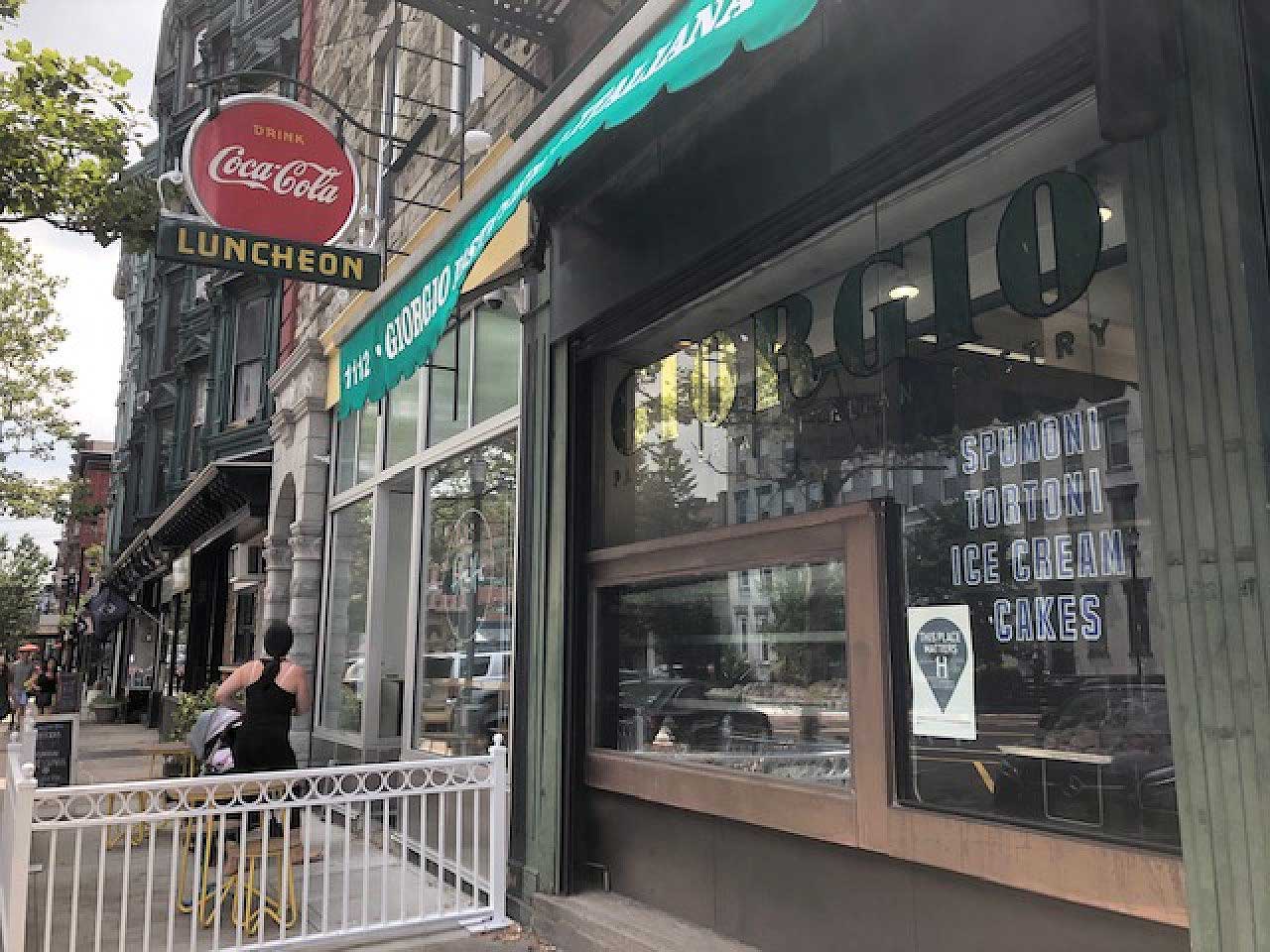 Another family favorite on the list is Giorgio's bakery on Washington Street, whose founder (Giorgio Castiello) passed away this spring. The bakery is run by his daughter Mary Grace, who's often found manning (actually, womaning) a counter that displays cannolis, pies, and a heaping assortment of Italian cookies.
The stores recognized are, from oldest to newest: Albini Pharmacy (1880), Elysian Café (1895), Lawton-Turso Funeral Home (1897), Brass Rail (1900), Fiore's (1903), Muller Insurance (1906), Carlo's Bakery (1910), Willow Pharmacy (1921), Sparrow Cigar & Wine (1922), City Paint and Hardware (1931), General Lumber (1935), Leo's Grandevous (1939), Antique Bakery (1939), Stan's Sports Center (1946), Malibu Diner (1940s), Truglio's Meat Market (1952), Piccolo's Famous (1956), The Shannon (1956), Giovanni D'Italia Shoe Repair (1960), Benny Tudino's (1968), La Isla (1970), Lisa's Italian Deli (1971), Giorgio Pasticceria (1974), Losurdo Brothers (1975), and Dom's Bakery Grand (1979).
Find the (still ongoing) campaign on social media here.
Related: