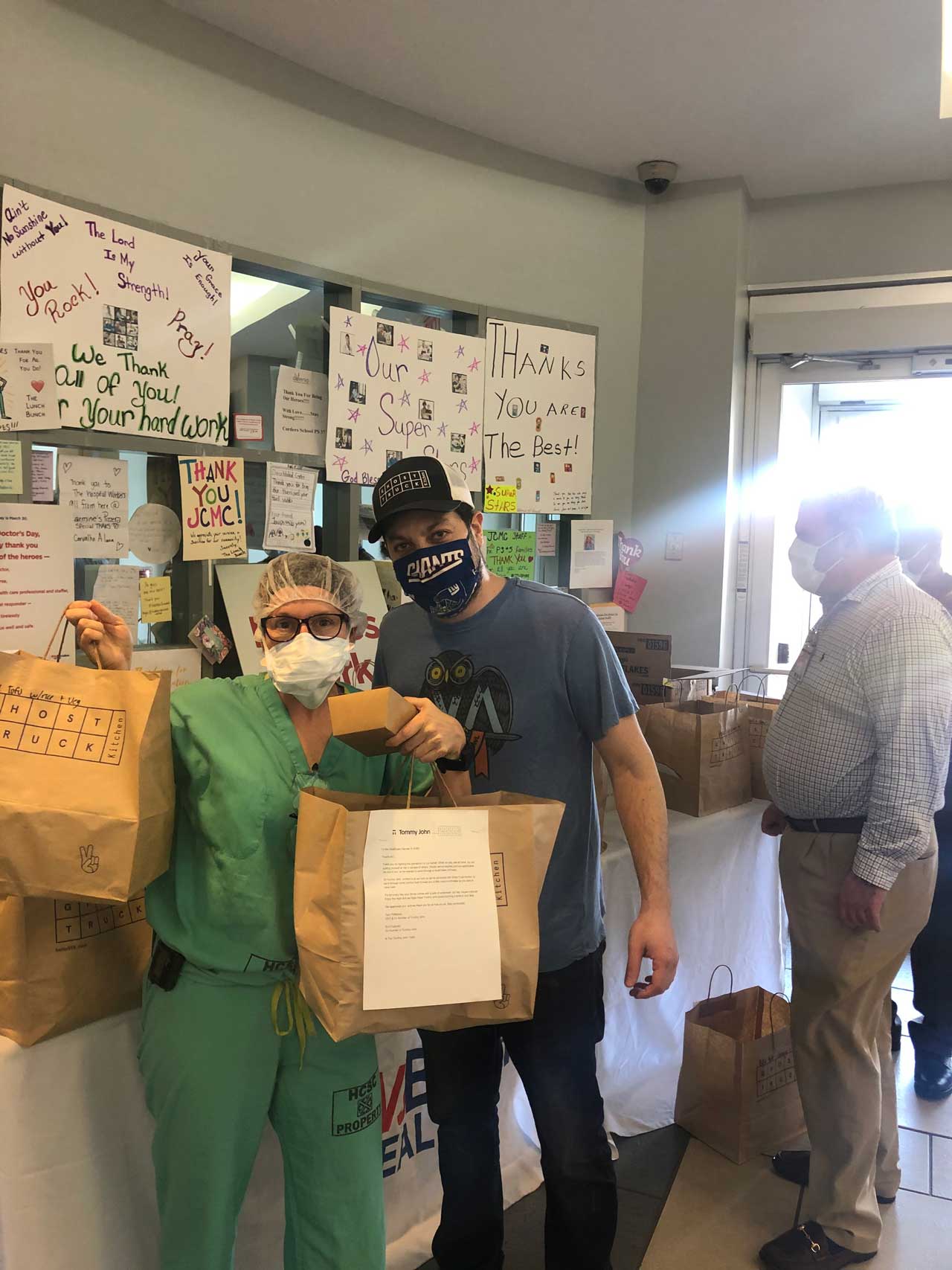 The Founder of Ghost Truck Kitchen (GTK), Andrew Martino, lives right next to Jersey City Medical Center (JCMC), where the sights and constant sounds of the coronavirus pandemic are always close to home, so when local P.S. 5 parents wanted to coordinate meal deliveries to JCMC, he was raring to go. And since that initial effort at the end of March, the overwhelmingly supportive public response has transformed Tuesdays at GTK into a Day of Giving.
Ghost Truck Kitchen opened its charming red brick storefront at 356 Varick Street in Downtown Jersey City with a mission to make take-out and delivery better. Inspired by quality ingredients and culinary creativity, order-ahead tech, and the efficiency of a small retail footprint, they then had "a crazy idea to make the ordering experience like being in front of a bunch of food trucks with the ability to order from several different small menus," Andrew recalls on GTK's website.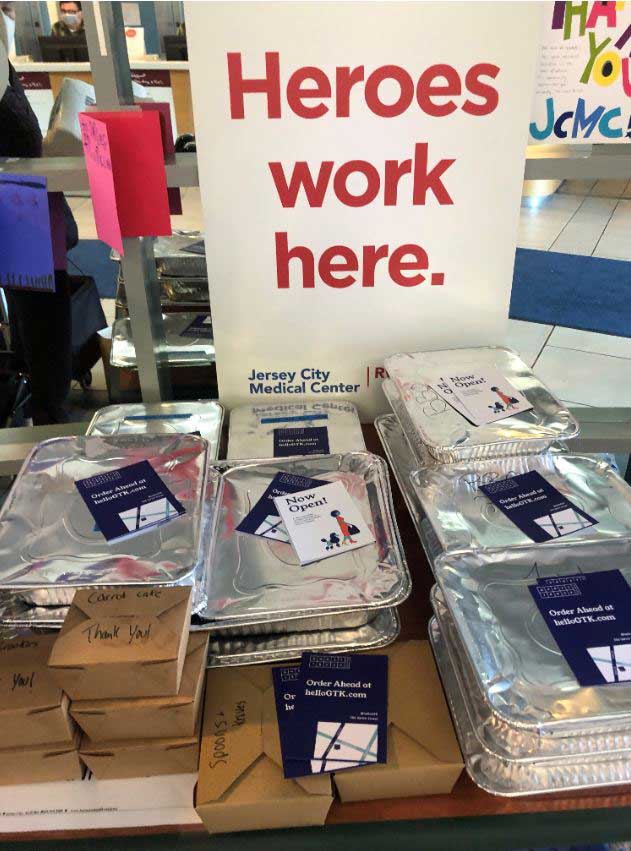 The concept clicks on multiple levels, from offering a diversity of delicious scratch-made options and eliminating dinnertime menu disagreements at home to making ordering ahead or for a group with different appetites as easy as pie. GTK's concept is also uniquely positioned to persist during a pandemic: Actually built only for pick-up and delivery, GTK's operation is lean and a socially safe distance from the customer.
"GTK hasn't had to make crazy adjustments yet," Andrew told Jersey Digs. "It's tough to even call it an adjustment; we're all adapting, accommodating, it's only positive — the togetherness of the community, the helpfulness of the industry and our neighbors — and it's awesome to see and feel that spirit."
GTK's Day of Giving Tuesday has grown generously, incrementally each week. Andrew closes to the public and gives his staff a paid day off while he personally prepares 50, 75, 100, and recently, as many as 150 fresh meals for JCMC. In an effort to showcase the GTK concept, he is whipping up a dizzying variety of food for delivery which is "smart and not smart," joked Andrew. He delivers four to five options, including vegetarian and vegan items, so no one is left out.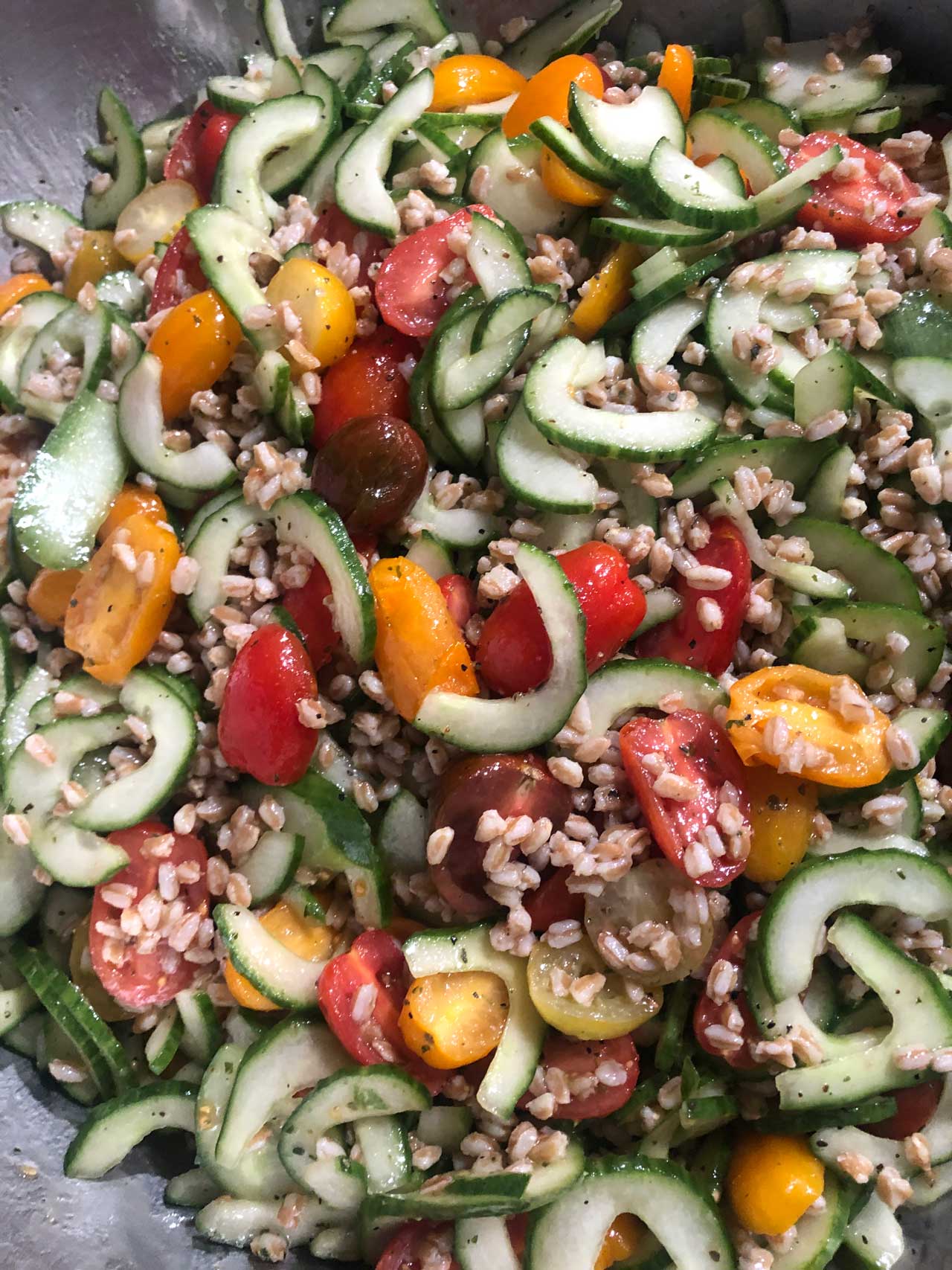 Colorful salads and hearty tofu bowls accompany mouthwatering staples like BBQ pulled pork with cornbread and slaw and steak fried rice. Andrew also drops off grab-and-go options like local apples, oranges, and fresh juice. And really no one is left out. One Day of Giving Tuesday was devoted to the unsung heroes of JCMC: the custodians and security personnel.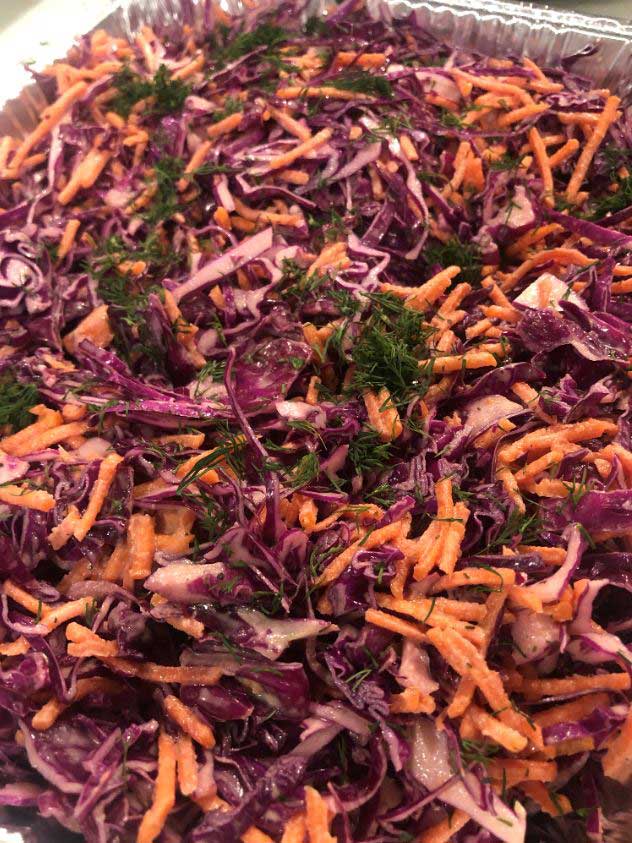 Not only is GTK receiving personal donations which Andrew Martino matches, so your 10 bucks becomes 20 and makes two meals instead of one, but private companies are also funding Tuesdays for GTK.
On Tuesday, April 28, Tommy John — the NYC-based underwear company with a comfort cult following — sponsored the entire day. Tommy John was actively looking for ways to help and Andrew's wife is friends with the brand's Director of Communications, so the GTK-Tommy John connection evolved from pure happenstance into a partnership to produce over 150 meals and provide some Tommy John swag.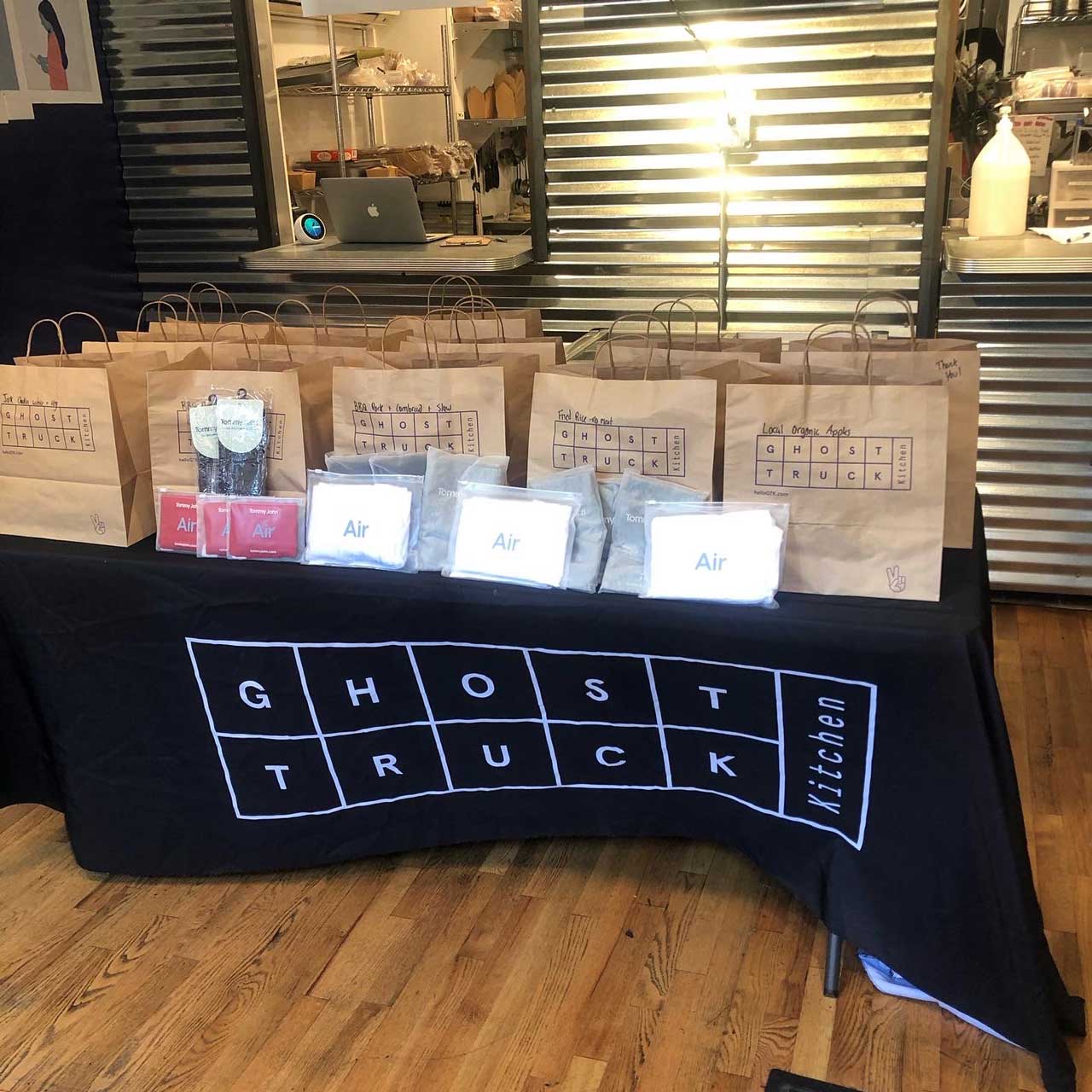 And what might have sounded like an unconventional pairing at first combined to create comfort upon feel-good comfort for those who need it the most right now. "Tommy John was super on board right away," Andrew told Jersey Digs.
"We are so appreciative of these healthcare heroes that are putting themselves at risk in service of others," Tom Patterson, the CEO and Co-founder of Tommy John told Jersey Digs. "We wanted to offer a small token of thanks for those who are doing so much during this challenging time. If there's one thing we know at Tommy John, it's the value of comfort. So with the help of Ghost Truck Kitchen, we were able to deliver some comfort food with a side of Tommy John underwear. It may not be the most expected offering, but we hope it will bring a smile to their face and keep them comfortable as they work to save lives."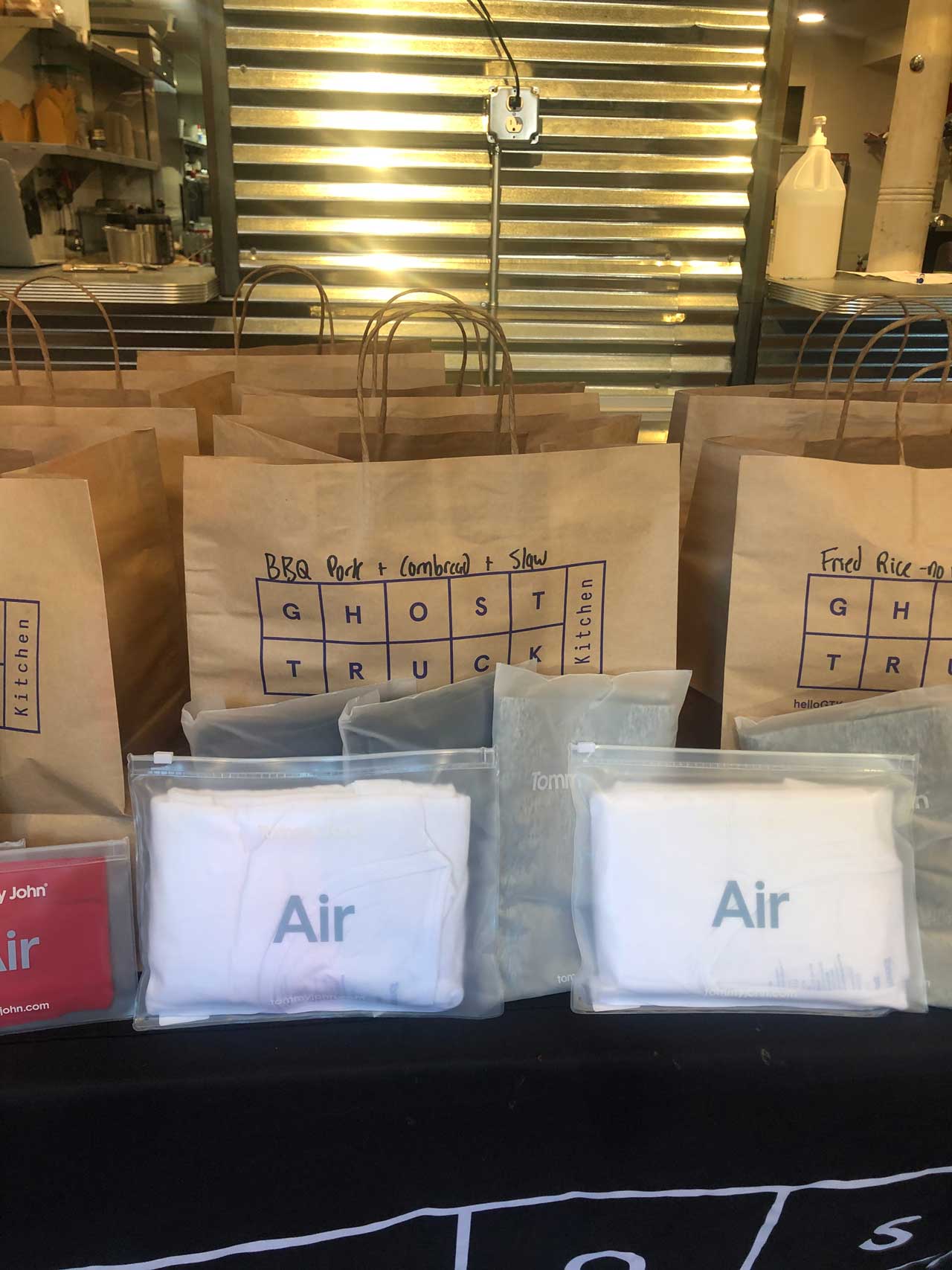 Ghost Truck Kitchen celebrated its one-year anniversary on April 20 and is so appreciative of everyone's support. "We will stay afloat for as long as we can," Andrew told Jersey Digs, and GTK plans to continue Day of Giving Tuesday through May. "There's a whole ecosystem, a lot of people, out there still working to make what we're doing possible."
Please visit hellogtk.com to place your own pick-up/delivery order and to learn more about Ghost Truck Kitchen and the Day of Giving Tuesday initiative. Donations are also accepted via Venmo: @hellogtk. And industry folks take note, GTK offers 30% off!
And in more feel-good news, in addition to this partnership with Ghost Truck Kitchen, Tommy John is donating $500,000 worth of Tommy John products to nurses on the front lines of this pandemic through partnerships with hospitals across the country.
Related: