Just two months after new information was released about a proposed Urby tower at 571-577 Pavonia Avenue in Jersey City, preliminary details have been revealed about plans for another Journal Square Urby project.
Developers are in the early stages of preparing an Urby development at a group of properties around 168 Sip Avenue that are currently owned by Hudson County Community College (HCCC). Some details about the proposal were discussed during a virtual meeting of the Jersey City Redevelopment Agency's (JCRA) Board of Commissioners last week, including that the project is expected to consist of an 18-story building near the corner of Sip and Tonnelle Avenues.
A resolution that was approved by all present commissioners during the meeting states that Ironstate Development, LLC is planning 466 "market rate residential units" for the premises along with 52 "affordable residential units" and close to 12,500 square feet of retail space.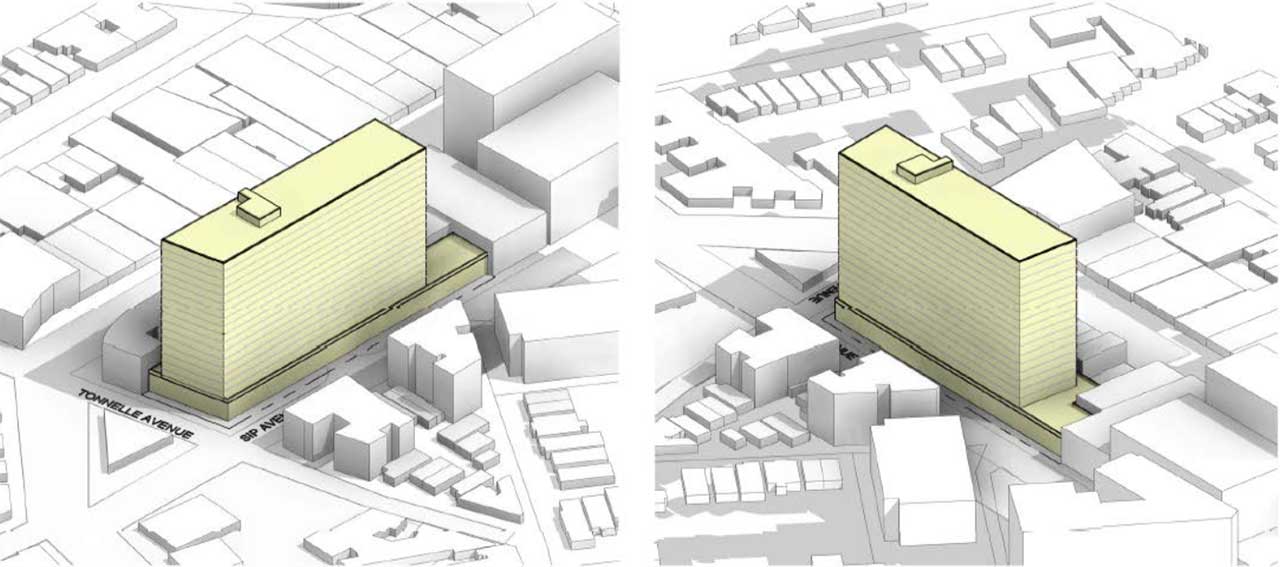 Jersey Digs obtained a copy of the presentation that was provided to the Board of Commissioners. The presentation shows that the residential units proposed by Ironstate could be as small as 439 square feet while three-bedroom units could take up 1,017 square feet.
There are currently Urby locations in Harrison, Staten Island, Stamford, Connecticut, and on Greene Street in Jersey City. Should the plans for the Sip Avenue complex continue to move forward, 102 parking spaces are slated to be included, with the majority of residents likely expected to rely on already crowded means of public transportation such as PATH service.
During the virtual meeting, one of the commissioners asked the presenters whether or not they had discussed these parking plans with Ward C Councilman Richard Boggiano, but a representative for the developers indicated they are still in early dialogue with HCCC and have not met with Boggiano yet.
The resolution officially designated Ironstate as the redeveloper of seven adjacent HCCC-owned properties, including the locations of the campus bookstore and Building D.
This news comes after the JCRA issued a request for proposals seeking companies interested in buying and redeveloping these HCCC tracts along with the site at 70 Sip Avenue. Ironstate submitted one of the three proposals to the JCRA, according to the resolution, and was selected because of factors such as 'the proposed purchase price and demonstrated experience and expertise." The resolution says that HCCC "concurs in the agency's selection" of Ironstate for this project.
Related: