One of the more unique businesses to hit Chilltown in recent years will officially start serving a diverse menu of what they dub "fine take-out" to customers, as Ghost Truck Kitchen's restaurant will soon be opening for good at 356 Varick Street.
Renovations commenced at the former Mi Casa space last fall for the "digital" restaurant, which embraces the concept of food trucks that don't technically exist as the inspiration behind their menus. The endeavor comes courtesy of local resident Andrew Martino, who runs Martino Hospitality Services and has 15 years of experience in the hospitality industry.
Martino says that when he moved to Jersey City, he felt like there was a market gap among its takeout options. Disagreements with his fiancé over where to order from led to Ghost Truck Kitchen's eight food truck-style menus that feature different varieties of cuisines to satisfy a diversity of palates.
Martino teamed with business partner Jason Booth on the buildout of the restaurant, which had a dry run of sorts over the weekend. Customers will soon be able to order food from Ghost Truck Kitchen online for pick-up or stop by and order via a kiosk in the space. Ordering ahead is advised for those in a rush, as everything at the restaurant is made-on-demand and from scratch except their breads, which come from NYC's Sullivan Street Bakery.
The restaurant's different trucks include Underground Sandwich, Bun and Bowl, Salad Gold, Meat Candy, The Stinky Bulb (garlic dishes), Just the Dip, Side Pieces, and Vegan Out. Highlights from a preview of Ghost Truck Kitchen's food include maple bourbon bacon with cornbread and baked beans or a smoked turkey, cornbread stuffing, and cranberry chutney sandwich on sourdough bread.
The diverse menu also features a buffalo grilled chicken sandwich with slaw on a pretzel roll and wings that are brined, smoked, and grilled. The restaurant exclusively uses antibiotic-free proteins, makes all their sauces in-house, and uses sustainable materials with no plastic on all their packaging.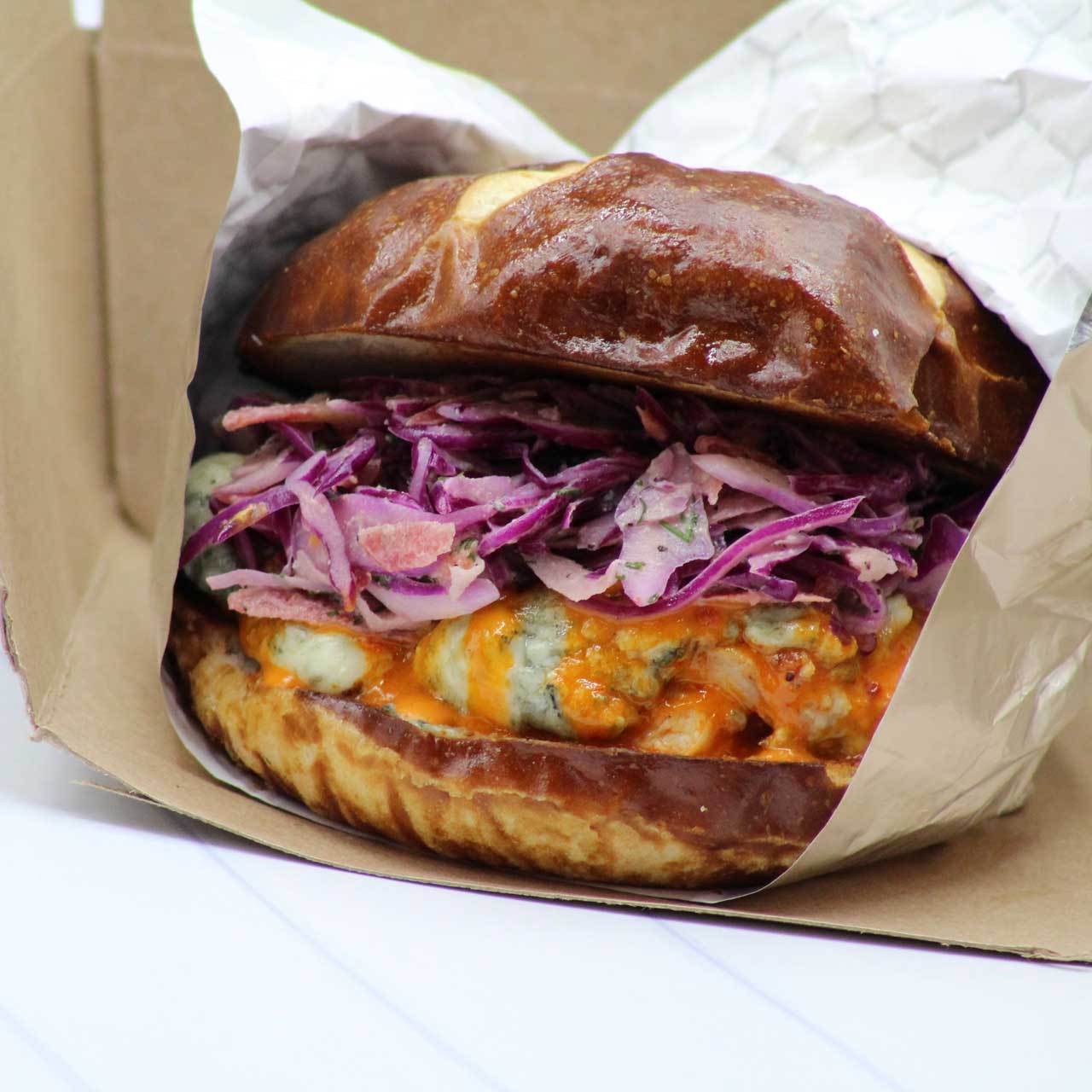 Ghost Truck Kitchen will be opening this Thursday, March 21, serving customers from 5 p.m. to 10 p.m. through Sunday. After closing for three days, they'll re-open for order- ahead pick-up only during the same hours from March 27-March 31. The restaurant will be announcing their full-time hours on April 1 and is launching delivery through Uber Eats on April 20.
Related: