bwè Kafe has partnered with independent bookstore Little City Books to officially debut a new coffee shop/bookstore at 1405 Adams Street in Hoboken. The hybrid celebrated its grand opening in the 2,000-square-foot street-level space at Edge Adams, a six-floor rental building developed by Bijou Properties.
The coffee shop/bookstore, named bwè North End, marks bwè Kafe's second Hoboken location and third overall, as well as the second location for Little City Books.
Hoboken Mayor Ravinder Bhalla attended the grand opening ribbon cutting to mark the latest addition to the budding North End neighborhood. The ceremony was also attended by bwè Kafe owner Dale Mori-Ryan, Little City Books co-owners Kate Jacobs and Donna Garban, the owners of Park & Bloom, and representatives from Bijou Properties.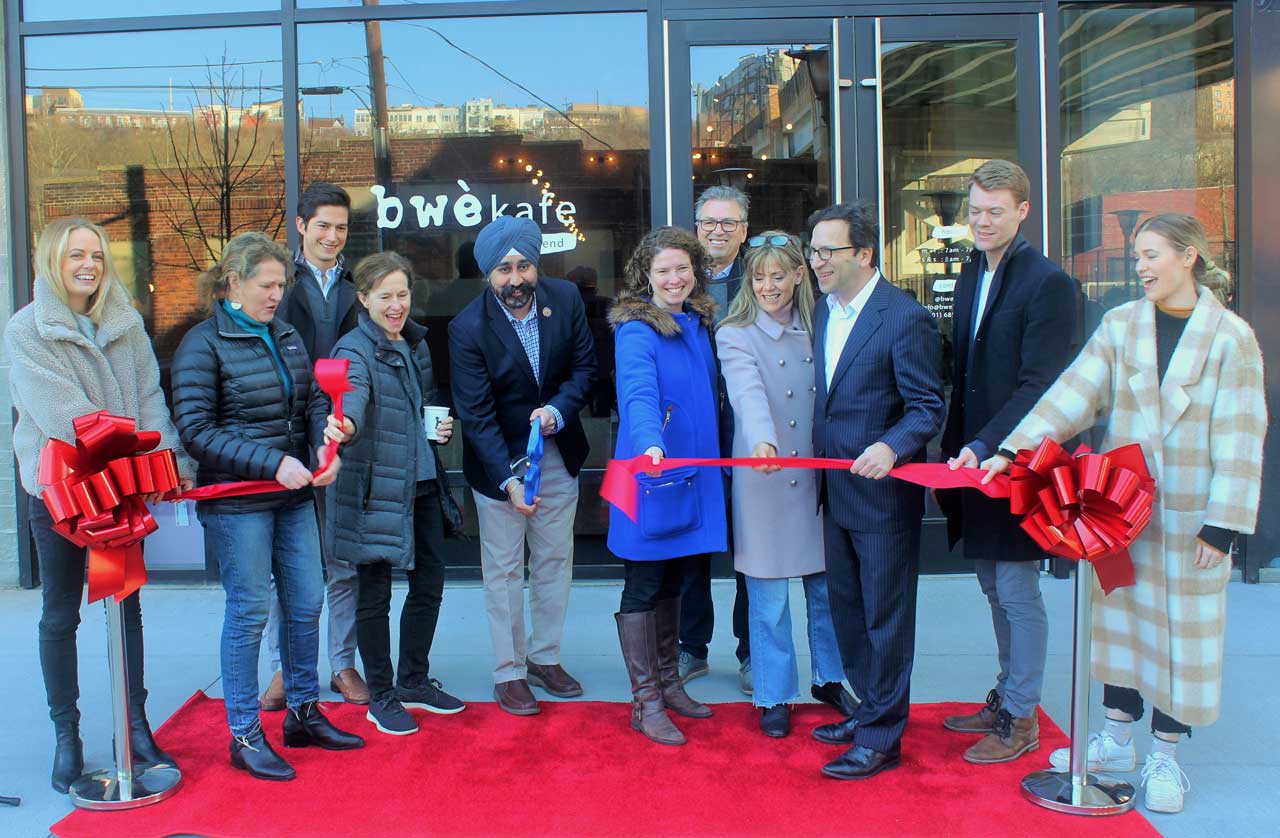 "Congratulations to Little City Books, Park & Bloom and bwè Kafe on cutting the ribbon on a second location in Hoboken today," said Mayor Bhalla. "These small businesses will further revitalize our growing North End and improve the quality of life for all residents. I encourage residents to visit their new locations and shop local for a new book and cup of coffee!"
"We're incredibly excited to open our doors to the North End community," said bwè owner Dale Mori-Ryan. "When the opportunity of the North End location was presented to us, the aspects that excited us the most were the location of the space, the relatively uncontested market space of the surrounding area and the beautiful Platinum LEED Certified building. This fit all the metrics in terms of creativity, innovation and impact that we felt was right to level up bwè kafe. We believed the concept of a coffee shop and bookstore would be a perfect fit in the long term vision for the entire Hoboken North End."
bwè North End joins bwè Kafe's flagship location at 1002 Washington Street in Hoboken and its second location at 140 River Drive South in Jersey City. The new location offers new design features including an extended bar and open kitchen for more extensive food service.
bwè added a second-floor mezzanine to add usable square footage to the space and partnered with Little City Books to offer 3,000 titles. The bookstore portion will cover 300 square feet at the back of the coffee shop. bwè also collaborated with Park & Bloom to add plant and floral arrangements for purchase.
"The North End neighborhood is on the move," said Little City Books co-owner Kate Jacobs. "bwè invited us to collaborate and it seemed like a great chance to meld two established community hubs, and create a new one. bwè, like us, has a tendency to use their space for all kinds of interesting gatherings. We can imagine serendipitous collaborations occurring, blending their coffee crowd with our bookish crowd which are really in many instances, the same! And we love being up by Mile Square Theatre — theatres and bookshops make excellent neighbors."
"We are thrilled to welcome bwè Kafe and Little City Books to the North End," said Larry Bijou, managing partner of Bijou Properties. "Not only is our company based in Hoboken, but this is where many of us live and raise our families. We take the needs of the community seriously and go to great lengths to bring retail and services that enhance the neighborhood — and Edge Adams is no exception. From Gravity Vault to Hudson Table to this one-of-a-kind coffee shop/bookstore, every project we've built in the North End has helped transform the way people think about living, shopping and dining in this area."
Related: