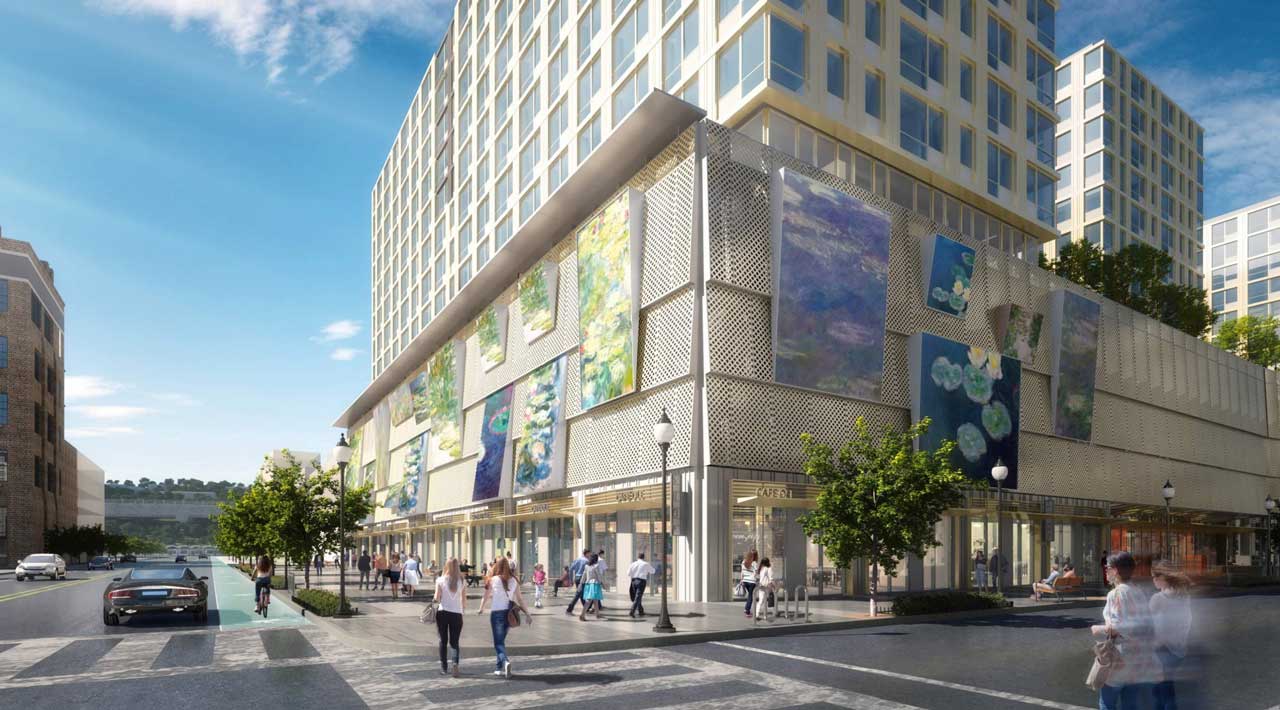 A major player in the Mile Square City's redevelopment will soon be pitching a proposal for an uptown block that would add significant retail space while creating a new home for the city's Department of Public Works.
Bijou Properties, the company behind projects like 7Seventy House and Park + Garden, has revealed its plans for property it owns at 1500 Clinton Street. The land falls within Hoboken's North End Redevelopment Plan, which was enacted just weeks ago following years of planning.
The company's proposal calls for a 12-story mixed-use structure, although the development's ground floor would sport higher ceilings. The E-shaped building would rise just over 153 feet tall according to documents submitted to the city.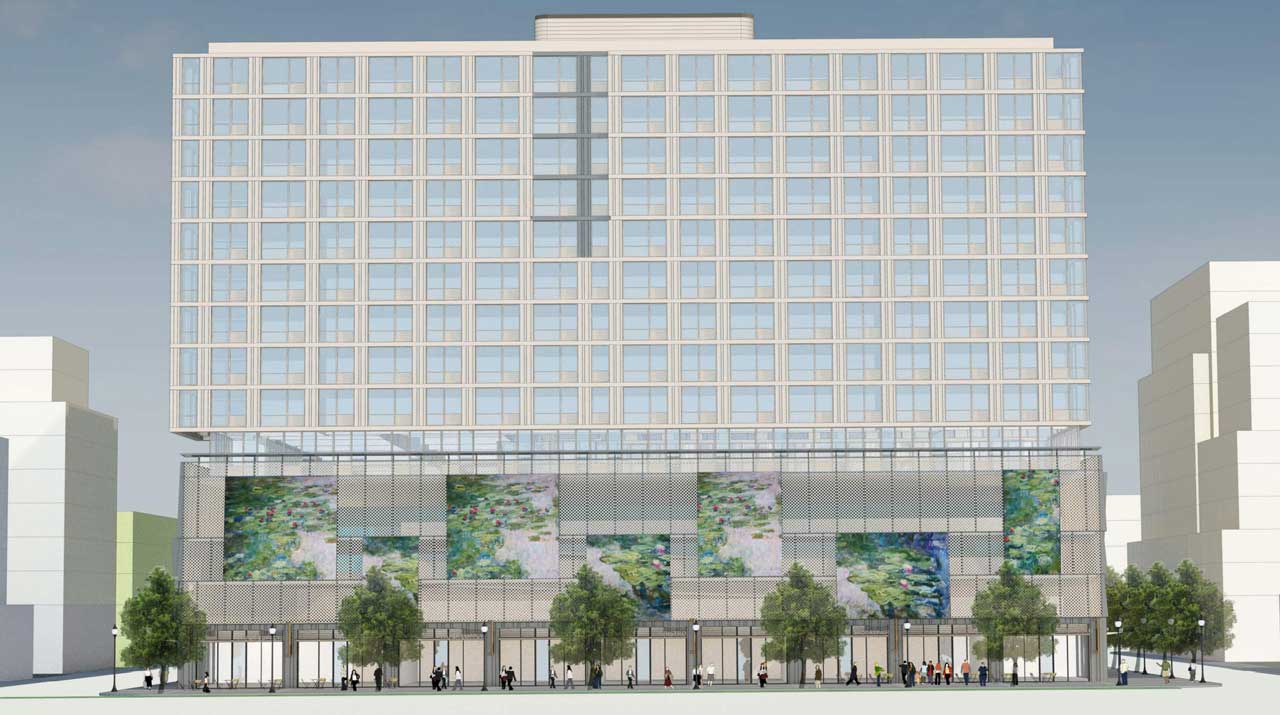 Designed by Hoboken-based Marchetto Higgins Stieve, the ground floor of the development along the 15th Street side would feature 12,500 square feet of ground-floor retail split up between five spaces. A 305-space parking garage would occupy the next three floors and be clad with a decorative metal screen to be illuminated and feature curated, periodically rotating screen-printed artwork.
The first floors of the 16th Street side of the project would consist of 75,000 square feet of public works space. The ground level would be home to a new Department of Public Works Garage, while the second floor would house a City Hall annex, the Office of Emergency Management Command Center, and flexible office space. The garage walls along Clinton Street would be designed to facilitate painted murals to be created with direct engagement from the art community.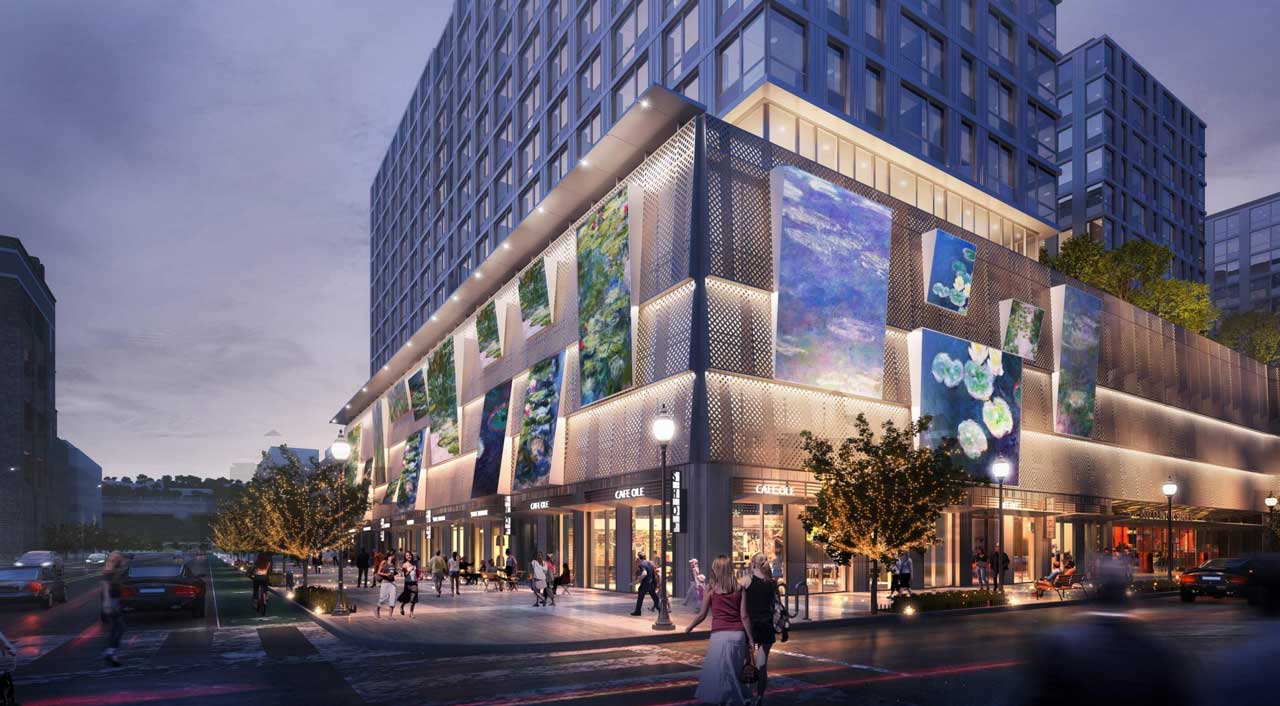 Hoboken will need to vacate their current DPW facility along Observer Highway after a settlement with Ironstate Development was reached earlier this year. A new home for the department was not outlined in that agreement.
"Since we opened our office above the Pilsener Haus Biergarten nine years ago, we've not only watched the North End neighborhood develop its own unique vibe, but we've been part of that evolution by hosting the Uptown Farmers Market under the viaduct and bringing in retail tenants like Gravity Vault, Hudson Table, Orale, and the Bwè Kafe/Little City Books collaboration," said Larry Bijou, Managing Partner of Bijou Properties. "We have a personal stake in the success of this neighborhood and are excited about how this art and retail mixed use project will complement the existing uses to make the neighborhood a destination, bring round-the-clock foot traffic, and meet the city's infrastructure needs."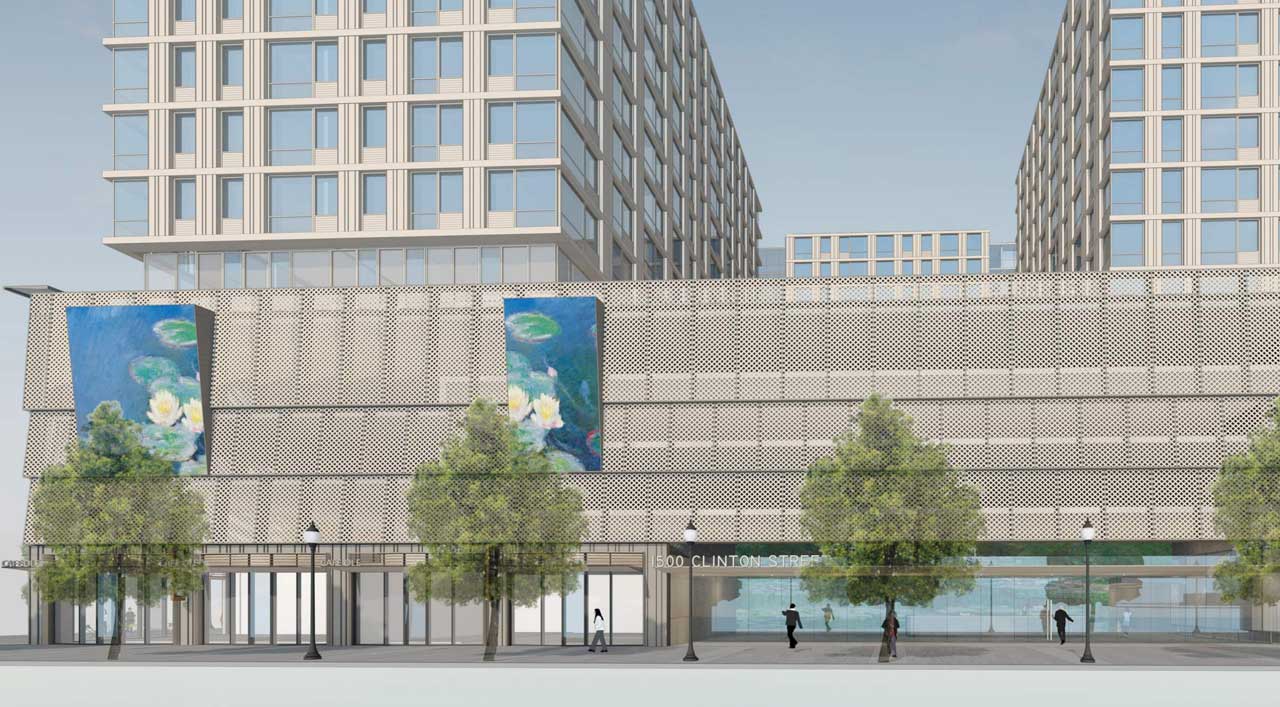 The remainder of the proposal includes 478 residences, 48 of which would be set aside as affordable housing. The apartments break down as 48 studios, 273 one-bedrooms, 137 two-bedrooms, and 20 three-bedrooms, and a third-floor amenity terrace in the proposal includes a pool, a 5,176-square-foot lounge, and an 11,00-square-foot gym.
Bijou Properties says they will design, construct, and "make a significant financial contribution" towards the City Hall annex and public works garage components. The proposal would develop parcels 5A and 5B within the North End Redevelopment Plan, which allow a baseline height of 10- and five-story buildings respectively.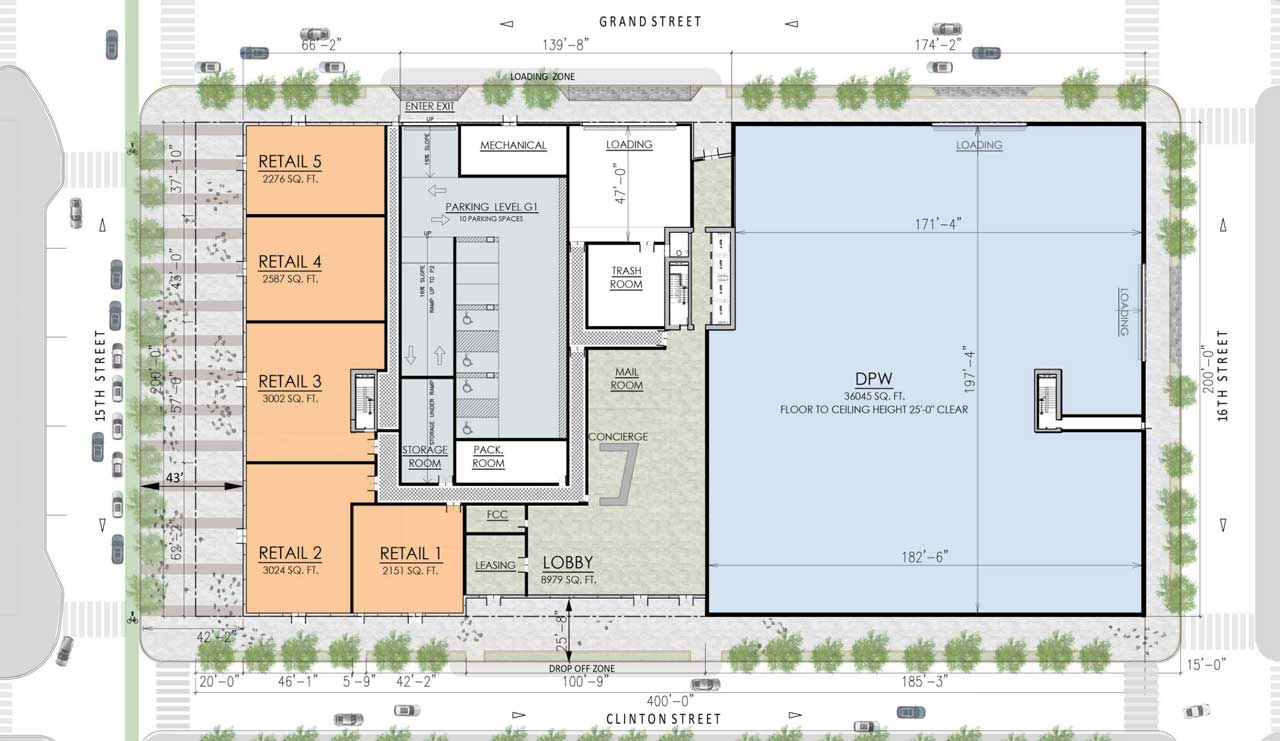 The city's plan additionally requires the creation of a linear park at the site, something the current proposal lacks. However, those components could be modified if the city council authorizes negotiations with Bijou Properties.
"We look forward to listening to and working with Hoboken's elected officials and community members to create a project that everyone can be proud of," Bijou said.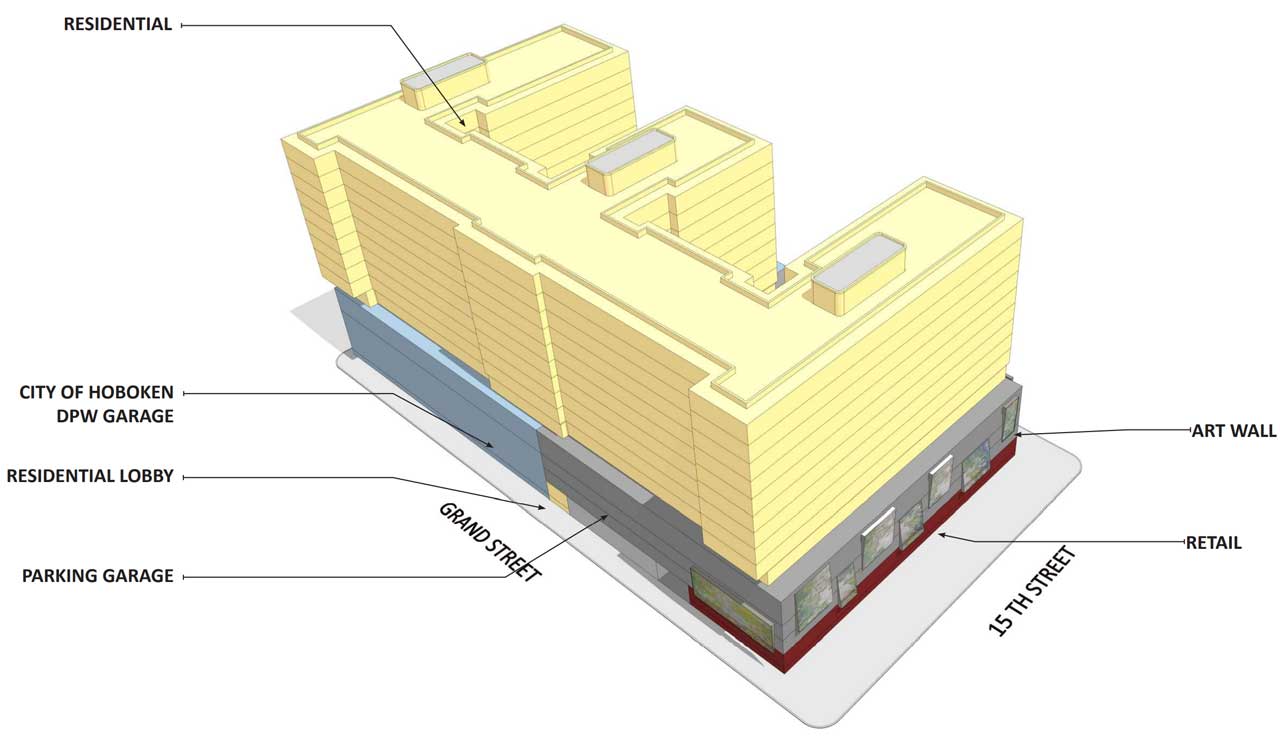 The council is slated to vote on a resolution that would execute an interim cost agreement between the parties during their April 7 meeting, which will be held remotely on Zoom. It begins at 7:00 p.m. and can be joined at this link.
If the resolution is approved, the council would still need to sign off on a negotiated redevelopment agreement in the future. The city's planning board would also need to separately approve the project before construction begins.