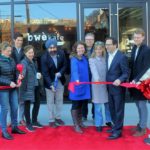 bwè Kafe has partnered with independent bookstore Little City Books to officially debut a new coffee shop/bookstore at 1405 Adams Street in Hoboken.
With national coffee chains competing to introduce their fall pumpkin drinks early, New Jersey roasters say they'll wait until cooler temps prevail.
Uptown Hoboken's growing popularity has enticed a local coffee chain to open a larger concept store with expanded food options.