A developer with a huge stake in the Journal Square neighborhood recently hit a milestone as dueling high-rises in a rapidly evolving area have reached their highest point.
Dignitaries from Long Island-based Namdar Group met with Jersey City Mayor Steven Fulop, Councilman Richard Boggiano, and other officials to mark the topping out of two mixed-use towers. The 27-story developments, at 618 Pavonia Avenue and 26 Van Reipen Avenue, will combine to add 667 units of housing to a block near the neighborhood's PATH station.
Jersey Digs has been following the construction since it began last summer and now both structures have risen to their 293-foot-tall climax. Designed by C3D Architecture, both towers are part of the 2.1 million square foot master development plan of Journal Square's Homestead Place.
"This is a major milestone, we are extremely thankful to the City of Jersey City for supporting our vision in bringing an additional 667 units to Journal Square," said Daniel Namdar COO of Namdar Group. "We are excited to continue delivering projects to the Jersey City Market at full steam ahead."
Namdar Group's projects, being built by AJD Construction and financed by Scale Lending, will yield a combined 16,000 square feet of office space and 4,000 square feet of ground floor retail along the emerging Homestead Place Pedestrian Plaza. That effort will transform several blocks of the road into a walkable corridor complete with retail and dining options.
The heavily-amenitized towers will include gyms, yoga rooms, bowling rooms, golf simulator rooms, roof lounges, and terraces that face the New York City skyline. They will both be managed by CMPND, the same brand that runs Namdar's nearby 26 Cottage Street development.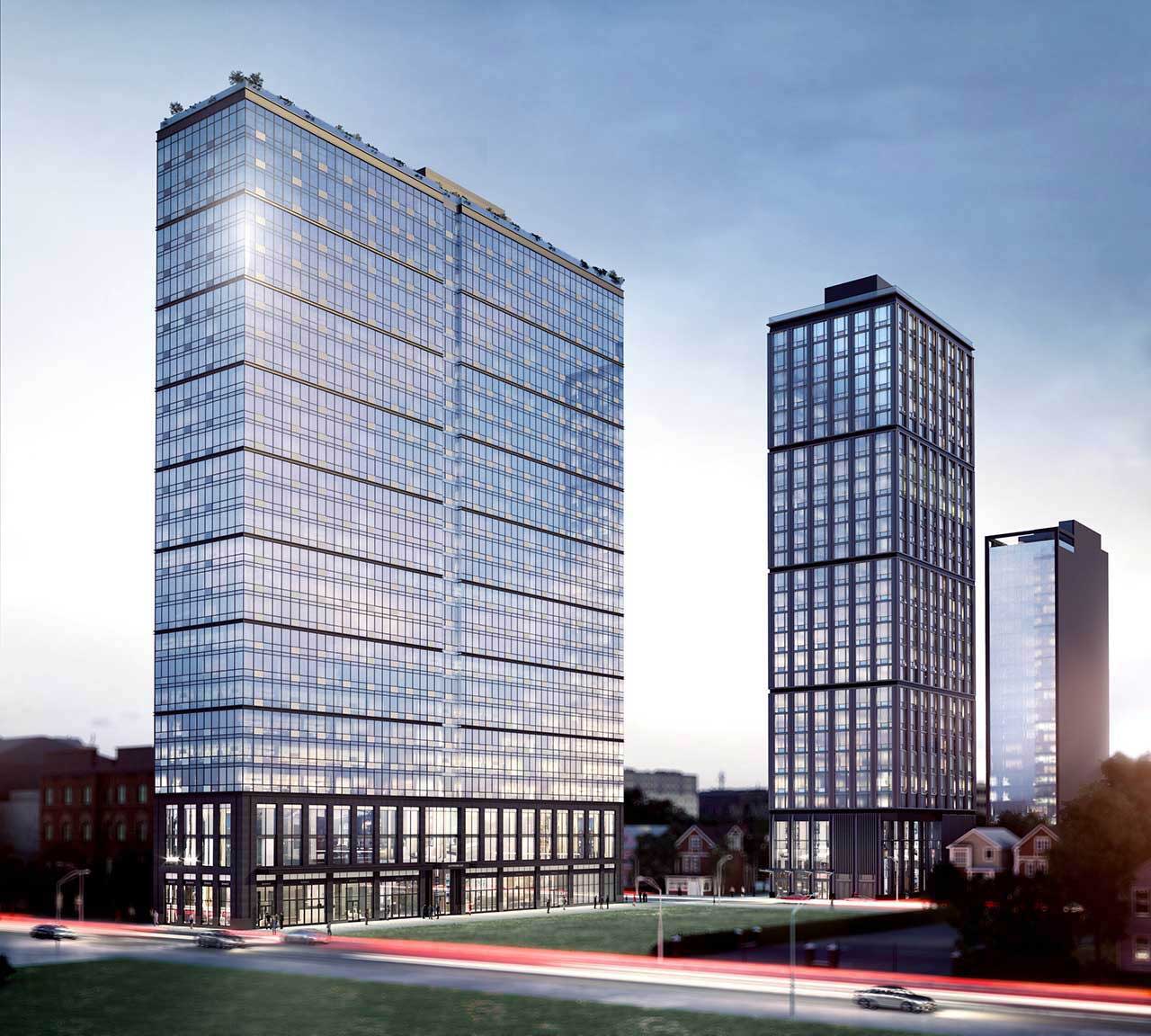 Namdar Group has committed to bringing six total towers to various properties the company owns along Pavonia Avenue, Cottage Street, and Van Reipen Avenue. The completion of the two towers under construction will mark the halfway point of the company's vision, with both expected to be completed by the first half of 2023.
The next leg of Namdar Group's redevelopment effort has already emerged at 35 Cottage Street, currently home to the Congregation Sons of Israel synagogue. The company's proposed 576-unit tower would include space for the temple as part of the plan.