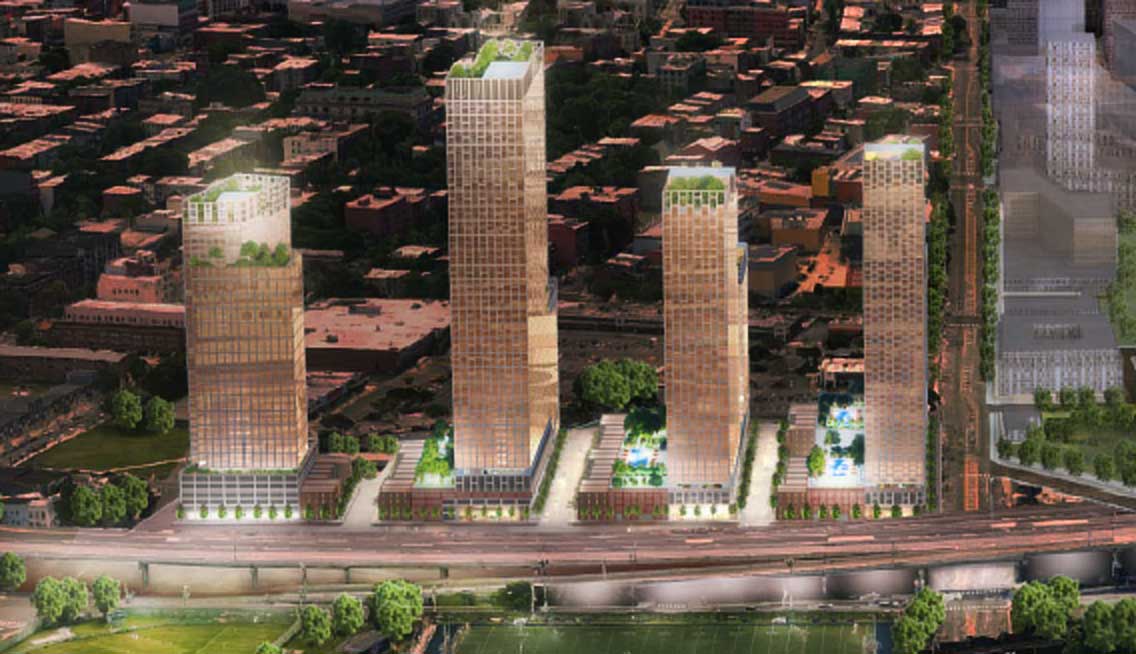 Manhattan Building Company has made a name for themselves in recent years by developing both the Cast Iron and SoHo Lofts that run along the northwestern fringe of Jersey City's Downtown. The company is now heading a bit south but still sticking to Downtown's edges with their latest proposal, which would rise next to the I-78 Turnpike extension.
Earlier this month, a community meeting was held to unveil the company's new plans for several lots they own inside five blocks of the Bates Street Redevelopment Area. Manhattan Building Company had previously presented a proposal for 870 units to the Jersey City Redevelopment Agency (JCRA) last year that was mostly allowed as-of-right, with the tallest portions of that project rising 125 feet.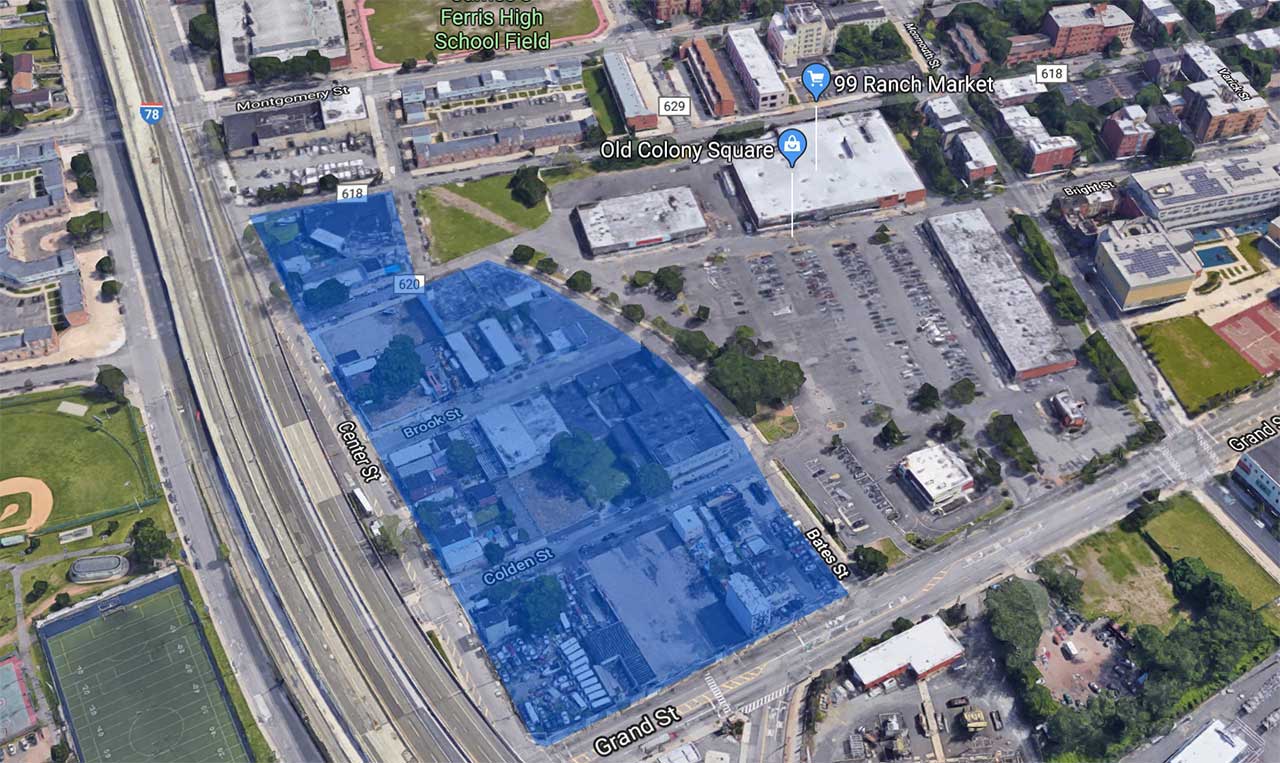 While the company's subsidiary, Bates Redevelopment LLC, was designated a redeveloper at the JCRA's November 21 meeting, their vision for the area has changed significantly. Designed by New York-based STUDIO V Architecture, the new plan proposes 2,360 rental units in four towers.  Manhattan Building Company is the Master Redeveloper for the Redevelopment Area and is proposing one 50-story tower.  The other towers will be developed by other property owners within the area – those towers range between 23 and 46 stories.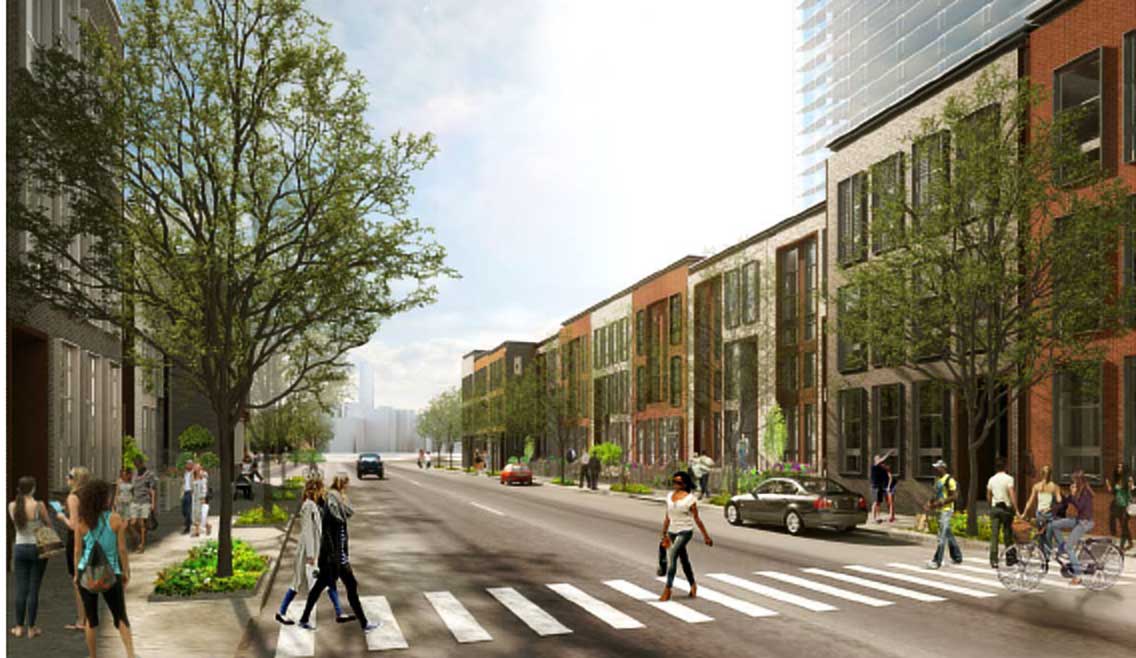 "Our work is all about reinventing edges and reconnecting communities," said Jay Valgora, founder of STUDIO V. "Bates Street area is a perfect example: two communities separated by former industrial sites and an elevated highway— where there used to be a continuous fabric of residences and parks. Our design brings this back, combining the two scales of Jersey City, townhouses with slender towers, connected by green streets and parks. We want to reconnect the South End and Van Vorst communities— and provide new amenities for both."
Several of the towers employ a tiered design and are more slender than the "wall" of buildings that's allowed under current zoning, a move the developer says was made to preserve the city's view corridor. The development would be built between Center and Bates Streets, feature some retail space, and include one indoor parking spot for every two units, for a total of 1,180 spaces.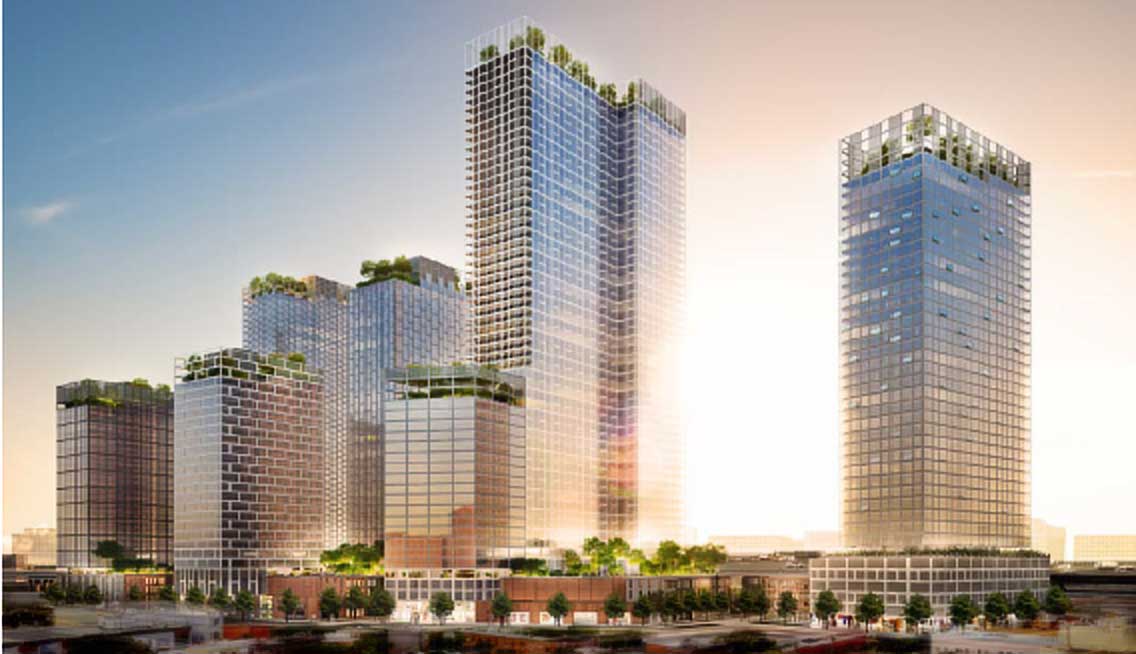 To build its proposed vision, Manhattan Building Company would need to utilize bonuses within the Bates Street Redevelopment Plan. 360 units are permitted at the properties without the bonuses, so adding an additional 2,000 units to the project would generate $11 million in fees towards an Open Space Trust. Possible uses of the funds, according to the presentation, include adding a spray park and basketball courts at the Booker T. Washington apartments, making improvements to Van Vorst Park, or the development of a community center somewhere in Ward F.
Manhattan Building Company additionally told residents during the meeting that they would make a $2.5 million donation towards building a world-class recreation center, also in Ward F. The company's presentation stressed that they are striving to re-connect a neighborhood that was divided in the 1950s when the Turnpike extension was built, already speaking to the state's Department of Transportation about the possibility of cleaning up the highway's underpass to create a walkable corridor to Gateway Field.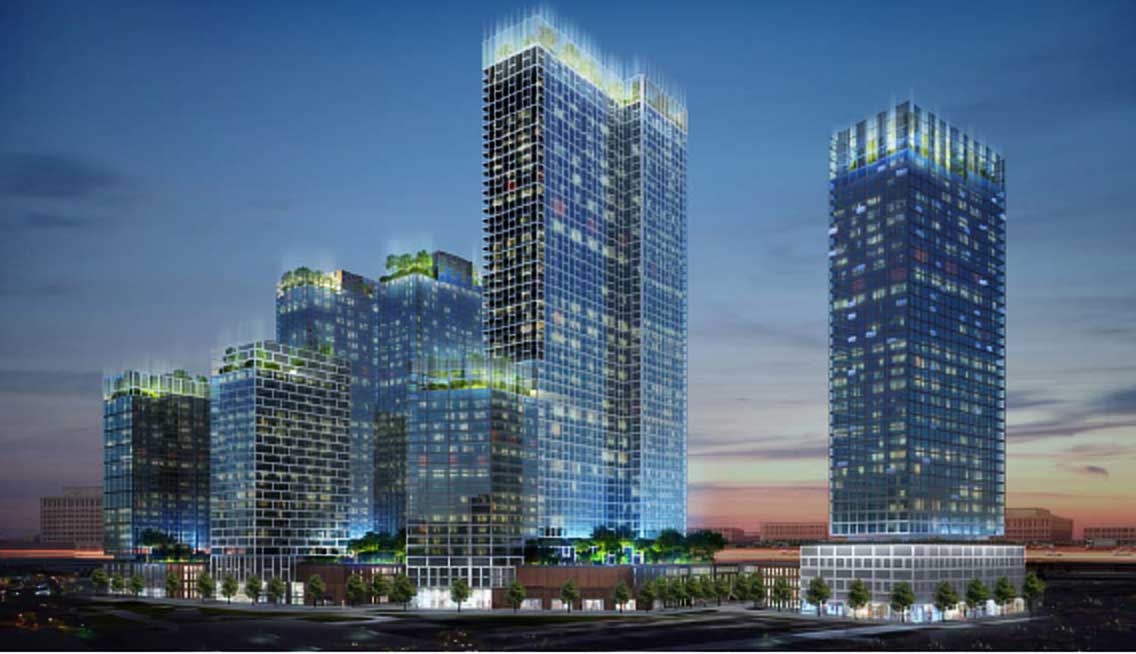 The current version of the project would include 20% affordable housing per the proposed Inclusionary Zoning Ordinance that's winding its way through Jersey City's council. Representatives for Manhattan Building Company stated during the meeting that they aren't looking for any type of tax abatement and are committed to providing job opportunities for local minority contractors by working with Jersey City's Office of Diversity.
Manhattan Building Company says they are willing to make significant infrastructure upgrades to move the project forward through the establishment of a Special Assessment District (SAD). All property owners in the area would need to agree and sign off on the SAD, which would raise four blocks of roads, including Center Street, to prevent flooding. The work would also separate an existing combined sewer in the area into two systems, remove combined water lines, and build new stormwater and sanitary systems.
The work is estimated to cost around $15 million and would be paid for by the developer, who would install the infrastructure in phases as the project gets built out. It's worth noting that Jersey City's Municipal Utilities Authority, via a contractor, just replaced sewer lines along Bright and Center Streets last November in sections where flooding has historically been an issue.
Members of both the Center Street Block Association and the Van Vorst Park Association say they were not officially invited to the initial meeting that was held, but residents will be able to voice their opinions about the development soon. Manhattan Building Company will be hosting another meeting to present their plans on June 19 starting at 6 p.m. inside the Conwell Middle School at 107 Bright Street.
Related: