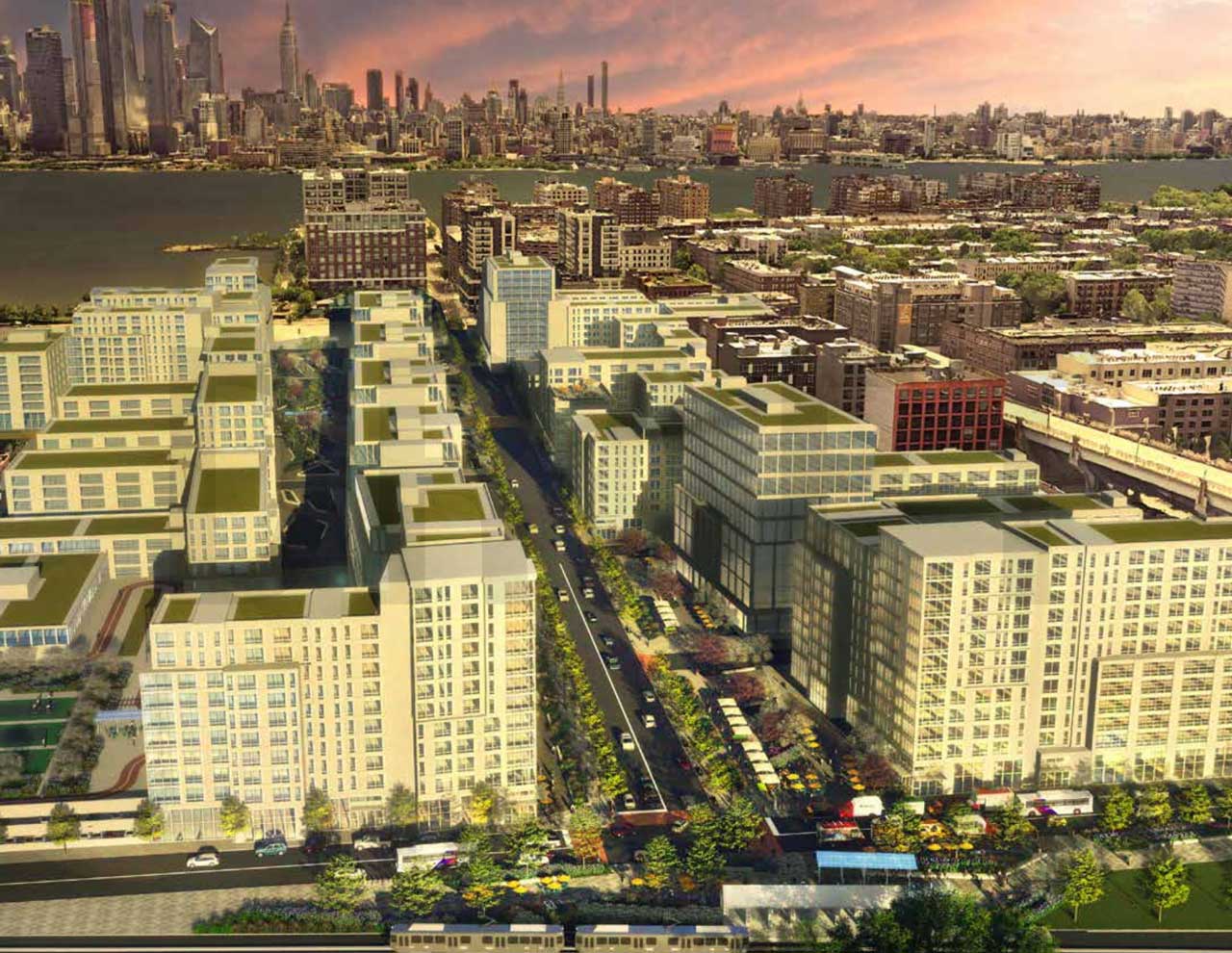 A long-sought revitalization to Hoboken's northern entrance could finally be in the cards as officials have unveiled a major rezoning proposal that encompasses about 13 blocks of land.
Dubbed the North End Redevelopment Plan, the endeavor has been long in the making. Bounded by the 14th Street Viaduct to the south, the Palisades cliffs to the west, Weehawken to the north, and Park Avenue to the east, the neighborhood was designated a rehabilitation area by the city council back in 2013.
A rezoning plan was never adopted despite the designation, but Hoboken finally brought Philadelphia-based firm WRT on board in 2018 to draw up a formal proposal. The city says the released plan is consistent with their vision to avoid tall buildings and was developed in a manner that does not adversely impact neighboring municipalities, ensuring that buildings do not exceed the height of the Palisades.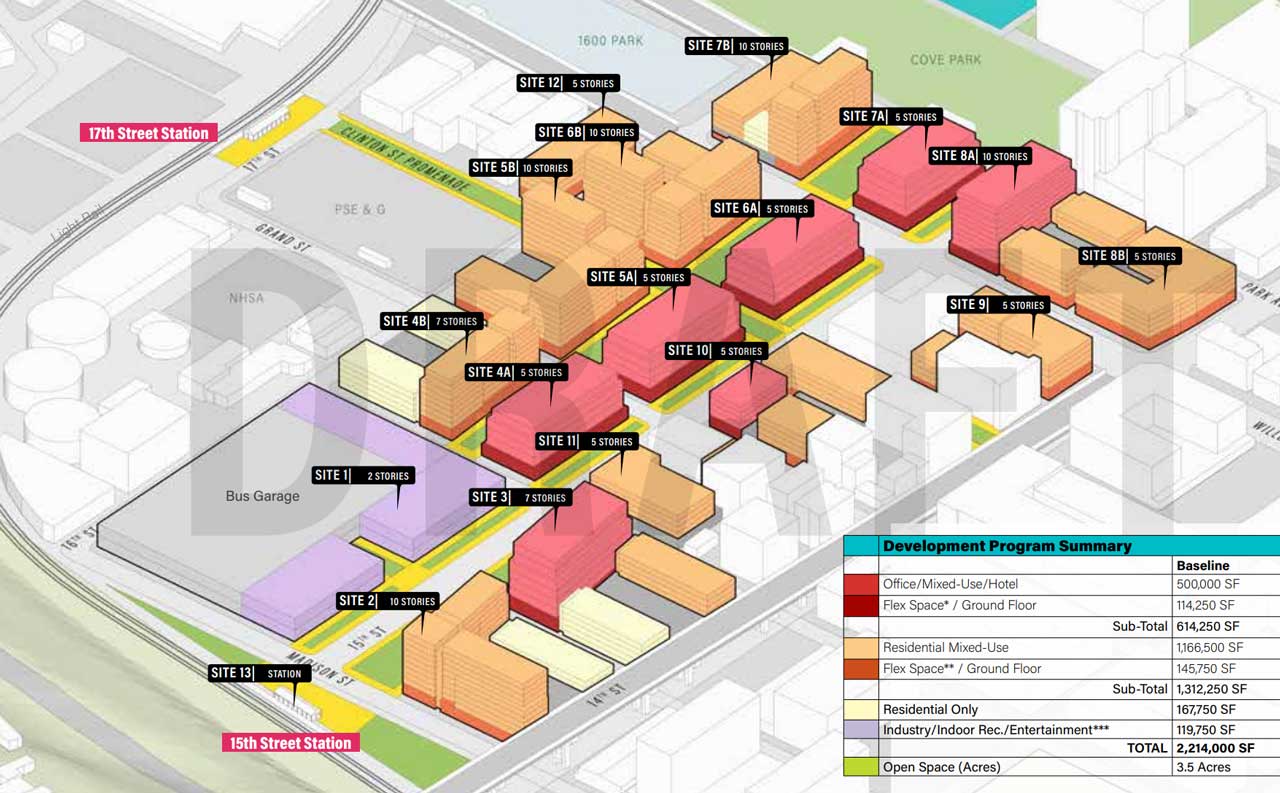 The plan includes a proposed new Hudson-Bergen Light Rail station at 15th Street, which the city envisions as a future retail corridor lined with cafes, recreational spaces, and more. Hoboken is also looking to raise the area's streets to accommodate underground infrastructure to assist with flooding that can plague the neighborhood.
Three districts would be created under the proposal, the first of which would be located farthest inland and be called the 15th Street Station Sub-district. A Waterfront Mixed-Use Sub-district and an Infill Development Sub-district would follow as the plan heads east. Allowable building heights vary depending on the lot, but the tallest structures would be capped at 110 feet and 10 stories under the baseline regulations.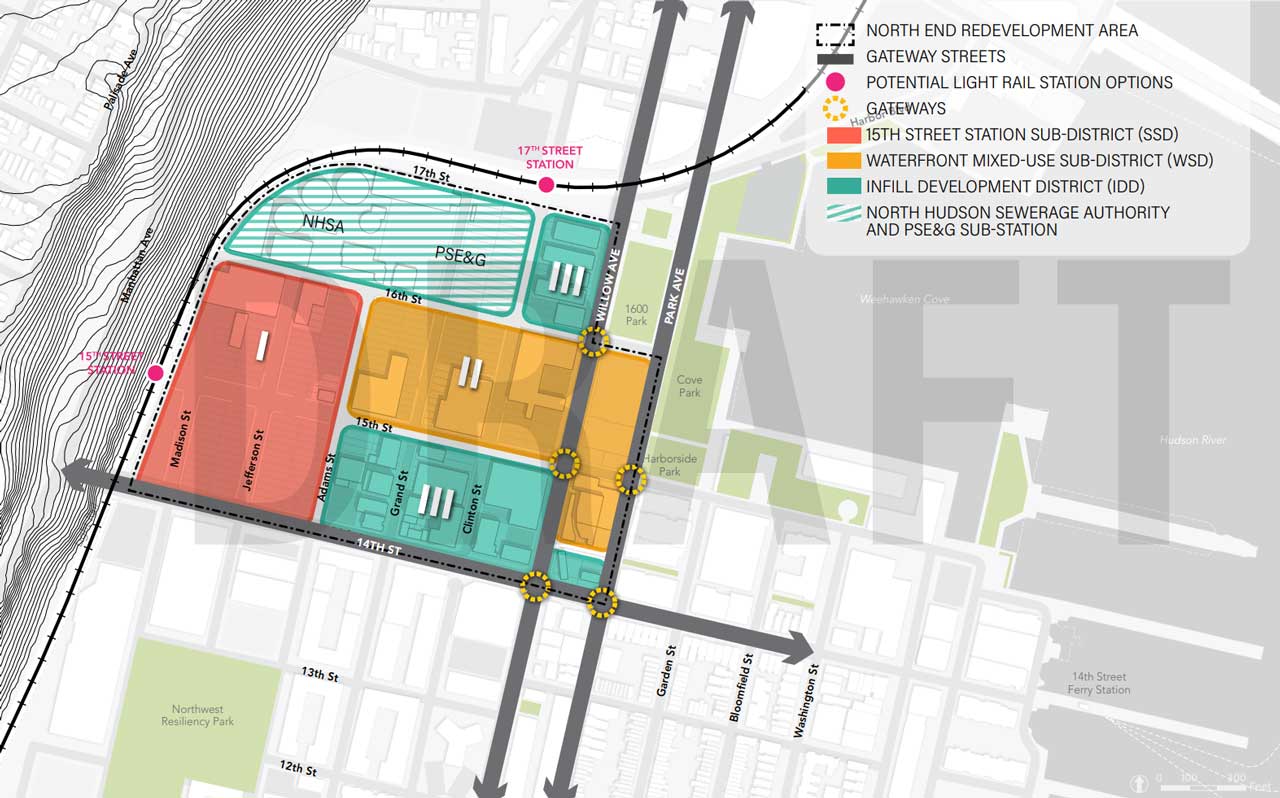 Height bonuses of up to 140 feet for some properties are available if developers agree to make contributions to the community, a few of which include a library expansion, community center, new elementary school, a museum, or public event space. The full zoning buildout of the proposal allows for the creation of about 6,100 units and one parking space would need to be created for every two apartments built.
The plan designates a variety of uses for different properties that include hotels, mixed-use, offices, and recreation. Ground-floor retail is encouraged and all developments with a residential component will need to designate 10% of their units as affordable housing.
Projects within the 15th Street Station Sub-district will need to contribute towards the creation of a plaza near the potential Light Rail station, while those in the Waterfront Sub-district will need to develop portions of their property into an east-to-west linear park between 15th and 16th streets. A Clinton Street Pedestrian Promenade is envisioned, which would close the road to vehicular traffic north of 14th Street.
"We are excited to move forward with plans to revitalize an area of town that will provide a number of community benefits to our City," said Mayor Ravi S. Bhalla. "Once adopted, I look forward to continuing our discussion with New Jersey Transit for the installation of a new light rail station at 15th Street that will provide a critical mass transit connectivity for our current and future residents, and transportation hubs."
Property owners who own undeveloped parcels in the area include the Rockefeller Group, Bijou Properties, Poggi Realty, and the potentially controversial Academy Bus. That company was sued last year by New Jersey's Attorney General amid claims they defrauded taxpayers out of more than $15 million by underreporting missed trips and charging for lines that never ran. Several of their contracts with the state have since been terminated.
Residents and members of the public are invited to comment on the plan following a public presentation that will be made during a special city council session on January 27. The meeting will be held virtually through the city's Facebook page and is set to begin at 7:00 p.m.