Home
Tags
North End Redevelopment Plan
Tag: North End Redevelopment Plan
Advance Realty could soon take a step towards bringing an eight-story development with two retail spaces to a prominent Hoboken corner.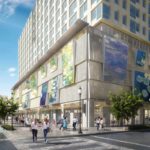 The Hoboken City Council could soon greenlight negotiations to bring a project to Clinton Street that includes five storefronts plus a 75,000-square-foot public works space.
The scheme would rezone portions of the city's border with Weehawken to potentially allow up to 6,100 new apartments, hotels, public space, and a new light rail station along a revitalized 15th Street retail corridor.