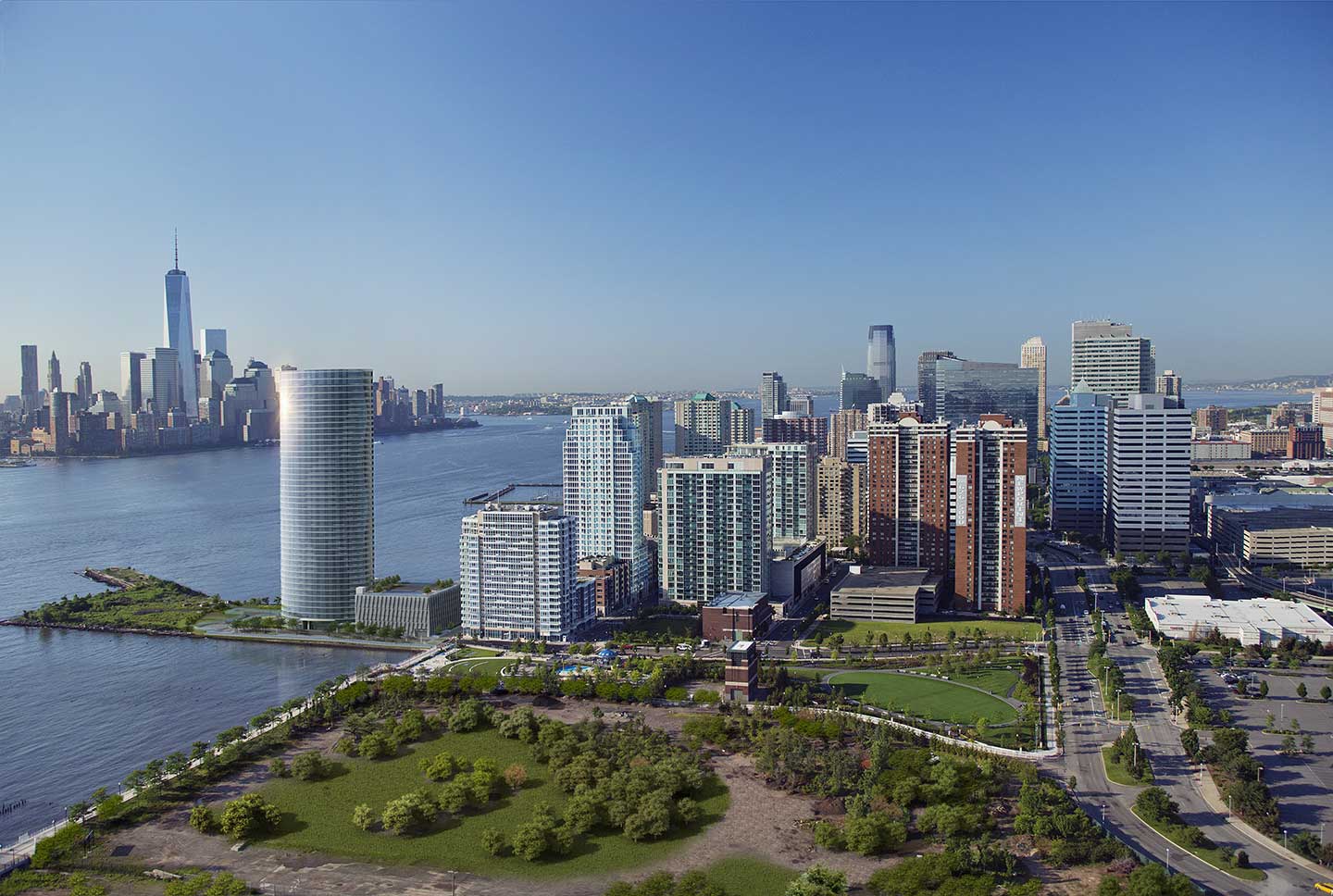 More greenery is set to adorn the Hudson River walkway in a neighborhood where several high-rises have been popping up, and it looks like proper construction on Jersey City's latest park will begin soon.
LeFrak completed the build out several years ago on their 41-story Ellipse development, part of which was constructed on a former shipping pier. While the company's next project at 700 Washington Boulevard, dubbed The Beach, went vertical last year, various construction work on the pier directly in front of the Ellipse building has caused speculation that another development could be coming to the site.
While renderings of Ellipse had featured general greenery on the pier to the east of the building, LeFrak has been silent about the matter in terms of specifics. Construction work stabilizing the pier has been ongoing for months and Jersey Digs can now confirm that a notable firm has indeed designed a 3.47-acre open space and recreation area for the parcel that includes a landscape feature.
LeFrak recently submitted plans to the city for the parcel, known by the address of 15 Park Lane South. The future public greenery is designed by New York-based MNLA, whose work includes the nearby Newport Green. They also designed the landscape architecture for Little Island, a 2.4-acre park that's under construction along Manhattan's west side.
No formal name has been publicly given to the park and an announcement has yet to be made by LeFrak about the upcoming greenery. The company has not responded to our request for comment on the matter and inquiries placed to MNLA and Jersey City-based Dresdner Robin, who is listed as the engineer of the project, have yet to be answered.
Some cement and paver walkways have already been installed on the pier, which has been cleared and looks ready to go. An official announcement could be coming from LeFrak in the coming months.
Related: