A parcel of almost 3.5 acres will soon be home to a public dog run, deck bar, chaise lounges, and more, but a significant portion of the upcoming green space will be private.
Jersey Digs has confirmed that new open space will soon be built along the Hudson River walkway by one of the city's most prominent developers.
Piece by piece LeFrak continues to build out their master planned Newport community in Jersey City. The company has just released pricing for their latest addition, a 41-story luxury rental tower directly on the waterfront.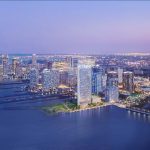 The Lefrak Organization broke ground this week on its newest Newport tower Ellipse. The 43-story oval rental tower is clad in all glass and...