Home
Tags
MVMK Architecture
A company that's looking to open a competing dispensary claims Harmony Foundation is circumventing local cannabis regulations and argues the city abused its discretion by approving the plans.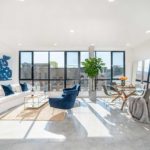 Frank's Place at 415 Monroe Street features spacious three- and four-bedroom residences with inspired modern finishes and resident amenities. Only three of the seven units remain.
Following months of discussion, the city's planning board green lit a project that will see 48 modern townhomes constructed on about two acres near Wesley Lake.
Following a court ruling, Advance Realty has been cleared to bring a mixed-use project to a corner of Adams Street that includes 3,000-square feet of space for Big Brothers Big Sisters.