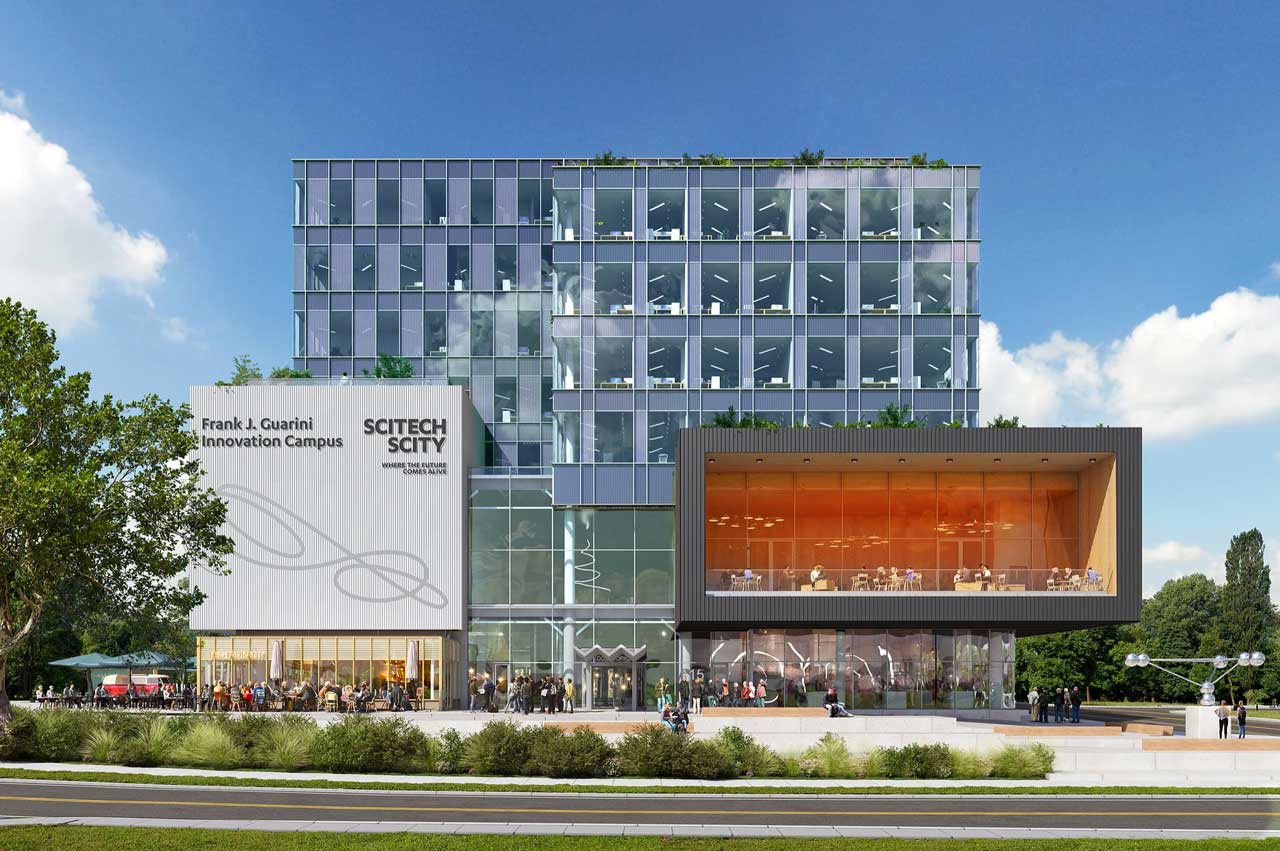 One of the largest redevelopment efforts in Jersey City is finally underway and the future facility aims to transform 16 acres of vacant land just outside Liberty State Park into a major science and tech hub.
Back in 2017, a plan from Liberty Science Center emerged hoping to revitalize property just south of its complex. The nonprofit's evolving plan proposed a curated "mini-city" of tech entrepreneurs, scientists, and students inside a collection of modern buildings.
The initial portion of the $300 million project broke ground late last week and a ceremony marking the occasion drew dignitaries that included Governor Phil Murphy. The first phase of SciTech Scity is set to feature several components including a seven-story, 111,000-square-foot incubation space dubbed Edge Works, and new images of what the building will look like were unveiled during the groundbreaking.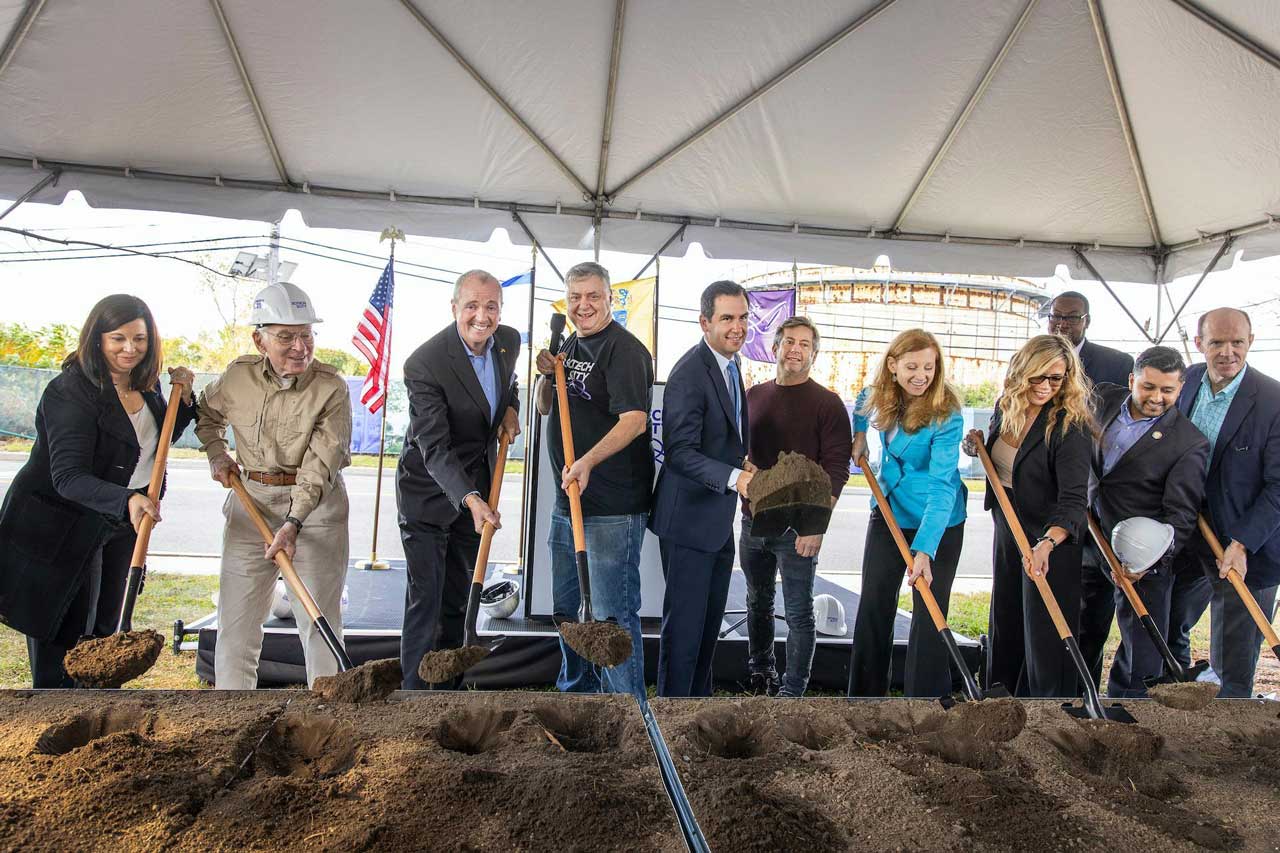 Edge Works will sport a fabrication lab, research spaces, offices, co-working areas for startups and entrepreneurs, and a state-of-the-art conference center and tech exhibition gallery. Israel's Sheba Medical Center was announced as the first tenant to claim a floor in the building, intending to host a simulation space for healthcare professionals training with new medical technology.
Other components of the first phase include the K-12 Liberty Science School, which will have space for 400 students. The public magnet STEM academy will be operated by the Hudson County Schools of Technology, with Jersey City contributing at least $2 million toward the school for 30 years after its opening.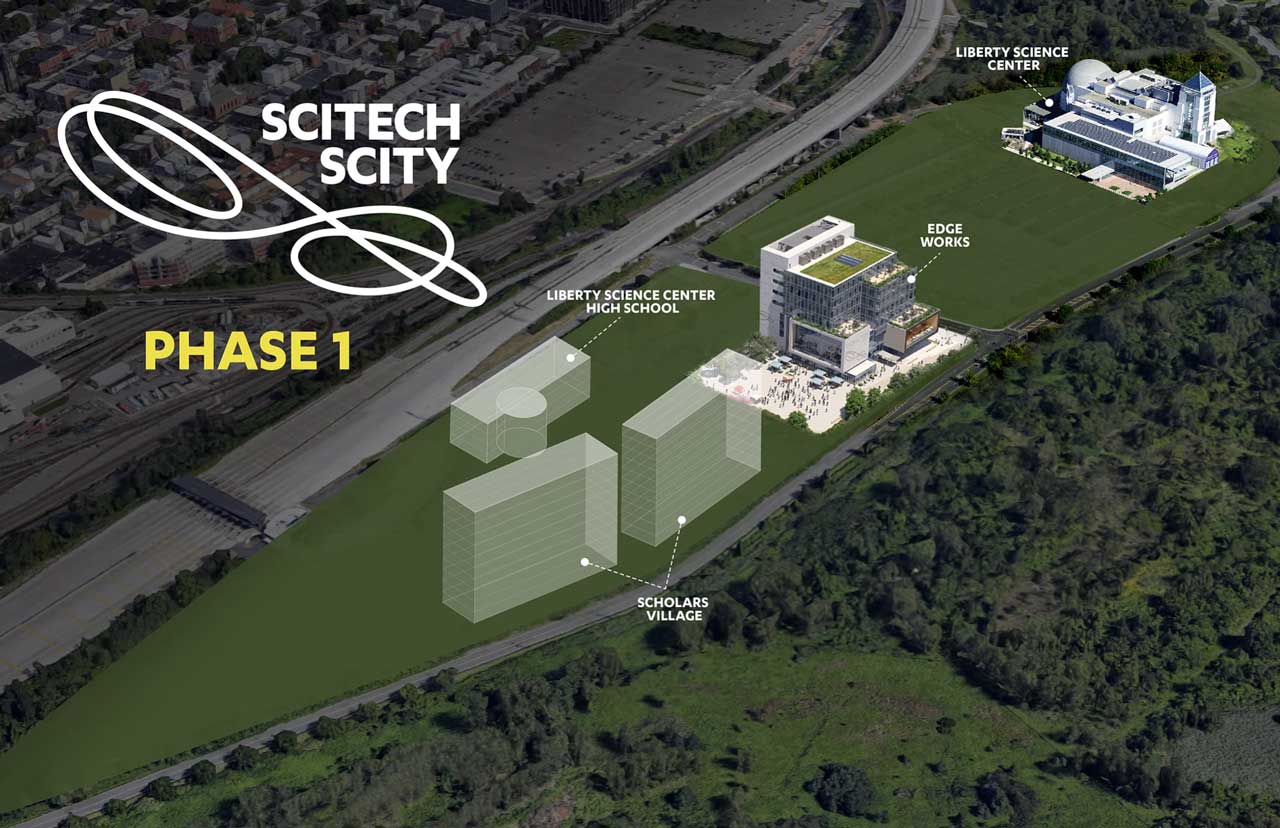 Two buildings called Scholars Village, to be developed by Alpine Residential, will be made up of residential housing for innovators, scientists, entrepreneurs, STEM graduate students, and others associated with the project.
The first phase's final portion consists of a five-acre outdoor park to be called Public Commons that will include an events plaza comparable in size to the skating rink at Rockefeller Center. The greenery will include a community lawn, play spaces, and a residential garden between the Scholars Village buildings.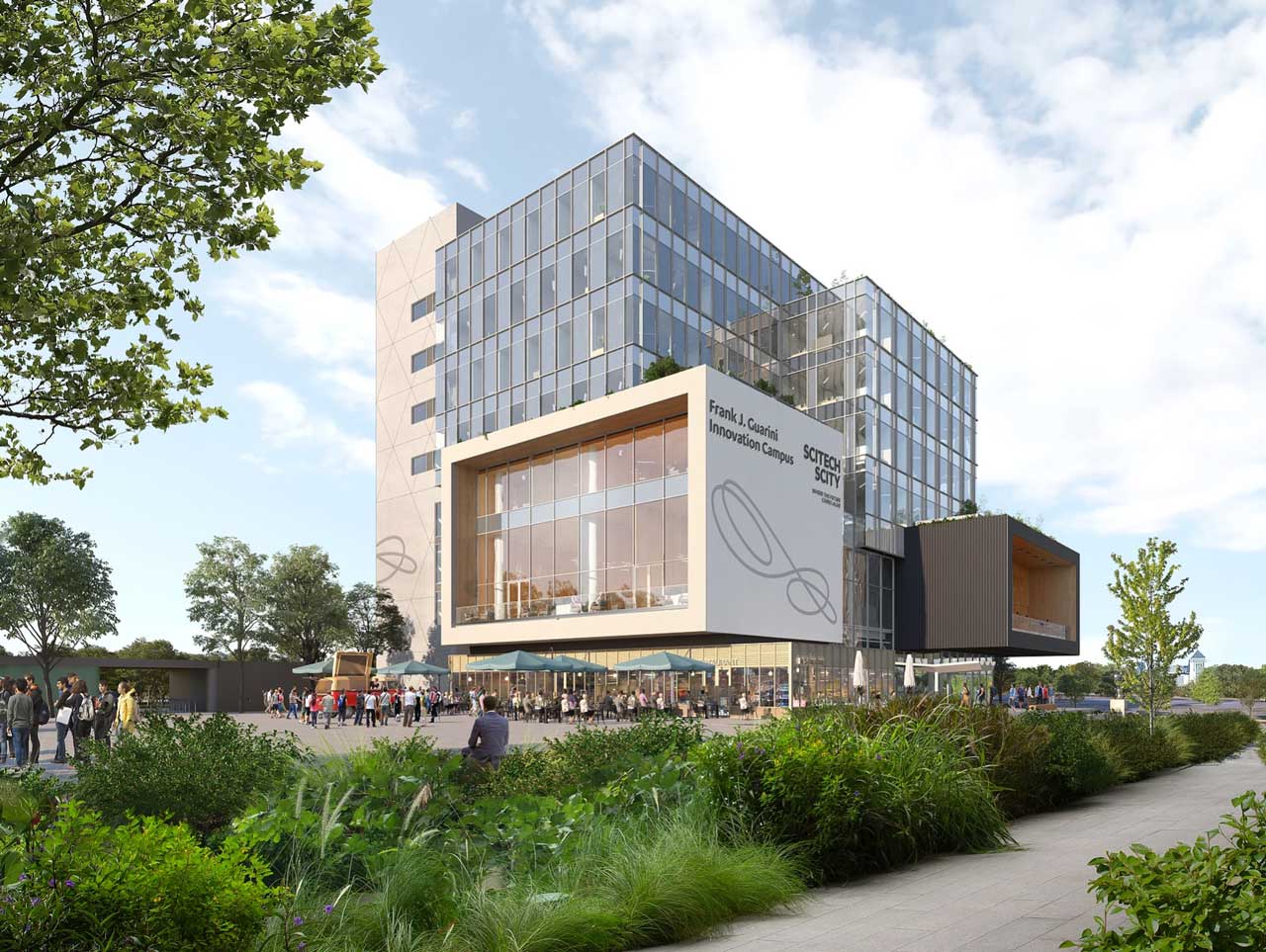 "As we break ground on SciTech Scity, we are entering a new era for Jersey City," said Jersey City Mayor Steve Fulop. "One that fosters collaborative innovation on a level that has never been done before to create a coveted science-based public education for our local youth as part of an all-encompassing progressive campus where entrepreneurs and scientists can thrive."
"We're in the midst of an incredible transformation as we further establish Jersey City as the sought-after destination for STEM education and innovation attracting world-class companies, jobs, investment, and countless other opportunities," he added.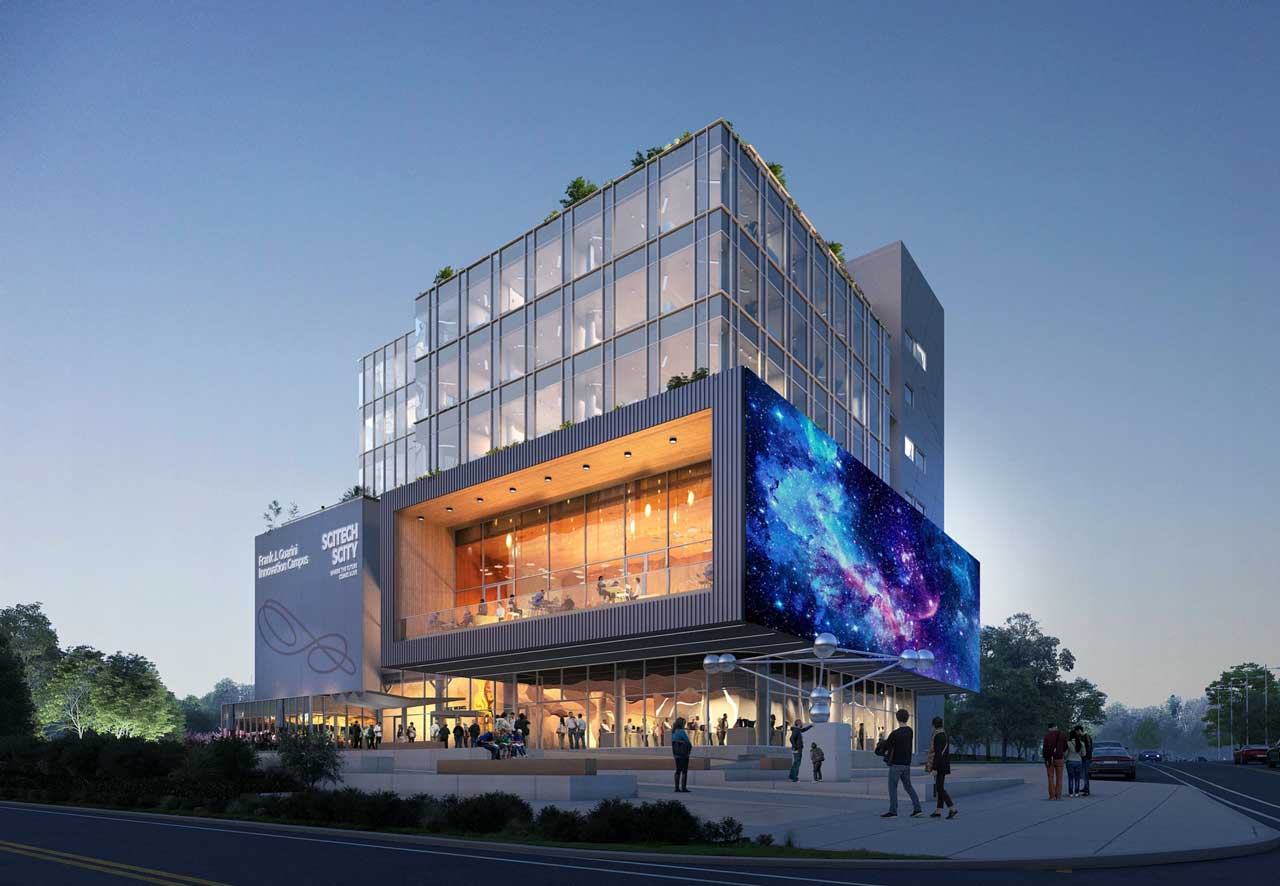 SciTech Scity is being built on land that Jersey City sold to Liberty Science Center for $10 in a deal that was somewhat controversial when it was approved. The buildout of the campus is being funded by a variety of donors that include Bank of America, EY, and Verizon.
Real estate developer David Barry kicked in $5 million towards the endeavor and former U.S. Rep. Frank Guarini donated a record $10 million to SciTech Scity in December 2019. The Edge Works building at the complex will be dubbed the Frank J. Guarini Innovation Campus, making it the second building in Jersey City to prominently feature his name after a new Justice Complex on Newark Avenue that is currently under construction.
SciTech Scity's first phase will see approximately half of the project's total land revitalized and the developers hope to have the construction work completed by the end of 2023.
While details of the project's second phase have not been finalized, that portion could potentially include expanded incubation space, a hotel, another science-focused public school, and other facilities aiming to drive STEM innovation and job creation.